'It's a truth universally (in India) acknowledged, that a single Indian man in possession of very little common sense, must look to Bollywood for tips on wooing a woman.' – (NOT) Jane Austen
Toilet: Ek Prem Katha
I guess the modified quote above would clue you in on what I'll be writing about today. A few weeks ago, I watched the trailer of Akshay Kumar's latest movie, Toilet: Ek Prem Katha. Of course, I'd read about it before because of it being linked to Prime Minister Narendra Modi's Swachh Bharath initiative. I thought it was a commendable project for a superstar of Akshay's stature to take up a cause that still affects millions of Indians day in and day out.
---
Suggested read: 8 chilling realities about date rape that ALL women should know
---
Fast forward a week or ten days from then. One of the songs from the movie was released. And I couldn't have been more disappointed in Akshay Kumar and his antics in that song. The song titled 'Hans Mat Pagli,' showcased everything that's offensive and shocking and absolutely appalling to any decent human being. Akshay's character is shown waiting outside Bhumi Pednekar's house; following around the heroine and her friend all over town; slyly taking pictures/videos of her as she goes about her daily routine; staring (more like leering, if you ask me) at her in the train, to name a few absolutely creepy, stalkerish instances that he showcases.
From Bhumi's expressions through the song, you can clearly make out that she's not comfortable with his attention, and that it's undoubtedly unsolicited, unwarranted, unwanted, and unwelcome. While he's smiling and goes on a clicking spree, to let the audience know that he's 'smitten' with her.
How to woo a woman… by stalking!
But stalking and clicking someone's pictures on the sly is NEVER acceptable. If you're interested in someone, you approach them like a normal human being and ask them out; you do NOT stalk! You do NOT click their pictures and take videos in secret to gawk at or do whatever with it later! This disturbing trend only further perpetuates the myth that stalking is acceptable, that it shows how 'dedicated' and 'devoted' the stalker is in their quest to seek someone's attention.
We live in a society where rapes and sexual assaults are on the rise, where you can't open a newspaper without reading about such incidents in several corners of the country. There are instances of gruesome acid attacks where the woman spurned a man's 'attentions,' who expressed his 'interest' in her mostly through stalking. There are instances where the man, through mostly illegal means, secures the woman's phone number and harasses her, ostensibly to show her how 'interested' he is in her, finally forcing her to block him, or worse, get a new number altogether.
It seems like the deep-rooted patriarchy in our society is yet to wake up to acceptable social norms. They need to be taught that just because you 'like' a girl/woman, you can't have her.
That she's not a toy or a possession to be owned by showering her with (mostly unwanted) attention.
That she won't jump with joy at their stalkerish tendencies, but be deeply upset, creeped out, and mostly feel unsafe to even venture out of her home.
That it's her life and she gets to choose who she likes or not.
That she's an individual with her own ideals, ideas, thoughts, and emotions that need to be respected just because.
That she needs to be treated as a HUMAN BEING and not as an object made purely for men's sexual gratification.
---
Suggested read: Wrong-number relationships: Empowering or a new way to bully?
---
And men who seek tips on how to woo a woman from Bollywood are a special kind of stupid. I mean, in which parallel universe do scenarios that happen in movies EVER come true!? When will they understand that movies are made for entertainment, and not to be treated as a handbook for all of life's problems? Sure, you might take away a few lessons for life; but to use movies to woo a woman? NEVER!!!
Bollywood has got it way WRONG
If there's one thing that Bollywood has got it WRONG, time and again, it's how to woo a woman. Stalking – physical, phone, cyber; manipulating circumstances; blackmailing; are all 'acceptable' stages of wooing a woman according to Bollywood. How in the world does any of it make sense?! To be fair, some Hollywood movies show similar disturbing behavior, but let's stick to Bollywood movies for now.
If someone of Akshay Kumar's caliber shows stalking as a form of wooing a woman, then we have a serious problem on our hands. Agreed that it's 'just a movie'; some might even tell me that I'm trying to stir up things where none exist, or that I've got my knickers in a twist over something 'harmless,' because I'm a feminist.
But I disagree, quite vehemently, on both charges. Because there is definite reason to be outraged at such disturbing trends being perpetuated by a superstar who is married to a staunch feminist, Twinkle Khanna. And I'm guessing, as someone who has that much star power, he could have made changes in how his character was portrayed, rather than go along with it, because he didn't want to impinge on the director/scriptwriter/concerned person's say so. Even if you're not a feminist or any of the numerous '-ists' that exist today, as a normal, (often) fallible human being, you have got to be worried about stalking being portrayed as an acceptable wooing technique. I mean, come on!
It's not the first time that a 'hero' has used stalking to woo the heroine. There have been numerous movies that have depicted the same over the years. Some glaring examples of such movies that became blockbuster hits are Darr, Badrinath Ki Dulhania, Raanjhanaa, Sultan, Saawariya, Tanu Weds Manu Returns, Tere Naam, and Wanted. Of course, if you only look closely, you'll find many more such movies that have a stalker-lover plot or sub-plot.
Real life vs Reel life
In fact, in January 2015, an Indian-origin man was arrested in Tasmania on charges of stalking a woman. When produced in court, his lawyer argued that 'stalking' to woo a woman was something that was 'normal' as he'd learnt the technique from Bollywood, back in India. Such is the reach of Bollywood and the crap it perpetuates as art!
---
Suggested read: Indian-origin man in Australia gets off without conviction for stalking due to Bollywood!
---
Many would argue that stalking in movies or even real life is 'harmless' as long as the girl/woman in question doesn't object to it. Is stalking EVER harmless?! It's a clear violation of privacy of the person being stalked. The emotional and mental repercussions that such a 'harmless' act might leave on the victim cannot be expressed in mere words. It could even take years for the victim to start to trust someone else, or even have normal relationships. Stalking victims report that not only is the damage mental, it's social, physical, and psychological as well. They are often known to experience fluctuating moods, anxiety, and even post-traumatic stress symptoms following a stalking episode.
When this is the case, how could a star like Akshay Kumar condone stalking in one of his movies? Whether they deserve it or not, own it or not, superstars and Bollywood actors have immense power in their hands. And it's high time they accepted this and own it by NOT condoning depiction of stalking, kidnapping, blackmailing a woman into 'liking' them or as tools of expressing their 'affection.' Granted that Bollywood may not have been the root cause of stalking, but showing that it is 'cool,' 'harmless,' and even 'acceptable,' needs to be STOPPED – stat.
Many a star has come forward and shown their commitment to social causes in different spheres. Maybe it's time these stars refuse to go along with 'whatever the script demands,' and start using their common sense to say NO to portraying roles that have them stalking and normalizing it.
Summary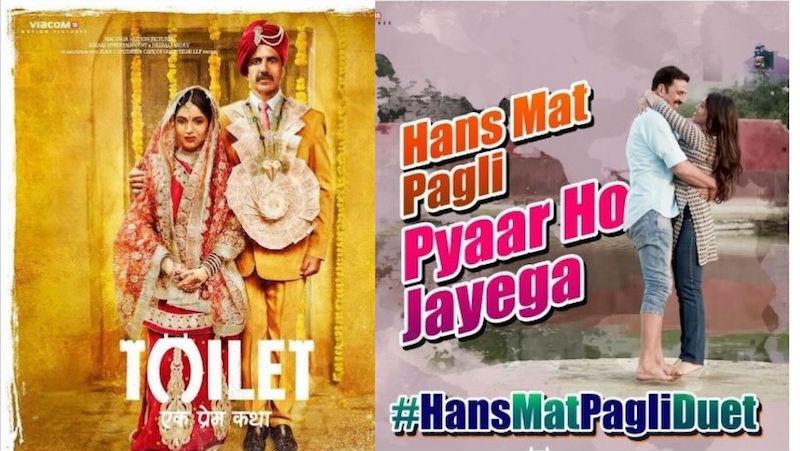 Article Name
Bollywood And Its Shameless Normalization Of Stalking
Author
Description
How to woo a woman? By stalking! This is what Bollywood perpetuates as art, and this callous way of normalizing stalking is only adding fuel to the fire.