It has finally happened! Hollywood's "it" couple, Brad Pitt and Angelina Jolie, have tied the knot after being together for nine years, in a super-secret ceremony on August 23rd, 2014. The wedding ceremony which was attended by just 20 of the couple's friends and family members, was held in the chapel of Chateau Miraval, the family's estate in the French village of Correns.
The golden couple met and fell in love on the sets of the movie "Mr and Mrs Smith" in 2005, when Brad was still married to Jennifer Aniston. Just a month after Aniston filed for divorce, Brad was photographed holidaying with Angelina and her adopted kids. Although many people branded Jolie 'the other woman' for hurting America's sweetheart Aniston, it was only a matter of time before her detractors started calling the couple "Brangelina".
Anyway, the first photos from Brad and Angelina's wedding ceremony were published in a joint exclusive by Hello! and People magazines.
The beautiful satin wedding gown worn by Jolie was designed by Luigi Massi of Atelier Versace.
"Luigi is like family to me and I couldn't imagine anyone else making this dress," Angelina said in the interview to the magazines. "He knows and cares for the children and it was great fun putting it together."
In the picture above, you can see artwork and drawings sewn into Angelina's bridal veil. Guess what? The artwork was made by Angelina and Brad's kids. You can make out brightly-colored stick men, flowers, and animals on the floor-length veil.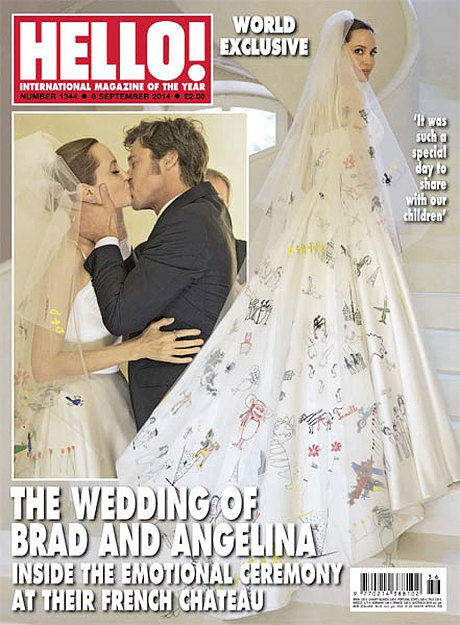 And the groom, our very own Brad Pitt, wore a suit from his closet, with a tie borrowed from one of his kids, because he forgot to pack his own!
The couple who is very close their children, had a lot of help from them while planning the wedding. While the eldest sons Maddox, 13, and Pax, 10, walked Angelina down the aisle in matching black suits, daughters Zahara, 9, and Vivienne, 6, were flower girls, and Shiloh, 8, and Knox, 6, acted as ring bearers. Not only this, but the kids even helped their parents write their vows. And to top it all off, Pax baked the wedding cake.
"It was important to us that the day was relaxed and full of laughter," Pitt, 50, and Jolie, 39, told the magazines. "It was such a special day to share with our children and a very happy time for our family."
While the ceremony was attended by Brad's parents, brother and sister, Angelina's estranged famous father, Jon Voight, didn't. But he later issued a statement congratulating the couple.
Here's wishing the golden couple a very happy married life!
Story Update on November 5th, 2014
Just about fifteen days after Brad's confession to GQ magazine that "there's an added security that comes with marriage," Angelina has opened up about her marriage to Brad. The stunning actress who features on the cover of the December issue of Vanity Fair said, "It does feel different. It feels nice to be husband and wife."
And about the super-secret ceremony, the Oscar-winning actress had this to say: "We were all going to have a wedding," referring to their brood of six, during the run up to the wedding back in August. "There was no cake, so Pax made a cake. The kids made little pillows for the rings and Knox practiced [being a ring bearer] with an acorn that kept falling off the pillow. Brad's mom [Jane Pitt] went and picked some flowers and tied them up."
Not just that, the kids, whose art work featured on the trail of her wedding dress, also helped their parents with their vows. "They did not expect us never to fight, but they always made us promise to say 'sorry' if we do," the 39-year-old actress recalled. "So, they said, 'Do you?,' and we said, 'We do!'"
Awwww!
The December issue will hit the stands on November 11th.
Image credit: Vanity Fair