While we, the ordinary people of the world, form our ideas about an ideal proposal from the Hollywood movies we watch, it is more than natural for the celebrities to ensure that their real life is an echo of the "reel" one! They are not hypocrites after all! When it comes to popping the million dollar question, they depend on expensive engagement rings to express their love The amusing part about these celebrity engagement rings is that the more you read and learn about them, the more your skewed perspective on what 'expensive' becomes!
---
Suggested read: 13 most extravagant and beautiful celebrity wedding cakes
---
The engaged A-listers of Hollywood know how to turn the bridal bling on! From celebrity weddings to celebrity wedding dresses, we are amused by every detail! So brace yourselves for the 'sparkle' of the 20 most expensive engagement rings that will leave you 'dazzled'!
1. Beyonce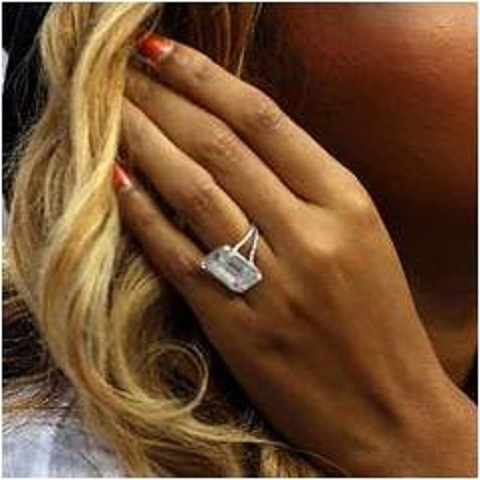 Image source: Pinterest
Jay Z didn't hold back on the dollars when choosing the Lorraine Schwartz Platinum diamond engagement ring he bought to propose to 'Queen Bey'. Beyonce's glitzy 24 carat beaut was worth $5 million in 2008 when Jay popped the question. The emerald cut ring today would cost a monstrous $9.77 million. That's some serious bling, Beybey! Jay being the romantic he is, even did a 'mock proposal' on the red carpet at the Met Gala!
2. Kim Kardashian West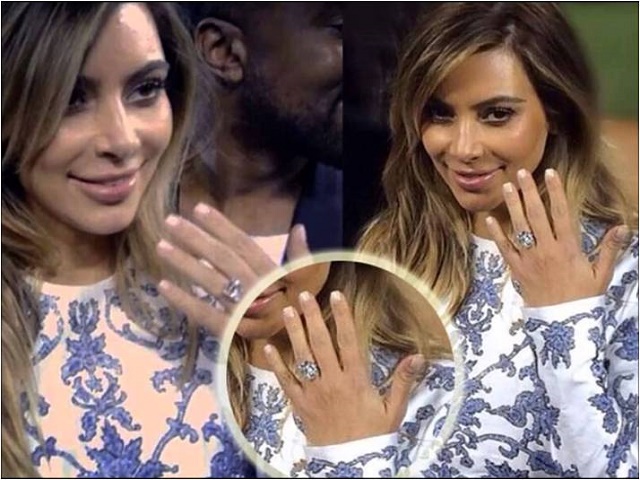 Image source: Pinterest
When the super-rapper Kanye West proposed to Kim Kardashian with an emerald cut diamond ring on 'Keeping Up with the Kardashians', he went a little berserk honestly. Why? Because he spent $8.8 million for God's sake! A 15-carat sparkler is definitely enough to make any woman's heart melt – and her eyes too! Designed by the famous Lorraine Schwartz, this beauty of course made it on the list of the most expensive celebrity engagement rings!
3. Elizabeth Taylor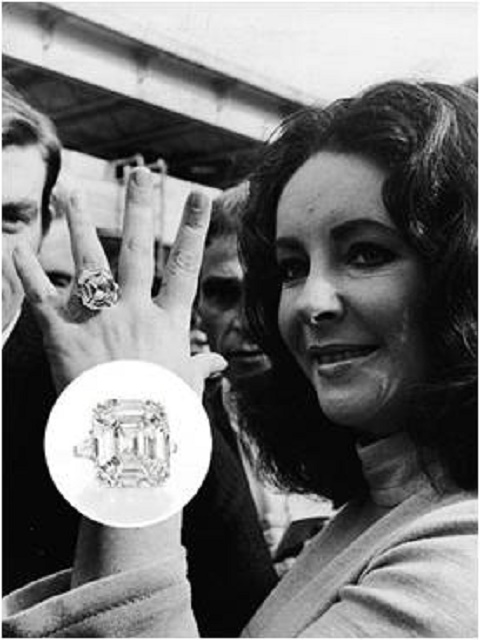 Image source: Pinterest
"I love you, lovely woman. If anybody hurts you, just say the one magic word "Elizabeth" and I will be there somewhat faster than sound."
The extremely beautiful and ravishing Liz Taylor said "I do" many times, yet the most memorable time for her fans around the globe was when 'Cleopatra' formed a pair with the superbly handsome Richard Burton, whom she married twice. With a 33.19-carat Asscher-cut Krupp diamond engagement ring worth $8.8 million, Burton sealed the deal!
4. Paris Hilton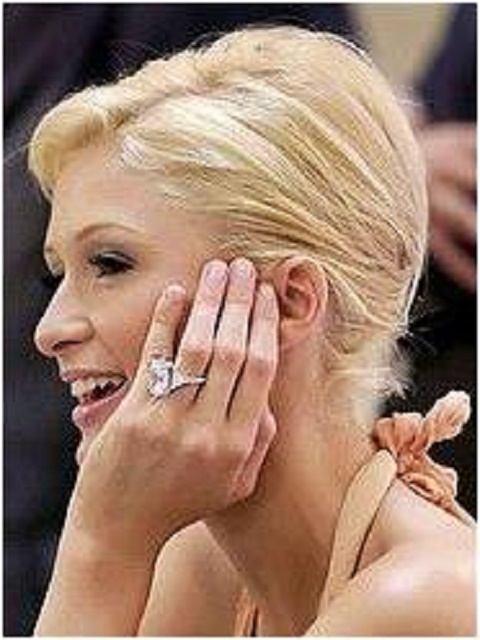 Image source: Pinterest
Considered by some to be one of the lamest couples in the world, Paris and Paris put a ring on their relationship with a gold diamond encrusted ring worth $4.7 million! The engagement ring that Paris Latsis gave her was a 24-carat white gold ring with a huge centerpiece diamond, skirted by two triangular baguettes. However, after they split, she auctioned it off for the Hurricane Katrina victims. Not so lame, actually!
5. Grace Kelly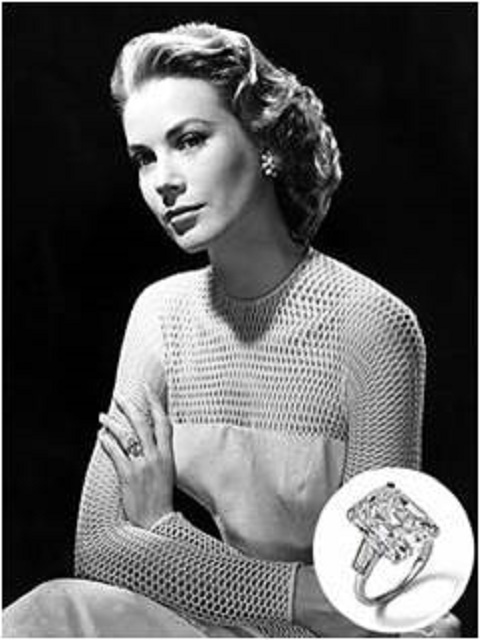 Image source: Pinterest
The royal affair between Grace Kelly and Prince Rainier III of Monaco had to be made official with an elegant 10.4 carat engagement ring. The Prince went down on bended knee with a Cartier eternity band encrusted with rubies and diamonds valued to be $4.06 million!
6. Jennifer Lopez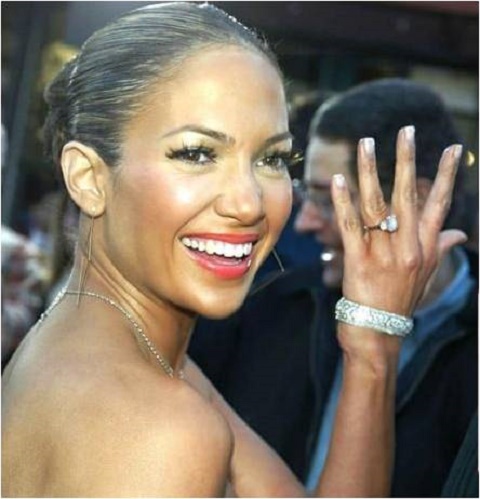 Image source: Pinterest
Well, J. Lo's done it again! Is it just chance that she gets proposed to by men with great looks and a great choice in rocks? Marc Anthony 'let it rain over her' when he splurged on a $4 million Neil Lane blue diamond engagement ring to make her his! Jesus Christ!
7. Vanessa Bryant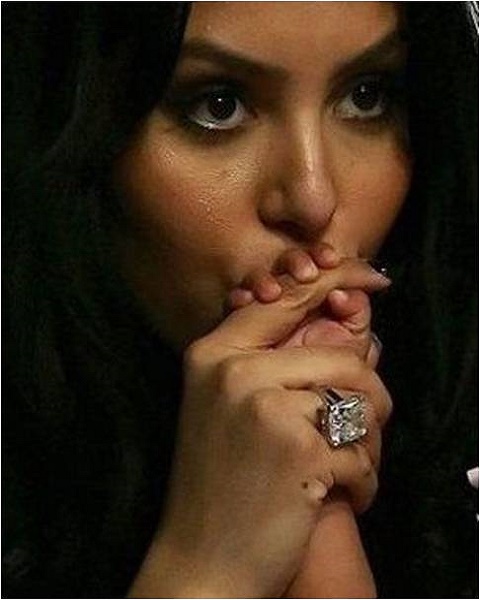 Image source: Pinterest
Kobe Bryant redefined the word 'fancy' when he asked Vanessa Bryant to be his wife. An 8-carat ring worth $4 million justifies our comment!
8. Jackie Kennedy Onasis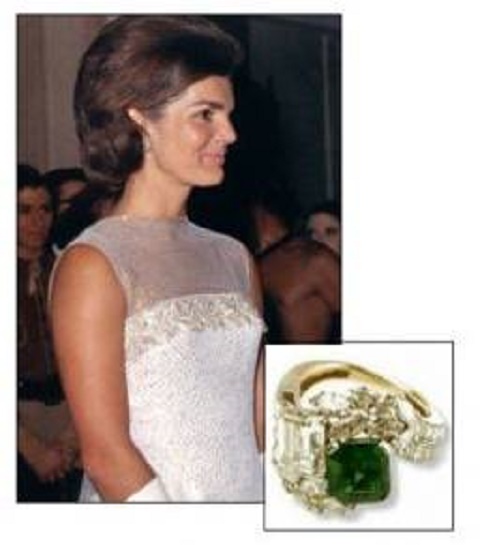 Image source: Pinterest
The first lady got married for a second time to Aristotle Onasis. Her first marriage to John F. Kennedy was already on the rocks before he was tragically assassinated. Aristotle Onasis, said to be her lover for a long time, put a Lesotho III diamond engagement ring on her soon afterward. A 40-carat engagement ring priced at $2.6 million had to make it on this list of the most expensive celebrity engagement rings. Worn by her only twice, it remains locked in her bank vault in NYC!
9. Blake Lively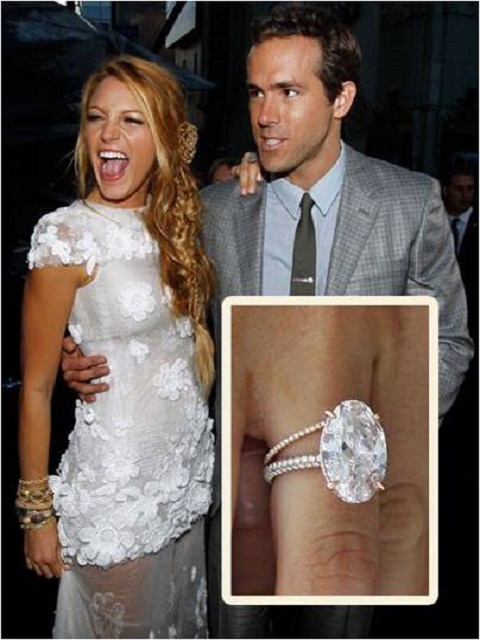 Image source: Pinterest
Ryan Reynolds popped the big question with a 12-carat engagement ring worth $2.5 million! He not only has a great taste in women, but also in rings! Their proposal video was dubbed the most famous video of the year in 2012!
10. Anna Kournikova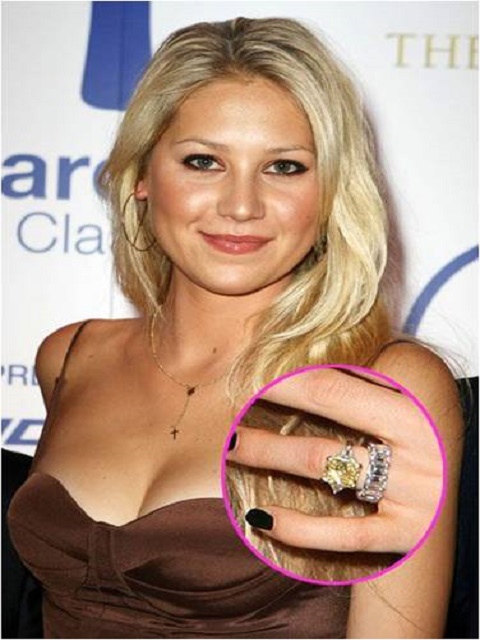 Image source: Pinterest
Enrique broke the heart of millions of female fans all over the world when he proposed to Anna Kournikova with a pink, pear-cut, 11-carat engagement ring from Argyle Jewellers. The ring also showcased two Trilliant-cut stones on the inside! Well, he can really be her "Hero" now! This ring ended up costing $2.5 million.
---
Suggested read: 20 celebrity tattoos that are smoking hot!
---
11. Mariah Carey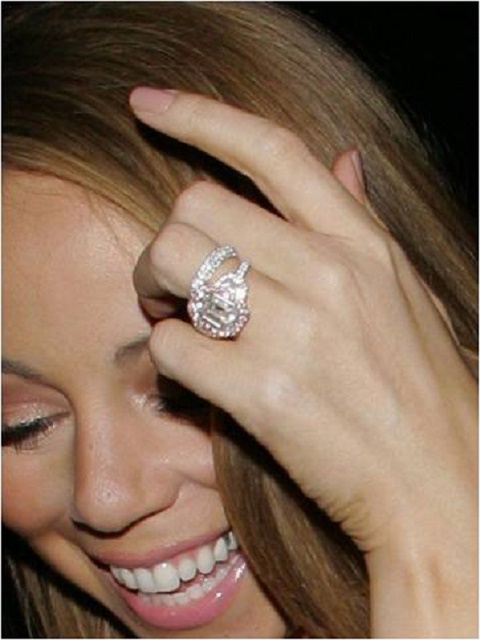 Image source: Pinterest
Mariah Carey received a fairy-tale worthy proposal when Nick Cannon popped the question to her on the terrace of her Manhattan flat. A her beautiful ring featured a 17-carat diamond worth $2.5 million. Mariah said, "They've been calling me Cinderella since I first started out. Most people would think, okay, please! This doesn't happen in real life."
12. Melania Knauss Trump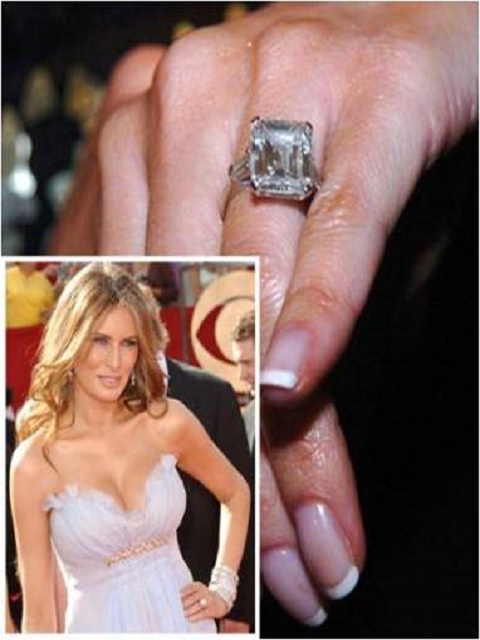 Image source: Pinterest
The business baron Donald Trump got engaged to Melania Knauss Trump by giving her a 15-carat emerald-cut diamond ring valued at $2 million! Don, now running for President, believes Melania would make a brilliant First Lady! Well, we will see about that!
13. Kim Karadashian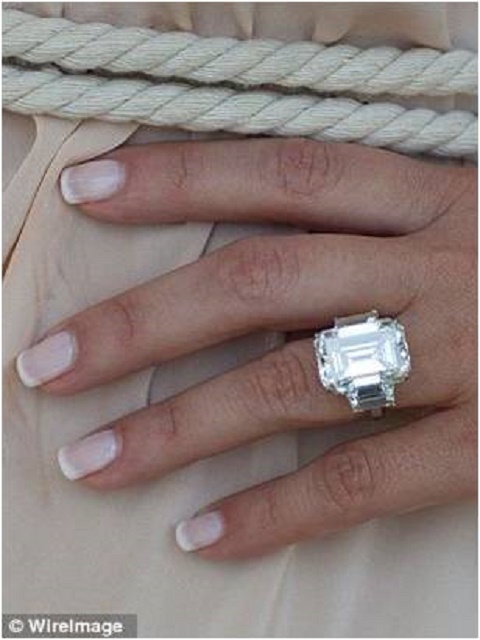 Image source: Pinterest
'Keeping up with the Kardashians' is difficult when it comes to their weddings and breakups! Like Kanye, Kris Humphries also popped the question as a 'surprise' to her on the show. Well, Kris' ring was a 16.2 carat Graff emerald-cut diamond ring worth $2 million! Not bad, right?!
14. Ciara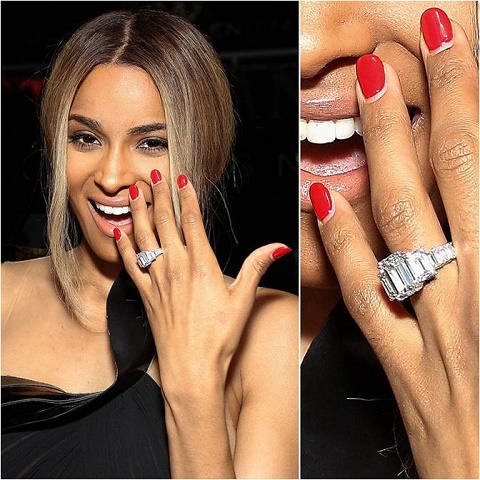 Image source: Pinterest
On her 28th birthday, the R&B star was proposed to by Future, who she was dating for two years before that. It may look like a lot of bling, but Ciara's engagement ring is only worth $1.5 million – a steal in comparison to many other celebrity rings.
She could not hide her excitement and tweeted about it:
"Today Has 2 Be Like One Of The Sweetest Days Of My Life! #TheBestBirthdayEver," she wrote. "If I'm Dreaming I Don't Want To Wake Up..Aaaaaahhh!!!"
Ah! Indeed!
15. Katie Holmes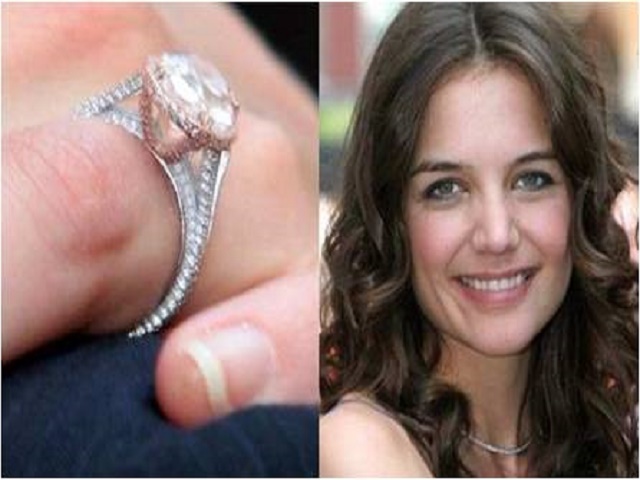 Image source: Pinterest
"Yes, I proposed to her. It was early this morning at The Eiffel Tower, so I haven't slept at all. Today is a magnificent day for me; I'm engaged to a magnificent woman," gushed an obviously-in-love Tom Cruise after the proposal.
Tom 'Cruised' into Katie's heart when he asked her to marry him with a 5-carat diamond ring worth $1.5 million! The fact that the proposal took place at the Eiffel Tower is an especially romantic detail.
Does money really buy you love? If it did, most of these couples would be still married today! When talking about 'true love', a ring as inexpensive as a toy ring from a box of Cracker Jack's (if you remember breakfast at Tiffany's) can make a woman's heart melt!
16. Jennifer Lopez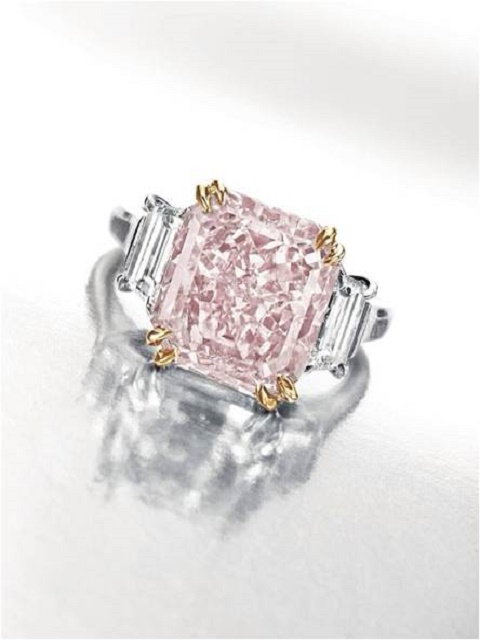 Image source: Pinterest
"I'd probably say that he is brilliantly smart, loving, charming, affectionate. And I just admire him in every way. I respect him. I feel like he teaches me things."
"Shall we 'marry', Miss Lopez?" When Ben Affleck popped the BIG question he gave her an even BIGGER ring! Of course J.Lo made a pretty good impression on Ben Affleck, like she has on all men! He bought her a $1.2 million ring. Jennifer Lopez does not croon "Don't be fooled by the rocks that I got" for nothing!
17. Catherine Zeta-Jones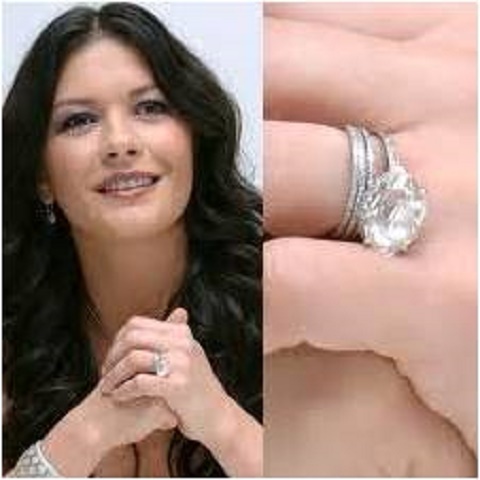 Image source: Pinterest
Michael Douglas made no 'indecent proposal' to Catherine Zeta Jones when he popped the question to the gorgeous Zorro girl on New Year's Eve at his residence in Aspen! With an overbearing, marquise-shaped 10-carat engagement ring, Douglas and Jones decided to get engaged! Keeping in the tradition of all celebrity wedding rings, this Fred Leightton vintage ring too was worth $1 million.
18. Jennifer Aniston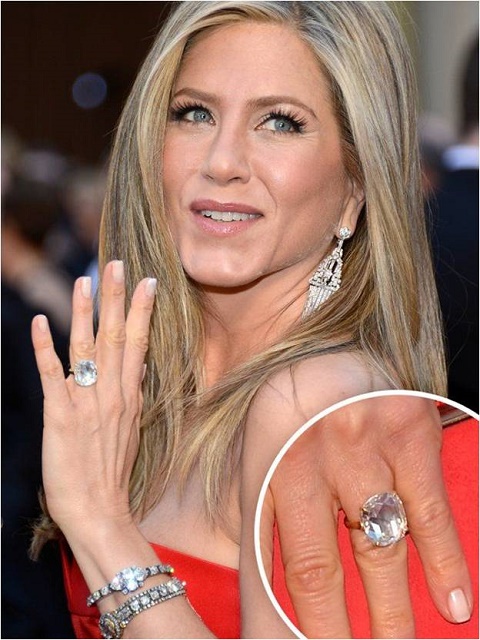 Image source: Pinterest
"I love that feeling of being in love, the effect of having butterflies when you wake up in the morning. That is special."
Justin Theroux proposed to the stunning Jennifer Aniston on 10th of August during his birthday celebrations in New York City. Aw! Theroux paid $1 million for the twinkling diamond engagement ring, so Rachel had no choice but to give him a 'Green' signal!
19. Angelina Jolie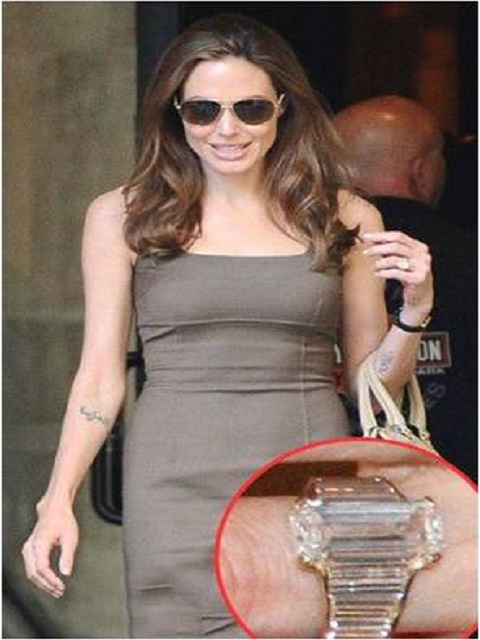 Image source: Pinterest
Brangelina have been the ideal couple for all daters of this generation. Unsurprisingly, their plans for tying the knot had to be a grand celebration for all their fans! Jolie, apparently, was moved to tears when Pitt popped the question in front of their 6 kids. How sweet!
Jolie's elaborate and sophisticated ring valued at roughly $500,000 is 16 carats! It features some blinding emerald-cut diamonds. It's no wonder that Mr. and Mrs. Smith took so long to get hitched as their engagement ring alone cost them a fortune!
---
Suggested read: 16 celebrity cougars who have been the envy of many a woman
---
20. Iggy Azalea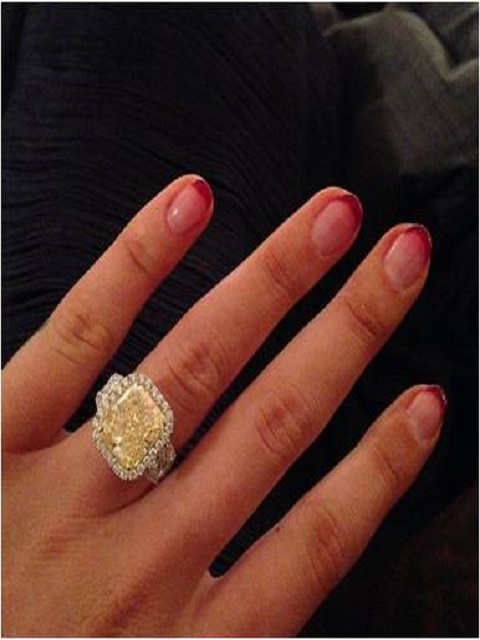 Image source: Pinterest
Iggy Azalea's unbelievably gorgeous yellow diamond ring is a 10.43 cushion cut with 2.28 carats of snowy diamond in 18-carat white gold. Basketball star Nick Young proposed to her with this ring estimated to be worth $500,000. The cutest part of this proposal was definitely the fact that the ring was designed by Young himself in collaboration with Jason Arasheben, a designer from Los Angeles. So impressive, Young!
Featured image source: Pinterest
Summary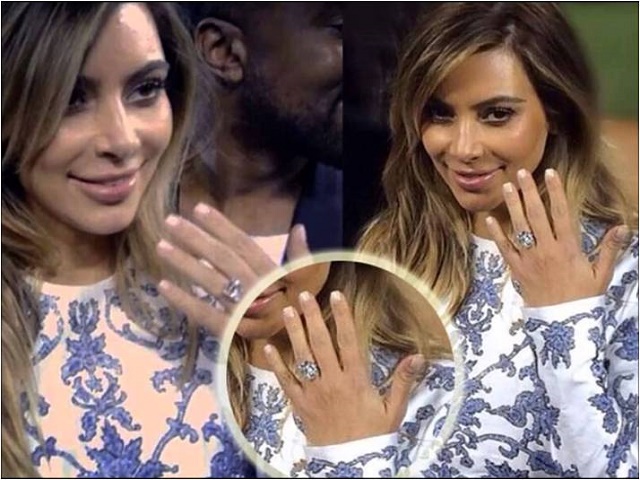 Article Name
20 Most Expensive Celebrity Engagement Rings
Author
Description
Celebrities are know to go OTT when it comes to popping the big question, and it's no surprise that we found these 20 expensive celebrity engagement rings.