Famed for her bushy eyebrows, bold tattoos, and whacky faces, British supermodel Cara Delevingne first appeared in Vogue Italia shot by famed-photographer Bruce Weber when she was only ten! Since then, the bold and beautiful babe has had such eventful years up until she has turned twenty-two, that we wonder if walking as many runways as her is possible for us mere mortals in one lifetime!
Image source: Google, copyright-free image under Creative Commons License
Behold her spectacular achievements and some quirky fun facts about the talented model-turned-actor vis-à-vis eye-popping numbers:
2 million – followers on Instagram
2 million – followers of her pet rabbit, Cecil Bunny Delevingne on Instagram
5 – movies including London Fields and Pan, as well as fall ad campaigns including biggies like Topshop, Chanel, Mulberry, Balmain, and Burberry Prorsum
39 – the record number of shows she has walked in, during a single season!
14 – the number of tattoos she reportedly has. Cara's first tattoo, a lion on her index finger created quite a stir. Since then the word 'silence' has made its way onto her wrist, Roman numerals are inked on her ribs, the name Pandora adorns her arm, the words 'Made In England' are evident on her foot, and her Instagram motto, 'Don't worry, be happy' is writ across her chest!
3 – times has she graced the cover of British Vogue in a short span of 18 months!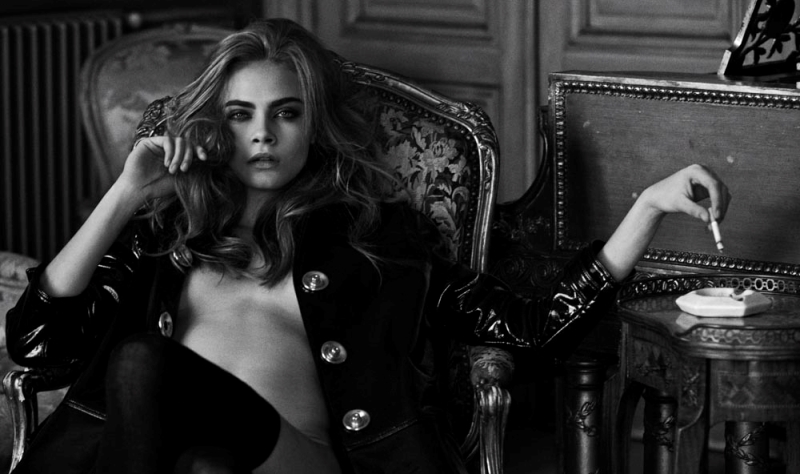 Image source: Google, copyright-free image under Creative Commons License
4 – times has she opened a Chanel show! Chanel Creative Director Carl Lagerfeld says, "girls admire her like they used to Kate Moss."
2 – Victoria's Secret fashion shows have seen her flaunt the brand's sexy lingerie – whilst being dressed in Victoria's Secret's coveted Angel wings!
There are fan accounts for her body parts!! Yep, that's right – @eyebrows_cara to @CarasThighGap – all is real and has fans!
Her name is trademarked. She plans to make onesies and T-shirts, and we bet they'll be an insta-sellout!
Rita Ora is her best-est friend. They call each other 'wifey'!
Her stunning Cannes debut in 2013 is rumored to have been at the behest of Leonardo DiCaprio
---
Suggested read: Barbara Palvin Instagra: All in style
---
And if these aren't enough to evince the popularity of this bold-ilicious babe, you only have to check her rankings on Google and Youtube searches. And oh, whilst you are there, be sure to check out her rendition of 'I Want Candy.'
Recently splattered across tabloids and cyberspace owing to her super-lavish vacations with BFF Rihanna (oh, to be a fly on that yacht in Monaco and Barbados :P) … hanging out on the regular with Rihanna …
..her topless stint on Instagram to promote the FreeTheNipple campaign, by joining the ranks of her (and the world's) favorite bad girl Rihanna, model Anja Rubik, fellow Brit model Suki Waterhouse, Scout Willis, and advancing the cause…
..and her never-ending string of acting assignments and the promotional shoots, thereof – Delevingne has had quite an enviable trajectory – and not just professional! Pictured here with her Paper Towns costar, Nat Wolff…
Her multitude of tattoos on display in this red carpet pic for the Met Ball.
And not to forget her other BFF, Taylor Swift, with whom she spared screen space in her latest video, Bad Blood.
Here are some more visual treats from Cara Delevingne Instagram pictures of her super-hot life. Cara in almost no makeup in this pic…
Cara planting one on a rat 😛
Shooting for clothing retail Mango with Kate Moss…
Cara Delevingne Instagram pic with fellow Brit and model, Jourdan Dunn.
A goofy pic with Miley Cyrus and Zoe Kravitz at the Met Ball.
An oh-so-adorable childhood pic of Cara…
Another goofy pic, this time with a slice of pizza!
Well, that's all the glimpse we'll give you into the interesting life of Cara Delevingne Instagram life. The rest is for you to figure out! Ciao!
Featured image source: Google, copyright-free image under Creative Commons License
Summary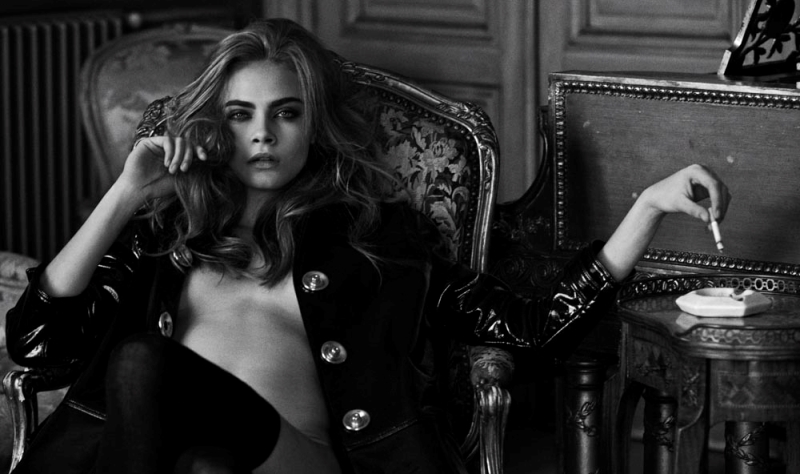 Article Name
Cara Delevingne Instagram: 'Don't worry, be happy!'
Author
Description
Cara Delevingne has a formula for success, and it sure has worked for her, which you'll know if you check out Cara Delevingne Instagram pics. Check them out.