Your engagement day is that one time when you are ready to see how your new life would actually look like. With your would-be, your soon-to-be in-laws, and your new relatives all around you, you simply need to take a deep breath to soak it all in. However, as the bride-to-be experiences her own moments of nervousness, she also needs to figure out how to look good amid so much tension.
Check out the top fashion tips for your engagement day that will let you breathe easy while ensuring that you look as lovely as you are:
---
Suggested read: 23 hair hacks the lazy girl in you will thank us for
---
Tips for your hair
1. Play it straight
Image source: Pinterest
You might be having long tresses that you find difficult to manage. Make sure you go in for a hair-straightening session. Any hairstyle you think you will go for must always have the basic straightened hair at its base.
2. Accessorize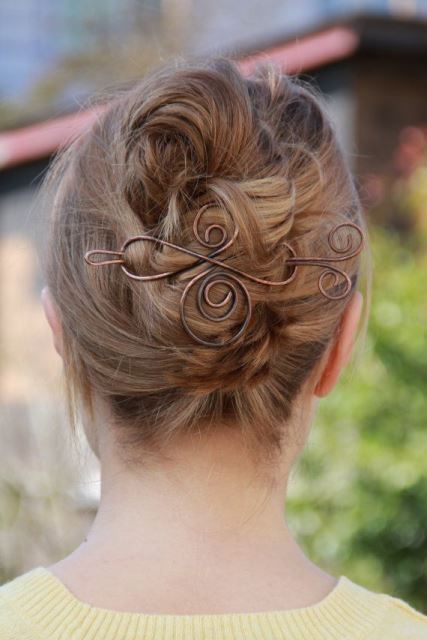 Image source: Pinterest
Use zingy hair accessories such as a braid band or even a chunky clip. You can even get sparkly hair bands or sequined clips that add oomph to any hairdo. For an engagement party, you must stick to a minimalistic hairstyle.
3. Floral blooms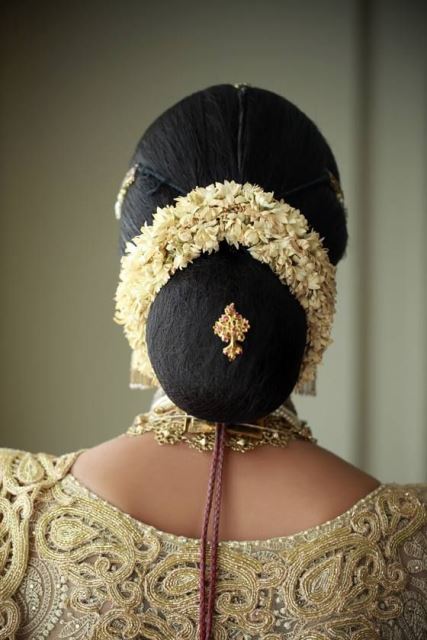 Image source: Pinterest
Use flowers to add that extra touch to your hairdo for the engagement. A traditional gajra goes well with traditional wear. Make sure you stick to white flowers that are not too big, for a perfect effect.
4. Floral bands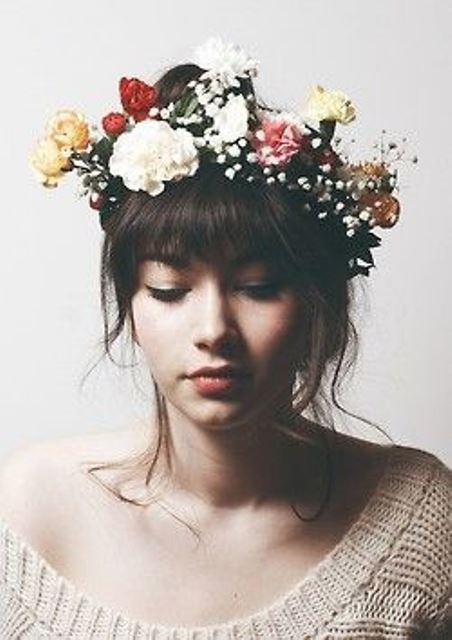 Image source: Pinterest
You may even go for floral string bands if you are flaunting an Indo-Western or a completely Western causal party outfit. Make sure you use bright orchid blooms for your hair that add jazz to your hair, whether your hair is simply down or is knotted in a simple updo.
5. Curl it up
Go for a curly-haired look. Use those hair tongs to create soft resplendent curls. This lends you a Greek Goddess look and ensures that you stay fresh round the day.
Tips for your skin
1. Pack in some uptan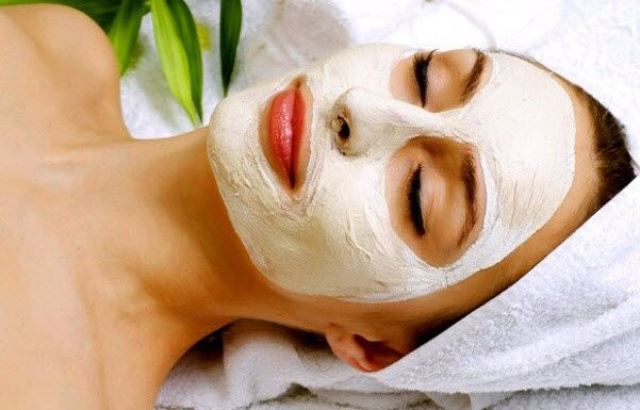 Image source: Pinterest
Invest time in applying a traditional uptan for at least a week before your engagement day. Make sure you include turmeric and honey in the pack for your skin to become glowing.
2. Scrub it right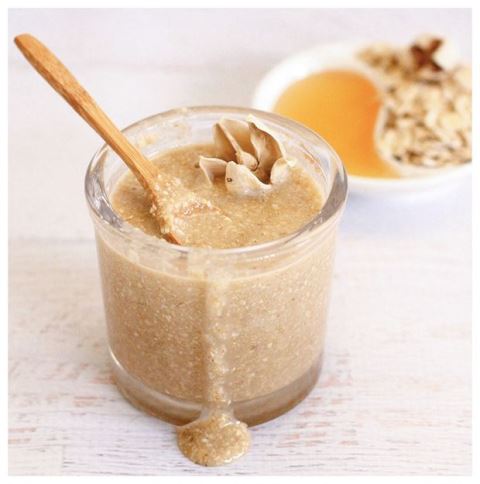 Image source: Pinterest
Do not forget to scrub your skin every alternate day to get rid of dead skin cells. Regular scrubbing can be done with anything from oatmeal to orange lentil paste. Follow this up with a cleanse using cold water and pat your skin dry.
3. Eat right
As a top tip for your skin to shine on your engagement day, you need to ensure that you eat right. Include fresh salads, lots of fresh fruits and vegetables in your diet, while carefully avoiding junk food. Eating homemade food that is fried is not as harmful as eating fried chunks of chicken at a fast food outlet.
4. Moisturize right
For your skin to appear resplendent, invest in a good moisturizer. Even if you have oily skin, you must keep it well moisturized. Well-moisturized skin does not appear flaky or patchy. Remember that moisturization keeps your skin hydrated.
---
Suggested read: 10 easy eye makeup hacks for the truly lazy girls
---
Makeup tips
1. Come-hither eyes
Image source: Pinterest
This is a classic look for those brides-to-be for their engagement day. Use the best kohl and grey-black eye shadows for creating a fantastic effect. Remember that when you are creating this look, you have to go for a nude-looking makeup for the rest of your face.
2. Lip color that pops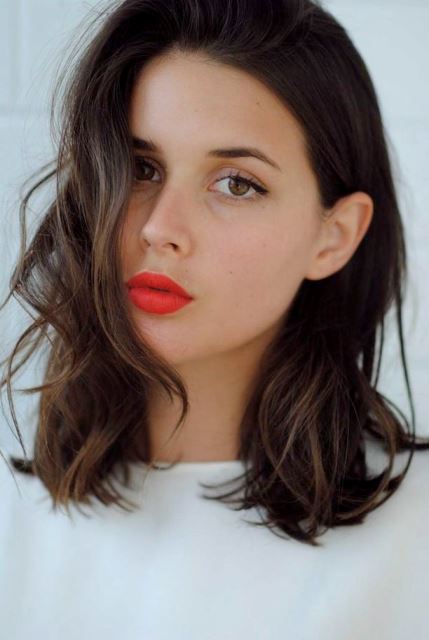 Image source: Pinterest
When you are not very bold on the eye makeup front, you can simply go for a lip color that pops and a toned down eye makeup. Going for bold eye makeup as well as lip color will clash and make you look garish. But this contrast  will result in a final look that is bridal yet not over the top.
3. The right bronzed up look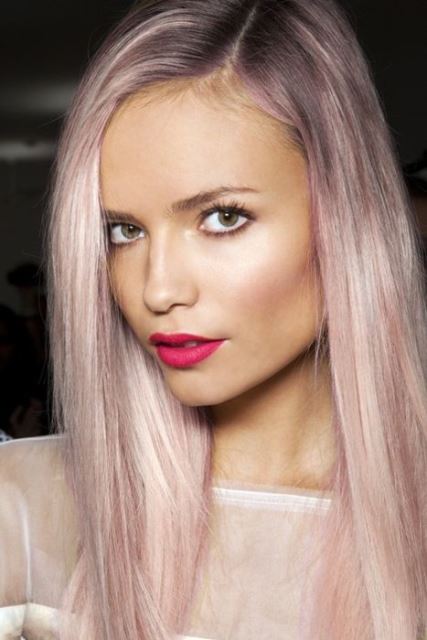 Image source: Pinterest
Using the right tone of blush on your cheekbones, while your lips are nude and eyes shimmery,  this combo can create the best engagement day look for brides of any and every complexion. Choose to go in for a pastel shade on the eyes and a copper bronzer. This is a safer bet than anything else.
Tips for the dress
1. Go for a loose silhouette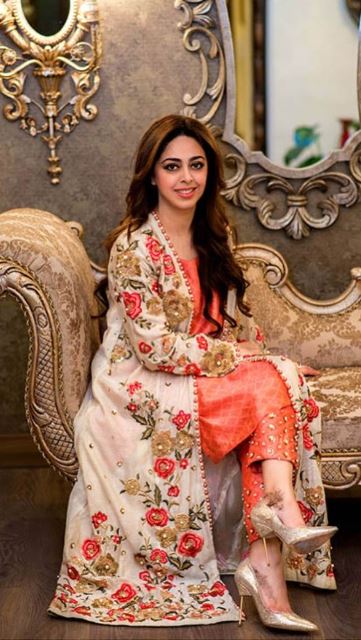 Image source: Pinterest
Think of the sharara or the Pakistani suits that can be well suited to your height and shape. According to your choice of color, you can simply invest in a flowy Pakistani suit for the best effect on your engagement day.
2. Evening dress
Image source: Pinterest
Don a gorgeous evening gown for your engagement day function. This dress shown in the picture above can be your inspiration. The silhouette is like a less-flared gown and the kaarigari is very Indian—embroidery, floral imprints, and lavish use of toned-down gold colors. Try something similar to create a ravishing engagement day look.
3. Flared gown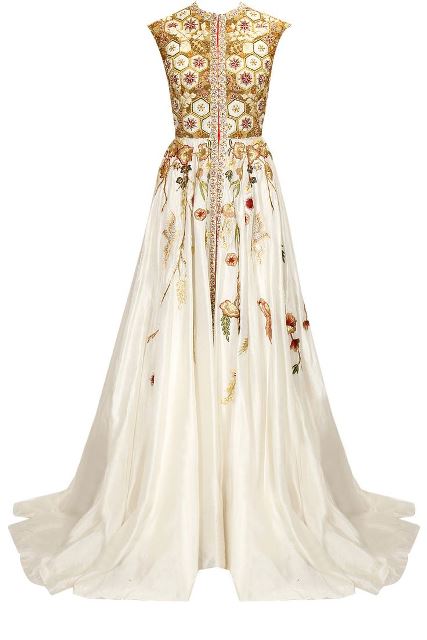 Image source: Pinterest
This is a top pick to flaunt on your engagement day. You can keep your accessories very simple when flaunting such a dress. The flared gown has one huge advantage—it disguises any weight on the hips and lets you sit comfortably.
Tips for nails
1. French manicure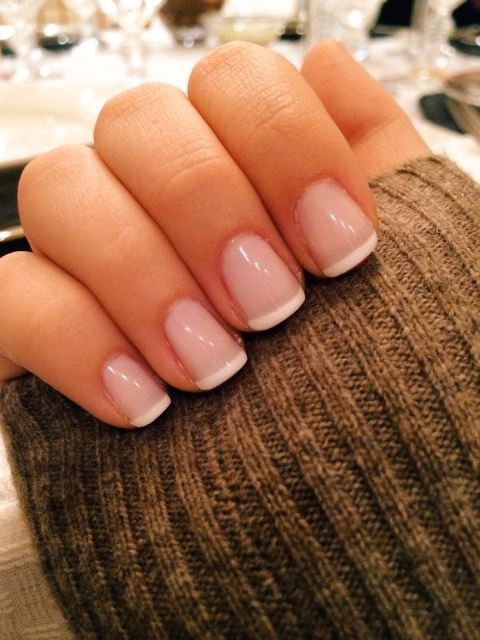 Image source: Pinterest
A classic French manicure can take you places. This is one of the best bets to place your money on for the engagement function. Try applying a pink-rose coat and keep the nail tips broadly whitened.
---
Suggested read: 25 easy nail art ideas even lazy girls can try
---
2. Nail colors that pop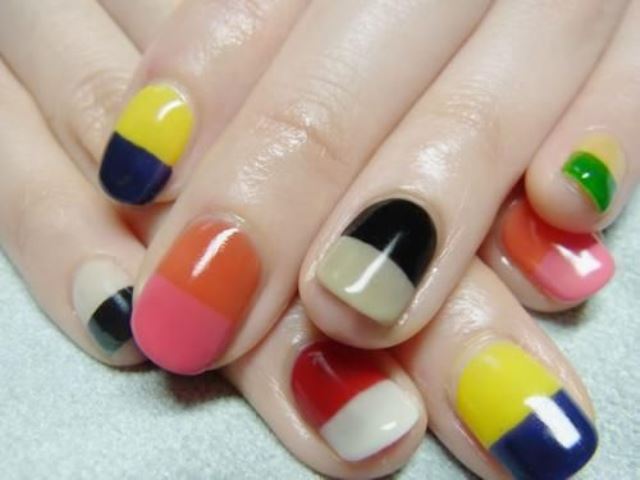 Image source: Pinterest
These are a big trend that is slowly moving on to becoming a classic. The main idea behind flaunting nails with colors that pop is that these help create a color block effect against the dress and the makeup you flaunt on your engagement day.
Now that you have so many engagement day looks and tips to get inspired from, go ahead and plan yours without too much effort. The ultimate thought behind such tips for creating a perfect engagement day look is to choose one that you are most comfortable in. And of course, one that is appealing to the mirror as well as the guests attending your engagement bash!
Featured image source: Pinterest
Summary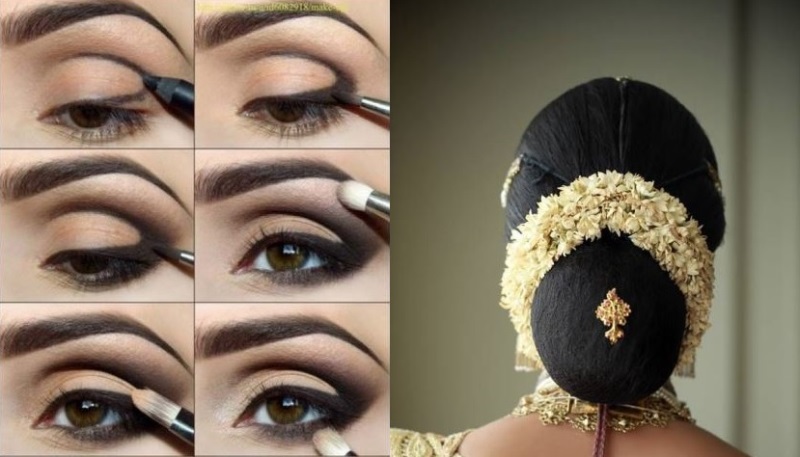 Article Name
Essential Engagement Day Tips For Brides-to-be For A Hassle-free Event
Author
Description
Your engagement day is the first major event in your wedding journey. So here are all the tips you need to have a hassle-free event!