When it comes to women and their hair, there are definitely good hair days and bad hair days. Most hair care tutorials recommend that you don't wash your hair more than 4 times a week, but realistically speaking, your hair becomes a mess either way. It is not possible to wake up every day with a flawless head of hair, and those are the days that you have to bring out all the hair cheats so that you can walk out of the house looking presentable enough for society. Here are some of the coolest, most effective hair hacks for the lazy girl in you.  
---
Suggested read: 25 amazing lazy girl beauty hacks that will get you looking fab in no time!
---
1. Faux fishtail braids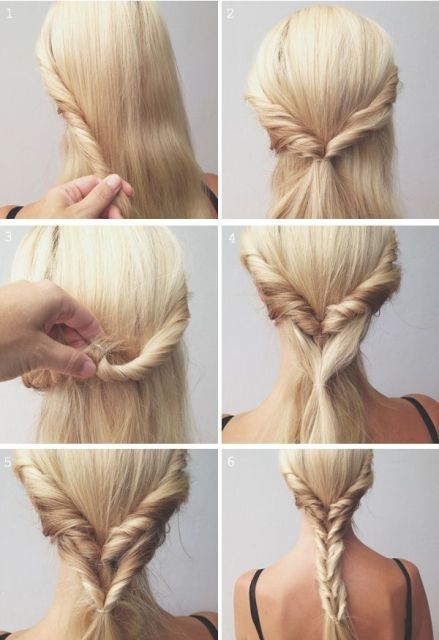 Image source: Pinterest
Most of the time, we are either too lazy or too short on time to carefully section our hair and make a fishtail braid. However, if you are envious of the people who can make an actual fishtail braid, then you can try out this hairstyling tip – tie sections of your hair together from behind your ear and flip them over. Repeat this until you reach the end of your hair's length, and voila!
2. Instant long hair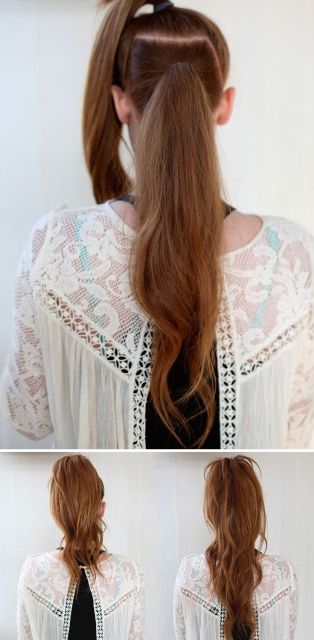 Image source: Pinterest
If you are the quintessential lazy girl and you are not willing to wait for your hair to grow out for that long, envious ponytail, then you can tie a section of your hair collected from behind your ear on the top of your head, and leave the rest of it below the ponytail. This will make your ponytail look longer and more voluminous.
3. Super stylish no fuss ponytail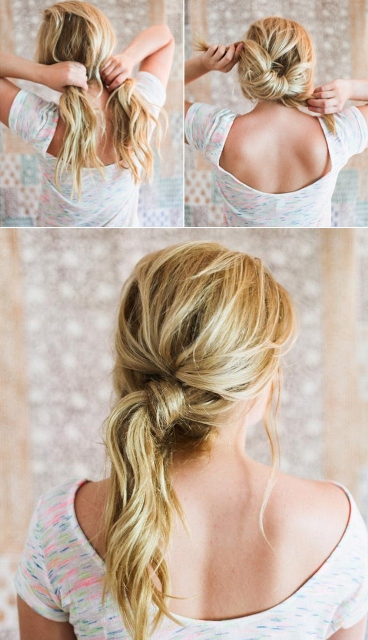 Image source: Pinterest
I'd consider this one of the coolest hair hacks because it gives you a stylish, messy ponytail, in less than 10 seconds. What more could a lazy girl want? Divide your hair into two sections on the back of your head and then tie it into a standard knot. Turn the knot vertically to give it more grip and make it look elegant.
4. Silky hair without washing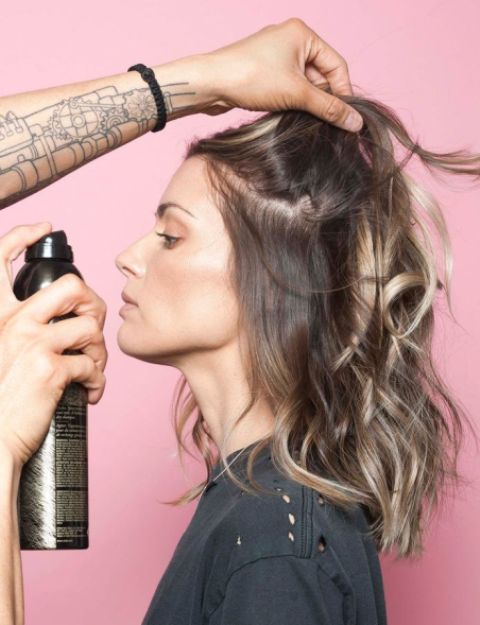 Image source: Pinterest
You may not feel like going through all the trouble of washing your hair every single time you step out of the house. The perfect solution to get clean, silky, and shiny-looking hair is with the use of dry shampoo, which is nothing short of a miracle product. It soaks up all the oil from your scalp, leaving it looking alive and clean.
5. Semi-braid your unwashed hair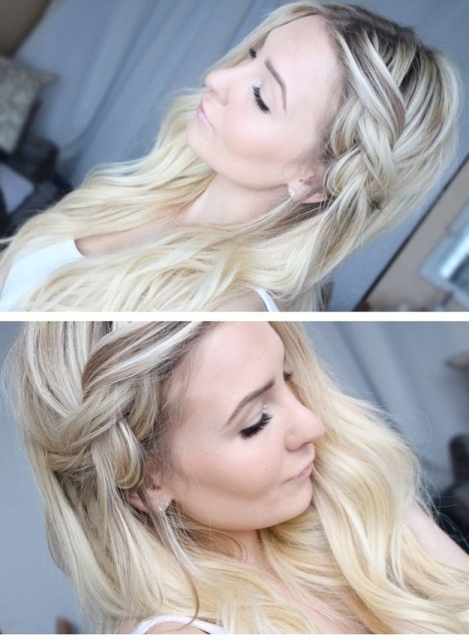 Image source: Pinterest
You might get super irritated with your unwashed hair and your inability to make it look decent, but you may also be too lazy to do anything about it. The perfect hairstyling solution to this is to make a semi-loose French braid on one side of your head. Your unwashed hair will only help it stay in place, and look sexily messy.
6. Cover up a bad hair day with a turban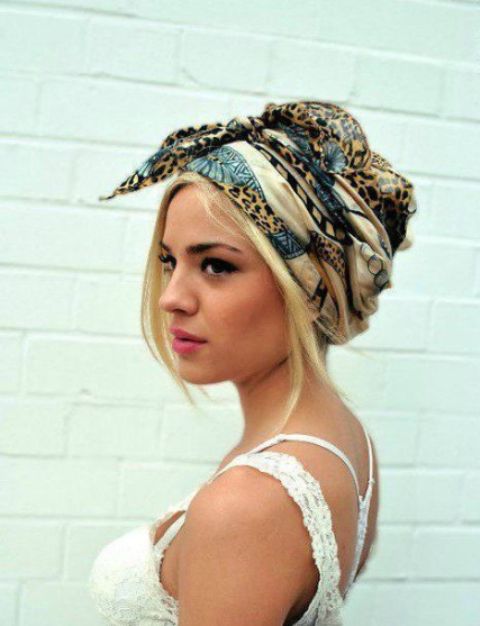 Image source: Pinterest
If you are too lazy to even style your dirty, unwashed hair, the easiest thing to do is to cover it up with a turban. Not only will it keep your hair in place, but it will certainly up your wardrobe game.
7. Wash super thick and long hair in the sink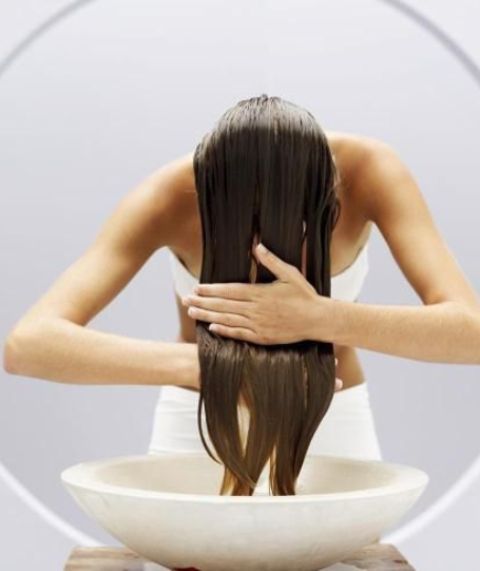 Image source: Pinterest
Sometimes when you wash your hair while taking a shower, the process just becomes excessively time-consuming. To save time, wash your hair in the sink and just make sure that your scalp is clean. It will also take less time to dry. This is essentially what they do in salons.
8. Get a fuller ponytail in minutes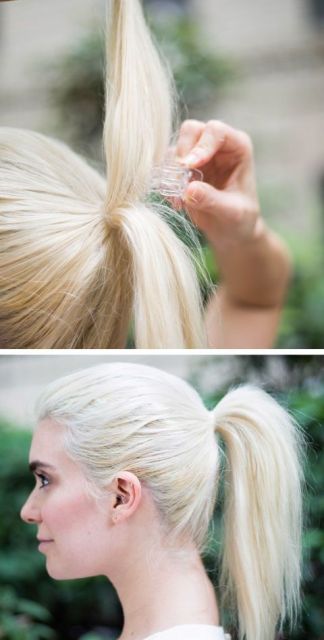 Image source: Pinterest
If you are still not satisfied with the two ponytail method, there are other hairstyling hacks that you can check out. Use a butterfly clip right in the middle of the ponytail to make it look instantly bouncy and full.
9. Use a toothbrush to keep those loose strands in check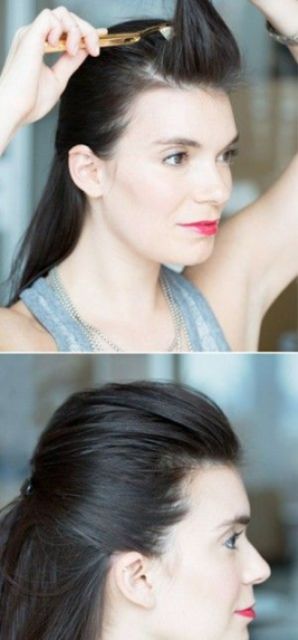 Image source: Pinterest
One of the best hair hacks for lazy girls to tame flyaway and frizzy hair is to spray a toothbrush with hair spray and then gently comb it through the locks. You can wave goodbye to all the expensive hair products and treatments.
10. Get the perfect hair donut with a sock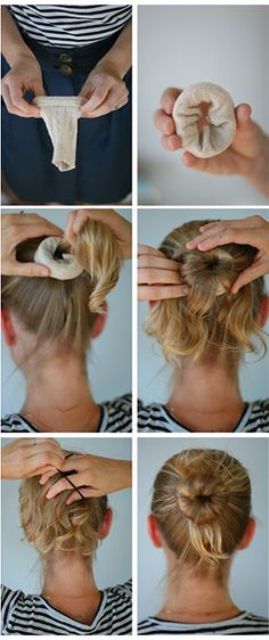 Image source: Pinterest
If you are not one for time-consuming buns that look all fancy, you can opt for the donut-sock cheat that looks just as fancy, if not more so. Cut off the toe section of the sock and roll it until it resembles a donut. Pull your hair through that, cover it with the hair from your ponytail, and twist it around to make it look like a proper bun!
11. Use hair mousse to get instant beach waves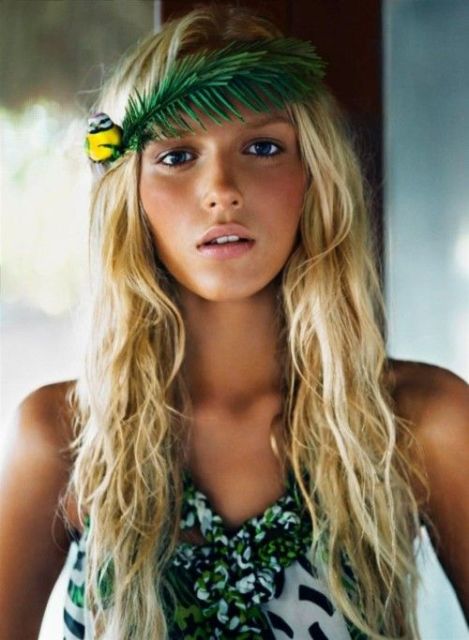 Image source: Pinterest
Hair mousse makes your hair stiff. All you need to do is scrunch up your hair with some mousse and blow-dry it. Who needs curlers, eh?
---
Suggested read: 10 easy eye makeup hacks for the truly lazy girls
---
12. Super-fast curling with the divided ponytail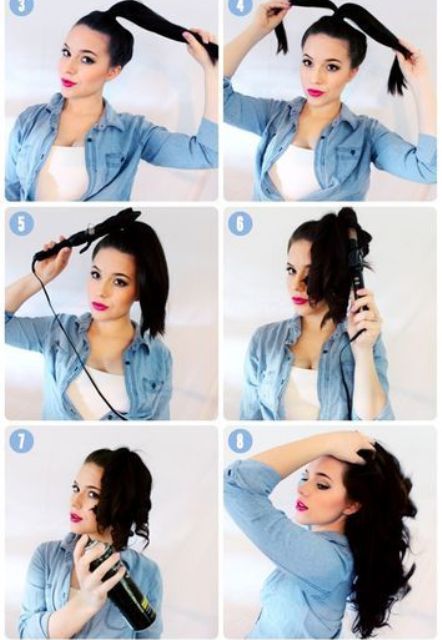 Image source: Pinterest
If you are short on time, or if you are just too lazy to section and curl your hair separately, then hair hacks like these are made to rescue you. Put your hair up into a ponytail and divide it into two sections and then curl each one of them separately.
13. The no-hassle tuck and roll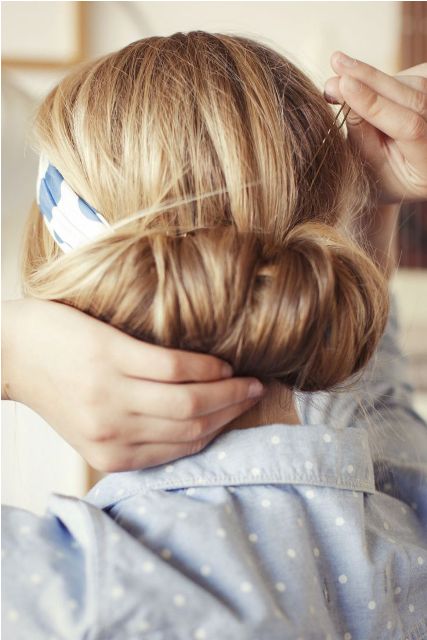 Image source: Pinterest
Tie an adjustable hairband around your head, and pull separate sections of your hair through it and pin the rest of it inside the roll that will eventually form. So fancy; so easy.
14. No heat curling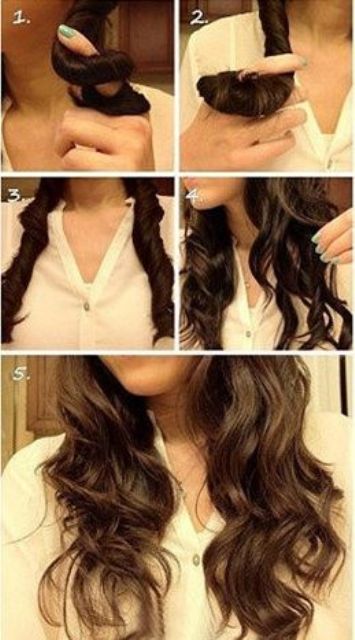 Image source: Pinterest
If you are concerned about your arms hurting or the effort it will take to take out your curlers, then twist your hair into tight rolls instead, and sleep on them. In the morning, you will have the most gorgeous, no-heat waves.
15. Greek braids in 4 easy steps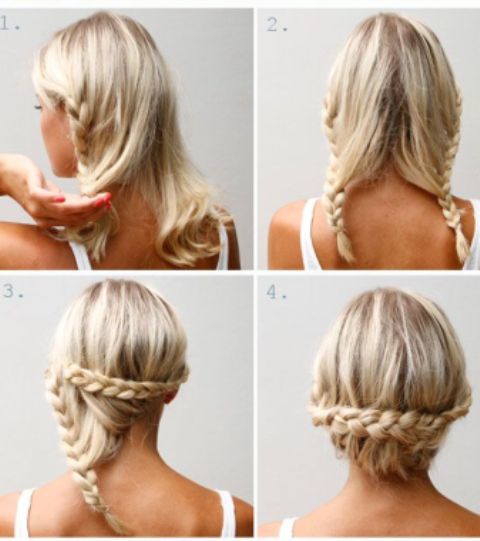 Image source: Pinterest
This example of elegance can be achieved in just 4 easy steps. First, divide your hair into two sections. Start braiding each section while taking loose hair every time from the side where your hair is parted (repeat on both sides). Pin each braid up behind the opposite ear and the loose parts will do the rest of the magic.
16. Curl your hair in different ways with the same curler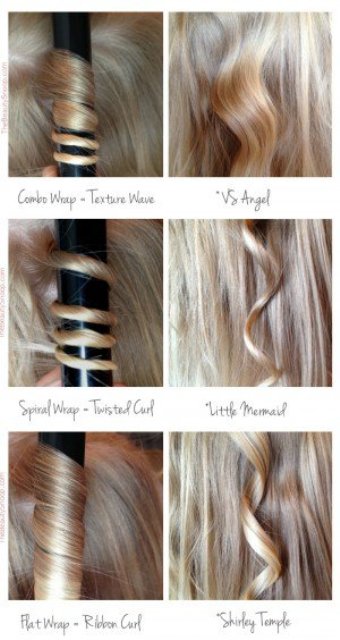 Image source: Pinterest
Depending on whether you want tight curls, loose curls, or simple waves, you can wind your hair around your curler, and save a ridiculous amount of time with ingenious hair hacks like these.
17. Use eye shadow for the illusion of more hair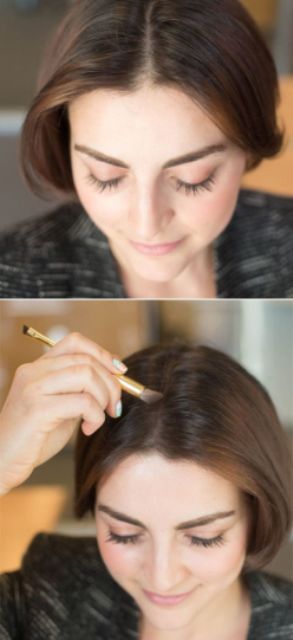 Image source: Pinterest
Restoring fine, thinning hair is a time-consuming process that may take years. To condense that process into mere seconds, use an eye shadow closest to the shade of your hair and brush it on your part to make your hair look fuller instantly.
18. Instant waves with a braid
Image source: Pinterest
If you want perfect waves instantly, put your hair into a super tight braid, and run your straightener over it a couple of times on high heat. When you loosen your braid, you will have cascading waves ready to go.
19. Save time by shampooing and conditioning at the same time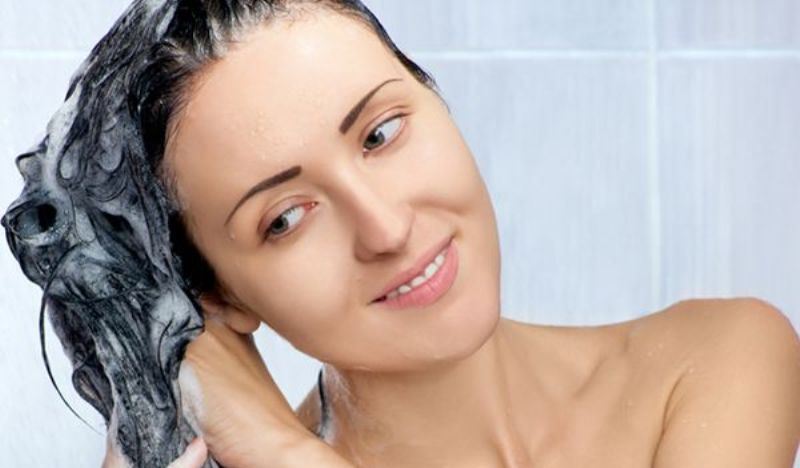 Image source: Pinterest
This hack is purely for the lazy girl in you who hates spending one extra minute in the shower. Save time by shampooing the scalp and conditioning the length of your hair, which you should do in any case, separately. Wash it all off together.
20. Flip bobby pins over for better grip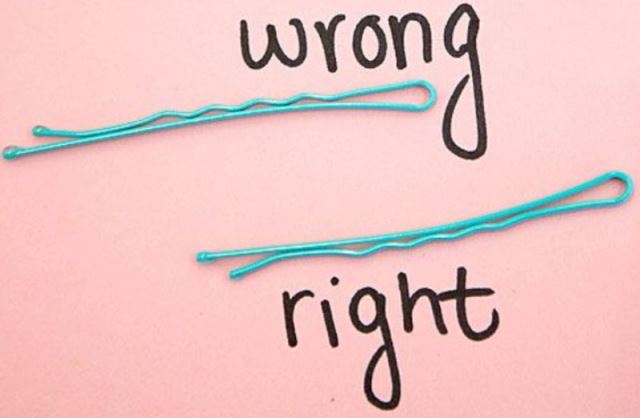 Image source: Pinterest
If you are tired of sticking several bobby pins into your hair because they won't stay, and wasting tons of time and effort in the process, you can try flipping them over, so that the grooved side is facing your scalp. This will give you better grip, and just a couple of them should do the trick!
21. Use beer for instant shine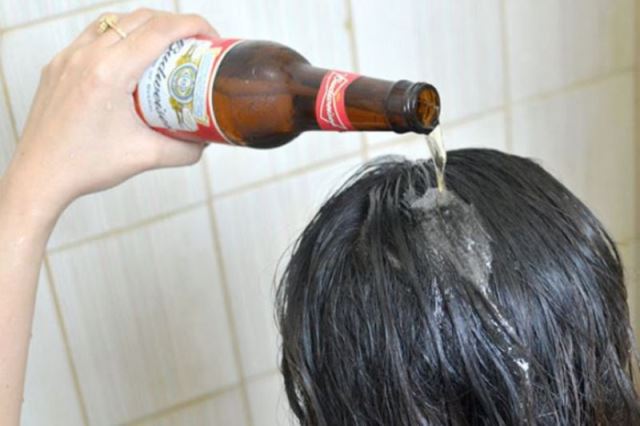 Image source: Pinterest
Although there are special beer shampoos available, there is nothing like the real deal. The acid from the beer lowers the level of pH in your hair, causing your hair cuticles to close up and allow more surface area on your strands to reflect light and make it more shiny. After shampooing, you can wash your hair with beer and condition it to make it smell and look amazing as well! The shine you get afterwards is incredible.
22. Hide mismatched roots with a curling iron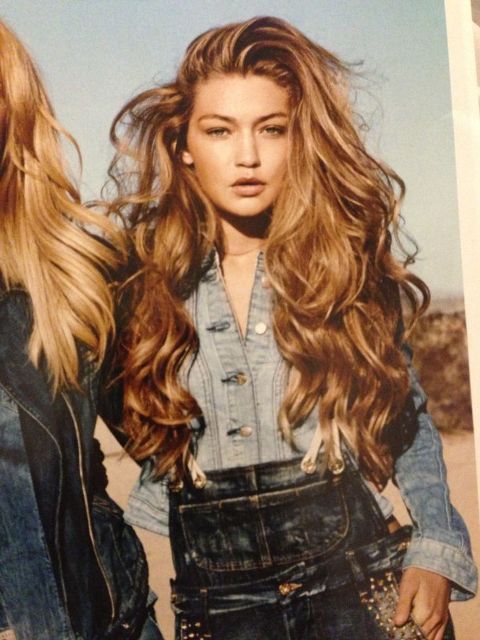 Image source: Pinterest
Sometimes, you are just too lazy to go all the way to the salon to get your roots re-colored. However, mismatched roots look very odd. The best way to divert attention away from them is by adding volume to your hair with a curling iron so that it covers up the mismatched colors, and you don't even have to leave the house to make it happen.  
---
Suggested read: 12 makeup hacks that will change your life
---
23. Tame extreme curly hair with the simple twist back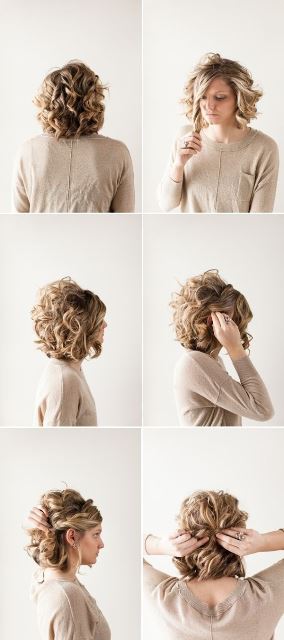 Image source: Pinterest
If you are tired of dealing with out of control curls, don't give up just yet. One of the easiest, most elegant solutions is to take sections of hair from behind your ear, and clip it in the back in a simple twist. It is going to look unbelievably cool and textured and most importantly, tame.
These lazy girl hair hacks can be life-savers when you are having a bad hair day. Which of these hair hacks did you find super-useful? Tell us in the comments below.
Featured image source: Pinterest
Summary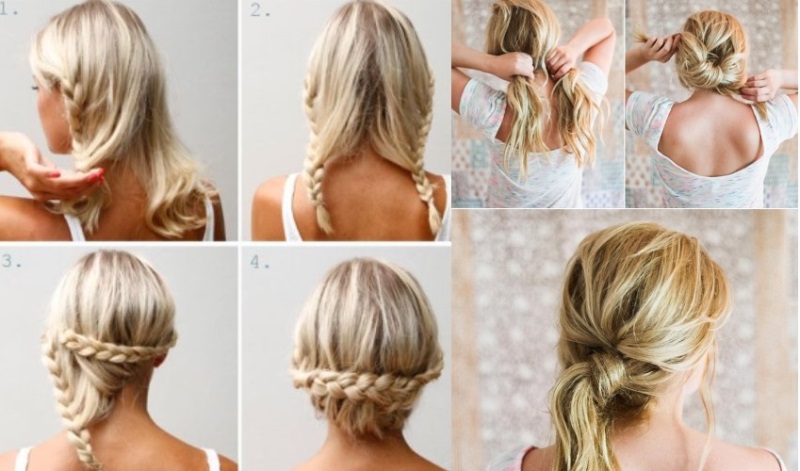 Article Name
20 Hair Hacks Even Lazy Girls Can Try
Author
Description
Not every girl has the patience to slog over that perfect mane of hair. Some of us lazy girls need easy hair hacks to look presentable in a jiffy.