9. The One with Tassels
We're nothing if not hella extra. Why stop at just sequins when you can wear SEQUINED TASSELS wuuuuut? This sequin-tassel dress is giving us life right now cuz if there is one thing we're sure about 2018 fashion, it's that this year we're going to be as unapologetic and bold as we can when it comes to what we wear and how we wear it. This dress is super fun and flirty and will look great with a pair of white/yellow/silver strappy sandals.
10. The Mermaid-Inspired One
While the unicorn trend is slowly dying out, mermaids are taking over the fashion and beauty industry. Here is a little fashion inspo from Winona Ryder's 1999 mermaid-inspired sequin cocktail dress. We LOVE the brilliant mixture of soft pastel shades, and the sheer overlay. This dress is a bit longer than the typical cocktail dress, but damn son you wear something like this to a party and you're coming home with your fair share of numbers from a whooole lotta cuties.
11. The One with Ruffles
Take a cue from the legendary Penelope Cruz in this graphite-grey one-shouldered dress with ruffles by Balmain. While the silhouette youthful and fun, the dark grey color adds a sophisticated touch to the dress. We're giving extra points for the flat-laid sequin trim on the dress. It shows much better workmanship than the usual single-stitch sequin trims on most dresses. Throw on some edgy jewelry to go the extra mile, or keep it simple with a pair of minimalistic earrings and cute pumps.
12. The One with Oversized Sequins
If there is one sequin-dress you should own, it's probably this one from Topshop. It's perfect for cocktail parties, clubbing, and even just casual parties at a friend's place. All you need to do is accessorize it according to the occasion. Wear it with a statement necklace or a dangly pair of earrings and a pair of stylish pumps for a cocktail party. Switch it up with a fun choker and bright lips when you go clubbing or opt for a comfy pair of flats for a party at a friend's place.
13. The Duo-Chrome One
We're in love with this duo-chrome sequined dress by MiuMiu, worn by Chiara Ferragni. Duo-chrome is one fashion trend you need to look out for this year. It's fun, youthful, and has just the right amount of an OTT quotient. Pair this dress with understated makeup and a pair of classic metallic sandals for an elegant but fun look. Alternatively, you could opt for a gorgeous bold lip (try Dance with Me by MAC, or Antidote by Pat McGrath) and glitter pumps for a young, flirty, yet edgy look.
14. The Long One
Yes, we know cocktail dresses are traditionally short, but we couldn't resist putting this long, Prada number on the list. Maybe it's the slinky straps and the peek-a-boo action happening on the dress, or maybe it's simply because Irina Shayk is wearing it, looking like your average goddess of beauty (Aphrodite who?); but we just can't get enough of this incredible dress. We're reeeaally digging the gradual progress of the sequins to tiny little flat-laid ones to big, chunky ones in silver and gold. Wear this dress to any party and you will be the talk of the town for years to come.
15. The Cute One
If you're a bit tired of the regular OTT sexy sequin dresses, why not opt for a more fun option like this YSL dress, worn by fashion maven Chiara Ferragni, on the cover of Glamour Italia? It's fun, youthful, and kinda sexy too (we see that navel-depth neckline, and we LIKEY). The skater-dress skirt adds a young and flirty flow to the dress, while letting you move around and dance to your heart's content without worrying about your dress riding up. Since the sequins are a bit understated, you could always bling it up with some sparkly jewelry and glittery heels.
---
Suggested read: 2017 Best Dressed Celebs And What They Wore
---
So this new year, since we've resolved to party more, have more fun than ever before, and buy all the pretty dresses our hearts desire, we figured it was only fair that we provided you with a list of our favorite sequin cocktail dresses of this year. We hope you'll have as amazing and sparkly a year as the dresses we just showed you!
Summary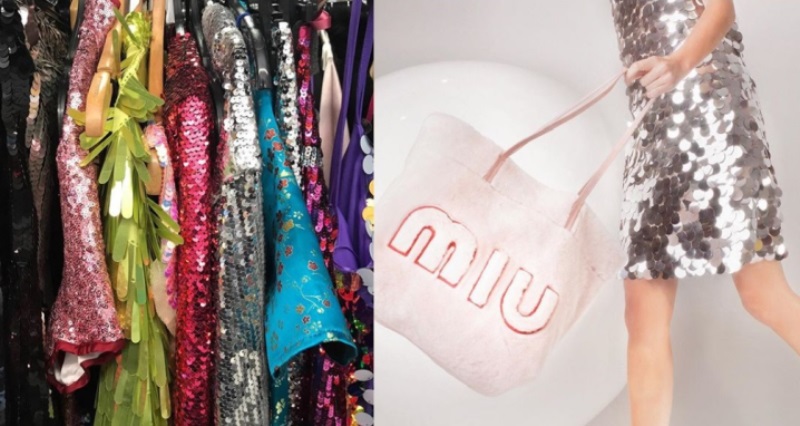 Article Name
Find Out Which Are The Hottest Sequin Cocktail Dresses Of 2018
Author
Description
Here are some of the hottest celebrities ever, in some of the hottest sequin cocktail dresses of the upcoming year.