Though buttons seem like a small detail, but adding some to the mix can transform your look and upgrade it by several notches. When it comes to skirts, the most basic of skirts can be made over into the trendiest of pieces by adding just a few buttons in the front. While an exposed zipper will give your look the instant edge, add an organized line of buttons will not only prep up your overall look, but also give you the feeling of a classy A-line skirt.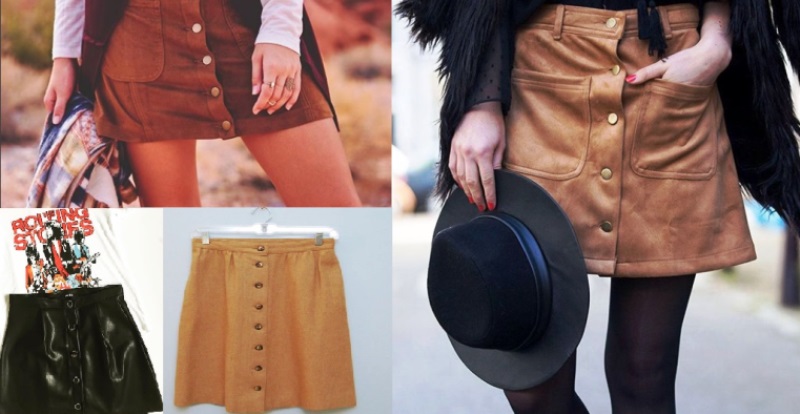 This season, jazz up your neutral look for autumn, with button-front skirts. The pieces are trendy, and add a new beat to your old tops. This one is a versatile skirt that interprets every kind of skirt out there, while also upping the ante of your ensemble. A button-front skirt is one of the easiest ways to climb the fashion ladder quick, and usher yourself into the hall of fame of effortless style.
---
Suggested read: 10 Fashion Trends From the 90s Which Are Making A Major Comeback
---
How to wear the skirt, depends completely on the style that complements you the most. You might want to embrace the throwback vibe of this gorgeous skirt, or go all out and sport your inner Joni Mitchell. No matter what you choose, we know you will look good. For example, even the sports luxe way of teaming up a classic tee and a casual pair of sneakers with a button-front skirt, can make you look drop-dead gorgeous.
There is a button-skirt to flatter every style. If you have invested in a button front skirt, and want to style it like a pro, you have found your way to the right post. Prepare to witness your OOTD for the next one week.
When it comes to a button-front skirt, suede and denim have been involved in an affair that not many are aware of. To get the look on-point, all you got to do it find yourself a light fabric and a lively and bouncy graphic print.
You can give you button front number a tinge of French flair, and do you how you can do that? Just couple it with a Breton stripe top, and let magic happen. To take things a step ahead, invest in a pair of Chelsea boots, one that is bright and chic at the same time. You are going to stomp on so many hearts with that, we promise.
---
Suggested read: 12 Modern Ways To Rock Denim Skirts Like A True Diva
---
A button front style of skirt can get an off-duty make over when teamed up with a pair of espadrilles and a double denim. What say? To up the funk, get yourself a pair of flashy aviator sun specs, and a backpack so sleek that it even cuts through what's called edgy.
If you are seeking to strike a balance between something that's sultry but sporty at the same time, we think you should pair your button-front skirt with OTK boots. Opt for a look that embraces bright separates and is accentuated by chunky accessories. You can style your ensemble with a pair of lace-up heels.
Wearing a chic tank top with your button-front skirt, can add a funky twist to your look. Make sure the tank is understated and mesh, preferably.
To perfect the button-front skirt look, you need to invest in a pair of ankle boots. Whether you want leather booties or suede ones depends on how you plan to style your ensemble. Going to a match? Pair a casual sweatshirt with your button-front skirt, and slip into a pair of suede boots. Going out for lunch with your bae? Wear laced white top, a wine red button-front skirt, and finish the look in style with a pair of leather booties.
If you are someone who is still in the 70s in your mind (why not, right!?), you can play up the trend with a fringe-flecked or go all out for a suede button-front skirt. To give your ensemble a boho chic feeling, you can complete your look with gladiator sandals. To keep it safe and subtle, go for platform heels.
Are you planning to meet an old friend from college for a cup of coffee at your favorite Barista? Or are you and your boyfriend planning to catch the latest movie that's hit the theatres? No matter what your weekend plan is, pairing your button-front skirt with an off-shoulder top will make you look fly as heck.
The 70s trend of button-front skirts have made a huge comeback and not joining the fashion bandwagon would be plain foolish. From leather to suede to denim, you need to grab them all RIGHT NOW. And then you can style them your own way picking up tips from this guide.
There is so much inspiration all over the internet for button-front skirts. If you live somewhere cold, you can pair your button-front suede skirt with a comfortable sweater (preferably Cashmere). Throw a trench coat into the mix, and complete your look with an expensive pair of booties.
You can also pair your suede button-front skirt with a black turtle neck. This is an ever-green classy look that will never be out of fashion.
Coming fall style your button-front skirt to suit you the best, and share the pictures with us in the comment section.
---
Suggested read: #SkirtLove: A Beginner's Guide On How To Rock A Skirt
---
That is all we have on today's post on how to wear a button-front skirt. Was this helpful? Will you be recommending it to others too? If you have fashion queries that you would like to share with us, then please do so in the comment section below. Our experts will get back to ASAP.
You can also subscribe to our newsletter to receive these articles in your inbox every day.
See you again tomorrow!
Featured image source: Instagram 
Summary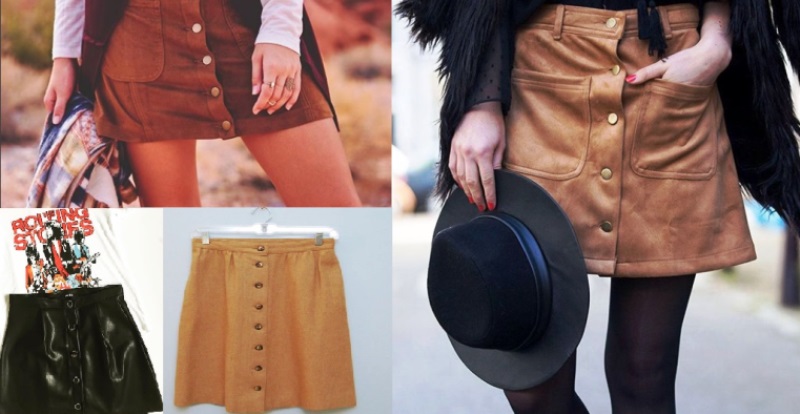 Article Name
This Fall Up Your Fashion Game By Styling Your Button-Front Skirts Like A Pro
Author
Description
This season, jazz up your neutral look for autumn, with button-front skirts. The pieces are trendy, and add a new beat to your old tops.