Spending some time on the internet ensures that you get your daily dose of celebrity gossip, and how they set fashion trends all over the world. Be it Kylie Jenner's fall collection or Kim K sporting the Yeezy look, fashion trends evolve each year, and it is only a matter of time before fashion lines pick them up and make it more accessible to all. While fashion weeks demonstrate and set the vogue, a considerable amount of energy is spent in designing nail looks that complement the fashion.
---
Suggested read: Find Out What Your Nail Color Says About You And Your Personality!
---
And just like evolving styles in clothes and accessories, there are trends in the looks your nails sport. Styling nails is a more personalized and individualistic endeavor, and accompanies you for a longer period than a mere hairdo or makeup. Today, nails are not just about colors, but a lot of about styling and artwork, exhibiting the interests of the people who wear them.
Fall is not just about shedding of leaves and oncoming snow. It's the time of festivities and celebration. The popular trends this fall showcase this sentiment of simple yet luxurious styling of the nails, with rich and deep colors that not only look beautiful, but feel great too. But seasons change, so do the looks, and here is a list of trends in fall nail colors 2018, right from the runway.
Fall Nail Colors 2018
Metallic ombre
Ombre nails were quite a thing when they first appeared in the early 2010s, especially with all those pretty gradients made from infinite color combinations! But the trend is taken a step further this fall with metallic ombre nails – where the glamour of metallic shades weds the simplistic art of gradience. It's beautiful, it's classy, and it's chic, and we love how this trend is getting more popular this fall!
Dark reds, burgundy
Reds have been a classic go-to ever since the advent of the manicure. With the elegance that comes with a simple coat of darker shades of red, we can but not be surprised as to why this retains as a fall color trend, even a century later! Sported by the Oscar De La Renta fall runway look, we are aiming for darker reds in the hues of deep blood red, burgundy, rich wine and grapes. The beauty of the trend is the presence it commands- it appears simple but resonates only much louder.
Black
Darker shades like black were popularized with the emo phase in the 1990s and 2000s, but with a comeback in the fashion week this year, we are more than happy to say that Black is back! Or was it ever gone? Taking monochrome nails to its epitome, black made a raging comeback at Sonia Rykiel this fashion week. If you like to make a bold statement and channel your daring self, this color is for you.
Smoky Teal
A unique color in itself, this hue of teal was popularized as a hair color trend a few years. Making a comeback this year in the form of a fall color this 2018, smoky teal is a cool-toned darker bluish-green shade with tones of dark gray that looks luxurious on the nails. The beauty of the shade lies in its complexity, with the varying degrees of color-combinations that creates a wider spectrum of what smokey teal could consist of, with iridescent tones, while making for a distinctive match for the nails.
White
As basic as it sounds, sporting white nails is another popular color trend this fall. Being a summer favourite, we are not surprised that the trend continues well in to the winter. After all, what speaks of winter than a cool-toned, snowy shade of white!  Moving towards the other end of the monochrome spectrum, unlike black, different shades of creamy, neutral, cool-toned and off-white are being sported by different celebrities like Kylie Jenner, Kim Kardarshian, Beyonce, and Miley Cyrus. It also makes for a great base for cool nail art to welcome the fall season.
New Nude
While Nude nails have gained popularity over the past few years because of the minimalist look it gives. But with varying skin tones, there cannot be just one nude shade that suits them all! Eudon Choi takes this trend a step further with a 'new nude' shade­— essentially a combination of dark brown and dark gray that not only looks rich and bold on the nails, but suits all skin tones across the spectrum.
Metallic shimmer
Another nail trend that is continuing well into 2018, the metallic shimmer shades took the internet by the storm with the clean, precise look that it provides. The beauty of the trend lies in the diffused yet shiny outcome of the nails, if you wish to glow but not shine through like the glitter-lovers out there, you could opt for some metallic shimmer shades. It creates the right amount of balance between festivities and subtleties- it adapts to your mood and your needs.
Holographic silver
The newest nail trend on the block, holographic nails fascinate and attract many- simply because it is not a singular shade – the holographic flakes reflect light that exhibits the various colors of the rainbow spectrum. In other words, tiny rainbow flakes that shift color with different lighting conditions are enough to make a unicorn-lover drool. Holographic silver is the classic version of this trend, wherein the medium and base of the flakes is metallic silver.  The interesting facet of this trend is the various forms of holographic nail colors- it could contain scattered or linear glitter, or result in chrome finish. But beware! All that shifts color is not holographic, for duo-chrome and iridescent colors that also shift colors, but the spectrum is limited to two shades only.
Chrome nails
And finally, one of the biggest manicure trends this 2018 is chrome nails. The high-shine finish, with a mirror-like glaze, screams high fashion like no other trend. They can be monochrome, or duo-chrome, where the colors shift with the reflecting light, but grounded to two colors only. The finish is the main source of attraction, and the best part is that there are colors galore in this trend. From softer metal shades of rose gold, copper, marble and pink, deeper shades like gunmetal gray, mermaid green, teal, to exact replica of mirror-nails and holographic chrome —the combinations are endless, and for good reason.
Olive green
A moody tone like olive or mossy green exhumes the spirit of winter- dark but stylish. Popularized by Eudon Choi in the runway, this shade suits all skin types and greatly complements dark and tan skin tones. The shade is rich and gives a luxurious feel, and lets your nails do the talking.
Summary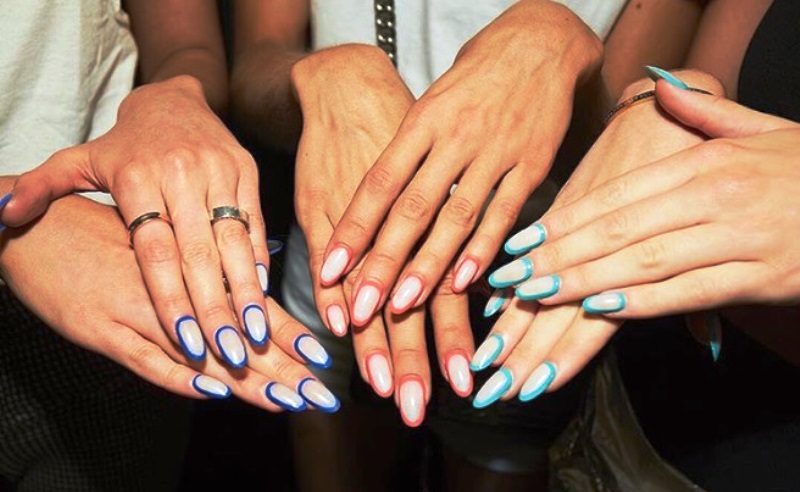 Article Name
Here's The Guide To Fall Nail Colors 2018
Author
Description
Today, nails are not just about colors, but a lot about exhibiting the interests of the people who wear them.Here is a list of trends in fall nail colors 2018, right from the runway.
Read the rest of the article:
Next