There is nothing more satisfying than a great manicure that makes your hands look and feel like a million bucks and although we aren't as obsessed or rich as Kylie Jenner who gets a manicure a week, it doesn't prevent us from pampering our nails from time to time. Despite the fact that all of us love experimenting, there is one particular manicure that we keep going back to over and over again when we feel spoilt for choice.
You might be wondering how one could possibly determine your personality based on your manicure choices. The point is, however, that it is exactly your choices which determine who you are and when it comes to making up your nails, there are a lot of variations which you can choose from, but what makes you who you are is the choice that you ultimately end up making over and over again. In fact, a manicure is one of the best ways of determining what you might be feeling, and not just who you are.
---
Suggested read: Top 20 nail colors to sport this seasons
---
Here is what your favorite manicure style says about you.
1. Classic French manicure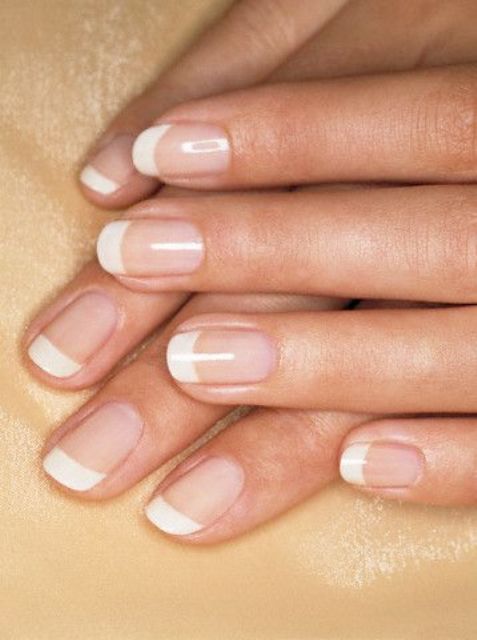 Image source: Pinterest
A lot of people think a French manicure style is out of fashion- but what goes around, always comes back around, and the same goes for fashion. A French manicure is simple, good-looking and easy to handle, which makes you the epitome of practicality when you choose to go back to this particular kind of manicure. It is also a very professional yet fashionable look to sport, because it is neutral and basic, making it appropriate for all your outfits.
French tips also suggest your eternal love for the classics. Not only are you extra biased towards those noir films in your DVD collection, but also favor your classic red lipstick and your pearl chokers and everything classic and traditional, despite your modern edge.
2. Bright red gel manicure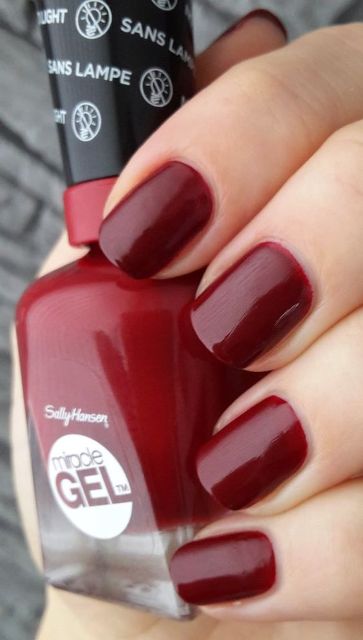 Image source: Pinterest
Red itself is a bold and beautiful color, and it completely reflects the personality of the wearer. If you are all for red gel nails, then not only are you super confident about the way you look and the way you carry yourself, but you also like to make effortless fashion statements.
Although red gel nails might look vampy, they are symbolic of your love for all things chic and classic. However, the thing about red nails is that they are good-looking but also very low-maintenance, which means you keep busy and are supremely professional and anything but frivolous. You don't really have much time to dedicate to your nails or personal care on general, but you always manage to look sharp, classy and trendy, despite minimal maintenance.
3. Soft pastels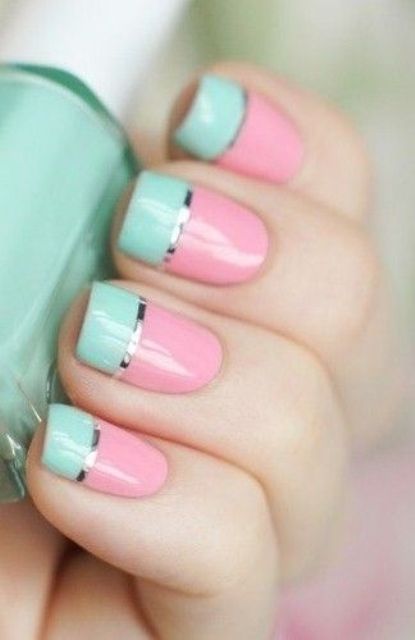 Image source: Pinterest
Pastel shades on your nails and manicures in muted colors have been made popular by celebrities like Kim Kardashian and Taylor Swift (put them together on purpose). If you too are super fond of pastels in soft shades like pinks and rosy reds and other such muted colors, then you are anything but soft and muted. Essentially, your manicure suggests that you are the life of the party, and even though you are understated and minimalistic, you are the life and soul of a crowd because of your fun and incredibly appealing personality.
Also, you have impeccable taste in all things, which makes you the go-to person for all kinds of aesthetic advice.
4. Nude manicures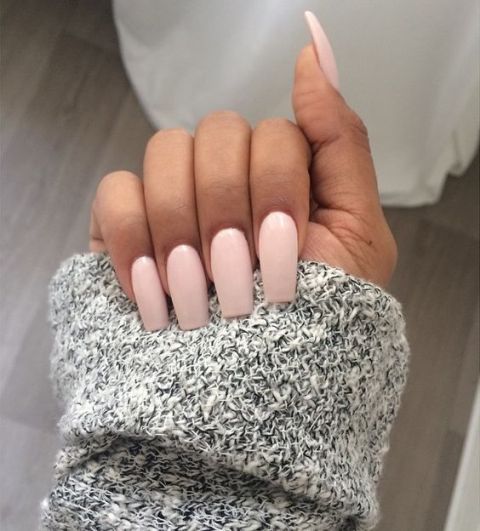 Image source: Pinterest
Nude manicures are all the rage now, and they look incredibly good on your hands, no matter what your skin tone is. They also eliminate the need to get constant manicures in case a bold color you wear on your nails clashes horribly with your outfit on some random wild weekend. If nude manicures are your go-to nails, then you are low-maintenance and the super pleasant, no fuss types. You are innocent and appealing, which is why everyone loves you.
Nudes prove that you are feminine and your love for all things dainty and beautiful only enhance your pleasantness. You might be afraid of taking risks though, because nudes also suggest playing it safe, and not taking spur of the moment decisions.
---
Suggested read: 20 nail art ideas for fabulous-looking nails
---
5. Nail art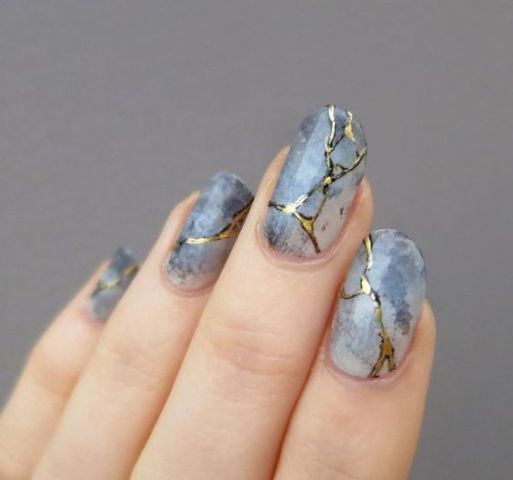 Image source: Pinterest
One of the most difficult and demanding manicure to get and maintain is nail art and other accessorizing and designing on your nails. Nail art has reached unprecedented heights in recent times, which means people have become bolder when experimenting with their nails. If you are obsessed with nail art and you cannot bear to look at your nails in their plain-Jane form, then you are an incredibly dedicated and committed person, with determination which makes you competitive and intense.
Nail art is also symbolic of your creative faculties, which makes you eccentric and brimming with ideas. Those who are fond of nail art are usually fond of adventure and refuse to be tied down by the normal, mundane existence of everyday life, which makes the possibilities of their ambition endless. Creative, full of spirit and eccentric is what defines you.
6. Gothic black manicure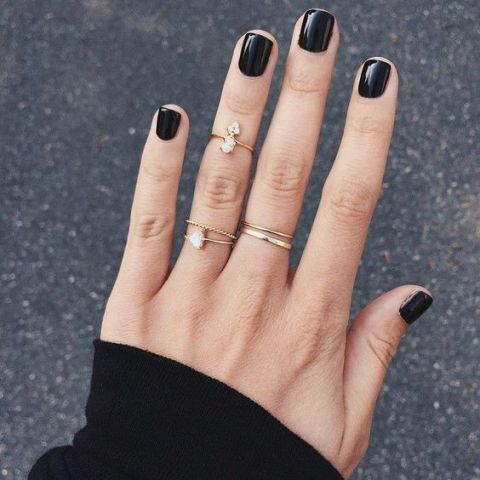 Image source: Pinterest
Black manicures have gone through more phases than all other manicure styles combined. When they were initially discovered, people went nuts and everyone sported black nails after which they became a social taboo and whoever wore black nails was ostracized by society for being old fashioned and Goth. After extensive vacillation, black nails have again become a staple in all nail salons and for some of us, they are our savior when we are in dire need of a proper manicure.
Black nails mean you are unafraid of breaking the norms of society and doing as you please, even if it means going against what is "trending" at the moment. It symbolizes a complete disregard for other people's opinions, which makes you confident, self-sufficient and extremely dependable. They make you feel more badass than you already are, which is never a bad thing. Black nails are also super high maintenance because nothing looks worse than chipped black nail paint. If you are fond of singularity and uniformity and you are also somewhat of a perfectionist (bordering on OCD) then black manicures are your signature style.
7. Bright neons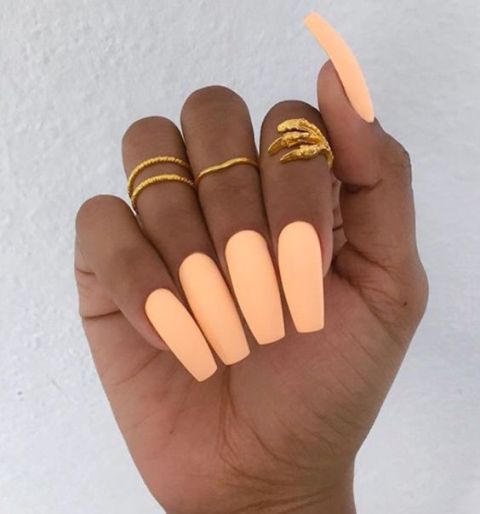 Image source: Pinterest
Neons are the new in thing not only for fashion, but also for manicures, and if you are one to go all bright and alarming on your nails with striking neons, then it surely reveals more than you think about who you are as a person. There is no denying that neon nails grab attention even in places where it is impossible to draw attention to anything, aka, darkness; but neon nails are actually one of the coolest nail trends we have spotted on some of the coolest people out there for real.
Neon nails imply that you are super chill and super hipster with your choices, which means that the last thing you will do is conform to popular trends. You have no trouble handling attention which means you have excellent leadership qualities and you can handle adversity and difficult situations without losing your head. Also, you are an extrovert meaning not only are you great with people, but you welcome all the attention that you get and enjoy every minute of it!
8. Chrome nails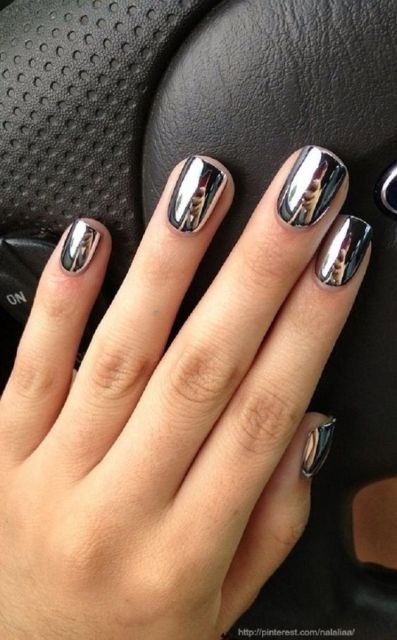 Image source: Pinterest
One of the most revolutionary trends in the nail world is that of chrome nails, which are hard, silvery impenetrable looking nails, which are created with a lot of effort and hard work and are pretty difficult to maintain, but people go nuts about them anyway. Why you ask? Because they look freaking fabulous, that's why. Chrome nails are created after layers and layers of polish and drying to give that futuristic, metallic sheen, which you just can't achieve with normal polish.
If you are fond of these nails which look like it could land you a role in one of the Transformers movies, then you are a driven, passionate, determined individual who is all mystery and enigma and very little chit-chat, if that makes any sense. They make you look fearless and edgy, which you are. Chrome nails also suggest an affinity to try new things always, and failure is not an option, so even if others are struggling with something, it is likely that you are going to own it.
---
Suggested read: 25 easy nail art ideas even lazy girls can try
---
9. Feature nails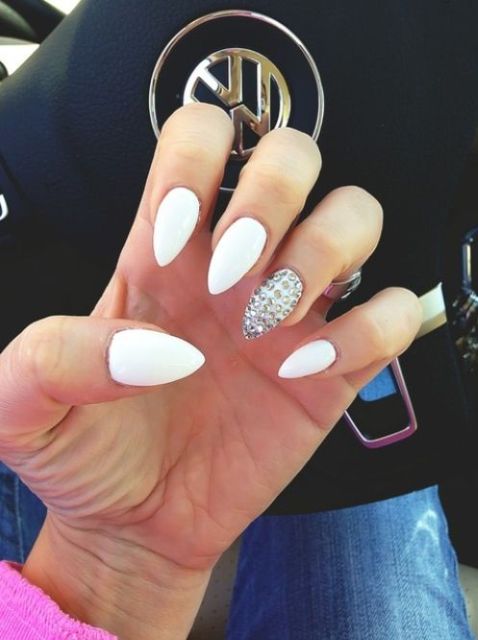 Image source: Pinterest
Feature nails started as a popular trend a couple of years ago, and they are still popular amongst common earthlings like us and high-profile celebs. These manicures feature one nail on either hand which has a different polish from the rest of the nails on your fingers, giving you an abstract, alluring look. There are endless possibilities when it comes to feature nails, but what it suggests is your whimsical and unique side, which sets you apart from the crown wherever you go. You have always been the fashion guru of your friend group, and you are up to date with all the latest gossip and fashion trends. If feature nails are your go-to manicure then you are fun, outgoing, generous and most importantly, appealing in your uniqueness.
Nails actually do reveal a lot about you, whether you choose your manicure style consciously or unconsciously. Next time you head out for your nail-care routine, keep this list in mind!
Summary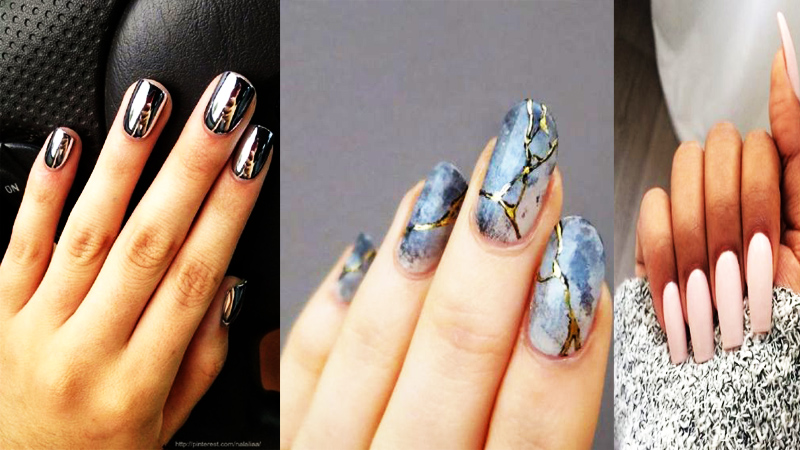 Article Name
What Your Favorite Manicure Style Says About Your Personality
Author
Description
Because the manicure style you pick is the one you'd stick with- and that says more than you think it does!