So Blake Lively has been giving everyone major fashion inspiration right from her Gossip Girl days when she appeared on screen with her blonde hair, pretty face and signature Blake Lively smile. Since then, she has been the undisputed queen of hearts, and married Ryan Reynolds after which we didn't know whether to laugh or cry. Not only are they serious relationship goals, Blake Lively style is the envy of many. Even now, Blake Lively style is classy, fabulous, ever-stylish and while she's on the verge of producing some more ridiculously good-looking children with her eye-candy of a husband, we are compiling a list of all the styling tips we can definitely steal from her, even though we can hope to look half as good.
---
Suggested read: Why Gigi Hadid should inspire your taste in fashion
---
Here is a humble ode to Blake Lively style.
1. Sports shoes with dainty, floral dress
She had us floored when she paired her floral dress with a thigh-high slit up her side, with a pair of white trainers, and looked like a complete queen in it. Obviously, we can't miss the baby bump, which only makes her look even better, but now we can safely wear a pretty dress and comfortable shoes and hope to survive those Saturday nights without being rejected by society.
2. Goth chic in strappy monochrome number
Here is another picture of pregnant Blake Lively, looking better than we will in our entire lives (and there are many more pregnant pictures to come). She managed to rock a strappy, almost risqué dress that anyone else would look really ugly in, and managed to make it #fashiongoals. Blake Lively's style here is characterized by Goth and feminine elements on the dress, which gives us the courage to mix and match the mess that is in our "wardrobes".
3. Frilly fabric appliqués on fit and flare dress
Blake Lively decided to attend the premier of her Woody Allen film Cafe Society in this short, pastel number, which has major retro vibes with those frilly fabric appliqués distributed all over her dress. The plunging neckline, along with the simple cut and length of the dress made the look stable, because the appliqués were a lot to handle by themselves.
4. Everything about this look
Although we can't really see her dress in full-length in this picture, we can see how Blake Lively's style is inspired by Oriental strains. The brightly-colored embroidered dress is accessorized with studded clutch, a lot of wooden bangles and a pair of spiky Louboutins. Usually, this combination in your outfit would give anyone a fashion heart attack, but if Blake Lively can do print on print on spike on wood and look fabulous, so can you.
5. Sweatshirt, feathered dress, and heels
By now, we have probably established that Blake Lively is the queen of breaking fashion rules, and then owning them. Could us mere mortals have worn a sequinned and feathered short dress and a pair of silver heels which would put our night-out shoes to shame with a simple grey sweatshirt which we would not even wear in the distance between our house and the gym? Definitely not.  Blake Lively however does what we all think about and gives us the licence to do the same. Thank you Blake Lively.
6. Fitted cut-out midi dress with printed shoes
We all know that when you are wearing a sexy, monochrome, cut-out midi dresses, you wear the right pair of shoes, aka, a pair of simple pumps in monochrome or if you are feeling extra fancy, then sequins. Blake Lively chose to wear a pair of printed bottle green pumps with her striking royal blue dress and we observed a moment of silence to the death of our own spontaneity and inability to do what she did.
7. Pairing a denim jacket with a full-fledged ball-gown
We have all dreamt of looking like Belle from Beauty and the Beast, but Blake Lively has the agency to actually fulfill her dreams. But being the cool person that she is, she decided to accessorize her full-fledged, yellow, embroidered, fancy ball gown with…a denim jacket. Who would have thought mortals were capable of such daring? Oh, I forgot she isn't one. Also, million points for that hilarious af caption.
---
Suggested read: 15 times Rihanna proved she is the fashion queen of the world
---
8. Asymmetrical hemlines and cut-outs
Blake looked fierce as hell when she chose to wear a black bodysuit with an asymmetrical hemline, which was different from all other asymmetrical hemlines we have seen. The dress had a turtleneck for crying out loud, and a cut-out shoulder and a cut-out section which finished the side-thigh hemline area and basically I am losing my mind right now. All she needed for accessorization was that slicked back hair and those hoops which give you major throwback feels.
9. Latex, leather, and tulle
This dress is on its way to becoming downright iconic because it is made of latex and leather and tulle of all things. There are ridiculous details on the various layers of tulle, which makes the dress even better-looking, and it has been accessorized with nothing more than a pair of simple black strappy heels and the trademark Blake Lively slicked back high ponytail.
10. Layered nude and silver embellished number
There is nothing more exciting than watching all your Pinterest fantasies come true in real life, but it is even better when you have Blake Lively validate your Pinterest fantasies. This dress is literally made of the stuff of dreams, with silver linings on the multiple layers on the flared skirt, pearl embellishments and a nude bodice. Also, she gets major plus points for those strappy gladiator heels and the flawless purse. Lesson: can we rock vintage chic with accessories from the future? Yes, yes we can.
11. Fringe, frills, feathers, and a trench coat
How is it even possible for people to look this good with all these different and apparently contrasting elements in one outfit? She manages to look freaking fabulous in a dress that is basically a fancy trench coat with lot of cut-outs filled with frills and fringed sleeves and a pair of sequinned heels. There are very few words to describe her bravery and her ability to pull off almost anything.
12. Paneling on sequinned dress
People have been wearing clothes with panels forever, but no one has as yet managed to look this gorgeous in sequined and sheer paneling on their dress. In fact, there are very few dresses that looked this good on a red carpet. The great thing about this is that the shimmer from the gold sequins all over the dress removes some of the risqué factors of the strategically placed sheer panels, so ladies, when you want to be bold and brave, but not too much so, the way to go is to pair your sheer panels with sequins. Preach.
13. Poppy embroidered dress
Everyone has a red dress. A red dress is standard wardrobe material. However, now we can safely wear a red dress that looks like it was made with poppies and poppies only, with a pair of over the top sunglasses and polka dotted heels, which make you look and feel like a pop princess from the 80's. The puffed sleeves and the bag all work towards creating this fabulous look that Blake Lively wore, which also led us to believe that we too can do the same (should any of us be brave enough to try).
14. Sporting multiple rings
Let us take a moment to appreciate Blake Lively's ability to pull off the most striking accessorizes with the most striking dress and make us wanton with jealousy and beauty and lust for all that shimmer and glitter (something that hasn't happened since 2002). There are a ton of pictures on her Instagram which show off her love for wearing a thousand rings at the same time, but this one I think shows off her ability to match anything with anything because all that pale gold and diamond looks perfect with the striking red and blues on her tasseled dress. This is how you deal with the situation when you can't decide which ring to wear, ladies.
---
Suggested read: 15 stunning looks from Cannes 2016 that took our breath away
---
15. Formal shorts in velvet
I never thought I would be saying that sentence right there, but I did. She turned up for a fundraising event in a velvet dinner jacket, a normal dress shirt in white and yes, a pair of velvet shorts in black, worn over black stocking and paired with a ankle boots also in black. Did she look out of place at an event which required you to dress formally? NOPE. Would we be kicked out for dressing like this and trying to pass it off as "formal?" Probably yes.
There is no end to the inspiration we can receive from Blake Lively's style to liven up own boring fashion lives, and if these 15 looks of hers hasn't inspired you enough, go have a look at her Instagram and after that, we can only hope to replicate 1% of her look.
Featured image source: Google, copyright-free image under Creative Commons License
Summary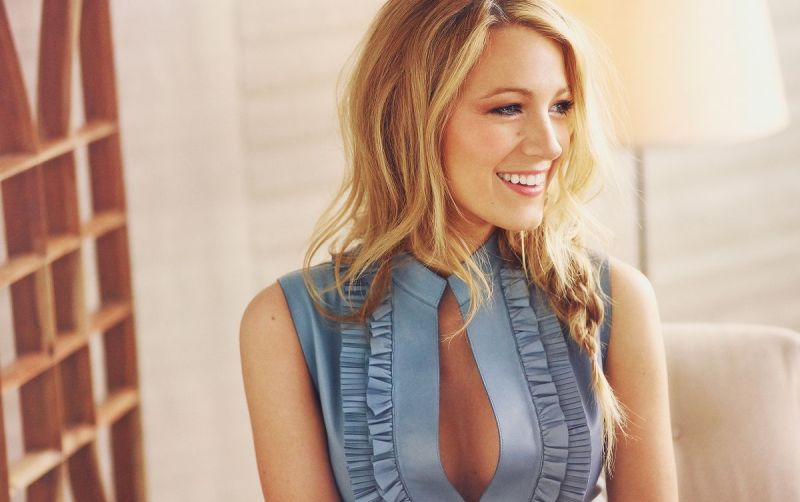 Article Name
Of Blake Lively Style And Fashion: 15 Styling Tips To Steal From The Diva
Author
Description
A humble ode to Blake Lively's style that can never go out of style!