Whoever said we'd set the fashion police alarms in overdrive if we answered that question in YES! Gone are the days when you needed to respect your grandma's wishes and never wear black to a wedding. We are here to settle the is it ok to wear black to a wedding? debate once and for all. We are nodding our heads in an enthusiastic YES and encouraging all stylish women to break free of the style mandate that has kept them captive for longer than was necessary. Of course, you can wear black to a wedding. It is perfectly acceptable and our style team, here at NLT, gives the move a big, bold thumbs up.
Image source: Google, copyright-free image under Creative Commons License
But before the traditionalists go all red with rage on me, I will ask a fair chance to explain.
---
Suggested read: 7 essential things to know before hiring a wedding planner
---
You see the only reason your strict grandma with those thick tortoise shell glasses said no whenever you asked the one question you wanted a YES for – is it ok to wear black to a wedding, grandma? was because she believed that black was a passive-aggressive protest to the marriage. But times have changed and people have evolved. Wearing black to a wedding is perfectly acceptable, even stylish. Not only has black become the go-to shade for all women's outfits but it has, more than ever before, established its supremacy as one of the most versatile, chic, and to be honest, slimming colors on the planet!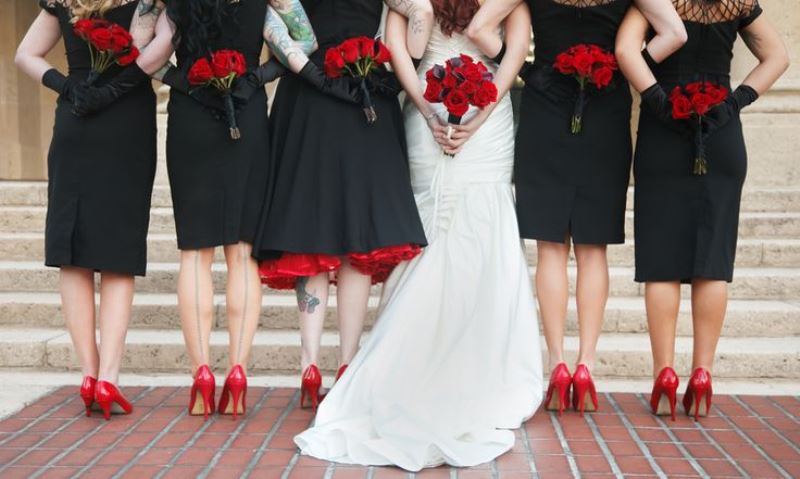 Image source: Google, copyright-free image under Creative Commons License
So, why forsake a color that makes all women happy on a happy occasion like a wedding?
If you do not believe me, we will give you a chance to cross-check with the industry experts:
"As long as a black dress feels festive, it's fine for a wedding!"
—Kimbelry Schlegel Whitman, event planner and author of The Wedding Workbook
"While most of the dresses we recommend for guests in our Wedding Boutique are in an array of gorgeous colors—including jewel tones and lipstick red—we have an Herve Leger strapless bandage dress in black that would be a knockout at an evening wedding."
—Holli Rogers, buying director, net-a-porter.com
"There are far fewer rules today when it comes to wedding style, besides the ubiquitous don't upstage the bride. It's acceptable and even fashionable to wear black year-round, sequins for daytime and a cocktail-length dress to a black-tie wedding. My one style rule when it comes to weddings is be spirited! A wedding is an incredibly happy occasion and it is an opportunity to show your best self—whether that's in black, bright pink, or a bold print, this is an opportunity to party!"
—Jennifer Hyman CEO and co-founder, Rent the Runway
Image source: Google, copyright-free image under Creative Commons License
"Since brides are now wearing all shades of the rainbow, guests can, too—and that includes black!"
—Tara Soloway, wedding expert and co-founder of Luxe Destination Weddings
"Wedding guests can absolutely wear black. It is the most fabulous contrast to celebrate the white wedding gown."
—Nancy Aucone, co-founder of The Wedding Salon of Manhasset
"The little black dress is a stylish go-to—especially for a wedding. An LBD is versatile and figure-flattering. Plus, it can easily be dressed up or down depending on how formal the affair is."
—Jeannie Mai, celebrity stylist and makeup artist and David's Bridal Style Council member
"It's not a problem to wear black to a wedding. The two cardinal colors to steer clear of for weddings are white and ivory so you don't take away from the bride!"
—Andrea Behar, fashion designer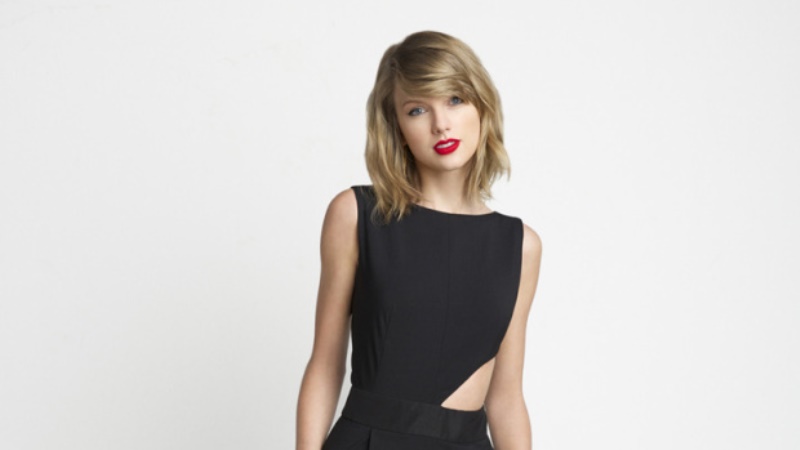 Image source: Google, copyright-free image under Creative Commons License
"In the past, wearing black was associated with mourning, therefore it was considered inappropriate to wear on the happiest day of someone else's life. But that school of thought is outdated. Black is classic, fashionable and chic."
—Jaclyn Fisher, wedding consultant and co-owner of Two Little Birds Planning
"There is nothing wrong with wearing black to a wedding! A tasteful LBD with some killer shoes and beautiful jewelry can be elegant and very appropriate."
—Diane Gottsman, etiquette expert and owner of The Protocol School of Texas
---
Suggested read: I won't go on a wedding diet because I like the way I look
---
"It is absolutely acceptable to wear black to a wedding. Wearing black used to signify that the attendee was making a statement against the marriage. This is as outdated as the notion that a woman's handbag and shoes must match."
—Jeanne Hennessey, owner of Lorraine Roy Designer Collections & Bridal Boutique
"There's a huge misconception that wearing black to a wedding is still a faux pas, but that's not the case. Black is perfectly appropriate for a wedding guest."
—Sam Saboura, celebrity stylist
See, I told you. You now have the answer to the question, is it ok to wear black to a wedding? As long as you steer clear of any OTT, skin-tight, overly low cut, partying-in-Vegas kind of black numbers (or in any other color, for that matter), I think reaching out for that gorgeous black dress in your closet that you WANT to wear is completely fine. Especially for a wedding!
Featured image source: Google, copyright-free image under Creative Commons License
Summary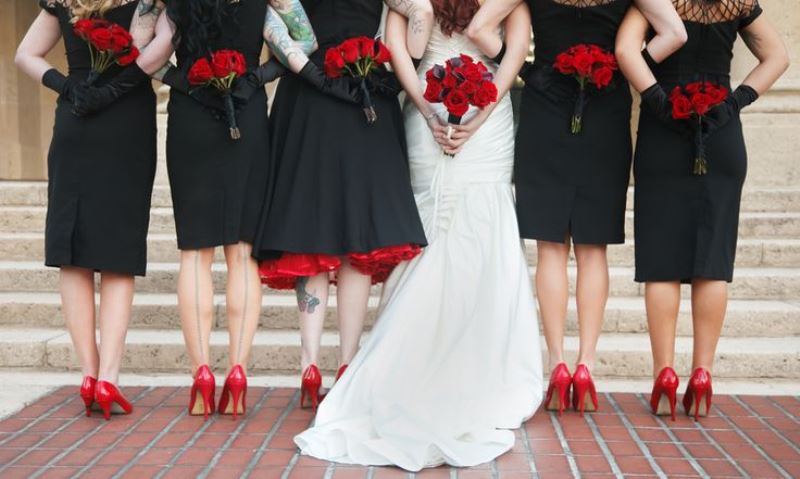 Article Name
Can You Wear Black To A Wedding?
Author
Description
We have answered the 'is it ok to wear black to a wedding' question once and for all. And with expert opinion. Find our ANSWER here. We promise you a smile!