For a long time, some deeply entrenched mandates handed down by the elders in the family have ruled out the bold, the beautiful, the versatile, and not to forget, immensely flattering color of 'em all – black – as a hue you can don to a wedding. But our fashion experts here, at NLT, not only approve black dresses for weddings but give all lovely ladies scouring through their closet to pick the perfect outfit from among black dresses for weddings a big thumbs up!
Image source: Google, copyright-free image under Creative Commons License
And since we are all for the bold and beautiful fashionistas who aren't just kicking the old adage to the curb by establishing that black is so much more than a funeral garb but are also spoiling us for choice when we wish to present them with a stunning list of black dresses for weddings as an apt present for their so-in-style move to break free of the confining style mandates, we are very excited to wrap this article in our finest and make it live as a special present to all the dazzling divas in black.
---
Suggested read: Can you wear black to a wedding?
---
So, if you are one among them and have decided to wear a pretty black dress to a wedding, you are just in time to unwrap our heart-picked present. Presenting to you the choicest of black dresses for weddings without as much as a second thought:
1. A sleeveless A-line short black dress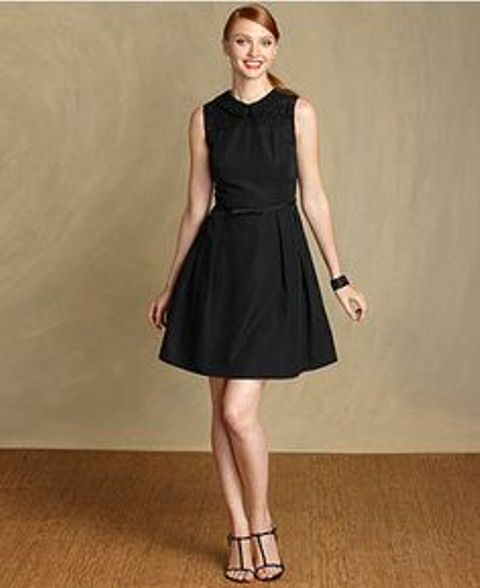 Image source: Pinterest
A sleeveless A-line dress with fine godet ruffles in the hem and a slim mock neckline combines just the right elements of formal and special for wearing a black dress for a wedding. Perfect for church weddings, countryside weddings as well as sophisticated soirees, the shift dress is appropriate for the reception too and makes for an impressive style statement.
2. A black lace-up midi dress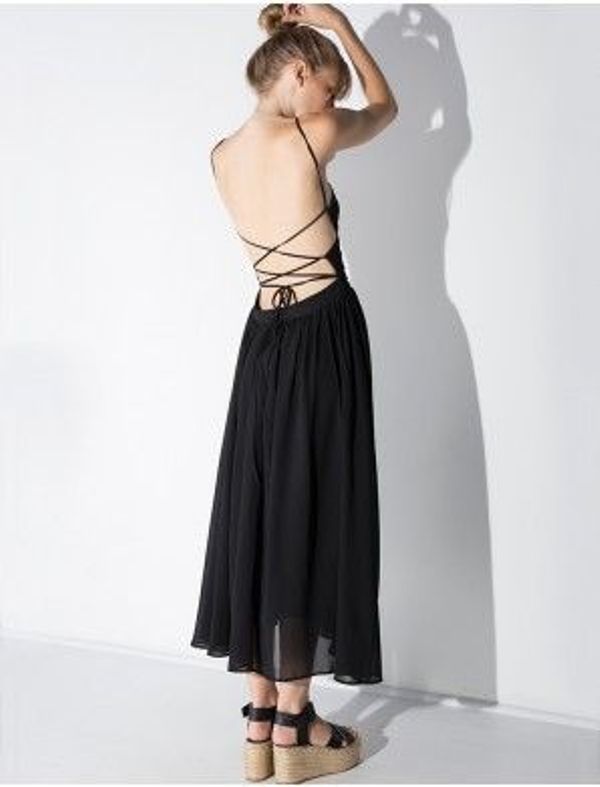 Image source: Pinterest
A pretty black midi with a lace-up back, noodle straps, and a floaty bottom skirt is special enough to evince the celebratory verve you participate in while steering clear of exuding any OTT vibes that come from too much skin show, figure hugging or a heightened sexiness quotient. An optimal blend of beauteous black in an easy breezy and tasteful style!
3. A black shirt tail dress
Image source: Pinterest
A gauzy LBD with a gathered neckline, all over texture, and a flowy fit is an eye catcher in its rounded high-low hem, modish side slits, and a dash of quaint in its pullover style. A comfy yet stylish piece, this one is perfect for a summer garden wedding. With this smart and stylish black pick, you can never ever go wrong!
4. A black lace fitted dress
Image source: Pinterest
A black lace number is perfect for a chic affair and plays well in any wedding venue. Whether it is a country club wedding or an evening winery wedding, a one-of-a-kind tiered lace number can work wonders to accentuate your appeal. Designed to fit perfectly over the female form with a built-to-fit dress, a scalloped hem, and zipped closure, this one is easily a testimony to your impeccable taste in fashion.
5. A short off-shoulder ruffle dress in black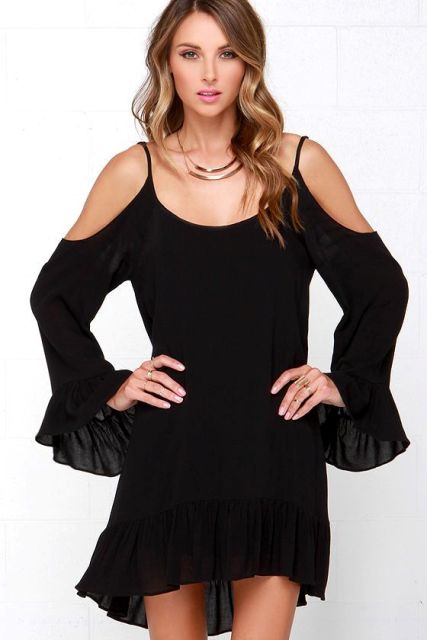 Image source: Pinterest
You can don this one with a summer jacket and your hair tied in a neat pony for a morning shopping spree and head straight to the wedding in the evening by letting your hair down, well, literally! This sprite dress with its sexy scoop neckline and teardrop cut back is the perfect answer to all your fashion queries. When your satchel bag changes to a minaudiere and your hairstyle becomes different, a couple of bracelets or bold statement neck pieces taken off or thrown in, you're raving to roar!
6. A wrap-effect black dress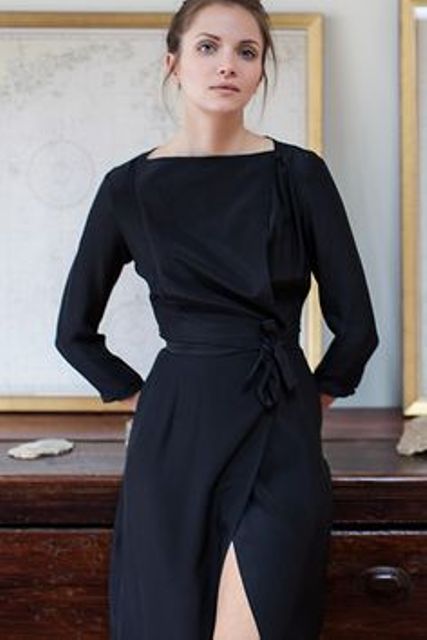 Image source: Pinterest
A wrap-effect full-sleeved satin dress in its asymmetrical construction of wrap, front slit, hem, and crossover back panel is a modern number that is artfully constructed for that bold statement. Teamed with heels and some diamond studs, this modern stunner is all set to get eyeballs turning!
---
Suggested read: 15 amazing wedding diet tips for a fitter you
---
7. A corset maxi in black with a high-low hemline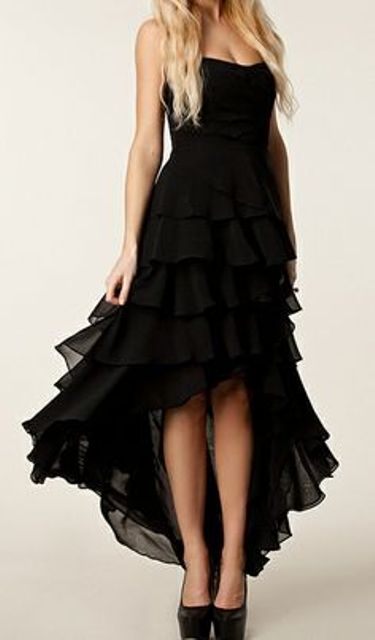 Image source: Pinterest
A beautiful and elegant solid color long black maxi is a delicate item with a gathered waistline and a high-low hem that one will keep the formal-special balance humming at optimal levels! Of course, it isn't apt for the conservative wedding milieu where flaunting too much skin might be rather inappropriate, but if it is an evening nuptial, go, don that dress and rock it!
8. Easy style pull-on black stunner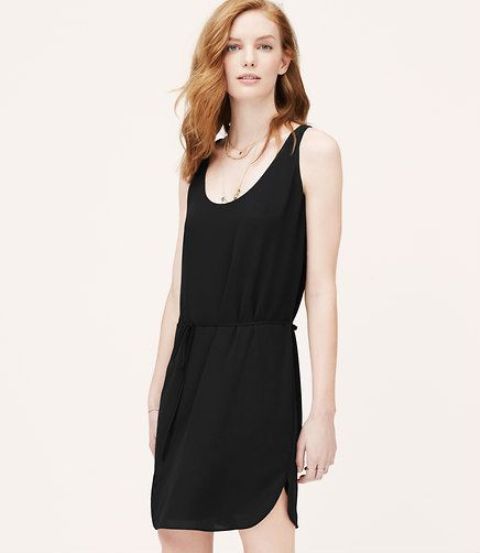 Image source: Pinterest
You can never dispute the versatility and dynamism of this one. This one has a solid round neckline, a semi-cinched waist, sleeveless form, and a straight hem. Smart, sleek, slinky, and stylish, this one suits just about any kind of wedding venue.
9. A modified LBD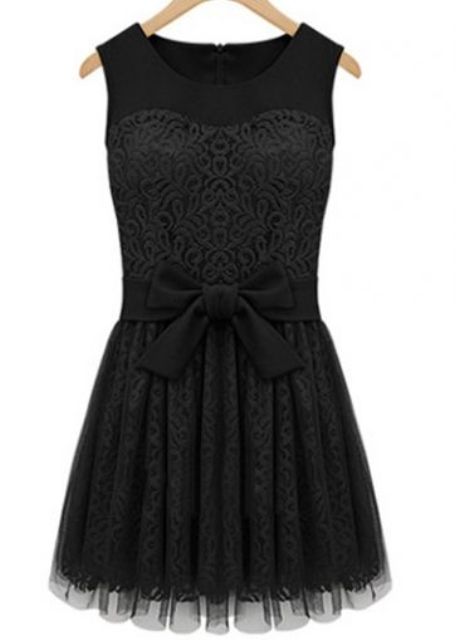 Image source: Pinterest
A splendidly modish take on the little black dress, this short black lace dress is a stunning feat of artistry! A sleeveless piece, with just the illusion of a shrug over the bodice, its partially cinched hint of a waistband gives it the magical touch of mystery and intrigue. Detailed lace work with an eye catching display of daisy chain cut outs in the bodice, this one is sensual, sultry, and just the right shade of sexy so as to not upset the bride! What more did you want?
10. The classic black dress
Image source: Pinterest
A classic black dress, long enough to graze the area around your knees is ideal for the conservative weddings. You'd still want to wear black but it is safe to keep away from the more precarious grounds. A gently flowing skirt, a basic surplice bodice, and the eternal and enduring allure of the black dress are all combined in this one outfit and well, your work is done!
11. A stylish black fur dress
Image source: Flickr
While fur dresses might not fit the anytime-anywhere scheme of things, they have to do nothing special to be worn to a wedding. A classic velvet piece in a striking fur neckline with a shape that hugs your pretty form will lend the perfect stylish flourish to the tanginess that is your attire for the day!
12. A sheath dress in black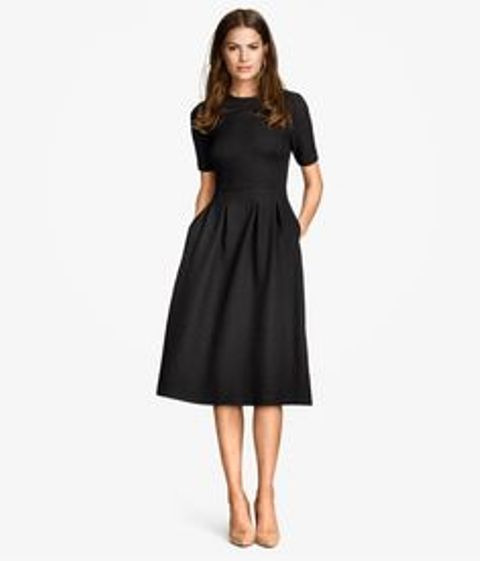 Image source: Pinterest
This one is a staple item in most women closets. A classic sheath dress that grazes just about below your knees, flatters your form and augments your feminine charm, this smart number is with its full neck and bias cut is the flawless blend of class, elegance, and grace. We don't think you'd need anything else to nail that wedding look!
13. A pleated halter number in black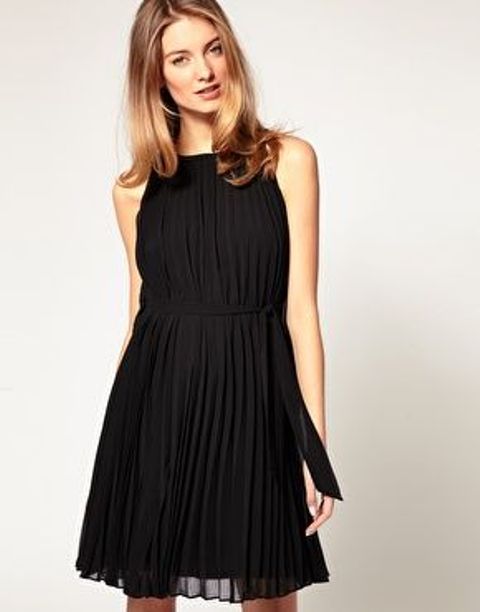 Image source: Pinterest
A silk halter dress that has sunray pleats in a midi-silhouette with waist detail that buckles in at the back and can be paired with ankle strap sandals is the perfect attire for a beach wedding. Summer weddings call for a spry, sprightly, zesty, zappy whiff of cheer, and this dress brings just that to the wedding! Throw in a hat and a cocktail, and congratulations to the bride and the groom!
14. The quaint and groovy retro-mod frock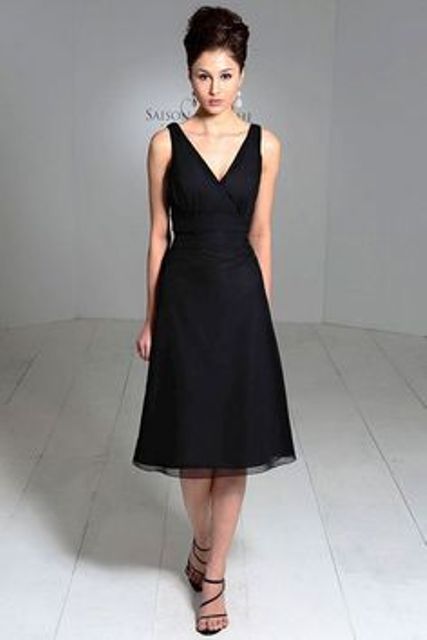 Image source: Pinterest
A groovy-mod number, you can wear a retro-inspired classic shift black dress as a bubbly and bouncy reminder of the old-world charm. Filtered through quaint artistry and inspired by classic designs, this one embodies a timeless appeal and allows the dress to do all the talking for itself!
---
Suggested read: 10 wedding photography tips for memorable pictures
---
15. A slinky, sleek chiffon maxi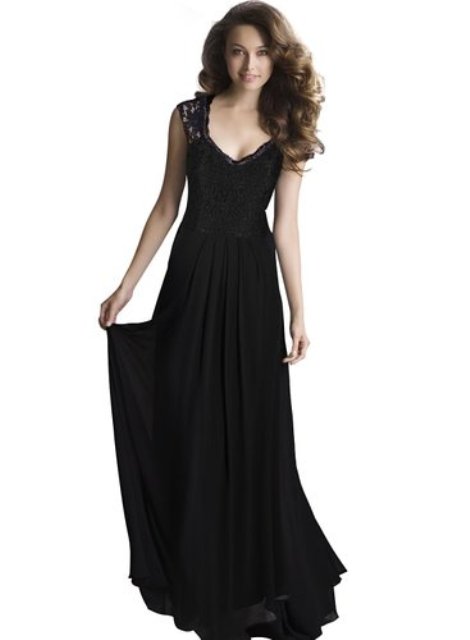 Image source: Amazon
Maxis have always been a timeless treasure for feminine style repertoires. A solid color long maxi dress, cinched under your breasts, and flowing all the way down is a perfect pick for summer weddings when the temperature notches up several degrees. Plus, you might add to the heat by several notches – coz the dress, even in its simplicity, is effortlessly striking and sultry!
Because black isn't just a color, it's an attitude. Wear it!
Summary
Article Name
15 Chic Black Dresses For Weddings
Author
Description
The fashion police isn't going to arrest you for picking black dresses for weddings. And our style team brings you a great selection to pick from!