Jennifer Aniston has been turning heads ever since she walked into Central Perk in her wedding dress in 1994. With FRIENDS having done to the cast all that success can ever do to someone, Rachel Green, played by Jennifer Aniston, moved on to earn bucks as much as she turned a million heads with her fashion and hair. Over the years, our darling Rachel moved on to daintier dresses – from LBDs to low neck gowns, from glitzy maxis to tailored dress suits! We bring you the best Jennifer Aniston looks from Hollywood's pampered style icon. How many have you already got in your wardrobe?
Here is a quick look at what we call the Jennifer Aniston style.
1. Jennifer Aniston style opener – some FRIENDS inspiration
Forget the Rachel cut or razor cut on her hair, Jennifer's role as Rachel had her working in Ralph Lauren for a long time on the sitcom FRIENDS. And during this phase, we loved her tight fitted A-Line skirts and formal jackets. Perfectly silhouetted to accentuate just a hint of her great bottom and her tiny waist, this is one of Jennifer Aniston's looks that we want our corporate ladies to work on this season. Here are the best looks we love from this sitcom—that ran a decade long!
---
Suggested read: Deepika Padukone, the dazzling diva, always looks flawless
---
a. When Rachel had her famous mop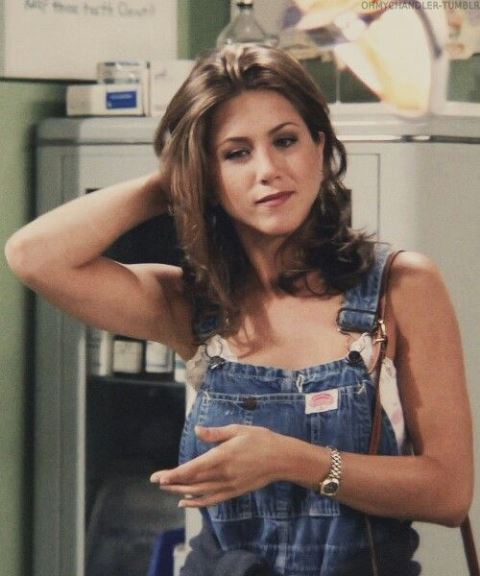 Image source: Pinterest
The cut was not much loved by Jen herself, but at least through my middle school years, I have seen so many batch mates experimenting with this. The casual chic look and her waitress avatar in the series gelled well. The combo was something that made us reach for the mini dresses and similar tresses.
b. When she got off the plane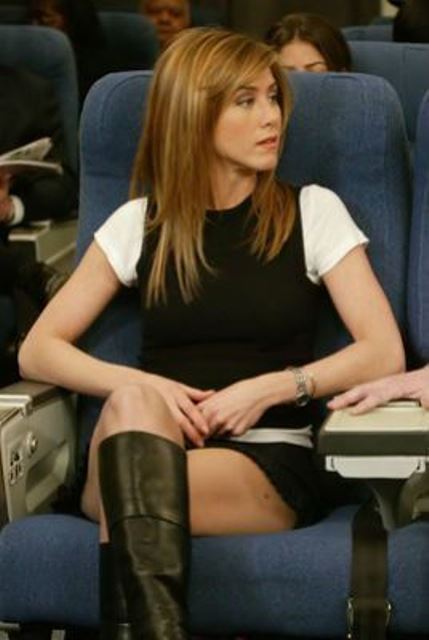 Image source: Pinterest
The perfect dress – that is what Jennifer Aniston had worn on the episode, "The Last One." The well-fitted top and her flawless no-makeup look made us remember the fashion tales from FRIENDS like we never expected.
c. When she had a thing with Joey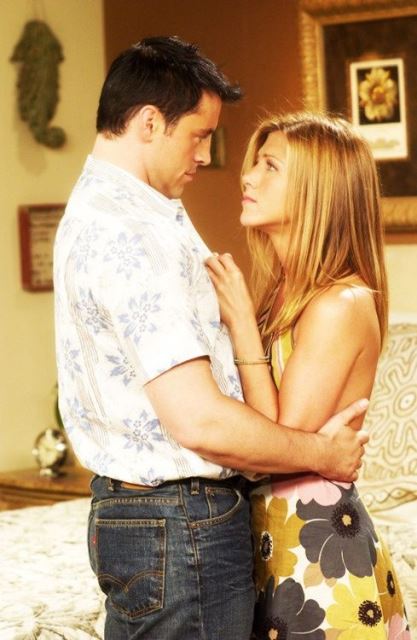 Image source: Pinterest
Her Hawaii-inspired dresses were the precursor to the maxi.
d. At Monica's wedding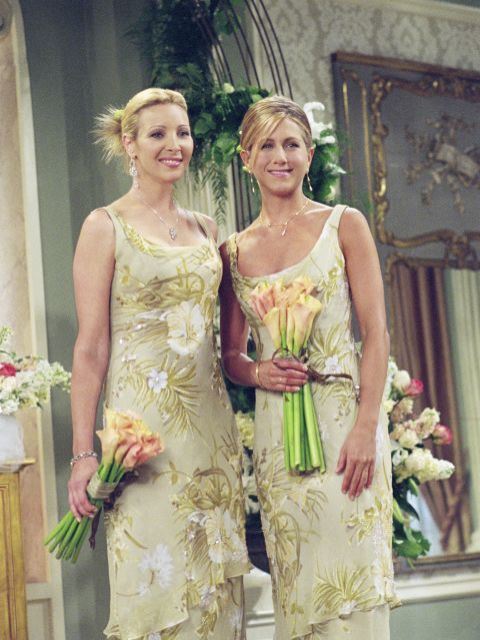 Image source: Pinterest
She was nervy, she was careless, and she scored a perfect fashion ten for all bridesmaids. Simple, elegant, and yet a stunner, Jennifer Aniston made a big deal here.
e. When she danced to "I Love Big Butts"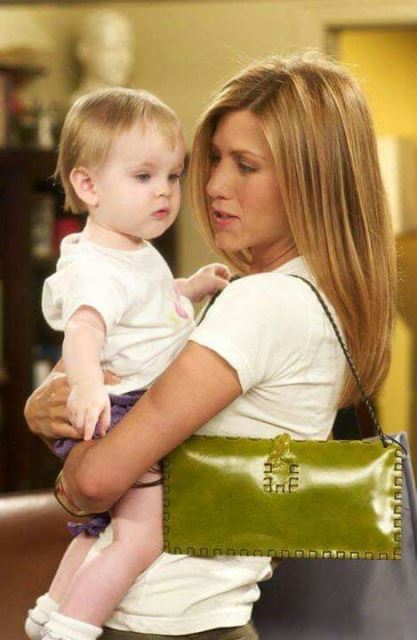 Image source: Pinterest
The poker straight hair, the pants, and the no makeup look – again, and this conspired to make her look every bit the yummy mummy to baby Emma onscreen.
2. Moving on to other Jennifer Aniston style picks
a. Some Grecian inspiration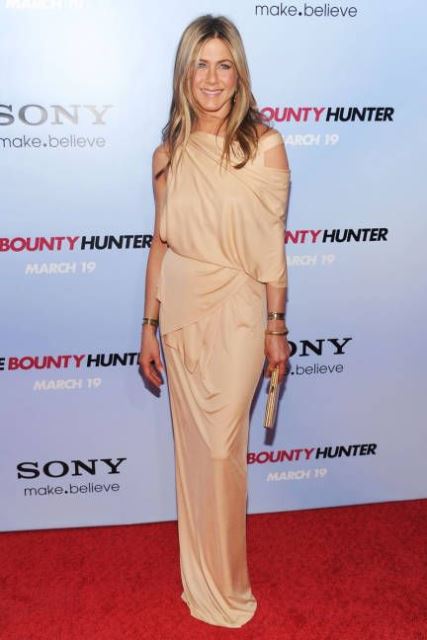 Image source: Pinterest
Seen in this Donna Karen wonder, the actress rocks the Grecian cut during the premiere of The Bounty Hunter. The color so works for her. Who said long dresses make you sloppy? Jen rocks in this drape-y dress that is part of our top Jennifer Aniston looks list.
b. Some red haute inspiration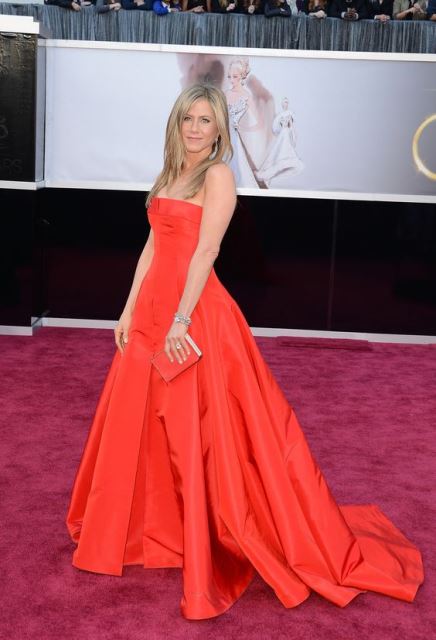 Image source: Pinterest
Off shoulder outfits look classy, and the bright red does not once appear in-your-face, as Jennifer Aniston earns a million clicks with the red dress. Tailored to perfection, the flare of the dress is gorgeous enough to want us to try the same at an evening party.
c. Some LBD inspiration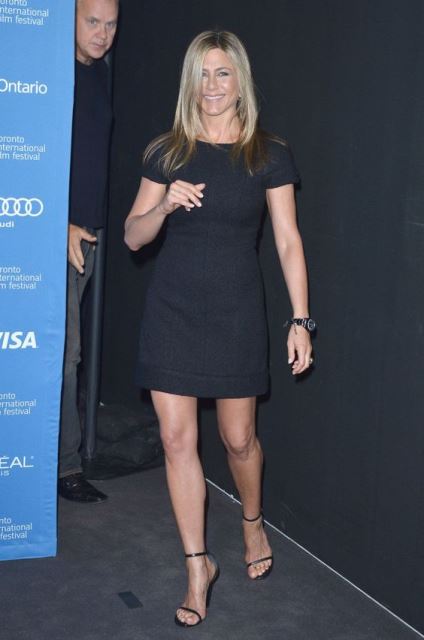 Image source: Pinterest
While you might not remember Marley And Me as a movie, you might not have forgotten what Jennifer wore to the premiere night. In a flirty LBD, that was more girly and chic, the world stood still as she walked on the red carpet that night.
d. Some midi length inspiration
Image source: Pinterest
Not many can pull off this pick from the Jennifer Aniston style stable. However, with Jen darling on the block, there is some serious inspiration. The length, the texture, the unusual neckline, all combine to create a look best tagged as jaw dropping.
e. Some toned-down bling inspiration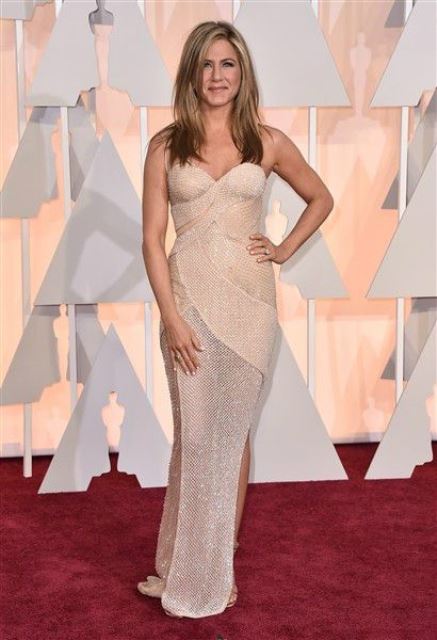 Image source: Pinterest
For the final look, we just had to stick with yet another blingy tale, in dark ash, or is it silver? We are so dazzled. Jennifer Aniston indeed deserves to be where she is today. Lovely as always, with perfect hair and the right dress for all occasions, Aniston indeed dares us to always dress right.
f. Jen walks down the aisle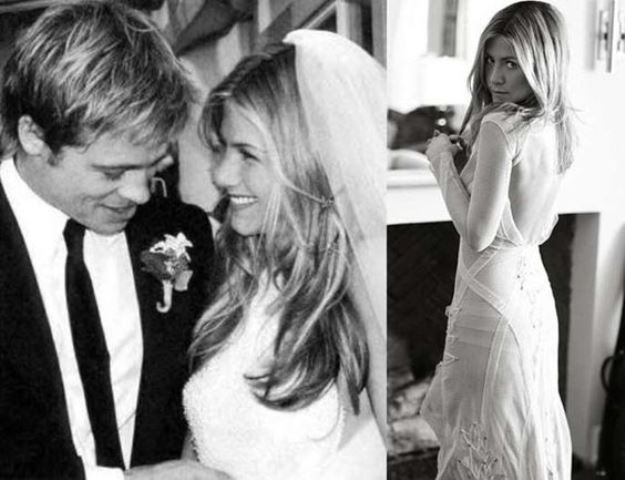 Image source: Pinterest
After years of will she, won't she walk down the aisle after her divorce from hunk Brad Pitt, Jennifer Aniston got married to Justin Theroux in a private ceremony, with her closest pals in attendance. But pictures from this wedding were never revealed. Some say it was an ivory-lace gown while some say it could have been a Valentino. We'll know more only when the pictures are made public.
But the wedding dress she wore to her wedding to Brad Pitt back in 2000 was an absolute show stealer. It came in glass-beaded silk and satin. The gown was a Lawrence Steele creation, costing around £32,000, and was one of the best Jennifer Aniston looks.
3. Must-have classics that Jennifer Aniston swoons us with
a. Strapless pieces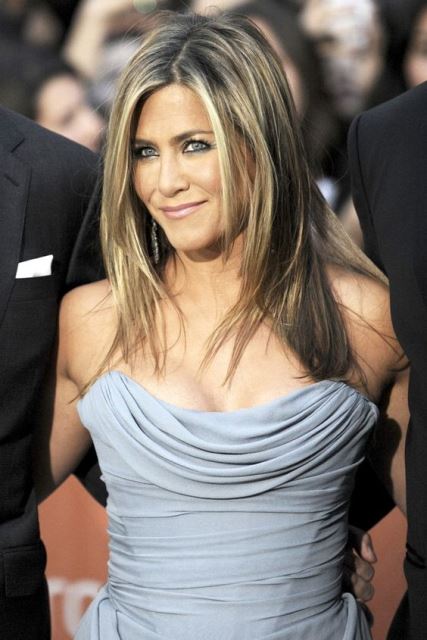 Image source: Pinterest
Jennifer Aniston's fashion picks are almost always winners. They are also more predictable after having seen her ace the best looks over the years. If we had to pick one piece from her wardrobe that she swears by, it has got to be one of those strapless gowns she apparently loves. We know we might not have that killer body to carry it off, but then, this is a classic alright!
---
Suggested read: The style evolution of Kangana Ranaut, the 'Queen' of Bollywood
---
b. Straight lined silhouettes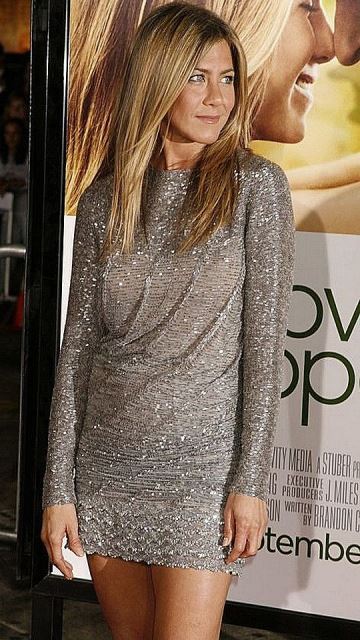 Image source: Pinterest
Well-fitted, straight cuts and clean lines – all of Jennifer Aniston's dresses we see caught on reel have these qualities. We seriously could use these inspirations for a flawless dress down.
c. Charming accessories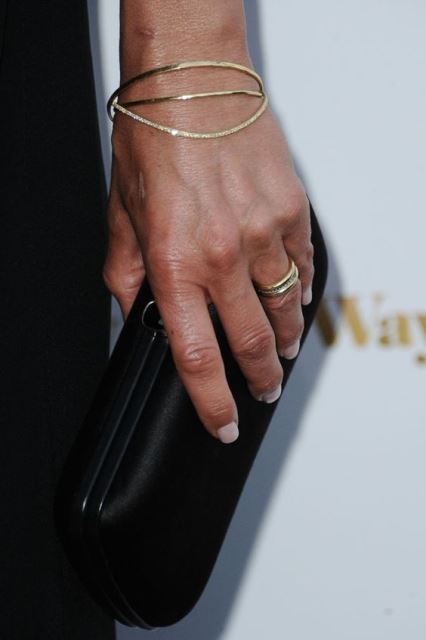 Image source: Pinterest
She never overdoes stuff. Not with her accessories, shoes or purses. If we could take an inspiration from here, it has to be her use of chic and tiny bracelets or charms with almost any outfit she wears.
Jennifer Aniston sure is as much of a style icon as she is an actress. With time, her fashion sense has evolved, and that is the single fashion goal that Jen has inspired us with – to be constantly upgrading our style to look our best, no matter what age we are!
Summary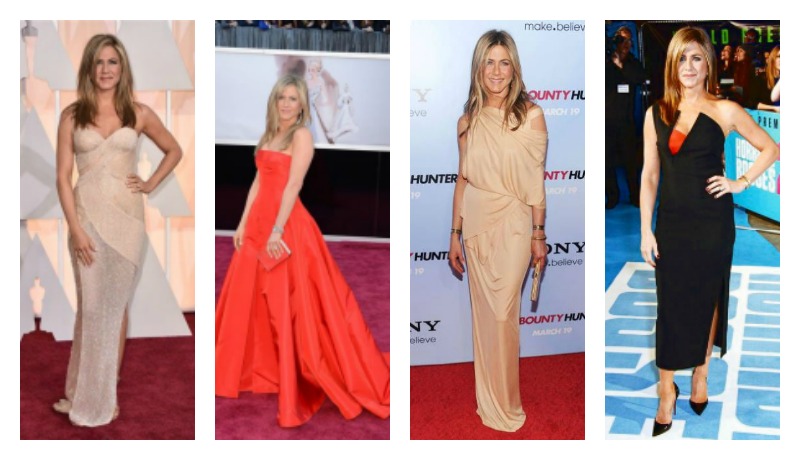 Article Name
Jennifer Aniston Style Diaries: 10 Times She Gave Us Major Fashion Goals
Author
Description
Jennifer Aniston's unique fashion sense, that comes out in the characters she plays, be in on TV or the big screen. Jennifer Aniston style diaries for you!