"The best thing is to look natural, but it takes makeup to look natural." – Calvin Klein
For most brides planning their wedding, the dress often occupies center stage. And that isn't surprising, considering you are going to be the focus of all eyes on your special day!! But even the most beautiful dress in the world will look unfinished if your face looks dull or patchy. The happiness and excitement you feel inside should be reflected outside too, and the only way to get this done apart from a healthy diet and sleep, is of course, long lasting bridal makeup!!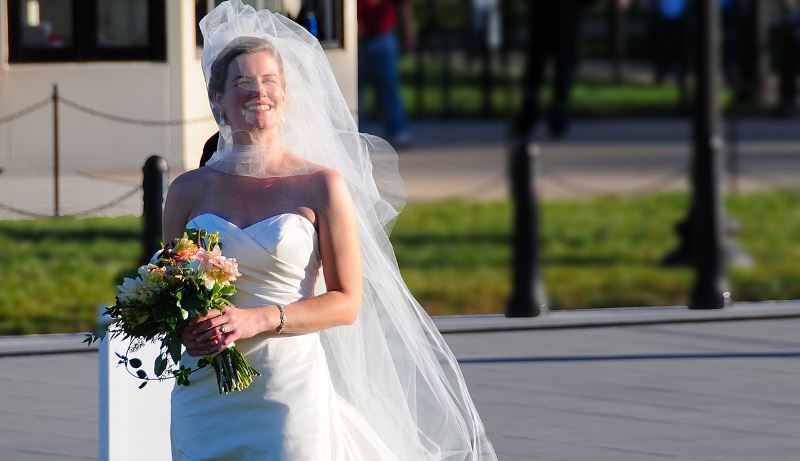 Image source: Google, copyright-free image under Creative Commons License
Finding a makeup artist offering the best bridal makeup is just half the battle won; you need to decide on the finer aspects of the look you want that day, and give the makeup artist time to prep for the same. If you're ready to go into a tizzy wondering about the hundreds of bridal makeup tips out there, don't worry. We have the most reliable advice of previous brides in a list of dos and don'ts of bridal makeup, just for you!
Dos of Bridal Makeup
1. Bring pictures
Image source: Pixabay, under Creative Commons License
It's really hard to describe how you want your cheeks to blush and you can't really expect every makeup artist to understand when you say, "Just give me Audrey Hepburn's look in Funny Face"! Your wedding makeup is something with which you can't afford any ambiguity; so, cut the confusion and bring pictures or videos with you. Rather than show them on a tiny mobile screen, try to get larger printouts so the makeup artist doesn't have to squint to see the eye shadow the model is wearing.
2. Get a second opinion
You do it with doctors, so why not makeup artists too? Especially when it's for something as important as bridal makeup! If the first makeup artist you approach is looking up YouTube videos of bridal makeup tutorials as she does her work, you might want to try another one. Don't be afraid of trying newbies either; there are some very talented young people out there, who'll give you the look you want without making you go bankrupt.
---
Suggested read: Best wedding updos to suit your hair type
---
3. Have a trial run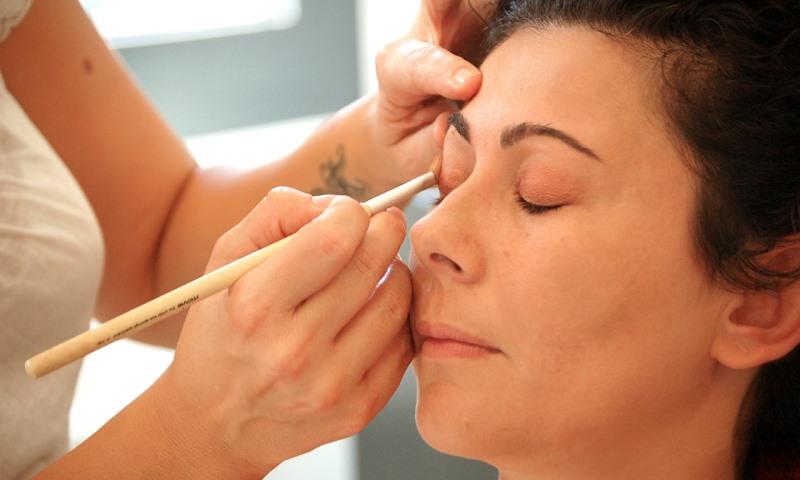 Image source: Pixabay, under Creative Commons License
You certainly don't want your wedding day to be the very first day you try on your look, do you? You should ideally schedule one about three to five weeks before the wedding day. If you're going to have multiple ceremonies with different looks, try all of them. This will give you a good idea about the colors that look good on you and the kinds of looks that suit your overall personality.
4. Take a photo
Sometimes photos tell us truths that mirrors hide from us! After you get your trial makeup on, wear a dress the same color as your wedding dress and take a picture in broad daylight, using a digital camera. This exercise will give you and your makeup artist a lot of valuable information regarding colors and glares, and you'll have a much better idea of how you really like the look you've selected.
5. Allow enough time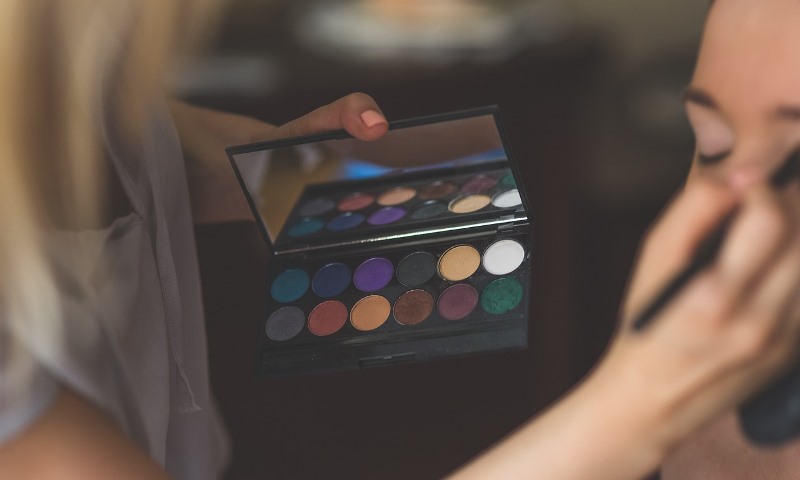 Image source: Pixabay, under Creative Commons License
Your bridal makeup is NOT something you want to rush through!! All your prep work will go to waste if you underestimate the time needed for the entire makeup session! If you've had a trial run, you'll have an idea of how long it will take, but do plan for more time than that. Make sure everyone else is aware of this too, so that your wedding planner will take your makeup time into consideration when planning the schedule, and leave you free.
Don'ts of bridal makeup
1. Leave grooming to the last minute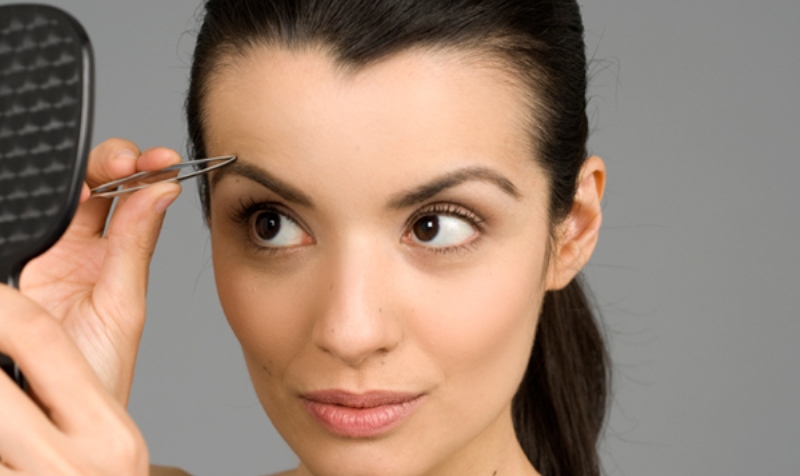 Image source: Google, copyright-free image under Creative Commons License
Your makeup artist needs a clean canvas to work on, so don't give her one with stray hairs! If you leave your tweezing, et al to the last minute, it's quite likely that your eyebrows end up looking like the Mona Lisa's (and not in a good way!). If this doesn't come under your makeup artists' duties, schedule another appointment for this well in advance, especially if your skin is sensitive and prone to breakouts and such.
2. Go 'over the top'
Image source: Pixabay, under Creative Commons License
Yes, it is your wedding; it is your special day and you should look like a queen. But this doesn't mean that you ask your makeup artist to pile on every product in her kitty. Neither should you blacken your eyes and redden your lips till Snow White's evil stepmother gets a complex just looking at you! Some people believe the myth that bridal makeup needs to be a little OTT to shine in photographs, but that's not true, especially if your pictures are going to be taken in natural light.
3. Copy someone
We did ask you to bring pictures to your makeup artist, but these are for inspiration only. You should obviously customize the look you admire to make it more 'you'. You need a look that'll bring out the best in you – your twinkling eyes, your sparkling smile or your flawless complexion. Don't let the real you hide behind all that makeup; people should still be able to recognize you! Just aim at adopting a look, but using it to make your beautiful features even prettier.
---
---
4. Ignore the rest of your body
Image source: Google, copyright-free image under Creative Commons License
Be sure to let your makeup artist know the kind of dress you're going to be wearing, because you need to ensure that your face doesn't look detached from the rest of your body! Strapless or sleeveless dresses expose your arms and shoulders, which will also require makeup, as does your neck, and probably your upper chest too. Show your makeup artist a picture of the dress, front and back views, so that she has a very clear idea about what she needs to do. And as with grooming for the face, don't forget to handle unwanted body hair as well.
5. Forego sleep
Image source: Google, copyright-free image under Creative Commons License
Planning and prepping for weddings is stressful; we agree. But there is no excuse for foregoing on your sleep; it's called beauty sleep for a reason!! There's only so much a concealer can do for the dark circles under your eyes – a haggard face can't be hidden behind makeup. Ensure you sleep well not just on the night before your wedding, but for several weeks before that. This is especially true if you're used to keeping odd hours, and this lack of sleep has already taken a toll on your skin. Make sure you get enough sleep to undo this damage and repair your cells.
Okay, you've done it. You've done enough research on how to do bridal makeup, selected a makeup artist you love and you've finalized your look. You've done your grooming and had a trial run, complete with photos. But all this effort is going to go down the drain if your carefully chosen look disappears within an hour of application! Weddings easily last more than just a few hours, and the photographers are usually on call throughout. So how do you ensure that your bridal makeup stays on for longer? We'll tell you how with our long lasting bridal makeup tips!
Tips for longer lasting bridal makeup
1. Clean up
Image source: Google, copyright-free image under Creative Commons License
First things first; you can't expect your makeup to adhere to a dirty face!! Get the muck off with a mild scrub that exfoliates gently. If your skin is oily, skip the scrub and opt for a wash. Follow up with a toner to close all pores and then apply a light moisturizer to get the canvas ready for the artist. Experts suggest opting for one with a lower SPF to keep it light.
2. Choose products carefully
Ensure that the products being applied on your face are perfect – you should consider the occasion, your skin type, and the current season when choosing products. Avoid illuminating or 'shiny' makeup, since it tends to die faster, and for the same reason, choose matte instead of gloss, unless you're ready to reapply every hour!
3. Use a primer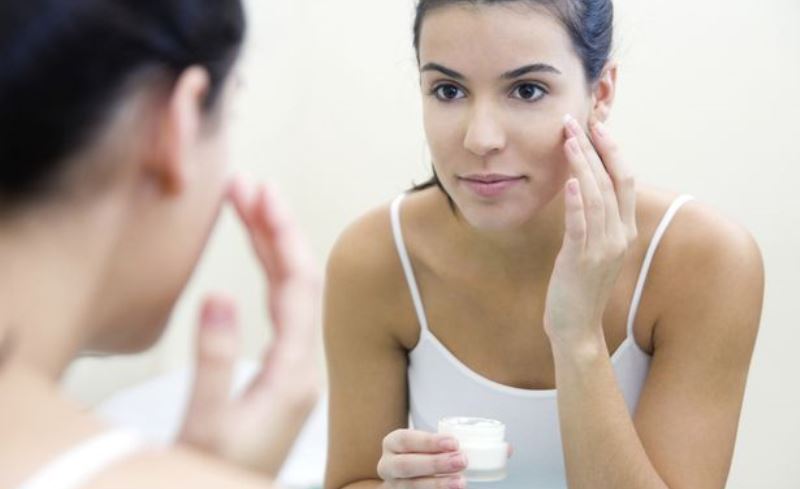 Image source: Google, copyright-free image under Creative Commons License
Most people consider a foundation the first step of makeup, but it's not it – that honor goes to the primer. Makeup primer is the very base for all foundation, as it smoothens out the skin and preps it to 'hold' the rest of the makeup in place for longer. Primers are available in several types, so you need to choose one suited to your skin.
4. Do Eyes first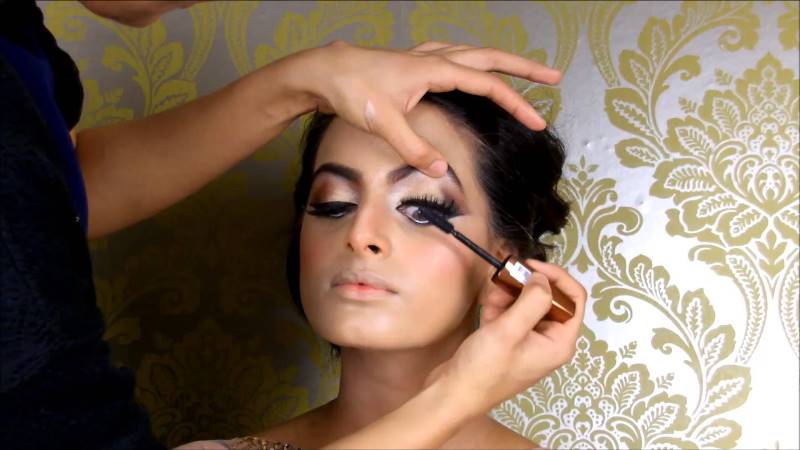 Image source: Google, copyright-free image under Creative Commons License
Eye makeup is often an intricate process and requires the makeup artist to touch your face several times. Doing this after applying the rest of the face makeup will just mess it up, which is why doing the eyes first is wiser. Here too, stick to cake eye liner – it has way more staying power than pencil eye liner, which will disappear in no time.
---
Suggested read: The perfect wedding dress for your Zodiac sign
---
5. Go waterproof
Even if you're not used to using waterproof makeup in daily life, it is crucial to use waterproof makeup on your wedding day, especially if there is a chance that you'll cry!! Waterproof makeup has much more lasting power than regular makeup and this is especially true of eye makeup, like liner and mascara.
6. Apply concealer after foundation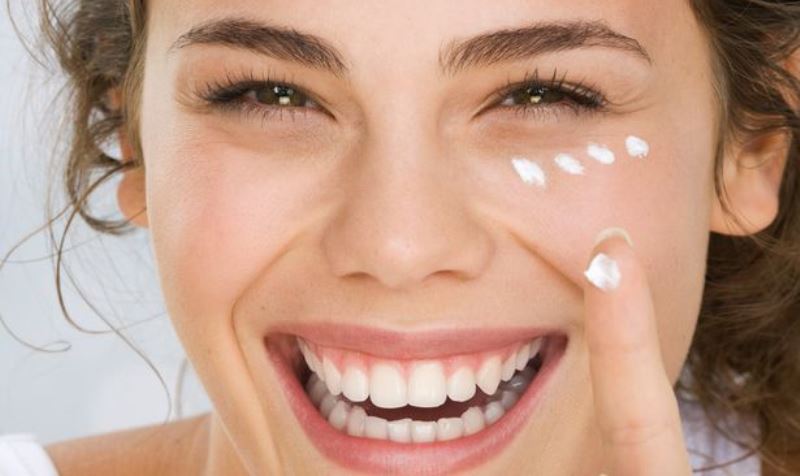 Image source: Google, copyright-free image under Creative Commons License
Many people, even makeup artists apply concealer first, and then go for the foundation. But doing it in reverse actually works better to keep the makeup in place for a longer period. Also use a different concealer for your face and eyes, since the skin's undertone is different for these areas.
7. Layered blush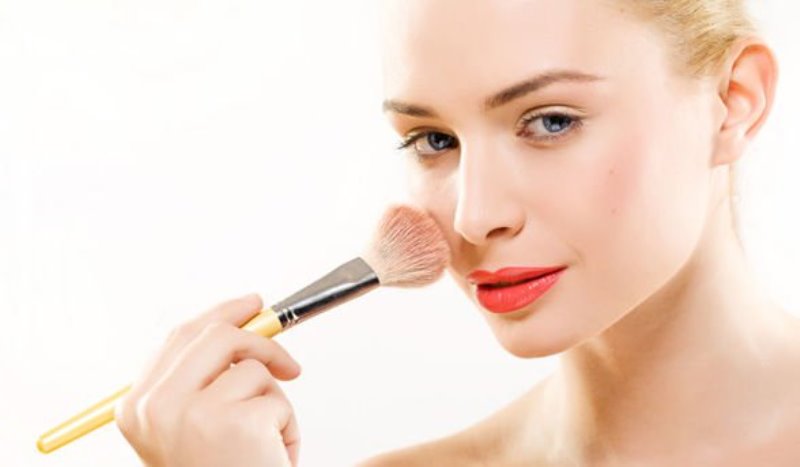 Image source: Google, copyright-free image under Creative Commons License
Many brides are in a conundrum when it comes to bridal makeup blush – cream or powder? Our answer is 'both'. Both cream and powder blushes have their own advantages, but for super lasting power, first apply a cream blush and then follow up with a powder blush on top of it.
8. Prep your lips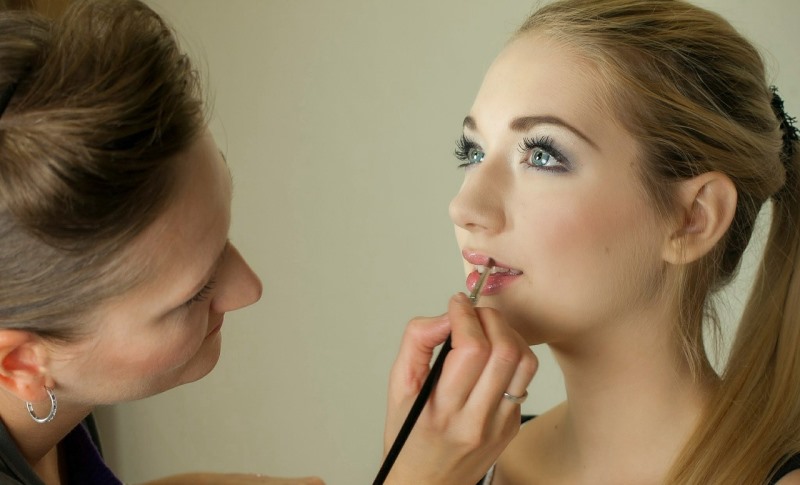 Image source: Pixabay, under Creative Commons License
While everyone focuses on prepping their faces with scrubs and primers, they often forget their lips. You can apply a lip scrub when cleaning your face, for some mild exfoliation of dead skin cells. Dry and apply a lip balm to nourish it, followed by a lip pencil, and topped with lipstick. Lip pencils hold color in much longer than just lip balm.
9. Blend and set
Blending your makeup thoroughly is key to get it to last the whole day. Blending every layer after application gets rid of any mask-like lines, so that it looks natural. It is also recommended to press your foundation and base makeup into your skin with your fingers, to let the skin pores hold it in longer and stronger. Don't forget to set your makeup with some loose powder to avoid an oily finish.
10. Prepare for touchup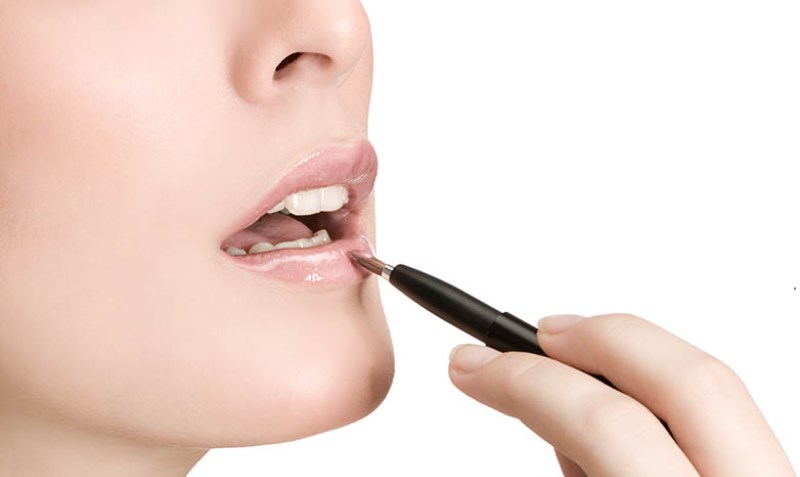 Image source: Google, copyright-free image under Creative Commons License
Have some essentials on hand for touchups when necessary. While most of your makeup will stay put, lipsticks are likely to fade, so keeping a lipstick handy is essential. Also have blotting sheets, cotton buds, and tissues on the ready, for any makeup emergencies.
The most important tip to keep your makeup intact and your face glowing is of course, to avoid stress. Do as much prep work beforehand as you can, so that you are calm and relaxed on your wedding day; after all, the glow inside reflects on the outside. To quote Lady Gaga: "Whether I'm wearing lots of makeup or no makeup, I'm always the same person inside."
Featured image source: Google, copyright-free image under Creative Commons License
Summary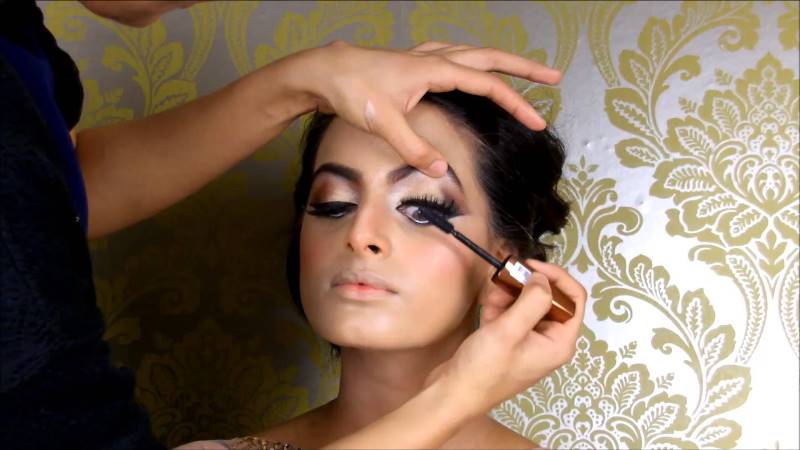 Article Name
How To Make Your Bridal Makeup Last Long
Author
Description
Selecting the right makeup artist for your bridal makeup is essential, but the best bridal makeup is that which lasts the whole day! Check out these tips.