Jil Sander Debut
This season, Milan witnessed the debut of Jil Sander's new creative directors- Lucie and Luke Meier who have had their fair share of stints with fashion biggies like Dior and Supreme, the street-wear brand. They did not have an easy task ahead of them- to reinvigorate the Jil Sander look and to furnish the label with some much needed directional energy. Their aim was to bring out a more feminine perspective to the label's existing style but they stayed true to the Jil Sander style of suits with narrowed shoulders and sharp creases on the arms and body; they also devoted their attention the Sander signature white shirt and reinvented the fashion staple item by adding soft, puffed up sleeves or elongating it into shirt-dresses. This was a promising set, and one that brought out a fresh perspective on the classic Jil Sander aesthetic.
---
Suggested read: Top 8 Fashion Trends For Fall 2017
---
Prada's Empowering Collection-
This collection by Prada was inspired by the artwork of female cartoonists and manga artists, both contemporary and those that belonged between the 1930s and 1960s. This was Prada's own way of resistance against the current political situation plaguing the world. "I am suggesting militant women in a very practical way. Through clothes, which is what I do," said Prada, with reference to her latest collection at Milan. The show was graced by terrific tailoring, featuring- big overcoats with pushup sleeves, oversized jackets, plastic raincoats. The styling was very distinctly the kind that Prada is famous for, what with the knee socks, shorts, patches of embellishments and feminist cartoon art.
Bottega Veneta's Collection-
Tomas Maier chose to convey powerful emotions of hope for future by heavily incorporating embellishments and color in his Spring/Summer 2018 collection because of their optimistic properties. The designer, known for his keen sense of color, wowed the audience by taking a liberated approach to colors this time. Think a blue suede coat, combined effortlessly with a chartreuse silk shirt, and a lilac suede skirt. There were embellishments to be found both in the evening wear outfits and in the daywear outfits as well. Silk and uncomplicated silhouettes adorned with embellishments ruled the runway during this show.
What to Expect In the Fall/Winter 2018 Milan Fashion Week
Trend forecasters are of the opinion that this time, expect a color palette that is gender neutral. With society gradually moving towards the acceptance of gender fluidity, fashion too is changing with the times. With the boundaries between genders blurring, expect an influence of nude tones this season. This gives you ample opportunities to experiment with colors this season, since even the bolder and brasher hues are being injected with a playful touch.
This year for the Fall/Winter edition of Milan Fashion Week, expect trends like the pantsuit and tuxedo for women to stay. The pantsuit has been a hit for all of 2017, and we're hoping it will get to extend its stay in the trend reports. While colors like bright red were christened as the color of Fall 2017, expect them to take a backseat as more and more nude shades make their way into our palettes.
Fashion too has taken to becoming "woke", with eminent designers freely opining on issues of political importance and underscoring the need for human rights for all; and this political awareness is seeping into their collections as well, with labels like Prada incorporating them in their shows. We're looking forward to more such collections that celebrate the act of resistance and rebellion, empower women and other minority communities in society, and speak out in support of issues of social justice that matter.
Timeless prints like the floral print was in the limelight throughout the entirety of last season, but this time there is the possibility of it being replaced by hopefully, something even better than the large vintage flowers in bright colors that adorned our dresses. There might be a shift to more futuristic prints, and also a revival of the solid colors.
---
Suggested read: 10 Fashion Trends From The 90s Which Are Making A Major Comeback
---
With the new year coming closer, it is not a surprise that speculations about the upcoming trends are higher than before everywhere. From color palettes to fabrics, we're excited to see what the gurus of fashion have in store for us this season. No matter how hard we try and anticipate the trends that will rule over us throughout the upcoming year, the only way to find out whether our predictions have been accurate is to wait and watch out for the fashion weeks across the world.
Featured image source: Instagram 
Summary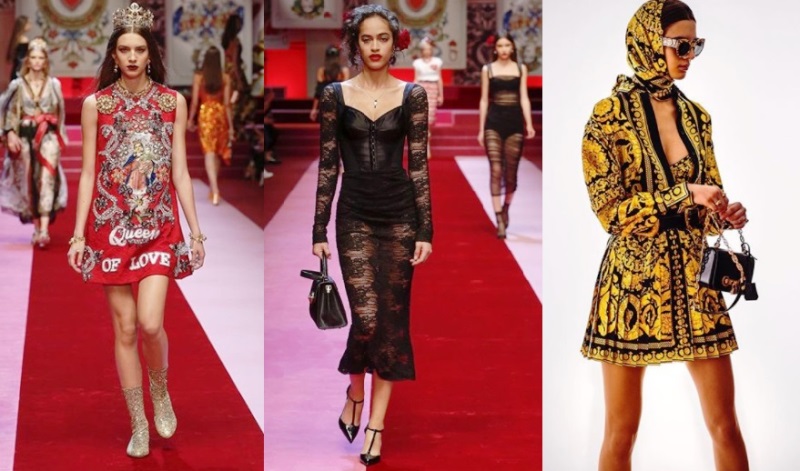 Article Name
Milan Fashion Week 2018: Here's What You Can Expect This Year
Author
Description
This Fall/Winter edition of Milan Fashion Week 2018, expect trends like the pantsuit and tuxedo for women to stay. Here's all you need to know!