Rains wreaking havoc in Mumbai is nothing new to Mumbaikars. And July 21st, the peak of the monsoon season wasn't an exception either. Heavy rains lashed the financial capital of the country, making it impossible for people to even venture out of their homes. The rains also caused widespread flooding and destruction of property to boot.
It's not as if the government was caught unawares. Monsoons are an annual occurrence, and they could do something to brace themselves when it hits. Oh no – that almost never happens in our country. But if you so much utter a peep about the bad governance and the sad state of infrastructure, lo and behold – people from every nook and cranny of the country come out in defense of, none other than, NaMo.
Image source: Instagram
And as a resident of the city, Bollywood actress Neha Dhupia, took to Twitter to express her frustrations and grievances about the government's inept handling of the floods. She tweeted warning Mumbaikars of staying inside the safety of their homes, and to venture out only if absolutely necessary:
Mumbaikars pls be warned traffic outside is terrible,roads r flooded the situation is getting worse by the minute. Step out only if u must!

— Neha Dhupia (@NehaDhupia) July 21, 2015
Followed by this tweet:    
One rain n the city comes to a standstill. Good governance is not about selfies n makin us do yoga,it's making sure ur citizens r safe. — Neha Dhupia (@NehaDhupia) July 21, 2015
BAM – came the scathing remarks about her character, her work, and some low-lives even went as far as to call her a publicity-hungry actress, who would dare to criticize the 'great' Narendra Modi, our 'esteemed' Prime Minister, of bad governance, for a mere 15 seconds of fame.
---
Suggested read: Assamese woman beheaded on suspicion of being a witch
---
The actress was soon trending on Twitter, with caustic responses to her tweets against Narendra Modi. Many of her detractors were enraged that she had the audacity to criticize the PM, who, may I remind everyone, is a public servant:
When flop bimbos like Neha dhupia & shruti seth try to attack modi on social media. pic.twitter.com/LEMCYNkARA

— गुस्ताख़ि माफ़™ (@SunnyDe_LOL) July 21, 2015
Neha Dhupia Admires Pappu Campaigns for congress in Bihar Her Dad is an @AamAadmiParty Candidate Now Blames Modi pic.twitter.com/DASyRf3wxO — Rishi Bagree (@rishibagree) July 21, 2015
Neha dhupia's career before criticising Modi : 📉 Neha dhupia's expected career graph after criticising Modi : 📈

— गुस्ताख़ि माफ़™ (@SunnyDe_LOL) July 21, 2015
Neha Dhupia's T-shirt making more sense then her pic.twitter.com/GLZHZONalj — Rishi Bagree (@rishibagree) July 21, 2015
Neha Dhupia if roads of every state of Modi ji responsibility then why state Govt r dere ? Don't behave like dumb 4 cheap publicity…

— AKASH PORWAL (@akash_porwal95) July 21, 2015
And things quickly turned sexist, with some calling her a 'slut,' 'prostitute,' and whatnot.    
Prostitute, slut, sex worker, anti-national, publicity seeker, low grade actor, paki lover like words coming your way Neha Dhupia. — ठुल्ला Sanki Nana (@SankiNana) July 21, 2015
neha dhupia leave cities, you clean your mind first

— Sameer Gargey (@gargeys) July 21, 2015
Now even semi-porn stars like Neha Dhupia r advising how to govern — KCSethy (@InMediaWatch) July 21, 2015
Bitch try to respect prime minister of India he's not like u a whore https://t.co/tCIJg5aHuJ

— Rajnikant (@realrajnikant) July 21, 2015
All those #GrowingUpAGirl, please vow to yourself, you will never become a filthy dumb fuck bimbo like Neha Dhupia!! — rsvg (@rsvg100) July 21, 2015
Stop responding B grade actress like @NehaDhupia who can even open her legs for publicity and money

— Prabhu kadode (@prabhulingaa) July 21, 2015
All was not lost, however. There were some who came to the rescue of the actress, who has been silent since the Twitter started trolling her.    
so Neha Dhupia has listed what should be our first priority toward country and she gets abused by bhakts #Shame https://t.co/i3K9fUrV7h — Abhishek (@abhishek2526) July 21, 2015
Those trolling Neha Dhupia..busy finding her history etc, how easily did u skip this responsible citizen tweet ? https://t.co/aT6rDjyCjx

— Tanya $™ (@tanya_s94) July 21, 2015
Attacks on Neha Dhupia only prove that BJP supporters are largely abusive, sexually repressed, and misogynists. Just like their 'leaders.' — lindsay pereira (@lindsaypereira) July 21, 2015
The abuse Neha Dhupia is facing is yet another reminder that, in India, trolls are not the exception – they are the norm.

— Ranjan Mukerjee (@GrumpyBombayite) July 22, 2015
Really, they should be ashamed of themselves for their misogynistic responses against a woman, who is an actress by profession. Her profession is different and her wish for good governance is different, and her character and personal life are different. How can they attack her so viciously? She made a valid point on the government's clumsy handling of the monsoons in a city as vast and as populated as Mumbai. What wrong did she do? Pray enlighten me, you misogynistic, repressive, right-wing b*ttheads?
Featured image source: Instagram
Summary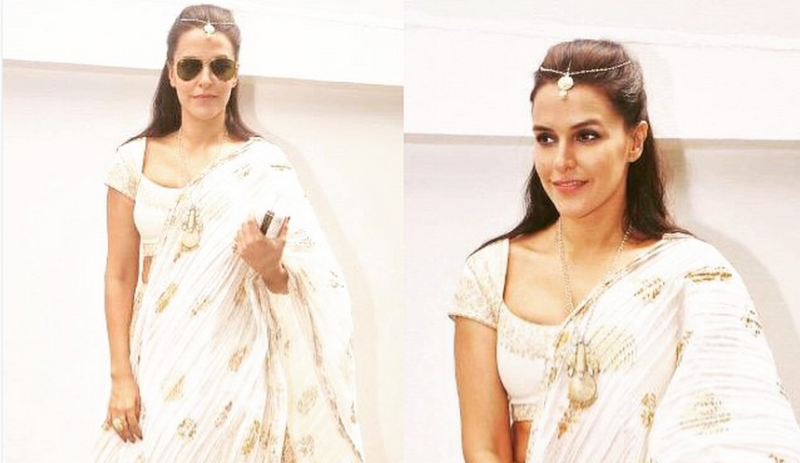 Article Name
Neha Dhupia Faces Sexist Attacks On Twitter For Anti-Modi Tweet
Author
Description
Actress Neha Dhupia attacked on Twitter for anti-Modi tweet. Some have gone too far with their comments, revealing their misogynistic attitudes. Take a look.