11. Purple and metallic
Bright pops of hues, who doesn't like them, right? Spring's almost here, and metallic florals instead of pastel ones, could really liven up the season, don't you think?
let us know in the comment section.
---
Suggested read: The Only Nail Art Brushes You Need To Look Like A Goddamn Pro
---
12. Green gold metallic nails
Are you wanting to try nail wraps instead of working on a nail art design yourself? Great idea, we say. However, before you apply the wrap, make sure you are doing it right. You don't want to carry a rough ugly looking wrap all around the city!
So start by applying a base coat. Then get nail wraps that match your nail size perfectly. Peel them off and paste them on the nails. Using an orange stick smooth it out. Using a filer, file the wraps so that the edges are proper. Now to end it with a pop, apply a top coat.
13. Simple silver metallic nails
Before you try your hands on any of these metallic nail designs, make sure your nails are clean to start with. To clean your nails, rely on lemon.
Lemons are another rich source of vitamin c. It treats yellow nails, and give them a nice shine.
For the treatment, mix two teaspoons of lemon juice and 6 teaspoons of olive oil. Heat it for 10 seconds in the microwave. Now soak your nails in this solution for 15 minutes, and then, wash it with lukewarm water. Remember to pat the nails dry and then apply some olive oil to provide them with moisture.
14. Metallic french tip
Just metallic french tip your nails and see how those beauties make you the queen.
We are sure you already know that nails, like hair, are made of keratin, which is a protein. So, if you add more proteins to your daily diet, you can naturally enhance your nail growth. On the other hand, if there is a lack of protein in your diet, you are bound to have weak nails and also have spots on your nails.
15. Black & green
Nail wraps can do the trick!
16. White & gold
Is this the hottest combination there is? Okay, after Dakota Johnson and Chris Martin!
17. Pink metallic nails with rhinestones
Yes, you need to be really dedicated and patient to try these and then maintain them. Also, once you have removed the accessories and the color, your nails will require some intense care. Here's a suggestion:
The high content of omega-3 fatty acids makes flaxseed oil a great nail growth booster. Flaxseed oils also have magnesium, zinc, protein, b vitamins and lecithin. These nutrients help enhance the growth of nails, and also prevents splitting, drying and breakage of nails.
For the treatment, rub in some flaxseed oil on your nails. Pay more attention to the cuticles. You need to massage well for about 5-odd minutes to improve the blood circulation to your nails. Remember to wear gloves to retain the moisture.
This remedy must be done twice a day for best results.
18. Metallic blue nails
Brittle nails can ruin any nail look, right? And so, if you want your metallic blues to look awesome on your nails, then you got to take care of the latter. Coconut oil helps strengthen the nails like nothing else. The oil is a rich source of saturated fat, which makes it an amazing moisturizer. It also helps you dodge nail infections effectively.
For the treatment, you need to first heat some coconut oil. Once it is soothingly warm, apply it on your nails. You need to massage the cuticles well. This will also help improve the circulation of blood to your nails. To keep the nails moisturized, try this remedy twice a day for over a month and see the difference.
19. Dark gold coffin nails
We know halloween is months away, but if you think your inner dark side cannot seem to wait until then, then just paint your nails a coffin shade and see how the spirits indulge you.
20. Simple gold metallic nails
This is a pretty simple nail design (as the subtitle suggests quite loudly!). This one can be tried, especially, when you are giving your talons some break, and prepping them for a real nail design project.
---
Suggested read: The All-Round Guide For Choosing The Best Nail Strengthener
---
21. Gold metallic design
This looks stunning, but there can be problem if your nails tend to get a weird yellow after you have applied a color as dark as gold or black and gold. If you do find yourself in such a fix, then just use this simple trick my grandma taught me: apply some lemon juice; rub your nails with the skin of the lemon; and then wash with water. And tada! You have nails as clean as Moses'.
So how many of these do you plan to try on, this year? Fill us in. The comment section awaits you and so do we.
That is all we have on today's post about the best metallic nail polish that's going turn up the heat in 2018. Did you find this useful? Are you planning on sharing the article with your friends? We suggest you do.
See you again next time with another helpful article. Until then, love and be loved.
Featured image source: Instagram 
Summary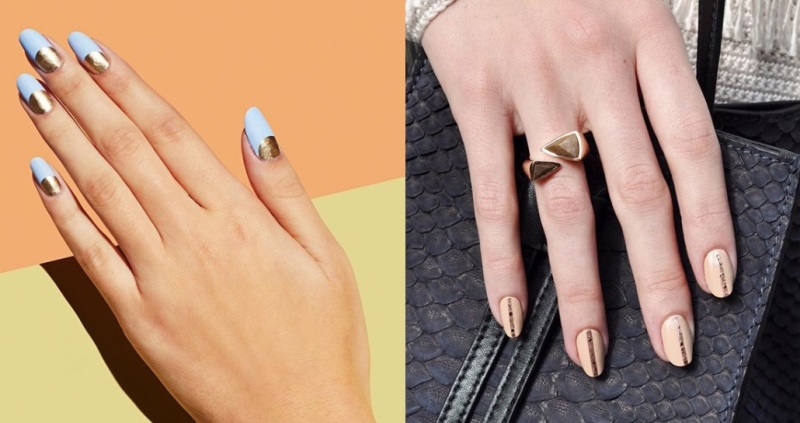 Article Name
The Best Metallic Nail Polish To Up Your Nail Game
Author
Description
In today's post, we will be telling you about the best metallic nail polish, and what goes best with it. Be prepared to look awesome!