Anyone else super confused about the difference between bb creams and cc creams and foundations? Yeah well, we were confused too. So we did some research, and educated ourselves on this super important topic. And since we love you guys so so much, we decided to create a comprehensive guide on what these incredibly complicated things are.
For starters, both BB and CC creams are effectively, tinted moisturizers. Foundations are more on the makeup side, while these are more on the skincare side of the beauty industry. That being said, both BB creams and CC creams are essentially the lovechild of skincare and makeup. BB cream stands for "beauty balm" and is a lightweight, tinted moisturizer with the ability to blur imperfections, nourish the skin, and act as a sunscreen. A CC cream, on the other hand, stands for "color correcting" cream, and mainly works to even out your skin tone (like dullness, redness, etc.).
Both of these products can be broadly termed "tinted moisturizers". There are so many benefits of using tinted moisturizers. Here are some of the best tinted moisturizer benefits:
Tinted moisturizers provide deep nourishment, while also doing the work of makeup (i.e. blurring imperfections, etc.)
Tinted moisturizers almost always contain SPF. So, they also act as a sunscreen, which is great for those of us who do not like applying too many products on the face. This way you have a one step solution to all your main skin needs.
Tinted moisturizers are super easy to apply, and time-saving. It's great for times when you are in a rush and you don't have time to go through the entire process of putting a moisturizer, sunscreen, foundation, color correctors, etc. separately.
Tinted moisturizers are hella lightweight and are thus great for those of us who do not enjoy wearing a lot of makeup, but still want to cover up certain blemishes, etc. A tinted moisturizer is perfect for the whole "no makeup makeup" look.
Tinted moisturizers are much more nourishing and beneficial for your skin than normal makeup. You can choose your tinted moisturizer to suit your skin conditions. Whether you have fine lines and wrinkles, hyper-pigmentation, dry skin, sallow skin, dull skin, patchy skin, oily skin, acne-prone skin, or sensitive skin – there is something tailored to each and every one of you. So, along with its concealing properties, a good tinted moisturizer will provide your skin with the treatment and nourishment it requires.
Budget-friendly in the long run 
When you think about it, a good tinted moisturizer is effectively replacing a number of products in your daily beauty routine, like your moisturizer, sunscreen, foundation, and color correctors. So even though initially a tinted moisturizer may seem like an expensive buy, in the long run you'll end up saving money.
To make it even easier for you, we compiled a list of all the best tinted moisturizers that are worth investing in.
---
Suggested read: 8 Eco-Friendly Beauty Products To Invest In Right Now
---
The Best tinted moisturizer ever! 
1. Cle De Peau
Possibly the most expensive product on this list of the best tinted moisturizer, the Cle De Peau Le Fond de Teint (The Foundation) emanates luxury and sheer indulgence.  While it is marketed as a foundation, it contains skincare properties and is incredibly lightweight. This light coverage foundation boasts of containing anti-aging properties that erase fine lines and wrinkles while helping the skin maintain its youthful firmness. It also moisturizes the skin and makes it look smooth and glowy.
Price – $250
Packaging – 500/10
2. Tarte
The Tarte BB Tinted 12-hour Primer Broad Spectrum SPF-30 Sunscreen boasts of being the all-in-one solution to all your skin needs. It works as a primer, moisturizer, sunscreen, foundation and anti-aging treatment, to provide your skin with all the help it requires. You can wear it on its own or underneath your makeup. It provides a matte, satin-y glow that makes your skin look taut, and youthful. Also, it's VEGAN wooooooo!
Price – $37
Packaging – 7/10
3. Clarins
The Clarins Super Restorative Tinted Cream SPF 20 has a peachy, almost gold-tinted color that helps color correct and brighten your skin tone. It has a lightweight but creamy texture that spreads on your skin like silk, minimizing the visibility of pores, blemishes, and fine lines. Also, its gold-tint helps make your skin look almost luminescent. Despite its relatively high price, it is one of the best rated tinted moisturizers in the market.
Price – $88
Packaging -6/10
4. Giorgio Armani
Let's be honest; just the name "Armani" screams excess and opulence. So, it's pretty obvious that their tinted moisturizer is going to be one of the most luxurious things we will ever put on our faces (hey one can dream k). The Armani Crema Nuda Tinted Cream has a water-based texture that helps provide a lightweight, sheer coverage, and contains extensive hydrating and nourishing properties. It contains hyaluronic acid, which is a moisture-binding ingredient that keeps your skin plump, hydrated and younger looking.
Price – $200
Packaging – 10/10
---
Suggested read: 10 Best Moisturizers For Soft, Supple Skin
---
5. Clinique
Clinique's Acne Solutions BB Cream Broad Spectrum SPF 40 belongs to their Acne Solutions collection, which, as the name suggests, is customized for those with acne-prone skin. It is a lightweight, long-lasting bb cream that provides moderate coverage, with a soft matte finish. It acts as a sunscreen, but its non-greasy texture keeps your skin looking matte and oil-free all day. Also, it minimizes the appearance of pores and prevents breakouts.
Price – $39
Packaging – 6/10
6. Christian Dior
Dior's Hydra Life collection is an exceptionally high rated skincare line that boasts of deep hydration, skin-repairing technology, and a luxurious, long-lasting feel. Dior's Hydra Life BB Crème Broad Spectrum SPF 30 follows through with a lightweight, deep nourishing formula that enhances your skin's natural radiance. Its smooth, almost cushion-y textures help conceal imperfections and reduce any surface irregularities on your face.
Price – $60
Packaging – 8/10
7. Supergoop!
Gwyneth Paltrow's beauty line Supergoop! has become a front-runner in the beauty industry, with its paraben-free, gluten-free, cruelty-free, vegan products. The Supergoop! CC Cream Daily Correct Broad Spectrum SPF 35+ Sunscreen is a 100% mineral CC cream that color corrects, conceals blemishes and reduces signs of photoaging (hyperpigmentation). It provides deep nourishment, and provides better coverage than your average tinted moisturizer and can thus be used in place of a foundation.
Price – $32
Packaging – 5/10
8. Origins
Origins boasts of natural, cruelty-free, vegan skincare that can nourish and repair your skin with ingredients and methods learned from different cultures in the world. The Origins GinZing SPF 40 Energy Boosting Moisturizer contains two key ingredients – Panax Ginseng, and caffeine from coffee.  Ginseng helps support natural cellular energy to revitalize the skin and reinstate its youthful radiance. Caffeine is a natural anti-irritant that energizes the skin and keeps it looking fresh and healthy. It has a sheer, silky texture that offers light coverage while smoothening the skin and making it look naturally healthy.
Price – $38
Packaging – 8/10
9. Guerlain
Guerlain's Lingerie De Peau BB Beauty Booster is a lightweight, sheer finish BB cream that acts as a color corrector, moisturizer, sunscreen, and concealer. The brand boasts of luxury and excess, and this product fits right into their legacy. It hydrates your skin while making it look fresh and blemish-and-wrinkle-free.
Price – $54
Packaging – 5/10
10. Estee Lauder
With a resume consisting of excellent reviews, the Estee Lauder DayWear Multi-Protection Anti-Oxidant Sheer Tint-Release Moisturizer Broad Spectrum SPF 15, boasts of all sorts of pretty cool things. It color corrects, evens out your skin tone, fights free radicals (preventing the appearance of fine lines and wrinkles) and provides your skin with deep nourishment. The coolest part is that it has only one shade (2 finishes) that is said to work on all skin tones, due to its impeccable, sheer finish. The cream initially comes off as color-free but the color develops as you work it into your skin.
Price – $54
Packaging – 7/10
---
Suggested read: 10 Home Remedies For Dehydrated Skin With Easy DIY Moisturizers
---
That's all on today's post on the best tinted moisturizer available in the market right now.
We'd like to be clear on one thing – good skincare tends to always be a bit expensive. So, like with all skincare, we do suggest you do your research and invest in a good product than skimp out and settle for something cheap that may damage your skin later on. A good tinted moisturizer will eliminate the need for 3 separate products – moisturizer, sunscreen, and foundation. So when you think about it, it's kinda worth the splurge.
That being said, not everything is made for everyone, so just because we said that these products are awesome, doesn't mean that it'll suit you. Everyone's skin is different, and it reacts differently to various products. So, if there is one skincare advice that we absolutely insist you follow, is to always use what works for you, instead of something that you're not confident about. You do you.
Featured image source: Instagram 
Summary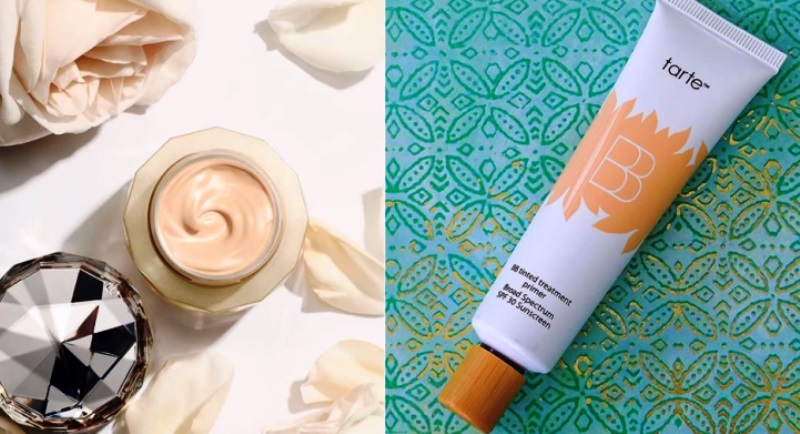 Article Name
The Best Tinted Moisturizer: Here's Everything You Should Know
Author
Description
To make the art of makeup easier for you, here is all you need to know about the best tinted moisturizer you should invest in right now.