Contouring, by general consensus, is a pretty daunting task. And call us crazy, but we, at NLT, believe it is pretty basic. You heard me. Achieving that natural-looking sculpt doesn't have to be so frightening.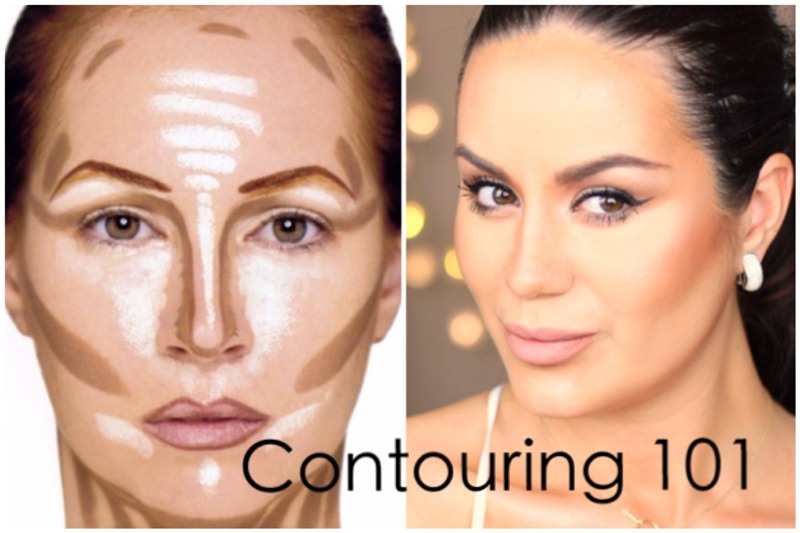 Image source: Youtube
Whether you are amping up your look for a special night or have turned contouring into your go-to technique for an everyday wow-factor, we've done all the hard work behind making contouring an easy business for you. Whether you want to go for a subtle touch or rival the contouring tricks of the Kardashian clan, all you need is to pick the right contouring kits and palettes and take to the NLT-makeup-brigade-approved contouring skills for that flawless finish. No matter your position on the makeup skill spectrum- you could be a contouring virgin, a tutorial-dabbler, a makeup junkie, a veteran or anything in-between- or your specific appetite for that tasteful chiseled effect, we've got just the contouring tricks that will make your day.
---
Suggested read: The guide on how to choose blush that flatters your skin tone
---
We have pulled a list of the best makeup contouring tricks and products, drawn up in an easy-to-understand format for each skin tone- so you can bell the cat yourself and not end up like Oompa Loompa. So, let's begin…
The basic premise of contouring is to highlight your best features, so your first and foremost step is to ditch any skill that fixates on creating a new shape or drawing harsh lines. The idea is to opt for easy, subtle swoops that enhance your natural features but more on that in a moment. Your first step to nailing the trend is to pick the right product for yourself.
Remember how you give someone wearing the dreaded foundation line a gal-you-got-your -shade-wrong look? Well, contouring ain't no exception. One shade definitely doesn't fit all- and it takes quite a bit of market research to decide upon a flattering palette.
Fair/Light skin tone
The light skinned ladies need to be especially careful when picking a contouring palette as anything tending toward brown and orange can read all wrong on your skin tone. If you do not want to look all muddy or red, your best bet is to opt for a taupe contour. The Chanel Les Beiges in 40 is our top recommendation. However, if you are looking for a drugstore dupe, the NYX Cosmetics Powder Blush can mimic the same effect. It is important to remember that harsh lines or heavy layering can go horribly awry on your skin tone- making it too obvious, blotchy or worse, cakey. Opt for a seamless look by going in for easy, lines, weightless layering and impactful blending over the edges with a damp beauty blender.
Medium/Tan skin tone
Blessed with a wider range of products, the medium skin tone peeps can pretty much get away with most products on the market (think the matte creamy hues in the Kat Von D Shade+ Light Color Palette or the neutral and universally flattering blush 'Orgasm' by NARS). However, it is still advisable that one opt for a test drive before buying the product. The best way to flatter a medium skin tone is to go for a bronzy contour, as it can be used as a part of bronzing, whilst also sculpting the features and rendering a sun kissed look. The Charlotte Tilbury Flimstar Bronze & Glow in light to medium makes for an excellent choice. For those looking for something tending to a darker effect, the medium to dark version can prove to be a good fit.
Dark/Deep skin tone
With deeper skin tones, one has to work in reverse- using the darkness of the skin tone to add highlights for the effortless sculpting- so that the contouring doesn't look strange. It is best to use the deep tint of the skin as a canvas for the perfect coppery bronze highlighter that can complement your skin tone and enhance your features. The highlighter can be used to create definition and the contour color can be given a definite miss. The NARS Contour Blush in the shade Gienah for dark skin and a highlighter like L'Oreal's True Match Lumi Liquid Glow Illuminator in Rose for deep dark skin à la Lupita make for excellent choices. Balance is key to working with the deeper skin tones- as adding a sheen on the bridge of your nose, chin and cheekbones can help with sculpting but the reflective character of the skin tone can create additional shine. This might need toning down with a bit of powdered dust.
Next in line – application. As we have said already, contouring does not have to be a scary deal. All you need is  the right technique that works for your skin tone and befits your purpose.
If you are light-skinned
As already mentioned, your skin tone makes the use of a shade with any warmth the kiss of contour death. Opt for soft, subtle tones like the Surratt Artistique Blush in Grisaille. It has no orange tones and sits beautifully on a fair skin tone. If you are using a twin shade kit, opt for applying the cooler shade under your jaw line and cheekbones, amping up the intensity as you use the warmer shade along your hairline.
If you have a medium skin tone
Opt for a sculpting powder that's dark (and yet, not too dark) that you can brush along your cheekbones, jaw line, on the temples and the bridge of your nose. Go for easy, soft gradation when you highlight. Kevin Aucoin's Sculpting Powder may come in handy for the purpose. If you prefer creams, you could go for Chanel Soleil Tan de Chanel Bronzing Makeup Base.
---
Suggested read: A complete guide on how to apply makeup for pale skin
---
For a deeper skin tone
We told you to play up the highlighting game with darker skin tones. Opt for a kit like the NARS Contour Blush in Gienah and follow up with a great liquid luminizer (think NARS Hot Sand) in a complementing shade (golden, copper, bronze) for that flawless finish. If you are a Lupita Nyong'o, then contouring can look too harsh. In such a case, rely on a liquid highlighter to draw out your best features. Think Giorgio Armani Fluid Sheer.
If you are a contouring virgin
The easiest way to contour, when you are a first-timer, is to use two complementary shades of foundation- one that's matched for the center of the face, neck and high bones and another that's matched to the peripheral regions and underneath the cheekbones. It is recommended that one opt for cream products that are easy to manipulate or erase, in case of mistakes. The Bobbi Brown Skin Foundation Stick is a case in point.
You can prep by creating an even base with the lighter shade and then, amp up the intensity by gradually varying the application of the second shade at the temples, jaw line and beneath the cheekbone. If you are still a little apprehensive, you can pick an affordable tool like the Maybelline Facestudio Master Contour V-Shape Duo Stick that wields dual shades in a single chubby to help you confirm if contouring and highlighting are your game. The creamy texture allows for easy blending with the tips of your fingers and makes for a convenient contour option when you are learning to climb the ropes. Other options would include contouring stick triads like the Smashbox Step-by-Step Contour Stick Trio or a beginner-friendly kit like the Dr Jart+ BB Mate Contouring 1.2.3. Kit– that can help create more dimension and balance.
If you are a tutorial dabbler
If you have brushed up your basics and wish to up the ante, taking your contouring game to the next level with a palette is a wise choice. Take the Anastasia Beverley Hills Contour Kit for an example- the kit has great shades for contouring and highlighting and you can start playing up the lighter shades and inch toward the darker end of the spectrum, as you start getting comfortable. Alternatively, you could try your hands on the four-pan contouring palette launched by Too Faced, with three gorgeous sculpting shades and an intense highlighter in a chocolate fragrance!
If your contouring skills are above average, we'd say you could play up the highlighting game and take it several notches higher. Try different modes of highlighting- like tantouring with a shading-illuminating duo or bringing out your cheekbones with a sculpting tool like Kevyn Aucoin's The Creamy Glow Sculpting Powder.
If you are a pro
If you have mastered the art of contouring, then you already swear by the Tom Ford Shading-Illuminating duo. A luxury contour product that can be intimidating to most makeup junkies, this kit is an exceptional tool that allows you to work it into your foundation or apply it underneath for a subtle, yet powerful effect. Of course, the contrast calls for more blending effort- but once you have mastered the technique, every swoop is well worth the effort. Flattering for most skin tones, the illuminator renders camera-ready levels of shine but it is best to save the product for special occasions and have a backup option for daily wear.
---
Suggested read: The beau idéal guide on how to fake plump lips like Kylie Jenner's
---
Since you are a veteran, you could also choose to play around with sculpting shades. Try the BH Cosmetics Contour & Blush Palette for a healthy start.
If you are using cream contours, blend with a damp BeautyBlender for diffusing the lines and soften the intensity by buffing for an even, clean finish. After carving out the bone structure using taupes and bronzes, it is necessary that you add a pop of color (or sheen- depending on skin tone and occasion) for dwarfing the angular contour effect and making t look seamless and well-rounded. If you aren't much of a shimmer person, opt for the matte options available in the market.
After you have contoured and colored in with blush, amp up highlights for going for a universal highlighter like the High Beam Highlighter to dot the high points of your face and blend in with a damp sponge. If you've made any mistakes along the way or drawn out harsh lines that don't sit well on your look, opt for a happy spritz of a facial spray that can help to sheer out the wrong application. Use it directly or on a sponge and correct your harsh lines by wetting and erasing them.
These are all the best makeup contouring tricks you need. Happy contouring!
Featured image source: Youtube
Summary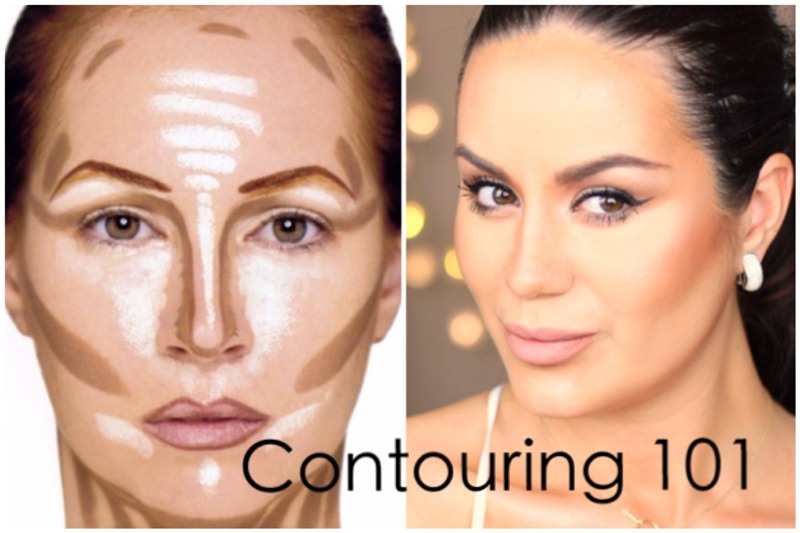 Article Name
The One-Stop Guide For The Best Makeup Contouring Tricks And The Best Contour Kits For Your Skin Tone
Author
Description
The only best makeup contouring tricks you'll ever need!