Have you never taken a crack at products from NYX? Well this is the best time to get started.
NYX Cosmetics was founded in 1999, by Toni Ko, who was only 26-years-old then. Toni stirred to start her own makeup line because she and her buddies were desperate to look drop dead gorgeous, without actually dying in their endeavor to buy the makeup products!
Top-shelf cosmetics that cost just a few dollars, that was the dream, and so, Tony developed NYX Cosmetics to make that possible! The brand gives you products that resemble those of high-end brands at a price that will not require you to rob banks!
---
Suggested read: All about pastel makeup (and more): The NEW beauty looks to wear in the New Year
---
Here are 16 must-have NYX products that you need to call yourself a makeup junkie!
1. Strobe Of Genius
Strobing is the new contouring, people! The technique of brightening the highlighted areas of our face is called strobing. And NYX's Strobe of Genius is all you need to give your makeup life.
SOB has popped up as the pick-me-up product of makeup lovers all over the world because of its price point and its quality. The Strobe of Genius palette has a versatile range of tints and tinges. The shades are so buttery that they can give the high-end brands a run for their money. In case you are wondering, the shades are not glittery (why should they be!) and yet, they lend just the right amount of shimmer for the highlighted areas to pop. The product's smooth texture and the fact that it works well for almost all skin types, make it a must-have. Also, the Strobe Of Genius will last longer than any relationship that you have ever had.
2. HD Finishing Powder
All you need to seal that concealer is NYX's HD Finishing Powder. A mineral-based finishing powder that is soft, the HD Finishing Powder, sets easy and masks the thin lines around the eyes and lips, if any. If you have an oily skin and a light skin tone, this product is going to work like magic on you. It lends a glossy matte finish that gets you ready for the Gods! We are sure as hell that you will drool over the powder's soft and feather-like texture.
Note: This is not a great makeup product for people with a medium skin tone, or those with dark circles, as it can give a greyish appearance.
3. HD Blushes
HD Blushes are an addition to NYX's blush product range. It is way more refined than the brand's previous blush products, plus it is packaged and pigmented in a more advanced way. HD Blushes are a paraben-free formula, and are available in 20 shades, of which almost all have a satin-finish. Also, it is easily bendable and very light.
The blush lends a lively yet not loud look that is sure to earn you lots of friends. This one is an exuberant-looking blush that is relatively economical and has a quality that matches a blush from a high-end brand. We love the tinges it offers: From mauve and pink to gold and taupe, they have it all covered just for you.
4. Ultimate Eyeshadow Palette
If you are an eye makeup lover like moi, then you absolutely NEED the Ultimate Eyeshadow Palette from NYX. The striking color-combos make it a must-have, and also in case you didn't know, each of the shades are inspired by photo filter effects!
The colors have a smooth texture, which makes application really easy. Also, they are crease resistant, so you have nothing to worry about. Try mixing and matching the colors to come up with shades of your own, and do not forget to share them with us! 😉
5. Jumbo Eye Pencil
Jumbo eye pencil is undoubtedly one of the must-have NYX products. This eyeshadow comes in a velvety pencil format, and so it doubles the effects of an eyeliner. The Jumbo Eye Pencil offers an array of shades; 32, to be precise. No wonder makeup junkies and bloggers all over the world just can't seem to get enough of it. Does it get chunky on the eyes? Of course NOT!
6. Concealer Jar
NYX's Concealer Jar is available in 12 distinct shades, and they provide full coverage. Also, since it comes in a tiny pot, it will fit effortlessly in your makeup kit.
The concealer is easy to take off, which is important if you want your skin to live longer. You can use the concealer with a foundation and then dab on some of NYX's HD Finishing Powder.
7. Highlight And Contour Pro Palette
In the beginning, the art of contouring felt like it was exclusive to the runway models. We should really appreciate the efforts of YouTube for helping us out with the ways to highlight our face.! The 8-shade Highlight And Contour Pro Palette from NYX is the product you need this year to get your contouring game on-point. Also, the shades can be customized to suit your preferences. And it comes in a reasonable price.
---
Suggested read: The one-stop guide for the best contour kits and the best contouring tricks for your skin tone
---
8. Slim Lip Pencil
Want to line your lips to perfection? Well, wait no more! With the creamy Slim Lip Pencil from NYX you will not have any trouble while getting the right lip look. The palette comes in fiery shades, which is sure to compliment any lip color palette. Also, it glides on your lip line as smooth as silk.
9. Butter Lipsticks
This is the lipstick that we have always wanted coz it not only colors our lips but also keeps them hydrated and healthy. Also, it treats everyone equally, as in, it has the right lip shade for every skin tone and taste!
The lippie leaves a glossy finish and feels like heaven on your lips! Also, we could not find a single flaw with it. That says a lot, right?!
10. Butter Gloss
You prefer gloss and sheen over a matte-finish? Well then, this is your product! The Butter Gloss is not sticky (phew, right?!) and has a sweet scent. It also does not bleed or blob at the edges of your mouth. According to us, you should pick up all the available shades, because choosing between them will be a Sophie's Choice for you!
11. Roll On Eye Shimmer
The Roll On Eye Shimmer is a super fun way to wear your eyeshadow. So, you can go ahead and get rid of all the shimmer powders you have got on your dressing table, and get yourself this best-selling NYX product. It is highly pigmented and lasts real long. You may not want any drama in your life, but the Roll On Eye Shimmer lends the right amount of drama to your eye look.
12. Wonder Stick
Have you only recently discovered the makeup lover in you? So you must be a little skeptical about trying different colors on your face, right? Well, the Wonder Stick from NYX will help you learn the rules of the contouring game really quick. This is the best way to amp up your facial glow without looking like E.T.!
13. Slide On Pencil
The Slide On Pencil from NYX is waterproof, creamy, long-lasting, vibrant, and all that, in just 8 dollars! The eyeliner does not smear, so it is smudge-proof and looks like you just ran a liquid eyeliner over your eyes! If you have sensitive eyes, you have nothing to worry about, because the Slide On Pencil takes care of your waterline instead of irritating the hell out of it!
14. Makeup Setting Spray In Matte
If your makeup does not stay intact, you need NYX's Makeup Setting Spray in matte. It locks your makeup, so you can use it on your foundation or even concealer. The product lends an airbrush finish, which is enough reason for you to grab it off the makeup counter. The spray also absorbs the oil, giving your face the glow without the grease.
---
Suggested read: Here's why we think ombre nakeup needs to carry over into 2017
---
15. Lip Lingerie
This one is a best-selling product from NYX, and rightly so! A weightless matte lippie, which comes in sun-kissed hot tinges that act cupid in your love affair with nudes. We heart the warm shades, like mahogany and cinnamon pink. But the chocolate brown is irresistible too! Spoilt for choices, you see!
16. Liquid Suede Cream Lipstick
A cream-based liquid lippie, Liquid Suede Cream Lipstick from NYX comes in more than 20 shades, and that means you need to grab at least 5 today! The lip shades are water-proof, vibrant, and give your lips a velvety texture. However, to get the best out of it, moisturize the lips well before gliding on the lipstick.
I hope you check out these must-have NYX products on their official site, and don them to bring out the wow in your look!
Did you find this guide helpful? Sound off in the comment section below.
For more on makeup beatdowns, tricks, tips and what products to use and which ones to ditch, keep following this space. You can also sign up for our daily newsletter to get all beauty-related pieces delivered to your inbox every day. Cheerio!
Summary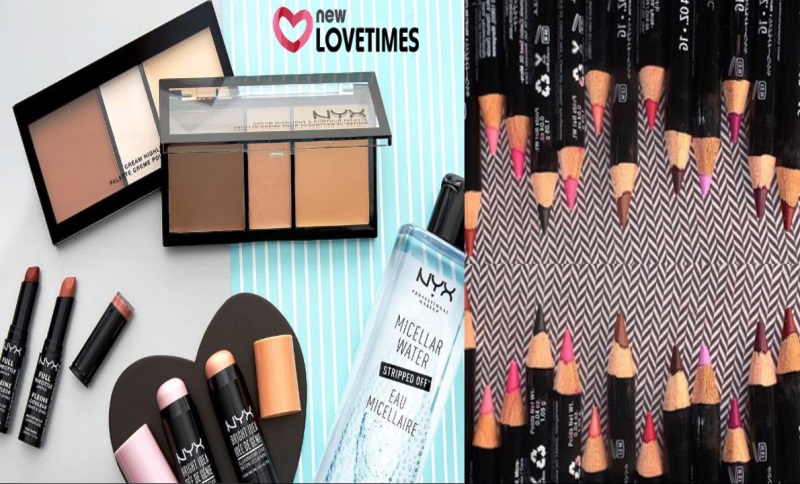 Article Name
16 Must-Have NYX Products You NEED To Own The Diva Look
Author
Description
Top-shelf cosmetics that cost just a few dollars, here are 16 must-have NYX products that you need to call yourself a makeup junkie!