The battle between men and women has been one of the most epic and long drawn debates over the years, where people have desperately tried to establish the supremacy of one sex over the other.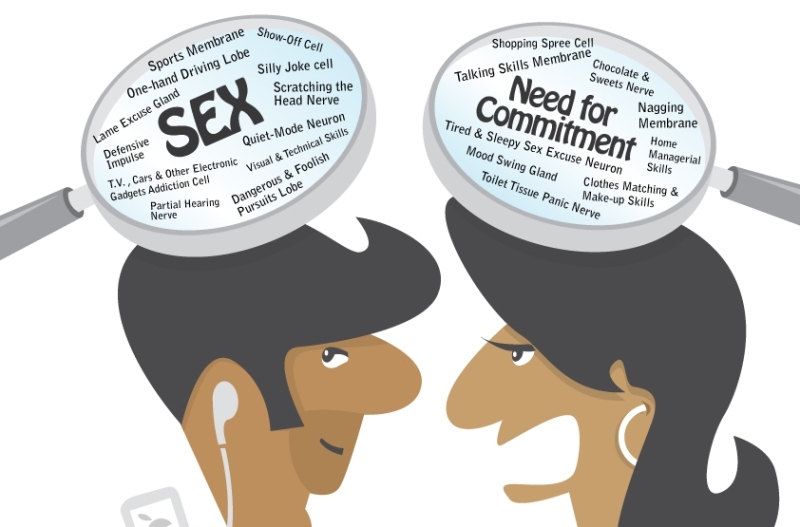 Image source: brucesallan.com
Although it may be difficult to prove that one sex is greater (because there is no such thing as a hierarchy among sexes- except that patriarchy is real) it may be interesting to note how the battle (men vs women) gets drawn out when both are put in similar situations. Maybe, we could have a verdict this way..
1. Friendships
Men socialize by insulting each other but they don't really mean it.
Women socialize by complimenting each other but they don't really mean it. 😛
2. Fighting
Men, when they do fight, go all out- and it's World War III. Real reasons, real war!
Women opt for a cold war and you'd never even know why it hit'em in the first place! 😉
---
Suggested read: If boyfriends were really honest while arguing…
---
3. Worrying
Men always worry about the things women remember.
Women always worry about the things men forget! 😛
4. Compliments on looks
When a man is told he looks good, he ends up pulling off the same look another 300 odd times until it rips and makes him look like a homeless beggar.
When a woman is told she looks drop dead gorgeous in a dress, she derives the maximum out of the outfit on the same day and decides not to wear it again!
5. Romantic interest
Men tend to overestimate women's interest in them.
Women tend to underestimate men's interest in them. 😉
6. Life's hardships
Women have to deal with sexism, discrimination, inequality, childbirth, pregnancy and more.
Men have to deal with women.
7. Best sport
For men, it is soccer.
For women, shopping!
8. Choices iIn life
Men would probably opt for a 2.3 GHz quad core processor cellphone and do their laundry in normal wash, tumble dry!
Women would probably buy a cellphone after analyzing if it comes in pink or purple but do their laundry in cold water, hand wash, delicate cycle, inside out, cold cycle and  air dry only!
---
Suggested read: 9 steps to choose a guy to fall in love with in India
---
9. Sex
Men have sex when they can.
Women have sex when they want. 😉
10. Checking each other out
Men usually are looking at women's behinds and going 'woah, what an a*s!'
Women are doing the same by looking at men's faces!
11. First move
For men, it has got to be as elaborate or somewhere close as Raj moving countries to win over the love of his life.
For women, it is a simple 'hi.'
12. Intelligence
Men think they have got larger brains than women.
Women KNOW theirs' are switched on!
13. Their favorite things
Women have nothing to wear when they look inside their life-sized closets.
Men have the 'nothing to play' responses to a same size video game collection!
14. Finding stuff on sale
A man will call all his bros to check if they need the thing too!
A woman shall call all her friends and cancel plans with them to avail the sale by herself!
15. Cleaning the toilet
Women use bleach and rinse- as hard as they can!
Men pee on the poop stain- as hard as they can! 😉
16. Arguments
A woman always has the last word in an argument.
Unless a man wants to speak after that and begin another new argument!
17. Shopping
A man will pay 200 bucks for a 100 buck item he needs and dash out quick.
A woman will haggle to get a 200 bucks item she didn't need in the first place for 100 bucks and then, set about to dig some more of these not-needed items on sale!
18. Idea of sexy underwear
A woman needs lacy, skimpy, frilly, flattering, silk and extremely HOT (even if uncomfortable) to rev up the temperature in the bedroom.
For a man, 'tis gotta be clean with no holes! 😛
19. Dressing up
Women dress up to go shopping, water the plants, empty the trash, clean the toilet, read a book, answer the phone, get the mail or even all over again when a crush announces he is coming over!
Men dress up for parties! And yes, when their crush is coming over, they clean the house!
---
Suggested read: Expectation vs Reality for married men
---
20. Mistakes
Men should just forget about their own.
Women are there to remind them! 😉
What? I said- MAYBE we'll have a verdict! But….sorry!
Featured image source: brucesallan.com
Summary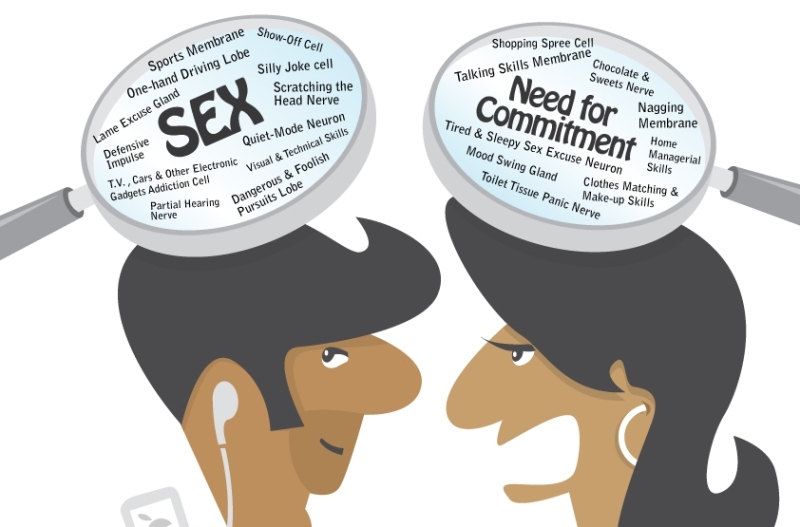 Article Name
The Ultimate Battle Of The Sexes: Men Vs Women
Author
Description
We may have a definitive winner in the men vs women war today!