One of the best things about makeup is that the slightest touches of powder here and a little formula there can make you look like a flawless goddess. However, most people are often unable to achieve the perfect, photo shoot-worthy look because they miss out on a couple of essential elements, which are so innocuous that they are often deemed unnecessary. Today, we are going to be talking about the best bronzer for dark skin, how you can pick them, and what you can do to make sure that it goes on and you look flawless.
A lot of people with dark skin feel that they can do without the bronzer, even if they are into makeup in general. This is not the case, because the whole function of a bronzer is to give you a sharp, angular face which has depth and dimension. Even though your face naturally has depth and dimension, it becomes slightly blunt and flat when you apply things like foundation, which mates out your natural sheen and reduces the shadows which fall on your face. To get the perfect glowy look, you need to have a bronzer handy, and believe it or not, there are a number of gorgeous bronzers out there for dark skinned people.
---
Suggested read: Crucial Things To Know Before Choosing The Best Blush For Dark Skin
---
Before we start talking about the best bronzer for dark skin, let us learn about the several benefits of a bronzer, which shall convince you once and for all that you do indeed, need to add a bronzer to your makeup kitty.
You can use bronzers as a natural contour. If you have trouble handling a contour stick, then brushing on some bronzer should do the trick for you.
You can get even more defined contour lines without worrying about overdoing it, when you use liquid bronzer.
A bronzer can give you a lovely, warm, tanned, sun-kissed look within seconds, without you having to step out in the sun at all, and risking red, burning skin.
When you apply bronzer strategically, it also has a wonderfully slimming effect on the face.
Bronzer, because it is all about light and shadow on your face, can make your cheekbones look sharp as knives, even if you have a round face.
Shimmery bronzer, when applied discreetly can create the effect of a youthful radiance which can take years of your face, something foundation and concealer can't.
The right bronzer can make you look flawless in the true sense of the term, which is why you need to invest in one right away. By now you should be convinced that bronzer is the secret ingredient to the perfect makeup looks, and we are going to show you the things that you need to consider, when buying bronzer for yourself!
1. Know your skin type: When you are picking your bronzer, be sure to understand what kind of skin you have. The tone of your skin has nothing to do with your skin type, which can be of three types- oily, dry and combination. All of these effects the way a bronzer might look on your face, and the extent to which it can react with your skin. Here is everything you need to consider when picking the right bronzer for your skin type.
If you have oily skin, then you have to be very careful about the formula of your bronzer. If you are going for a more subdued look, then you need to go for full matte, non-sheer bronzers, which will set the rest of your makeup. The natural oils from your skin will give you that nice, natural glow, without your bronzer having to do much work. However, the bronzer will be able to add the right shadows in the right place, so that you have a smooth, flawless face of makeup. Here are our top matte choices for dark skin.
Chanel Les Bieges Healthy Glow Sheer Powder
NARS Bronzing Powder
Too faced Milk Chocolate Soleil Matte Bronzer
If you have dry skin, then needless to say, you can't go for bronzers which are drying, no matter how much you love the shade. If you are aiming for a subtle matte shade, then you can go for cream-based bronzers which are great for your skin, and give you that perfect bronze glow. However, if you want to be a little extra with your look, then you can also check out some amazing semi-sheer shimmery powder-based bronzers. Here is what we recommend.
NARS Matte Multiple
Guerlain Terracotta Bronzing Powder
Makeup Forever Pro Fusion Bronzer
It is easier to choose your bronzer when you have combination skin. Combination skin is the skin type where some parts of your face is oily, like the T-zone, the chin and your forehead, while other areas, like your lips, the temples, your cheeks, etc. are some areas where you might notice dry, flaky patches. You have to figure out the places where you want to apply bronzer, and whether those places are dry or oily. Irrespective of the results of that survey, here are a couple of bronzers which are great for any combination skin
MAC Bronzing Powder
Sisley Phyto- Touche Illusion D'ete
Summary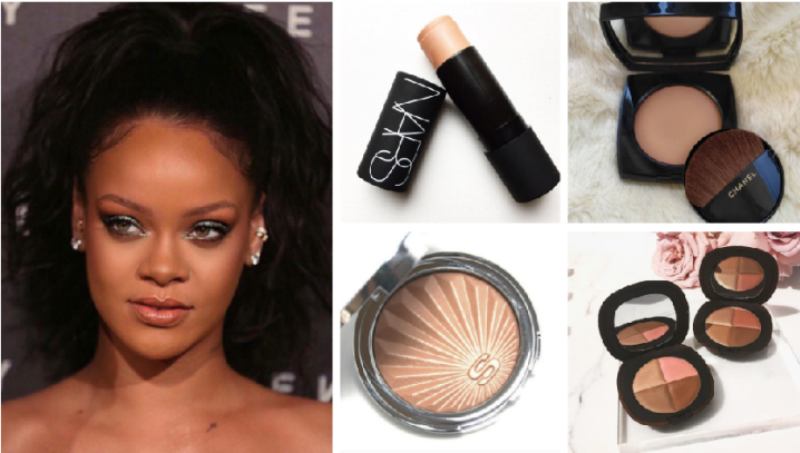 Article Name
The Ultimate Guide To Pick The Best Bronzer For Dark Skin
Author
Description
Dark-skinned beauties can look even more like goddesses now, when they are equipped with the ultimate guide for picking the best bronzer for dark skin!
Read the rest of the article:
Next