Our fashion gods are never wrong when they state that a gentleman's charisma and chivalry can be judged by the suit he puts on. By entrusting this, we aren't asking you to drain all your money into a luxury piece of suit, but are assisting you to invest in different types of suits which complement your body, your style, and your confidence altogether.
Let's start with picking up the right suit hanger for your body type.
---
Suggested read: 10 super-stylish ways to wear the pantsuit
---
1. British suit style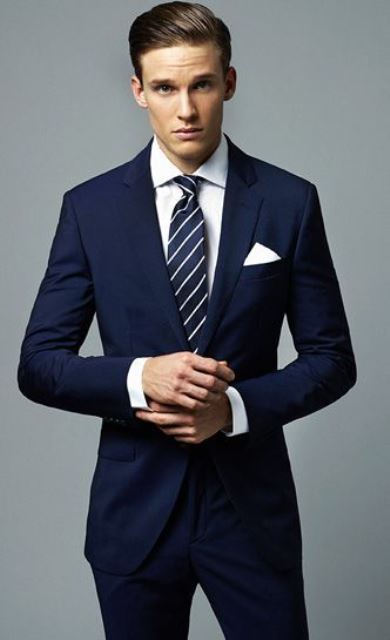 Image source: Pinterest
This elegant set of clothing is also called British Traditional.
The British style suit typically has two buttons, two vents, a tapered waist, neat slim shoulder pads and all the eyes on you.
If your body is athletic, this suit is your scorer.
The British suit is the backbone of the most modern business suits available today, and having a set ready with you will take care of all the formal events on the go.
2. Italian suit style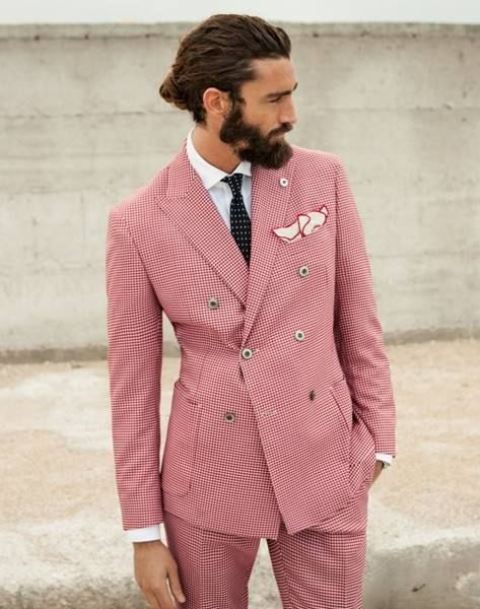 Image source: Pinterest
This style is generally known for always been in vogue. It is cut slim, the silhouette is sleek, modern and yet extremely stylish. Originally, Italian suits didn't have any vents, but now they are commonly found with two vents. They are shorter and have a tight-fitting. The shoulders are padded while lapel notches and buttons are positioned higher than in British and American jackets, making it one of a kind.
Italian suits fit best those who are tall, slim, and men with a lean physique, and can be showcased in weddings, dates, and both casual and elite formal outings.
Tip: The shirt plays a very vital part in a complete Italian suit. Make sure the shirt is made up of a good quality fabric and has the essence to gel along with the suit.
3. American suit style (Sack suit)
Image source: Pinterest
Traditionally, from the 1920s, American suits are commonly known as Sack suits. The American cut sack suit typically has natural shoulders without shoulder pads, one vent in the back, straight hanging lines, and flap pockets, making it a unique suit to add proportionate constructivism for men with larger frames.
Another route to a suit's differentiation goes through its button section.
4. Single breasted suits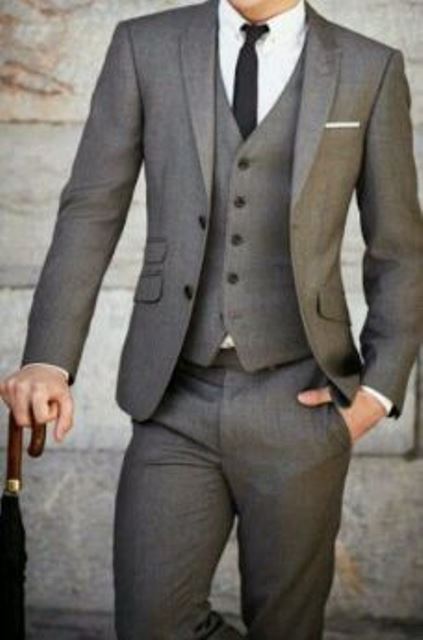 Image source: Pinterest
These come with one column of buttons and a narrow overlap of fabric. They typically comprise one, two or three buttons in general. Also, there are single breasted jackets which sometimes have four or five buttons and are supposed to be maintained a distance from. A single breasted suit is the suit used most in leisure and can be molded into classic attire very easily.
5. Double breasted suits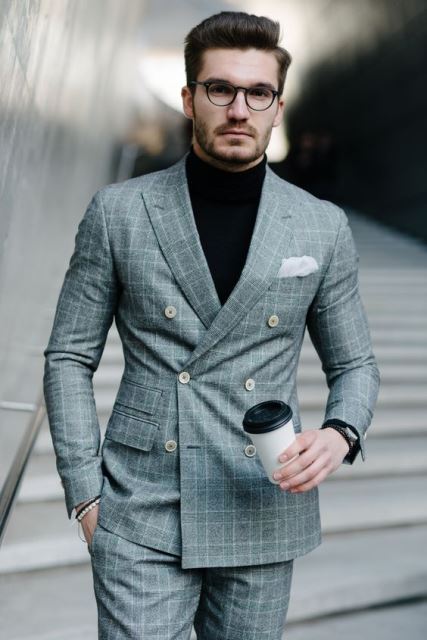 Image source: Pinterest
Double breasted suits or you can call it a Sports coat, have got extra fabric that's going to fold over again from left to right. We can see a larger amount of fabric that folds over and two rows of buttons versus one. Many "style gods" often suggest that double breasted suits aren't for short men, and let me clear the misconception here.  No doubt that if you wear a double breasted blazer which is not fitting you well, that will make you look really bad; but if taken care of some foremost tips, even short guys can rock a double breasted blazer easily:
Your suit has to fit you exquisitely well,
Get a suit stitched with just 4 buttons, not 6,
And for perfect body detailing and attention to your structure, get your suit cropped extra short.
Another faction that mentors us to select from different types of suits is the lapel. A lapel is a strip of cloth that is part of the front of a jacket or coat. It is joined to the collar and folded back onto the chest and also can help your partner to get a grip onto you and pull you closer, just in case you were wondering. 😉
Coming back to lapels,
6. Notch lapel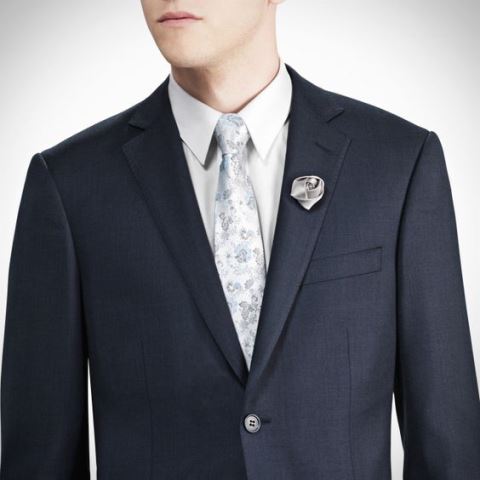 Image source: Pinterest
Notch lapel or the stepped lapel is the most versatile lapel of them all, and is the most common lapel. It is found most often in single breasted suits. Good thing is that it is splendid for all body types, and makes you a head turner at your business, interviews, and something that lets the women know that you know your suits.
7. Peak lapel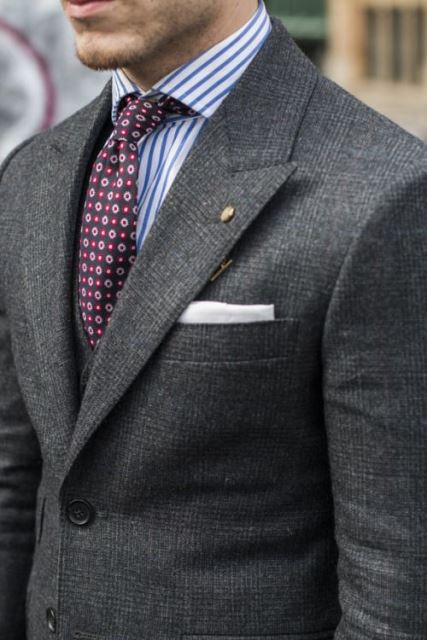 Image source: Pinterest
Peak lapel or the pointed lapel is the most formal, and yet, the sharpest of the lapel family. Peak lapels are to be coupled with double breasted suits, and being a golden star, they also help those looking for some extra height.
---
Suggested read: 9 pretty jumpsuits you MUST own this summer
---
8. Shawl lapel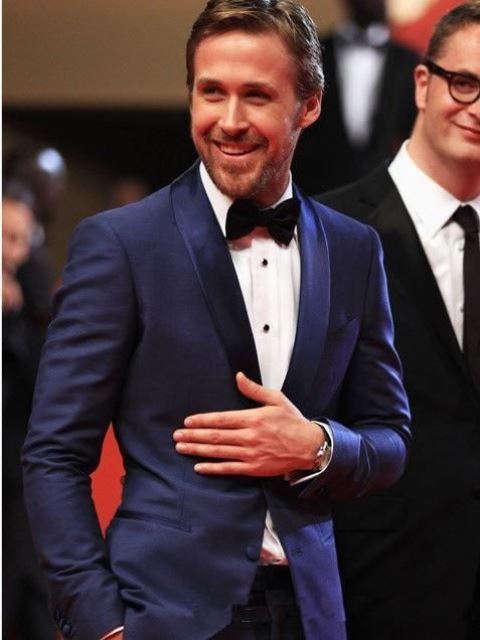 Image source: Pinterest
Shawl lapel is characterized by a continuous rounded edge and is most common on dinner jackets/tuxedos. This lapel is usually chosen by celebrities to sport in red carpet events and other similar glamorous events. Do NOT opt for shawl lapel if you have a round face or body. If you feel like experimenting with the colors in your suits, one with the shawl lapel goes vet best.
A wise man once said, "A well-tailored suit is to men, what lingerie is to women."
Signing off, if it's a suit, it has to be tailored. Remember, always!
Summary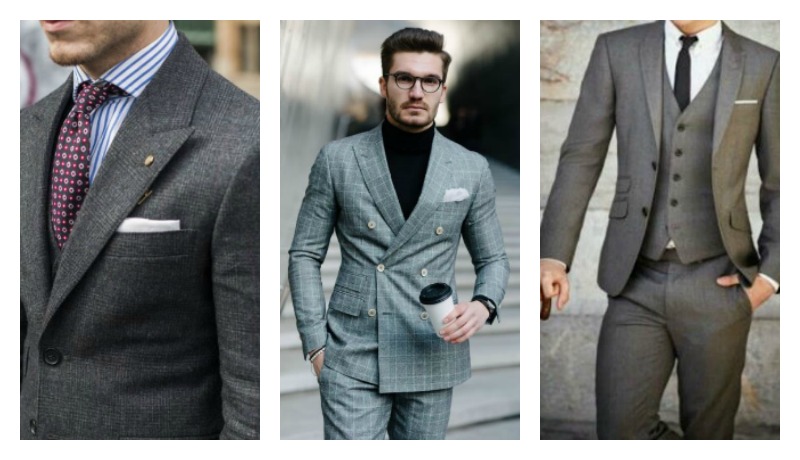 Article Name
The Ultimate Men's Guide To Different Types Of Suits
Author
Description
Men, here's everything you need to know about the different types of suits, so that you won't be bumbling when you go out to purchase one.