Let's be honest guys, 2017 has been quite a shitstorm. With Trump unleashing the hell we were expecting of him and a bunch of natural disasters leaving the world in shambles and political crises and deaths of some of the people we love, it is has been difficult making it to the end. However, here we are, and amidst all the misery, there was one thing that kept us going- fabulous beauty launches. There is no denying that beauty and makeup reaches new heights every year, with people launching new things which totally bring new game to the business. However, 2017 was especially great for beauty and makeup enthusiasts, because it brought to light some of the best products ever, so that we could compile a list of the best makeup 2017 edition.
---
Suggested read: 19 Men With Makeup Who Are Breaking Stereotypes And Slaying The Makeup Game
---
Here are all the products which were globally successful and were super innovative and exceptional.
1. Giorgio Armani Beauty Power Fabric Full Coverage Foundation
When it comes to makeup, let's start at the basics. The best foundation of the year was hands down the Giorgio Armani Beauty Power Fabric Full Coverage Foundation, which not only won awards everywhere, but found a lot of exposure in a number of runways, with designers and makeup artists rushing to use this flawless formula.
It was seen on A-liter celebs like Demi Lovato, Jennifer Aniston, Sarah Paulson and Lily Alridge, all because it applies like a second skin, has a lightweight formula and it super pigmented to match your skin tone exactly.
2. Hanacure Multi Action Treatment Mask
There are about a gazillion face masks available in the market. However, very few can show you results immediately after use. Hanacure's Multi-Action Treatment Mask was an instant hit when it released, especially amongst beauty bloggers and beauty editors, who used this extensively, and saw the results and put our wide recommendations for it everywhere.
The mask dries up on your face super fast and leaves it super wrinkled and pulls so hard at your skin that you can barely move your facial features. However, once you remove the mask, you are left with soft, supple, smooth and wrinkle-free skin, which would otherwise take months, possibly years of treatment. The only downside is that it isn't cheap or affordable at any rate, but then when you are getting the results of a lifetime, you can splurge this much.
3. La Mer The New Sheer Pressed Powder
You need a dependable and handy piece of makeup that you can carry at all times, in case of an emergency touch up, or to set your makeup. The perfect product came this year in the form of La Mer The New Sheer Pressed Powder, which has a smooth, silky and lightweight formula, and applies like a boss.
Celebrities like Jena Dewan Tatum, Blake Lively, Gigi Hadid and Ariana Grande were spotted wearing this powder, and several beauty bloggers have commended it on its sheer, smooth formula, which doesn't feel like you are blocking the pores on your face.
4. All products by Playa
This new brand that started in Venice, California has taken the world of hair care, skin care and beauty by storm. It is an indie, all-natural cosmetics brand, which specializes in natural hair and skin care products. It is especially recommended that you check out their coconut-water infused shampoo and their conditioner, which comes with a baobab-infused formula.
They source their raw material locally, and have some of the coolest range of products that you can choose from. They also have cool, natural hair sprays which can give you the perfect California beach waves without using heat or other styling products on your hair.
---
Suggested read: 17 MAC Products Every Makeup Buff SHOULD Own!
---
5. Glossier Cloud Paint
2017 was the year of the liquid blush, and no one did it better than Glossier, whose range of super cute liquid blushes took the beauty world, the celeb world and the internet by storm. The company left no stone unturned to make the product available to some of the top people in the business who were dressing models and celebs for runways and red carpets. The good news is, the product met expectations and how.
Despite the formula being super pigmented, it applies like the perfect sheer blush with just the slightest tint added to your features for a natural blush-like glow to your face. Celebs like Gweneth Paltrow, Taraji P. Henson and Rashida Jones certainly were a fan of the product, as they were captured sporting it on various red carpet events!
6. Urban Decay Naked Heat Palette
Urban Decay has some of the best makeup products out there, no doubt. But this year, they really pulled out all the stops and released their Urban Decay Naked Heat Palette, which, needless to say, brought the heat to the table. Before, they were playing with cool, shimmery tones in blacks and blues and nudes, but this time around they brought out the reds and warm toned oranges and nudes, which left us salivating.
The brunt tones, the browns and the bricks are totally perfect for those who have olive skin tones and dark skin tones, and the colors complement your face perfectly, and the application is as always, perfect.
7. St. Tropez Tanning 3-in-1 Bronzing Powder
Getting bronzers right is something almost all makeup brands struggle with. In order to get the perfect bronze glow to your skin, you have to try and test a thousand different products and use more than one product to get the perfect depth and glow for your face. However, this year, St. Trope came really close in making the best possible bronzer available for you, which is the Tanning 3-in-1 Bronzing Powder, which comes with a buildable formula.
You can use it as a highlighter, a pressing powder and of course a bronzer, which you can add to your face and keep building till you have the perfect shade for your face. It also comes in a large, but compact casing, which makes it easily distinguishable, and also easy to carry around. Celebs like Kaley Cuoco and makeup artist Jesse Greenberg have expressed their love for this product.
8. Charlotte Tilbury Matte Revolution Lipstick in Pillow Talk
In a world full of Kylie's lip kits and a thousand other products flooding the market with their version of mattes, you can expect a classic brand to come out with a classic product and effectively, shut shit down. Charlotte Tilbury came out with one of the most sought-after lipsticks of the year, aka, Pillow Talk, which is as nude as it gets. Just like MAC has managed to create the ultimate red for all skin tones, it's as if CT has managed to do it with nude.
The color looks incredible on every single skin tone, and doesn't make those who have darker toned skin look like corpses. It is a subtle and classy pinky nude, which is also super pigmented to give you the perfect no-makeup makeup look that seems to be all the rage now. It's difficult to get your hands on the product though because it is constantly out of stock.
9. Fenty Beauty Killawatt Freestyle Highlighter
Okay, it was difficult picking out one makeup product from the plethora of amazing things Rihanna's beauty brand Fenty Beauty launched this year. But after much debate, discussion and research, it is evident that Fenty's Killawatt Freestyle Highlighters take the cake. The products are not only drop-dead gorgeous to look at, but beauty critics and bloggers are calling it the most revolutionary makeup product to come out in a while.
The best thing about Fenty is that it is good quality stuff that is hella inclusive, and caters to over 40 skin tones. It is cruelty-free and not racist and has some of the best, most incredible long-lasting formula that is going to make you want to own every single thing Fenty has brought out ever. Go RiRi!
---
Suggested read: All About Pastel Makeup (And More): The NEW Beauty Looks To Wear In The New Year
---
10. KKW Beauty Crème Contour and Highlight Kit
Any list of the best makeup 2017 has produced is incomplete without including a member of the Kardashian-Jenner clan, who have been the queens of everything makeup for the last decade or so. However, it is not the sister that you are expecting, because this year, it was Kim K herself who surprised everyone with her KKW Beauty Crème Contour and Highlight Kits, which received rave reviews from everyone. The Kits came in four different shades, and contain a highlighter and a contour stick and application brush.
The formula is smooth and creamy and applies like a dream, and the shades are well-chosen to suit all skin tones and shades. The Kits are available on the official KKW website, so make sure you don't get tricked into buying dupes, because there is nothing like the real deal.
These were some of the best products from the beauty world that we discovered in 2017. Let us know which was the best makeup 2017 gave to you that you fell in love with, and what are the things that you are looking forward to in 2018!
Featured image source: Instagram
Summary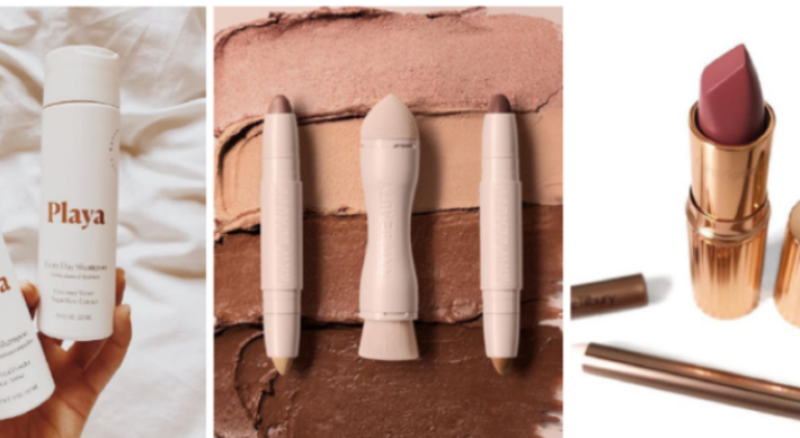 Article Name
Best Makeup 2017 Edition: 10 Products We Fell In Love With
Author
Description
This year gave us a lot to be thankful for, including a number of great makeup products. Here are the best makeup 2017 offered us!