Denim skirts are as timeless as Audrey Hepburn in Breakfast At Tiffany's. Styles come and go, sticking around for not more than a fashion week or so, but the denim skirt has stood the test of time and how. A rage back in the 70s, denim skirts are once again back in the limelight, and it looks like they're not letting go easy this time.
Whether your trusted denim skirt is midi, maxi, mini, ruffled, a-line, pleated, flared or any which way one can imagine denim skirts to exist, you can never go wrong with them! Denim skirts suit all body types, all heights, and hold the magical powers to make your bad dressing days turn absolutely flawless. We're all quite well-versed with those certain days of absolute misery when no item of clothing that we fish out from the depths of our closet seem to elevate our style quotient and we're completely stumped as to what to wear. Well, the denim skirt is everyone's savior on those days of endless gloom, they're the silver lining that every fashion enthusiast needs in their lives.
---
Suggested read: 15 stunningly stylish ways to wear thigh high leather boots
---
Denim skirts are, essentially, the light at the end of the tunnel. They will raise us from perdition and help us shine in all our fashion glory. I could go on about denim skirts and their endless magical powers, but here are 12 ways on how to wear a denim skirt with effortless style:
1. With stripes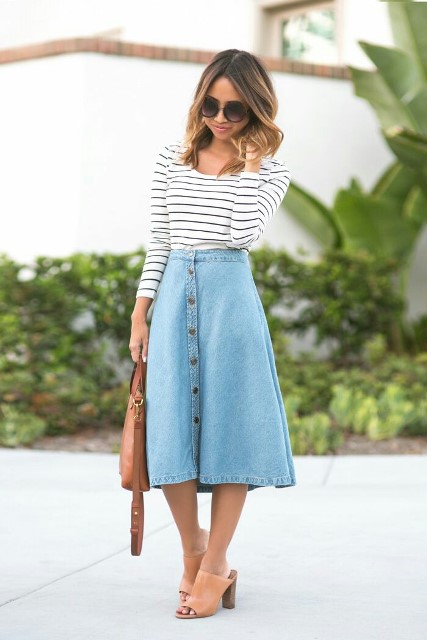 Image source: Pinterest
Denim and stripes have always been a match made in heaven. The key to pulling off a flawless look with a denim skirt is to keep things simple and let the skirt be the showstopper of your entire outfit. Let your skirt be the hero and steal hearts as you step out the door. We are massively crushing over this light-washed midi-length denim skirt paired with a casual full-sleeved striped tee. The length is flirtatious and absolutely perfect. To add some more spark to your outfit, carry a tan bag along with matching heels, and you're all set to raise everyone's fashion goals as you saunter along the streets.
2. Grunge all the way
Image source: Pinterest
If grunge and hipster are the words you'd like your outfit to be associated with, then this is the ideal outfit for you! This acid wash denim skirt with a loose jumper or tee is hipster redefined. The black combat boots are a perfect match and add to the rock chic charm of this outfit. Pair your outfit with a cute hat if you're feeling like going that extra mile. All in all, this outfit is oozing hipster vibes. A perfect look for those weekends spent on adventures and road trips.
3. Vintage denim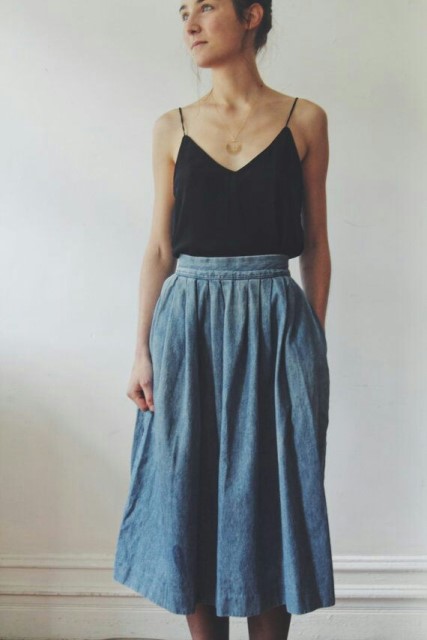 Image source: Pinterest
Well, who doesn't love vintage clothing? If you're in the mood for having a blast from the past, this vintage flared and pleated denim skirt is your soul mate. Like we've said earlier, you have to ensure that the skirt is the hero of the outfit that you plan on putting together. This mesmerizingly pretty vintage skirt will look fabulous if paired with a simple camisole or a tank top. Put on some junk jewelry to give your outfit a boho, Coachella feel to it. A messy bun would be the perfect match for this ethereal look.
4. Classic black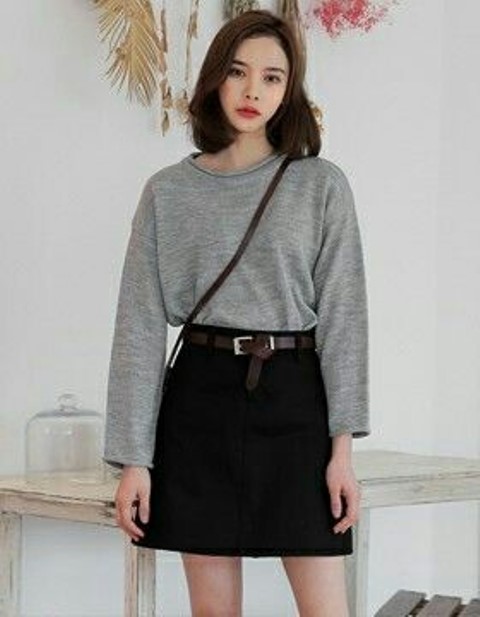 Image source: Pinterest
A classic look for those chilly autumn days when there's a nip in the weather. This black denim mini skirt looks super chic when paired with a knitted jumper and a statement belt. Go for dark colors like grays and browns when you choose your jumper or sweater (in keeping with the colors of the season). If you're bold enough, you can wear a pair of thigh high boots to seal that autumn ready look. Sling bags or satchels look great with this outfit. Keep your makeup light so that it contrasts with all the dark colors that you're donning.
5. Sexy pencil cut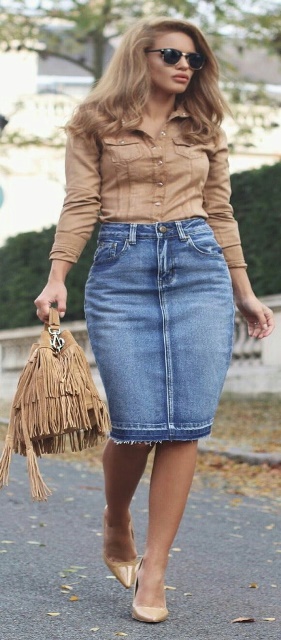 Image source: Pinterest
The pencil cut has always been a crowd favorite when it comes to skirts, and denim skirts are no exception. This pencil cut denim skirt with its slightly frayed hemline is oozing with style and is massively sexy. All you beautiful ladies with your hourglass body type, listen up. This is the outfit that you were born to show off. You can team up your denim pencil skirt with a crisp chambray shirt and a classic pair of patent heels. This is one look you can never go wrong with, trust me!
---
Suggested read: 12 stunning ways to wear distressed jeans that will up your style quotient
---
6. Wrap-around denim
Image source: Pinterest
Wrap-around skirts are super sexy and a lot of fun to wear. They're the right amount of boho chic we all need in our lives. Check out this denim wrap-around skirt which will look absolutely stunning if paired with a plain muscle tee or even a crop top. Wear a pair of strappy flats and show off your toned legs in this casual but fun outfit.
7. With turtlenecks
Image source: Pinterest
We love, love, love this combination of turtlenecks with denim skirts! We can't stop fawning over the military styled front buttons on this denim skirt. The length is perfect; it's neither too short nor on the longer side. You can spice things up by wearing sheer net stockings with your skirt and turtleneck combo. Ankle booties seal the look and elevate your outfit to unprecedented levels of stylishness.
8. Maxi cut
Image source: Pinterest
We're getting intense beach vibes from this particular look. The maxi skirt has always been a favorite, and a denim maxi skirt would basically be that one outfit we'd want to wear all day, every day. Cold shoulder has been the rave in the fashion world all through 2016, and a frilly cold shoulder tee is the ideal match for a skirt like this. Tie a silk scarf around your neck and you will be the epitome of French high fashion. Stiletto heels, if worn with this outfit, will give you a classier, more elegant edge.
9. With a white tee
Image source: Pinterest
A pair of jeans and a white tee shirt is a classic sartorial choice of men and women alike. It's casual, comfortable, safe, and effortlessly stylish. Taking inspiration from this evergreen style statement, you can pair your sexy denim miniskirts with a casual white cottony tee. It's perfect for those summertime outings and is simple yet absolutely oozing with style and panache. Accessorize with a nice watch along with a trendy sling bag for an outfit that scores high in all the fashion charts.
10. With a floral top
Image source: Pinterest
The combination of floral print and denim is one that never goes out of style. The bright, quirkiness of floral prints is perfectly juxtaposed by the richness of the denim. Pair your denim skirts with a floral printed sweatshirt for an outfit that is oh-so-spring! A pencil cut denim skirt looks very elegant, and at the same time, is casual enough for you to wear it to a pub where you can let loose and relax. Heels in nude or pastel shades will complement the outfit and make you look your best self.
11. Plaid and denim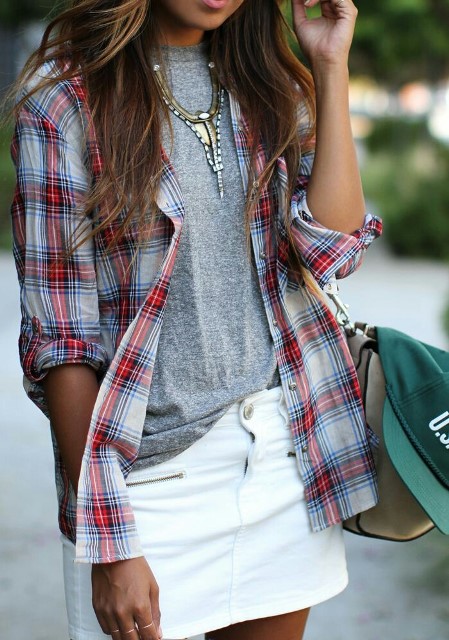 Image source: Pinterest
Instead of going mainstream with the same shades of blue denims, opt for a white denim skirt. Plaid and denim are a match made in heaven, quirky and smart and very, very high on the style quotient. Team up your white denim miniskirt with a plaid shirt for a casual chic look. To add a touch of quirk to your outfit, wear a statement junk neckpiece and you're ready to rock your day.
---
Suggested read: 15 stunning tips and tricks to wear boyfriend jeans with panache
---
12. Distressed denim
Image source: Pinterest
Distressed denim is the way to go! With the distressed jeans trend taking over the world of fashion, there is no reason why denim skirts should be left behind. Behold the distressed denim skirt! It's sexy and elegant and perfectly highlights that beautiful body of yours. Pair your distressed denim skirt with a fitted shirt or a crop top, and you're guaranteed to turn several heads and steal everyone's attention wherever you go.
We're pretty darned sure you have enough reasons to dust off those pretty denim skirts of yours and flaunt them around now after reading how to wear a denim skirt, no? A trend that reached its very peak in the 70s, the denim skirt has always been a crowd favorite and shall continue to be so for a very long time in the world of fashion. It's exceptionally sexy and provides fashionistas a lot of opportunities to experiment with. You can wrack your brains for more such amazing outfit ideas for your denim skirts and set your own personal trends, because fashion is all about individuality, isn't it?
May the denim skirts be ever in your favor!
Summary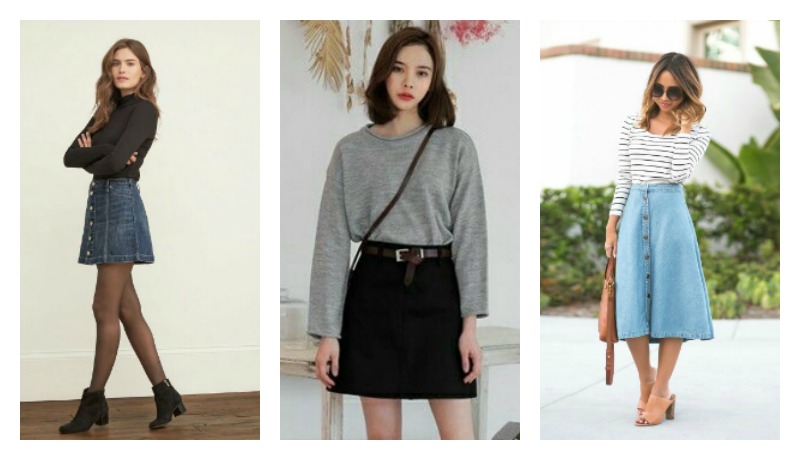 Article Name
12 Top Tips On How To Wear A Denim Skirt Like A True Diva
Author
Description
You don't have to try too hard to learn how to wear a denim skirt like a diva. You've come to the right place!