Here we are, wrapping another fabulous year, and what could be a more striking way of kissing it goodbye than by spreading some love in the air, huh?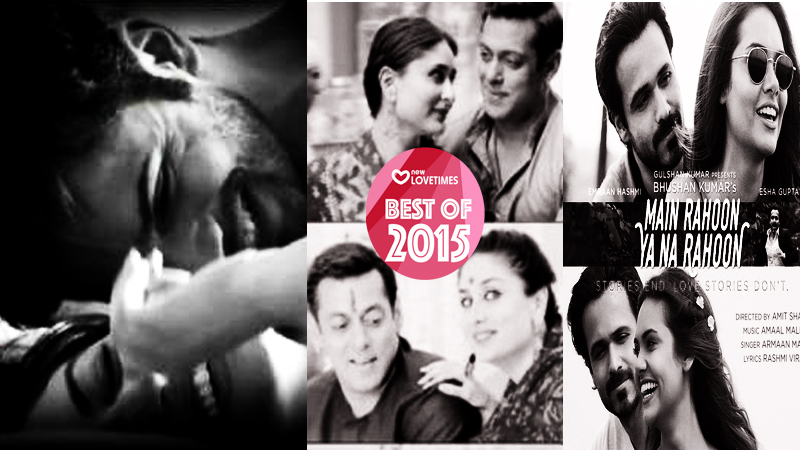 Here's to the most awesome romantic songs of 2015:
1. Jeena Jeena from Badlapur
Sacchi si hain yeh tareefein, dil se jo maine kari hain..
Jo tu mila toh saji hai, duniya meri humdum..
Ho aasmaan mila zameen ko meri, aadhe aadhe poore hain hum..
Tere naam se meri zindagi likh di mere humdum..
When it's Atif Aslam, it's gotta be romantic! The track that nailed our music-crazy hearts for good, this one is magically melodious- syncs in with the rhythm of heartbeats. Plus, call me insane if you will, but the dreamy humming in this beyond-perfect number is something I'd love to sing to my little baby girl to sleep someday. Okay, bye.
---
Suggested read: 10 most underrated Bollywood movies of 2015
---
2. Tu Hai Ki Nahi from Roy
In labon pe jo hansi hai inki tu hi hai wajah
Bin tere me kuch nahi hun mera hona bewajah
Dhoop teri na pade to dhundhla sa main lagun
Aake saanse de mujhe tu taaki zinda main rahun
Main aas-paas tere aur mere paas…
First of all, R.I.P Roy (ha!)
Now whatever the movie did to our poor hearts, this song helped heal. The makes-you-melt voice of Ankit Tiwari couples with the oh-so-romantic lyrics makes this track a winner. Add to the lethal combo the maroon seduction of that whistling and I'm done for.
3. Sun Saathiya from ABCD2
Main ret si, boond ka zariya tu
Paa ke tujhe bheeg jaaun ri
Tar jaaun tar tar jaaun
Dariya ye tar jaaun jee
Ishq ye paake main tera
Nikhar jaaun ri…
Piya bas teri main
Ho.. chhu le toh khari main
toh khari main khari main…
This one's a romantic track we can even shake some to.. Incredibly melodious, this track from ABCD2 sung by Divya Kumar and Priya-Saraiya casts a spell that you never want to snap out of…
4. Teri Meri Kahaani from Gabbar Is Back
Dekho na kaisi ijaazat mili hai
Ek doosre mein hifaazat mili hai
Jeene ki saari zaroorat mili hai
Ye jo bhi hai jaisa hai
Yunhi hamesha hamesha rahe jis tarah
The way Arijit Singh and Palak Muchhal's surreal voices rained love on our souls is inexplicable. This one just sank in deeper and deeper till that replay drowned most of us in a bottomless sea of smitten hearts. #UnforgettableFetish
5. Moh Moh Ke Dhaage from Dum Laga Ke Haisha
Tu hoga zara paagal, tune mujhko hai chuna
Tu hoga zara paagal, tune mujhko hai chuna
Kaise tune ankahaa, tune ankahaa sab sunaa
Tu hoga zara paagal, tune mujhko hai chuna
Tu din sa hai, main raat
Aa na dono mill jaayein shaamon ki tarah
Let me just (surprisingly) thank Anu Malik for this one unforgettable composition. Every single word of this song is an irresistible love-potion in itself. The song is poetry brought to life, just a one-of-a-kind tribute to celebrate the one-of-a-kind love! Blessed!
6. Tu Chahiye from Bajrangi Bhaijaan
Mere zakhmon ko teri chhuan chahiye
Meri shamma ko teri agan chahiye
Mere khwaab ke aashiyane mein tu chahiye
Main kholun jo aankhein sirhane bhi tu chahiye
When the simplest and truest cravings of a heart are unveiled with the most powerful-in-its-simplicity lyrics from Amitabh Bhattacharya's pen and ready-to-melt-you-into-mush voice from Atif Aslam, there's just no cure for the lovely damage you cannot have enough of…
"Dil ko teri mojoodgi ka ehsaas yun chahiye
Tu chaniye, tu chahiye…." Hold me, hold me now.. 😉
7. Gerua from Dilwale
Tumse se shuru.. tumpe fanaa
Hai Sufiyana yeh dastaan
Main kaarwaan manzil ho tum
Jaata jahaan ko har raasta
Tumse juda jo
Dil zara sambhal ke
Dard ka wo saara
Kohra chhan gaya
Duniya bhula ke tumse mila hoon
Nikli hai dil se yeh duaa
Rang de tu mohe gerua
Ho.. Ranjhe ki dil se hai duaa
Rang de tu mohe gerua
Well, truth be told, it was a little hard to register the otherwise amazing music and lyrics of this track when our beloved eternally 'made-for-each-other' Raj and Simran were once again sharing screenspace, reworking the spell all over again!
8. Main Rahoon Ya Na Rahoon
Hawaaon mein lipta hua main
Guzar jaaunga tumko chhu ke
Agar mann ho to rok lena
Thehar jaaunga in labon pe
Main dikhu ya na dikhu
Tum mujhko mehsoos karna
Bas itna hai tumse kehna
The goodbye kiss of 2015 came with this magical track from Gulshan Kumar's arsenal. And boy, am I bereft of words to describe just how it struck and stuck! This one is every bit a breathing nominal of 'forever love.' Plus, Emraan.. <3 <3
---
Suggested read: 10 worst songs of 2015
---
9. Agar Tum Saath Ho from Tamasha
Pal bhar thahar jaao
Dil ye sambhal jaaye
Kaise tumhe roka karun
Meri taraf aata har gham phisal jaaye
Aankhon mein tum ko bharun
Bin bole baatein tumse karun
'gar tum saath ho..
Agar tum saath ho
When the musical maestro is back and brings Alka Yagnik back- you can only expect to be enchanted. Like I always say- AR Rahman ka music sharaab ki tarah hai, dheere dheere chadhta hai.. 😉 So, get drunk on this one.. It'll be a hangover you won't regret…
10. Wajah Tum Ho from Hate Story 3
Kaise kahun ishq mein tere
Kitna hoon betaab main
Aankhon se aankhe mila ke
Chura loon tere khwaab main
Sensuous, seductive, and soulful at the same time, this track is definitely some remarkable music dipped through and through in red-hot passion. A high just too powerful to resist, this is the song you are definitely going to play on and on, trust me!
Which Bollywood romantic song in 2015 gave you the *feels*? Tell us in the comments below..we're all EARS! 😉
Summary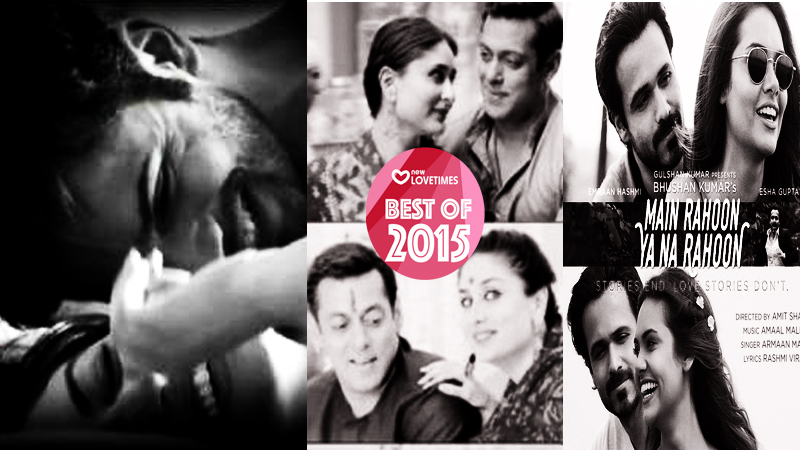 Article Name
#BestOf2015 Top 10 Romantic Songs Of 2015
Author
Description
Coz romantic songs breathe life into romance!