A lot of people talk about lipsticks which are ideal for people who have light skin or dark skin. However, trying to figure out which is the best lipstick for olive skin can be quite a task because not enough people talk about that. If you have olive skin, then you are in luck, because today, we will check out the best lipsticks and lipstick shades which would look totally gorgeous on your particular skin tone.
Olive is a shade which falls somewhere between a darker white and medium brown. This makes your skin you neither fair, nor dark, which means you are in the category which has the ideal middle-ground skin tone. This allows you to try out multiple shades in the lipstick spectrum. You can try on practically every shade, and look totally amazing in it, because it would complement your skin tone perfectly.
---
Suggested read: 15 Gorgeous Matte Lipstick Shades You Simply Can't Do Without!
---
Before you go lipstick hunting for the perfect shade however, examine your skin tone more closely. Try to figure out whether your skin has warm or cool undertones. Warm undertones would make your skin look more wheatish, while cooler undertones would make you look more bronze. If you fall in the category of the former, then cooler colors would look perfectly amazing on you. However, if you have cooler undertones, then warm colors would amp up your look to a great extent.
This is the fundamental premise of your lipstick choosing mission. Now that we have the basics out of the way, here is a list of the most flattering lipstick shades, which can make the process of choosing the best lipstick for olive skin infinitely easier for you.
1. Brown based nude
The perfect nude shade for you would be a brown based nude with the slightest hint of pink undertones, which totally blends with your skin. It is a wonderfully subtle shade, which gives you the no-makeup makeup look. It makes you look completely natural, without mak,ing you look plain in any way.
A brown-based nude is also a great way to highlight the subtle brown tones in your skin, which makes you look even more tanned and beautiful. You can glam up a formal outfit with a slight tint like this one, or even create an understated elegant look with your casual wear.
2. Classic brown
Finding the perfect shade of brown can be slightly difficult when you have olive skin, because most standard browns look like nudes on your mouth. When you are picking your browns, try to go for the ones which have slightly cooler undertones, like blue or purple, so that they pop on your mouth and you can sport this glam look without having to use it as a nude lipstick.
Chocolate browns, rusty browns and very deep, dark browns look incredible if you have olive skin. Apart from that, you can always go for the lighter shades of browns and use them as nudes as and when you feel like. The point is, brown is an amazing color for your everyday wear if you have olive skin.
3. Mauve
A light shade of mauve would look incredibly beautiful on you if you had olive skin tones. It almost looks like a light nude shade, with the most gorgeous pinkish purple undertones, which makes it exciting, without being too bold or too outrageous.
Mauve shades are available in almost all of the brands, but you have to choose one which almost looks like a nude on your skin. You can of course, go bolder, but that would look more purplish, and why go for mauve when you already have so many gorgeous purple shades out there to suit your skin tone. You can try brands like MAC and Too Faced for the ideal mauve shade to suit your skin tone.
---
Suggested read: The Complete Beginner's Guide To Determining One's Skin Tone
---
4. Fuchsia
A lot of people tend to avoid fuchsia because they think it would clash too strongly with their skin tones. However, fuchsia is one of the brightest and most delicious looking lipstick shades which would make your bronzed up olive skin look totally amazing.
The pure pink happiness that this shade radiates would brighten up any outfit and make you party ready instantly. Colourpop has some of the most amazing fuchsia shades that you can check out. You can also try other fun brands like Jeffree Star and Bite Beauty for your fuchsia fix.
5. Flaming orange
If someone were asking me whether people with olive skin can wear orange or not, I would be nodding vigorously right now. Not a lot of people can pull of orange unfortunately, because it is one of the cutest colors, but also one of the more specific kinds of shade which you can sport if you have a specific kind of skin tone.
Lime Crime, Too Faced, Tarte and even Anastasia Beverly Hills has some delectable shades of orange, which you can try out according to whether you have a cooler shade of olive skin tone or a warmer tone. However, along with a quintessential red, you also must have an orange because you are blessed to be born with a skin tone which was literally made for the color orange.
6. Bright red
You know what would look totally amazing on you? A wonderfully bright red, with glaring warm undertones which makes your mouth pop and become the highlight of your makeup routine. In fact,  not a lot of people can pull of a color as bright and striking like this, because it can clash with the shade of your skin and make you look garish.
However, consider yourself lucky to have olive skin, because a bright, vermillion like red is going to be your go-to color for a lot of occasions. You can find lovely shades of bright red with Sephora, Jeffree Star, MAC and Lime Crime.
7. Velvet red
There are few things that could go wrong with a classic red shade. You cannot do lipstick without owning one classic shade of red which you can pull out every time you are feeling extra badass about yourself. I am an unwavering advocate of MAC's Ruby Woo, which looks good on every single skin tone, but looks particularly beautiful when you have olive skin tone.
A gorgeous matte red with a smooth velvet finish would amp up the chic quotient of any outfit, whether it is a formal outfit, party wear, or casual getup.
8. Classic berry shades
If there is one color which was practically made for you, then it is berry. All kinds of berry shades, whether it is with red undertones, or purple or pink, are going to make you look fabulous. The dark, rich texture which is typical of most berry shades is ideal for highlighting the color of your skin, and making you look like an absolute Goddess.
Most of the high-end brands like Charlotte Tilbury, Tom Ford and Dior have incredible collections of berry lipsticks. However, you can always fall back on MAC when you are foraying into the world of lipsticks for the first time. Rest assured, you will be anything but disappointed.
9. Burnt purple
Uhm, excuse me while I freak the fudge out, but is this not the most beautiful lipstick shade you have ever laid eyes on?! It is a gorgeous matte purple shade on the darker side, which is Bold and Beautiful with a capital B. It has strong grey-blue undertones, which makes gives it the kind of Goth-chic vibes which are mature and sexy.
This particular shade is called Smoked Purple by MAC, but you can find similar shades in other brands like Kylie Cosmetics and Jeffree Star.
---
Suggested read: Everything You Need To Know About Choosing The Best Lipstick Shades For Dark Skin
---
10. Satin blue
Just because almost every single standard color looks good on you, doesn't mean you have to play it safe when it comes to lipsticks. You can play around with all the funky colors out there as well, and one of the colors which would suit you like a second skin is this lovely, satin navy blue.
Blue would highlight the warm tones of your skin and make you look even more dusky and beautiful, while at the same time, allowing you to sport a striking mouth. Kat von D, Lime Crime, Too Faced, MAC and Jeffree Star have some of the most beautiful shades of a rich, dark navy blue which would suit your olive skin perfectly.
Choosing the best lipstick for olive skin is easier than you think, because people with olive skin have the benefit of looking good in most shades. Olive skin has a neutral base which makes it the perfect foundation for most lipstick shades which would look garish on people who have other skin tones. Despite this huge benefit, the shades mentioned above are especially suitable for an olive skin tone, which can make you look gorgeous and flawless, every single time!
Featured image source: Instagram
Summary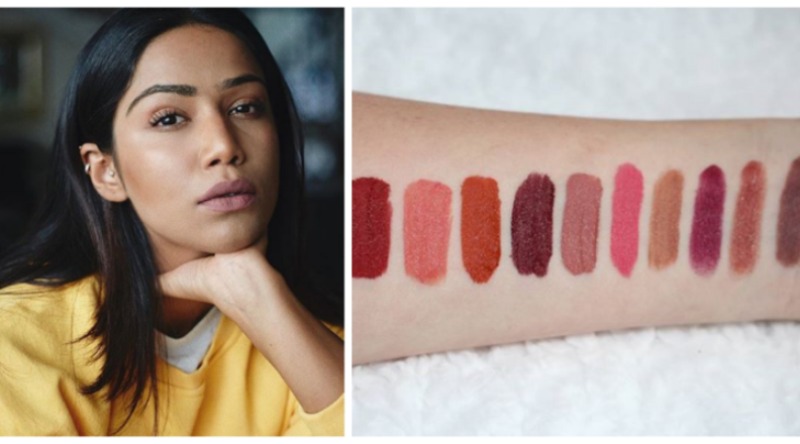 Article Name
Here's How To Choose The Best Lipstick For Olive Skin
Author
Description
Consider yourself lucky if you have olive skin! Learn about the best lipstick for olive skin, and what makes it so perfect for your skin tone.