The scene at Formula One had remained pretty much a 'man-only' milieu for about twenty two years in a row until Susie Wolff chose to correct it last year. Taking to the tracks at a Grand Prix last summer, she chose to let her actions speak for the 'unfounded and unjust' words from the likes of Sir Stirling Moss that denigrate women Formula One drivers and deem them as lacking in the necessary 'mental aptitude needed to race hard, wheel-to-wheel.' However, this singular case isn't quite reason enough to celebrate – not until some team principal is man enough to give a green signal to the women waiting in the wings.
Coz we know there are quite a few who have what it takes to tame the beast that we call F1. Want to meet these women who are just the right mix of 'fast and furious' for F1?? Let's go:
1. Alice Powell
Image source: Google, copyright-free image under Creative Commons License
Britain's best chance of having a female F1 driver, this talented speedstress won the Formula Renault BARC championship ,and thereafter became the first female to score points in GP3 in 2012. Always brimming with infectious energy, this aggressive li'l speedstress is devastatingly brutal on the tracks and equally engaging off it. In the F3 cup for 2013, she opted to knock off the competition in the opening round. She ruthlessly showed the rest of the grid a clean pair of heels whilst netting both pole positions and both wins at Oulton Park. At the speed that this woman is going, Alice's name is one to watch for in the next 5 years.
---
Suggested read: F1 chief Ecclestone proposes a women's F1 championship during race weekends
---
2. Danica Patrick
Image source: Google, copyright-free image under Creative Commons License
A sort of sibling of Anna Kournikova in that she is better known for her killer modeling aptitude than her track ability, it is, simply put, good 'exposure' – and that can sure be understood well, given the plight of women racers in history. But hold that thought, all of you who are contending her position in this list coz Danica's no talent vacuum. She has pulled off decent finishes in circuit racing across the globe over the last decade and won the Indy Japan 300 at Twin Ring Motegi in 2009. At the NASCAR Nationwide Series and Sprint Cup, she was netting pole position for the Daytona 500 in 2012 – not only finishing that grueling race at more than twice the distance of any F1 race but also doing so at an average speed that was 50% higher, thereby, securing 8th place. And yes, one might well point out that IndyCar and NASCAR are a tad bit too agricultural for the sophisticated European taste for hardcore high-speed motor racing, but is there any other form of motorsport where cars are so close together for so long and winning margins so close? I mean Danica's 8th at Daytona was 0.6s off the winner! You can't take that away! Driving at 500 miles on an average with on-track speed of 195mph and being no more than 6 inches from another car in any direction is a feat that requires such extraordinary levels of concentration that we cannot help but wonder what lack was Sir Stirling Moss really getting at, when he made that infamous comment that grated on all of us.
3. Pat Moss
Image source: Google, copyright-free image under Creative Commons License
It's rather odd that Sir Stirling's memory failed him about Moss when he made that sweeping comment about the inability of women to cope with the stress of competitive motor racing, because she was his sister! Pat was one of the most successful female rally drivers of all time. She was the first woman to win an international rally – having won three in total, which is as many as über-legend Henri Toivonen. She was also crowned European Ladies' Rally Champion five times. Moreover, she was the one who achieved the first ever international rally win for the now-legendary Mini Cooper. She also drove with Swedish rally ace and husband Erik Carlsson at Saab, before shifting base to Lancia for tasting more success in the excellent Fulvia V4. Well, I wonder what her brother would have to say if he'd driven that for three days straight in the pleasant fifty degree heat! Wouldn't count as strain, no?
4. Michele Mouton
Image source: Google, copyright-free image under Creative Commons License
This lady is a hero. Not only did she tame Group B monsters but after her campaigning stints with Renault/Alpine, Citroën, and FIAT cars at various WRC events, she went ahead to win at the 1975 24 Heures du Mans in an all female team. Michèle was a shock signing for Audi to drive their new 4WD Quattro alongside the legendary Hannu Mikkola. What was even more shocking was that she beat Mikkola and an entire field of legends like Stig Blomqvist, Henri Toivonen, Ari Vatanen, Pentti Airikkala, and Markku Alén to the finish line in the car's official debut season at the Rally Sanremo! Need we say more?Okay, there is more and we just can't seem to skip it! In 1982 came her famous hat-trick when she won three rallies in succession and secured second position in the drivers' championship only to lose the title to all-time great Walter Rohrl. And all this when she had driven thousands of miles on rutted roads that are twice removed from the die-flat F1 circuits, especially whilst having to make do with 300-450hp crazymobiles! Oh and she won the Pike's Peak International Hillclimb in 1985. And in case you are wondering, yes, you have to be batcrap crazy to even think of competing in that event! Still think no ability to deal with mental stress, huh?
---
Suggested read: What makes a man alpha? Here's the answer to the loaded question …
---
5. Desiré Wilson
Image source: Google, copyright-free image under Creative Commons License
Desiré Wilson is one of the very few women who have competed in Formula 1. Technically she has been a part of two races, the first of which she failed to qualify in and a second, after which she retired, which was excluded from the championship due to the political infighting at the time. However, she's also won an F1 race. For some bizarre reason, 1980s saw a domestic British Formula 1 series using old manufacturer cars, during which Wilson pivoted her Wolf-Cosworth to a spectacular win at Brands Hatch – alongside podium finishes at Thruxton and Mallory Park. This win was enough to hammer home that her 30-year-old self had everything it takes to win a Formula 1 race. As a result of her win, she has a grandstand at Brands Hatch named after her. She has also competed at the 24 Heures du Mans, finishing 7th in 1983.
6. Vicki Butler-Henderson
Image source: Google, copyright-free image under Creative Commons License
"VBH" is one of the better known faces in the motorsporting world – even lending her voice for the Gran Turismo games. She is a talented speedstress who can rev up on fifth gear in unimaginable ways. She kick-started her motoring life against future F1 stars in karting. She has, since then, done it all – from single seaters down to 2CVs – in which she competed in a 24-hour race at Snetterton. She has gained the reputation of fastest woman on TV, what with a spell presenting old Top Gear just before it became new Top Gear with Clarkson, Quentin Willson and Tiff Needell, Vicki quickly and of course, not to forget spanking Jeremy round a track. In the past, she has been an instructor at Silverstone and had no qualms taking her affinity for speed off land. Yep, she has a powerboat license too. If that does not evince her physical prowess and mental strength, we don't know what will?
7. Sabine Schmitz
Image source: Google, copyright-free image under Creative Commons License
Having grown up on the Nürburgring in the village of Adenau within a stone's throw of the world's most deadly circuit, Sabine's been used to driving on the tracks infinitely more than any gamer has managed. Standing at over 20,000 laps – in her day job as driver of the Ring Taxi and as a professional racing driver for Porsche and BMW, she's even won the Nürburgring 24-Hour race there in 1996 and 1997 – a much harder prospect than the 3-hour F1 races if you ask me. Sources claim that whatever 'fast' means to you will be challenged and overturned by Sabine who can go even faster. She's also a mentor to the racing champions of the future at the GT Academy where her students are already adjudged too fast to be true! That's right.
---
Suggested read: Photographer travels to 37 countries to prove a powerful point
---
8. Maria Teresa de Filippis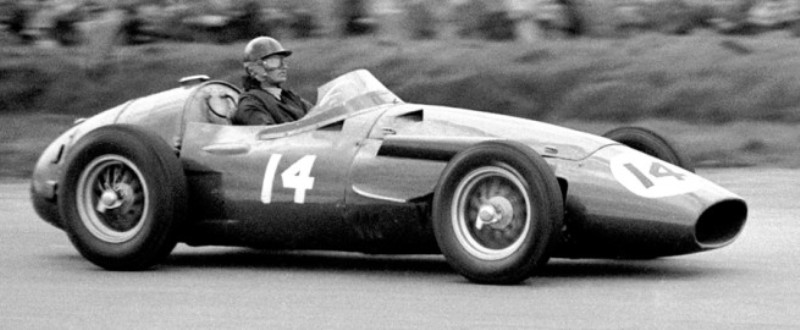 Image source: Google, copyright-free image under Creative Commons License
Italian racer Maria Teresa de Filippis is another case in point for the memory holes that afflict Sir Stirling. The first woman ever to compete in F1, she was also a contemporary of Sir Stirling. Having entered five Grand Prix races in her career in 1958 and 1959, she qualified for three and achieved a finish in one, becoming the first woman ever to achieve the same. And if that isn't enough – here's the icing on the cake – she was classified ahead of Sir Stirling twice – finishing 10th at Spa-Francorchamps in a Maserati when Sir Stirling retired, and on another occasion when both failed to finish at the 1958 Italian Grand Prix. Are you planning to regurgitate those words now, Sir Stirling?
And that's without even mentioning Williams' test driver Susie Wolff, Marussia's Maria de Villota or F1's first female points scorer Lella Lombardi. Can somebody get Sir Striling to speedily deliver his thoughts now?
Featured image source: Google, copyright-free image under Creative Commons License
Summary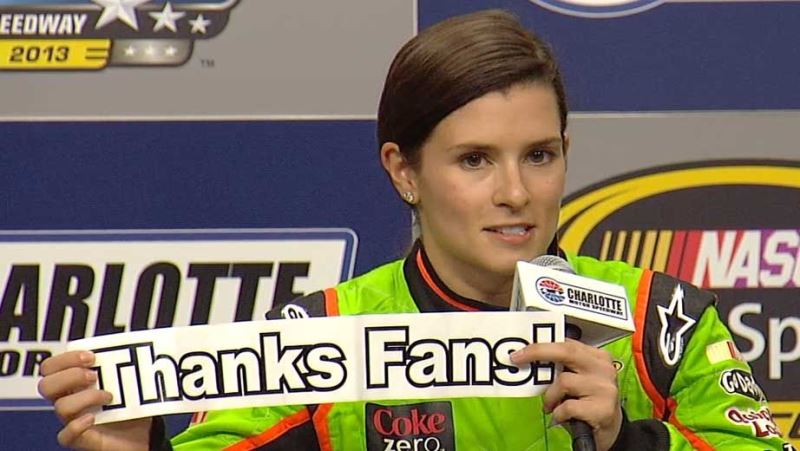 Article Name
Top 8 Female Drivers Who Are The Right Mix Of Fast And Furious For F1
Author
Description
Here's a look at women drivers - from the annals of history of women formula one drivers, the present and the possible future of F1, and they are GOOD!