Everyone goes through hair phases and your hair is one of the most important parts of your look. You too must have gone through a thousand hair phases, but people you know have to come to associate you with one type of hairstyle because no matter how many wild hair phases you have been through, you keep going back to that look, because after much experimenting, you have decided that it suits you the best and makes you look and feel like a fabulous queen.
The funny thing is, your hairstyle not only makes you look good, but it also reveals a ton about your personality. This article is going to help you determine what your hairstyle exactly reveals about your personality, and based on this, you can also understand a lot about other people, based on their hairstyle. Right about now, you must be thinking that I am speaking a load of tosh, but years of experimenting and conducting social experiments has proved that some secrets to your personality does indeed lie in your hair.
---
Suggested read: 16 stunning and easy Game of Thrones hairstyles you can try NOW
---
What hairstyle should I get? Answers revealed!
Here are some of the most common hairstyles, and the personality traits associated with them.
1. Wild, uncontrollable curls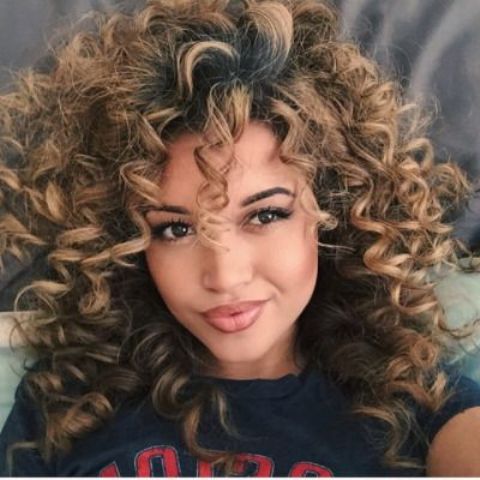 Image source: Pinterest
Even though handling a hairstyle like this can be a pain, you can't seem to stop yourself from going back to it again and again. Wild curls signify a sense of abandon and energy in your personality, which is why you like to let your hair represent it. Some of your more dominant traits are leadership and passion and even though you like to take control of a situation, you find it difficult to concentrate on one thing, because you tend to take too much on all the time.
2. A full afro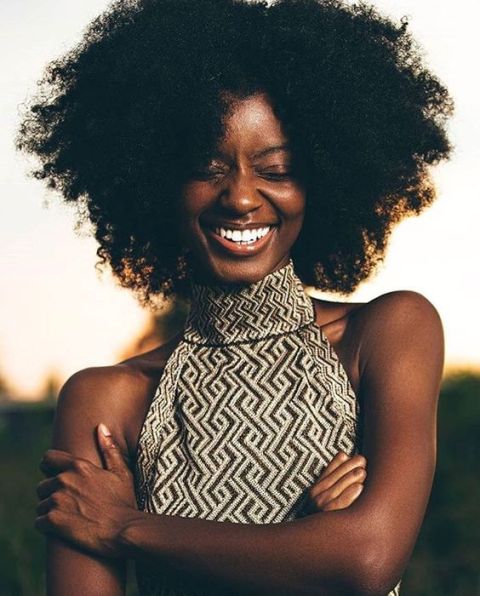 Image source: Pinterest
An afro is one of the most exciting hairstyles on a woman, and it should be because it is the natural expression of the wearer's personality. An afro signifies a fiery personality, with a lot of suppressed emotions about most things in life. When you speak, you are clear and straightforward and everyone likes you for your candour. People who have afros are also known for their mysterious personalities which means it's difficult to know much about them unless they choose to reveal it.
3. Beachy waves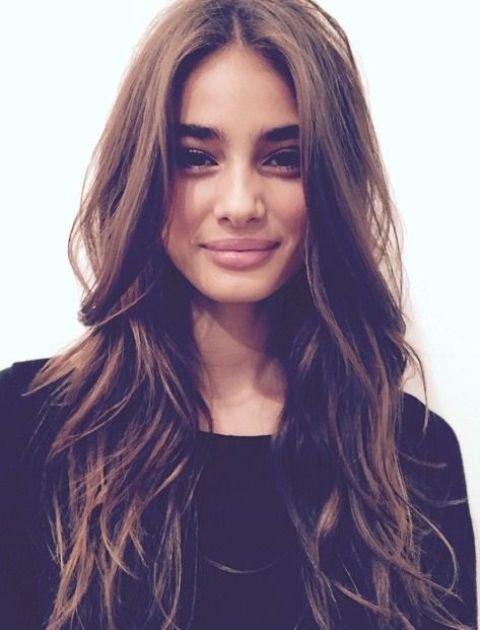 Image source: Pinterest
If you have long beachy waves, it signifies your love for everything romantic and loving. You yourself are a person who feels kindly towards everyone and would choose Netflix over an adventure sport any day. Even though you are willing to help everyone out and have lots of friends, you covet your alone-time and you need your own space sometimes. It is also a symbol of creativity and energy, which you channel into every single aspect your life, whether it is your professional or personal life.
4. Romantic, soft curls on straight hair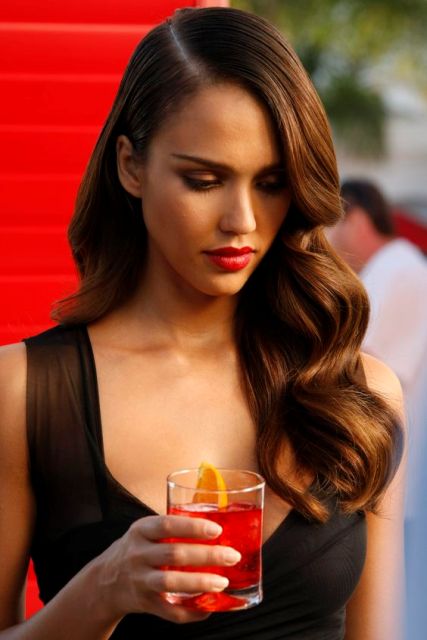 Image source: Pinterest
Soft, romantic curls only happen when you artificially curl your hair which is essentially straight. If you find yourself doing this to your straight hair on most occasions, it means that you are the adventure-seeking kind, who refuses to be tied down by your immediate circumstances and you are always on the lookout for places where you can channel your inner Dora the Explorer. However, you also covet your feminine beauty and enjoy getting compliments from people on the way you look. Does that make you vain? A little.
5. The short cropped pixie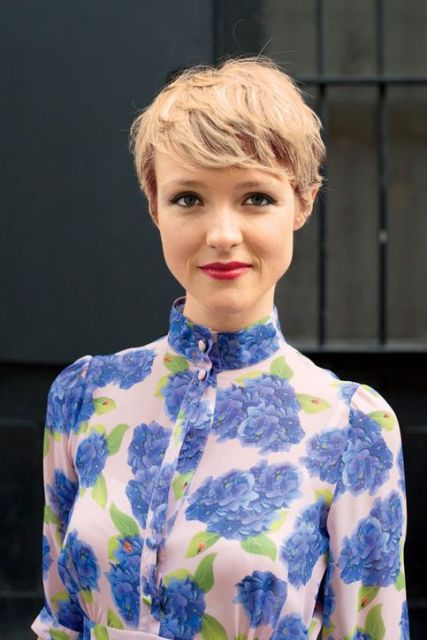 Image source: Pinterest
A short cropped pixie is a super popular hairstyle amongst celebs and one of the hottest hairstyle trends of 2016. Ever wondered why though? A cropped pixie is as close as it gets to a boy's cut, without having to compromise on the feminine factor of your look. It is low-maintenance, which shows that you favour practicality and convenience about all things, and even though you are conscious about how you appear in front of people, you still covet your individuality and wouldn't compromise on it even if it meant pleasing others.
---
Suggested read: 15 hairstyles that will make you want to get bangs instantly
---
6. A pixie with an undercut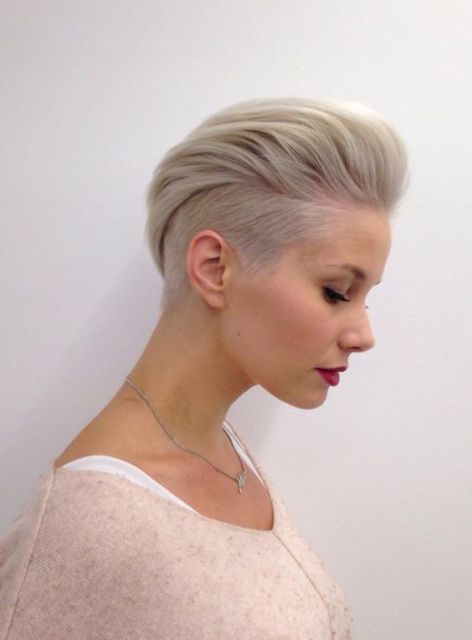 Image source: Pinterest
Another top trend when it comes to hairstyles these past few years has been the pixie with the undercut. This is one of the most exciting trends, and it also reveals a lot about the personality of whoever chooses to go with it. There is no denying that it is a brave cut to sport, which can only mean one thing- you are supremely badass and even though you get a lot of judgement from people because your choices, you couldn't care less. You are daring, outgoing, fun-loving and very vocal about the way you feel about things, which sometimes gets you in trouble, but you remain in your element nonetheless.
7. Long and straight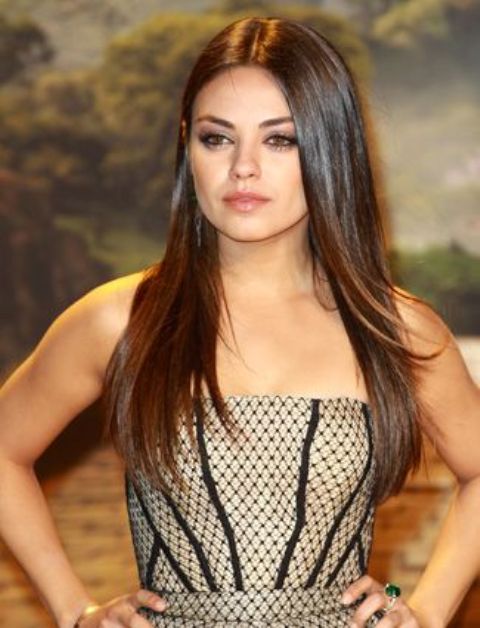 Image source: Pinterest
Women who tend to wear their hair long and straight are the very opposite of outspoken. Long straight hair is simple without much variation to it, so it suggests a love for uniformity and wariness towards any kind of change. You like things the way they are and you don't like experimenting much with your hairstyle or anything else in life, really. However, you are also thick-skinned which could be a good thing and bad. You don't let other's opinions get to you, neither do you allow positive criticism to affect you, meaning you are aloof and detached from most things in life.
8. Bangs
Image source: Pinterest
Bangs are super cute and super trendy, and there are different variations to bangs depending on what suits the shape of your face the most. When you get bangs, almost your entire forehead is covered, even when they are side-swept. This means you are two different people, one in front of other people and one when you are on your own, and you have no trouble switching between the two. Despite being fun and outgoing to your friends, you are not an easy person to read and deep-inside, you are sensitive and very emotional. Bangs also reveal your creative side, and your personal ambition- which is always striving to become a better person. You are rooted and humble, which is why you have a thriving, uncomplicated social life.
9. Simple bobs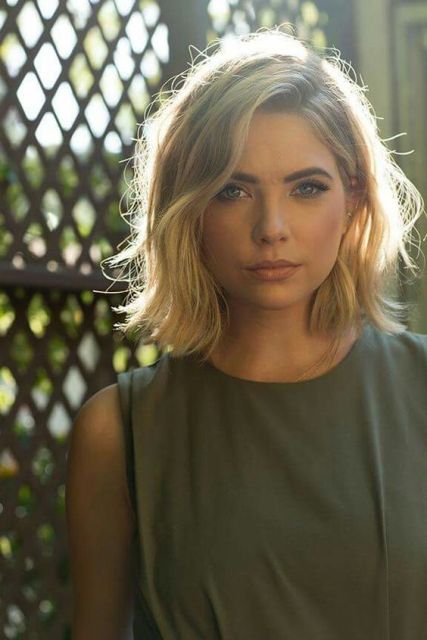 Image source: Pinterest
There are a thousand different ways in which you can wear a bob, but if it is the bob that you keep going back to, then it means that you are way too careful and cautious in life. You are a perfectionist, who likes to get the job done on the most resourceful and practical way possible, which is why your hairstyle too is low-maintenance, yet fashionable. Your extreme attention to detail also suggests that you have borderline OCD, which sometimes makes people call you mean things, but if someone needs something done with utmost sincerity and effort, you are the natural choice.
10. Asymmetrical hairstyles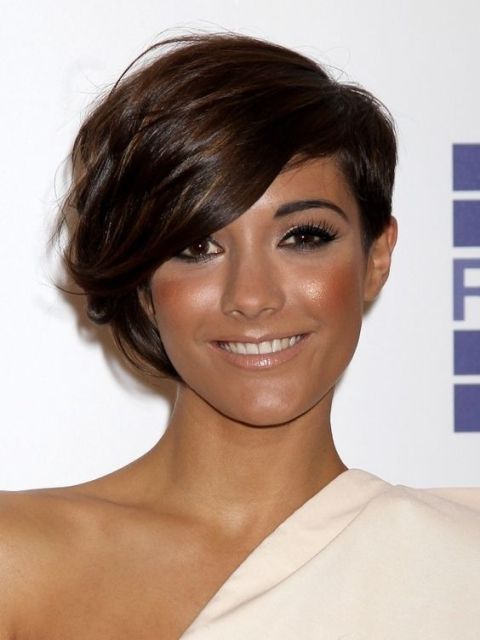 Image source: Pinterest
If you have an asymmetrical hairstyle, which means different lengths of hair on either side of your head, then you are fond of some of the more avant garde styles that have emerged, which also speaks volumes about your personality. You are likely the life of the party with your fun hair and your fun personality. People tend to not take you seriously sometimes, but you end up being right most of the times. You are also not afraid of breaking the rules and being the rebel that you are, in order to be yourself in front of society.
11. Top knot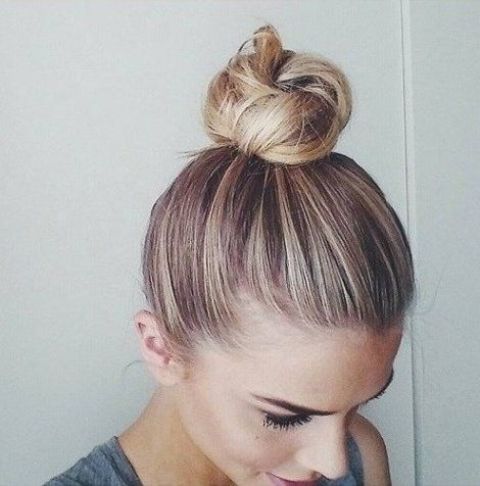 Image source: Pinterest
The top knot is the ultimate go-to hairstyle for people who have no time for nonsense. If you despise things like hair all over your face, or hair knots and other evil things like that, then you my friend are the most logical, practical and active person out there, who needs to get things done, and needs to get things done fast. You are usually found doing something really engaging or the other like writing or reading a book or working on something, which means you like to keep busy. People who love top knots are also advocators of positive change in the world and they are not afraid to rebel against the things they feel are wrong.
---
Suggested read: 20 most flattering short hairstyles for square faces
---
12. Colorful hair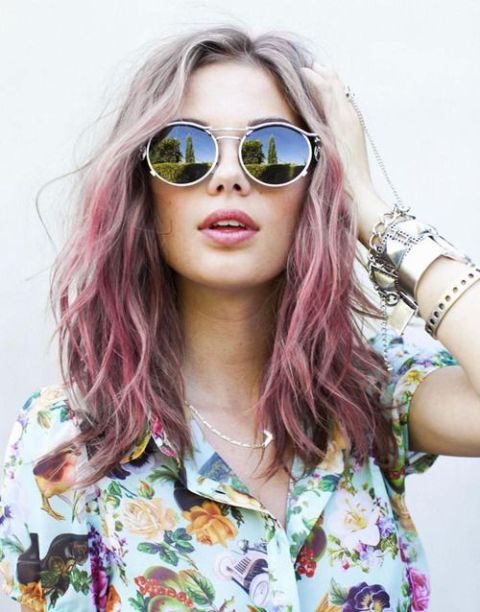 Image source: Pinterest
If hair dye is your thing and you do not understand the concept of normal colored hair, then you are an adventurer at heart, who would rather risk losing a limb than sit at home and play it safe. You are an incredibly positive person who always puts others' needs before your own, which is an instinct that comes naturally to you. However, you also a sensationalist and you like to make an entrance wherever you go. Another aspect about your personality includes your refusal to conform to rules, which makes you a force to be reckoned with. Once people get in your bad books, it is difficult to get back your trust.
It might be quite a revelation to discover how much your hair can reveal about you and finally get the answer to the question what hairstyle should I get. However, ultimately it all boils down to the choices you make, and the choices you make determine who you are, whether it is regarding your hair or your life.
Summary
Article Name
What Hairstyle Should I Get? Answers Revealed!
Author
Description
What hairstyle should I get? The question has finally been answered here, because your hairstyle has a LOT to say about your personality.