For the longest time now, curly hair has been undermined and rejected with women wanting to straighten out their luscious curls, but now finally, this horrifying trend has come to an end and in fact, women have realized that curly hair looks pretty AF. One problem with curly hair though is the fact that styling them and shaping them into various hairstyles can be quite a task because there is not much you can do with curly hair. Yeah, it look super pretty, and yeah, you would rather have curly hair than go anywhere near a straightener, but one of the more common complaints against curly hair is the fact that they are just a large mess which looks great aesthetically, but you can't really do much with it.
That, ladies, is about to change because we have found out 12 whole new ways of styling curly hair and tame them, or keep them wild, without leaving them as they are.
---
Suggested read: 20 flattering short hairstyles for square faces
---
Here are 12 stunning, unique and ingenious ways of styling curly hair to make you look good and better yet- different.
1. Asymmetrical haircut
One of the best ways in which you can spice things up with your hair is by getting the right haircut. A new trend that has emerged in the hairstyle market is the asymmetrical hairstyle; for example, bangs or layers with an undercut. Because curly hair is more voluminous than lengthy, you can go for a dense pixie on the front of your head while the back is contrasted with a fantastic crew cut. Whether you want to go for a close crop or an all out undercut is up to you. Nevertheless, the juxtaposition of short hair with curls in the front of your head is going to make for one eye-catching style.
2. Space dyed curled hair and knots
There is so much going on with this hairstyle. Who would have thought you could have space colors, knots and braids at the same time, that too with curly hair? If you are tired of being plain and boring, you can dye your curls (not the roots of your hair) any color you wish, such as this galaxy colored hair. If you want a unique hairstyle to you go with your unique hair, then two messy knots in the front, with the rest of the length open is a great idea. In order to make it even more interesting, you can make a French braid that goes right across your hairline and one that goes along your parting.
3. A major side-sweep
Side-swept hair is a trend which can make you look chic and different from your usual style almost immediately. It is even more appealing when you apply it on super curly hair, which fluffs up and the volume on one side contrast the lack of it on the other, giving you the impression of an undercut. You can even call it a faux undercut. The best thing about curly hair is that you don't need extra things like bobby pins to keep your hair in place. A little setting spray is all you need to do the trick.
4. A flyaway chignon
Women with curly hair often complain about how they are unable to pull off chic and elegant hairstyles like a chignon or a French roll at the back of their head for formal parties or any other formal occasions. Those woes now belong to history as women with straight hair are curling their hair artificially and then pinning them into a chignon. It immediately turns your "wild curls" into "romantic beachy waves" and it also adds a lot of volume to your hair and you can even give the illusion of a lot of layers inside your bun.
5. Slicked back curls with French braid
If you have curly hair and all this while you were afraid of half-up hairstyles with braids because you were afraid the braid would become pretty much invisible in your curls, fear not for we have found the solution for you. You need to know where to pin and where to braid in order to keep your curls in order and to incorporate braids into your hairstyle as well. What you can do is pin back the hair in the front section of your head and a little way into your parting, you start a French braid that has been strategically bobby pinned to give the effect of becoming one with your loose curls.
---
Suggested read: 20 trendy short hairstyles for round faces you can try this summer
---
6. The scarf trick
If you have curly that is totally out of control and there is very little you can do to keep it in check and rubber bands are too tame for your hair or if you are just plain bored with the usual hairstyles that you have tried as of now, you can bring out the scarf, which is going to make your hair look chic and fashionable while your curls are also in control. There are several ways you can tie a scarf on your head to make it look appealing, but that is for another time.
7. Jazzing it up with the right accessories
If you are averse to scarves because they are a popular trend and you don't like doing anything popular, you can check out hair accessories, which people with straight hair cannot dream of using for their hair. The cutest thing about this tulle hair band is that it is made with scrunched up tulle which has been stitched together, so it almost looks like you have a shock of pink hair in the middle of your head, and no matter what type of curly hair you have, it is going to suit you. You can choose to leave your hair down or even tie up in whatever style suits the accessory.
8. Partial cornrows
This is one of the most badass hairstyles for people who have curly hair. Full cornrows are cool looking and they are traditional for people who have curly hair, but there is no denying that they are time-consuming and don't look good all the time. If you are going for a casual party, or even to some shizzy place, you can try out partial cornrows which are just two tight braids down one side of your scalp, which disappear into the rest of your curls giving you a pretty chic look.
9. Another scarf style
Okay I might be a little partial to scarves but look how good they look on people who are blessed with curly hair! Turn your scarf into a fantastic knotted hair band which also acts as a bandanna. If you are a stickler for even more drama with your hair, then you can try volumizing the top portion of your hair with volumizing serum and hair spray and other tricks which will give the impressions that your hair is spilling from the top of your bandanna and tumbling over your shoulders. So romantic.
10. Vintage style chic hairdo
It's true that these women have artificially curled hair, but you are blessed because you can pull off hairstyles like this without having to curl your hair which is in fact a very tiresome step. When you have hair that is curly, you can put a couple of rollers near your forehead which will give you that flyaway wave and the rest of your hair do its thing while you look like a pinup princess from the bygone years. If you want to look even more exciting then you can go for root highlights which make your rolls and curls even more pronounced.
11. Voluminous messy ponytail
You have no idea how many articles and how many tutorials exist for people with straight hair, teaching and telling them how to style their hair in a manner that will give them volume and luscious curls and ponytails that don't lie flat against their back but looks like a fabulous mop of hair. When you have curly hair, you can just collect your hair into a bunch at the back of your head, leaving two strands separate in front, which you can then pin over your ponytail, giving it even more volume and making it look like a professional hairstyle.
---
Suggested read: Find out the best hairstyle that suits your face shape
---
12. Tight braid waterfall with top bun
This hairstyle will, I guarantee you, make you look Pinterest-worthy. All you need is a lot of time and curly hair. Gather you hair in numerous tight braids which you can then turn into a fabulous top knot on the top of your head. What would look even more appealing and exciting is the addition of highlights in your curls, which would then make your hairstyle even more pronounced.
If you have spent half your life wallowing over the fact that you have limited options when it comes to hairstyles because you have curly hair, then this is the moment your woes come to an end because here are 12 fantastic curly hairstyles which will make you look like a superstar.
Featured image source: Pinterest
Summary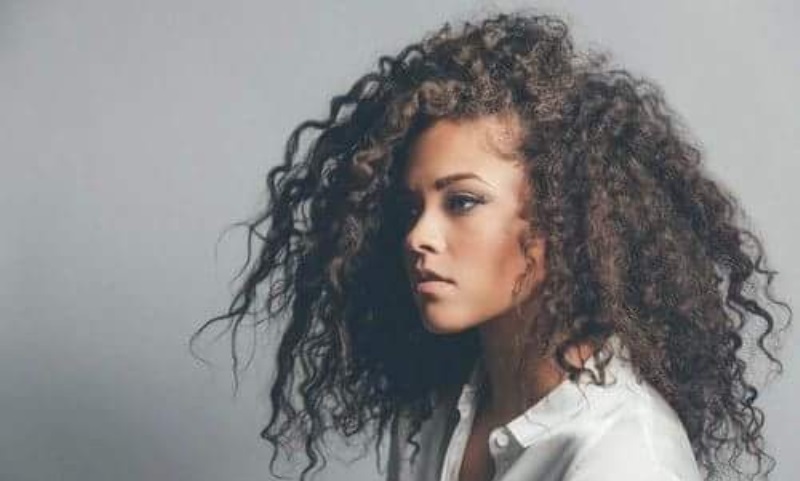 Article Name
12 Unusually Stunning Ways Of Styling Curly Hair
Author
Description
Styling curly hair has NEVER been this easy!