Arlene Francis was an American actor who went on to become the first woman to host a game show. For 25 long years, Francis appeared on What's My Line? a television game show, which ran from 1950 to the late 1970s. She appeared on both the network as well as the syndicated versions of the show.
Born on the 20th of October, 1907, in Massachusetts, to Leah and Aram Kazanjian, Francis was always a smart kid. Her father, when he was 16, had discovered that both his parents had been killed in a Hamidian massacre perpetrated by the Ottoman Empire in Anatonia sometime around 1894 to 1896. He wanted to be a portrait photographer, and soon, emigrated to the United States. Here he opened a studio. Later in his career, Aram Kazanjian painted canvases of dogwoods, "rabbits in flight", and numerous other natural setting. He used to sell them at auctions in New York.
---
Suggested read: #WonderWomen The Inspiring Story Of India's First Female Cadet- Priya Jhingan
---
Francis' father moved to New York when Francis was 7 years old. The family did this because they realized NYC is a mine of opportunities. They moved into a flat in Washington Heights, Manhattan. Francis remained in New York until 1993 when she was admitted in a San Francisco nursing home.
Francis attended the Finch College, after which she started a varied carrier; she became an entertainer based in NYC. She would perform in local theaters as well as off-Broadway plays, and soon became an acclaimed stage actress. Through the year of 1975, she COMPILED 25 Broadway plays.
Her film debut was in the year 1932. It was a Universal's movie named, Murders in the Rue Morgue.
Francis was also a famous NYC radio personality. She hosted a number of programs on air, and in 1938, she became the first woman to host a game show on the radio: What's My Name? Through the years, numerous men co-hosted the show with her; however, she was the solo female host of the show. It ran a long run on networks like ABC, NBC and Mutual networks. The show ended in 1949.
In 1940, we saw Francis in Betty and Bob, a soap opera broadcast on the radio. She played Betty's part. In 1943, she started hosting another game show on the radio. It was called Blind Date, and it was broadcasted on ABC and NBC television from 1949 to 1952. Francis was also a regular contributor to Monitor, an NBC Radio show from the 1950 to the early 1960s. From 1960, she ran a midday chat show on WOR-AM. This show ran up to 1984.
---
Suggested read: #WonderWomen Marie Curie: The First Woman To Win A Nobel Prize
---
What's My Line?
Arlene Francis joined the panel of What's My Line, from its second episode in 1950. She worked there until 1967, when the network cancelled the show. She worked in its daily syndicated version between 1968 and 1975.
Bennett Cerf, one of Francis' co-panelist, was parodied by a Muppet and so was Francis. Her character was a monster called, "Arlene Frantic". Sesame Street, the children's TV show, did this during What's My Part? a parody of What's My Line?
This show, where guests were asked to guess the line or occupation of the person who said that particular line, became a major hit, especially for the urbanity of its hosts and people on the panel.
The other game shows that Francis appeared on are Match Game, Password, To Tell the Truth, and other programs produced by Mark Goodson and Bill Todman.
In the 1950s, TV Guide reports that Francis was the highest-grossing game show panelist host. During those years, she used to make 1000 US Dollars for every show she did on the prime time version of What's My Line? The panelists who were paid second-highest were Dorothy Kilgallen and Faye Emerson, who received 500 dollars each per appearance.
Francis was a pioneer for women who wanted to work in television. She inspired tons of people by becoming the first woman to host a show that was not a musical or a drama. Between the years 1954 and 1957, Francis became the host as well as editor-in-chief of a show that featured in the NBC network called Home. This was a magazine program that ran for an hour and was oriented toward women. The concept of the show was thought of by network president Pat Weaver. The show complemented the network's Today and Tonight programs. Francis was also put on the cover of Newsweek as the "First Lady of Television".
In Hollywood, Francis worked in a few films. She debuted in Murders in the Rue Morgue in the character of a streetwalker in a movie who falls prey to a mad scientist. When Francis wrote her memoir, she mentioned that though her previous experience of acting was only in a small Shakespearean production in her convent school, she was signed for such a major part. After sixteen years of doing this movie, Francis starred in All My Sons with Edward G. Robinson.
On May 31st, 2001, Francis died in San Francisco, California at the age of 93. She was suffering from the dreaded Alzheimer's disease as well as cancer. She was laid to rest in Roosevelt Memorial Park in Trevose, Pennsylvania.
---
Suggested read: #WonderWomen Edith Wharton:The First Female To Win The Pulitzer Prize
---
That is all we have on today's post on Arlene Francis: The First Female Game Show Host. Let us know if you enjoyed reading this and if this was helpful. In case we missed out on some more interesting facts about this remarkable actress and radio show host, please add them in the comment section.
See you again soon with another extraordinary woman who has made history and all of us proud. Until then!
Featured image source: Instagram 
Summary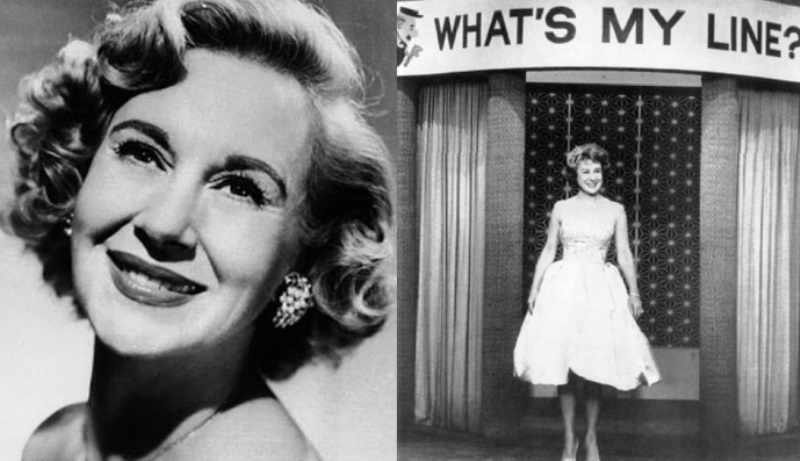 Article Name
#WonderWomen Arlene Francis: First Woman to Host A Game Show
Author
Description
Arlene Francis was an American actor who went on to become the first woman to host a game show, What's My Line?, which ran from 1950 to the late 1970s.