It seems like people in Mexico have a reason to keep tuned in to the 'boring' segment of TV news and perhaps, eagerly so! They might, perhaps, even be listening to news in hopes that the weather section comes on soon and remains rolling for as long as possible!
Image source: Instagram/iamyanetgracia
Image source: Instagram/iamyanetgracia
No, they do not care about the weather – but what they wait for … or rather, who they wait for is the curvaceous weathergirl Yanet Garcia, who graces Televisa Monterrey every day in figure-hugging ensembles and high heels! Of course, Yanet Garcia is a fantastic meteorologist – but it seems that by rains or hailstorms, she is bringing out the sun in people's hearts, and for good reason!
Image source: Instagram/iamyanetgracia
The hot weather reporter (pun intended!) is reportedly a hit not only in Mexico but worldwide. Since her fans cannot tune in to the Spanish station to watch how she manages to get the temperatures soaring even when Nature says otherwise, she has her own Youtube channel that hosts her forecasts, replete with meteorological accuracy, and well, the blatant heat waves she sends ricocheting off her persona!
This hot babe has not only managed to take the Mexican shores down with the heat-strokes she is bouncing off the screen but is responsible for a kind of 'global warming' that is blazing the internet. Yes, Yanet Garcia has been the talk of cyberspace for a couple of weeks now and has sent the netizens into a frenzy. They are busy wiping off the beads of perspiration dotted on their brows whilst hoping that the rainy weather offers some respite! But Yanet Garcia isn't one to go lax on the HEAT. After all, she is the weathergirl whose hot-ness quotient seems to be making all weather bright and sunny!
Image source: Instagram/iamyanetgracia
Image source: Instagram/iamyanetgracia
Now I am not going into the nooks and crannies of whether the term 'weather girl' is sexist or if netizens need to go a li'l easy on the 'is it getting hot in here' saga in relation to Yanet Garcia! Honestly, that's up for contestation for some other time!
---
Suggested read: Sean O'Pry – The guy whose ocean blue eyes are my haven
---
As of now, all you guys – you can check out the 'caliente' diva sending a warm wave right up in your face from the South, whilst the girls can check out her accessories and outfits! She is a Bebe and Urban Chic fan!
Scorching heat suddenly? 😉
Featured image source: Instagram
Summary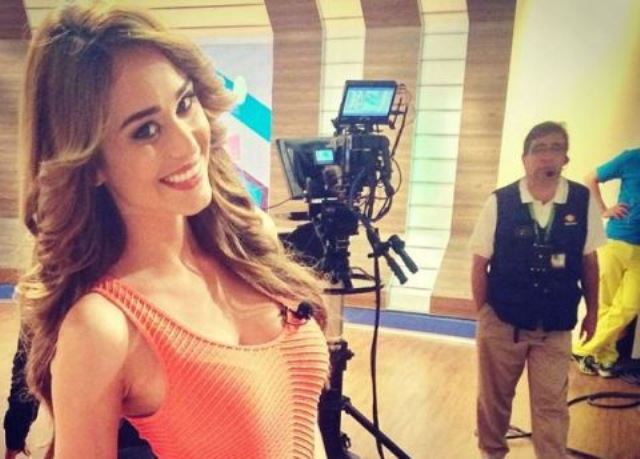 Article Name
Yanet Garcia, The Weathergirl, Is Scorching The Mexican TV Screens
Author
Description
Yanet Garcia, the weather correspondent on Mexico's Televisa Monterrey seems to be scorching screens and more! Check out why the girl has become a HOT fave!