Deciding which lipstick to wear with what and when, puzzles the hell out us, doesn't it?! Now what if I ask you to cherry-pick two? Won't you want to bump me off for doubling up your despair?! Well, hold your guns, woman, I am here to help!
So before we get started I want you to know that we are not doing an ombre or a gradient here; we are talking in terms of a trend that keeps each color (of the duo) completely distinct and visible! Lips were always a focal part of the face's attractiveness (hence, the lipsticks came into being! Blimey!). I think it's high time we give each a one-off color, eh?
Here are 10 ways we think you can rock the two-toned lipstick trend!
1. The Contrast (Cerulean and Orange)
Most people work this trend in two ways. They either go for the complimentary colours or pick a striking contrast. The daredevils would always plump for something that draws a distinction, right? The cerulean and the orange it is then to set the ball rolling!
2. Opaque option!
That metallic fad needs an upgrading, if you ask me! Go all bold and opaque with this one. This is a daring combination, flamboyant and yet not tawdry. It has just the right amount of cerise and the unspoiled amount of cherry. Perfect to turn those heads wherever you go!
3. Matchy much?
Coordinating your pocketbook with your peep toes? Whoa, that's so old school, darling! The up-to-the-minute toning is all about twinning the lips to your tresses, plus the ensemble, of course (that goes without saying!). How about a dose of lilac rain and some lime crime black velvet to go with it? Now we are talking!
4. Colors from the same fam!
If you want a fuller looking pout, complimentary shades should be your pick! The colours like lilac and lavender or say ruddy and scarlet are from the same family and by pairing them you can almost instantly make your lips look poutier! So yay, right?! ☺
5. All that glitters!
 This look was created using the Stila Stay All Day Liquid Lipstick in beso with some generic glitter to go with it! For the bolder shade use a lip brush for super precision. That's a pro tip right there! ☺
---
Suggested read: 16 stunning ways we are taking to the metallic makeup trend
---
6. Touch-feel!
Well, we have been going on and on about the two different hues! Don't you want to take it to another level? Hell, yeah, right?!
So try to do different textures, babe! Go matt stain with a lip and try a satin finish with the other. See we can go on experimenting. That's the whole point! Combinations are like endless!
7. Vintage vixen
How about an easy, retro spin, huh? A syrupy, pearlescent pout could help you get that look! Try to compliment the skin tone and pull it off with a dreamy creamy dress. Picture-perfect to me!
8. Pastel perfection
Let us paint that pucker with a twosome pastel purple combo! You can expect an unexpectedly elusive smooch with that one! Lavender and earl grey, who would have imagined you could do both on the same date, right? Well, now you totally can!
9. Gilded all the way!
Now isn't this mamma mia? I love the color she has picked for the upper lip. It is bold and at the same time not overbearing. The gold on the lower lip adds the much needed subtlety because a silver would have totally killed the look! So a 5/5 for that!
10. Elusive and passive!
If you think the rest of the trends on the list are way too out of line for you and you need something restrained to get you off the mark, I think this look could be your baby. Like totally! The nude eyes and bronzed brows can make anyone go, "hmmm!"
Good luck with the double trouble!
Pro-tip: Do not rub your lips together, of course! 😉
Ciao!
Featured image source: beautynewsindia
Summary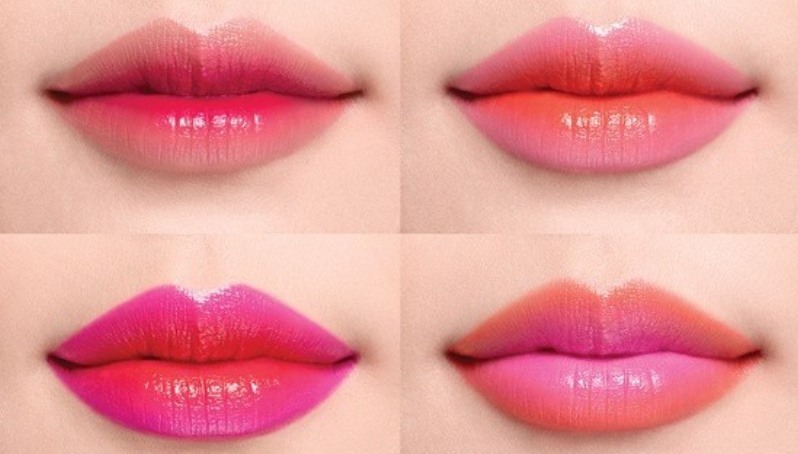 Article Name
10 Stunning Ways To Wear The Two-Toned Lipstick Trend
Author
Description
Because the two-toned lipstick trend is in!