Choosing the perfect lipstick for your skin tone isn't as easy as you think. If you have ever been to a makeup store, you would know the struggle of trying to pick out the best lipstick shade which would suit you like a second skin. If you are like me, then you are obsessed with lipsticks, but you aren't sure which are the best lipstick shades for fair skin. Although there are approximately 7 gazillion lipsticks in the market right now, you have to be equipped with the knowledge which will allow you to buy the shade which suits you the best.
Most people who have fair skin, or light skin tend to stay away from loud, bold colors because it poses too much of a contrast with their skin tone. However, lipsticks have various undertones apart from the predominant color. This means that a red lipstick isn't simply red. It might be red with warm undertones, which makes it slightly orange-ish or vermillion. A cool-tinted red lipstick would be more on the pink side, and the deep ones would almost look like a bluish red.
---
Suggested read: How To Choose The Right Lipstick For Your Skin Tone
---
People who have fair skin usually look good in lipsticks which have cooler undertones, whether it is red or pink or purple. However, if you want a more comprehensive list of the best lipstick shades for fair skin, then read on.
The good news is the following shades are pretty common, and can be found represented in various high-end brands. Once you get your shade on fleek, you can choose the brand which you like best!
Best lipstick shades for fair skin 
1. Glossy nudes
Finding the right nude can be supremely difficult, if truth be told. you have to search for a shade which just a couple of shades darker than your foundation, or three shades darker than your skin tone, to get yourself the perfect nude.
However, if you want to look truly remarkable, then you can try a glossy nude, which would look really good if you have fair skin. A glossy nude is a great way to perfect that no-makeup makeup look. MAC has some great glossy nudes, as does NYX and other brands.
2. Pale pink nude
If you are searching for a dependable shade which is going to be the perfect shade for a day to night transition, then nothing beats a pale pink shade. It pops wonderfully on your fair skin and doesn't look as garish as a loud, hot pink would.
A pale pink will also suit any kind of outfit. It is sober enough for formal wear, but fun enough for a night out partying.
3. Dark pink
A hot pink is ideal for when you want to rock your retro, outlandish best. However, if you are all for a classy, understated but bold look, then you could totally check out a kickass deep pink, with strong blue undertones to highlight your entire face. The color is super classy, and is ideal for almost all situations in life.
Charlotte Tilbury and some of the other high-end makeup brands have great deep pinks that you can purchase. You can also check out MAC and Colourpop, which have a lot of dark pink shades, and pick the one that you feel most comfortable in.
4. Classic glossy red
To be honest, irrespective of skin color, you can't do without your quintessential red lipstick. You have to have one, and the only reason you have been putting off getting yourself the red lipstick is because you aren't confident enough to sport it just yet.
Let me tell you something- a good red lipstick looks good on everyone, and if you have fair skin, then you should get one with gorgeous blue and purple undertones so that you look super classy, and super badass. Even though the model here is wearing a gorgeous shade by Marc Jacobs, you could always try Ruby Woo by MAC, which is matte and velvety and so delicious looking that you are going to fall in love at first sight.
5. Bright violet
The right shade of purple for your fair skin tone is a little difficult to find. However, if you can get your hands on a lovely opaque purple shade, which has strong red and violet undertones, then you are sorted for life. The good news is, almost all the better brands in the world have this shade, because it looks good on most people, and can look super classy, no matter where you wear it.
Even though this particular shade, which is Up the Amp by MAC, has a slightly shimmery and glossy finish, you can also get matte versions of this shade, which look as good.
---
Suggested read: How To Choose The Right Lipstick For Your Skin Tone
---
6. Vampy reds
Nothing is going to grab eyeballs as much as a dark, rich vampy shade of red is going to. This shade has a wonderful shimmery finish, and can immediately make you look like the star of a party. It is bold and daring, and can take some time getting used to because of the striking color of the shade.
If you are worried about the intensity of a vampy red, you don't have to sweat, because it can make any boring outfit look glam and party-ready. It pops really well on your pale features and gives you a regal and elegant air.
7. Chocolate brown
I am personally biased towards browns, because I think they make your face look exquisite, no matter what your skin tone is. However, you would look especially gorgeous in this stunning dark chocolate brown which legit looks like molten chocolate. It especially pops because of the constrast with your light skin tone, and would glam up any look instantly.
There are a number of companies which have gorgeous shades of chocolate brown in their stock, but you would be doing yourself a favor if you bought yourself a liquid lipstick in a shad like Kylie Cosmetics' True Brown K.
8. Pure light brown
If you still feel that a dark chocolate brown is too intense for you, then you can stick to a normal, stable and classic brown shade, which is as brown as it gets. There aren't any confusing undertones, and what would be a wonderful nude on dark skin, becomes a sexy sober color for your face, which offsets your light skin wonderfully.
If you notice, this is the perfect fall lipstick, and whether you are wearing it to a picnic or to your workplace, you are going to be able to rock all your looks with ease and flair.
9. Gold
If you are screaming "Are you crazy" at your screen right now, I don't blame you. However, before you start freaking out, just look at how beautiful this shade would look on you. I don't know why gold is such an underrated color when it comes to lipsticks, because it literally looks like a party on your mouth.
Because you have light skin, it won't look too loud or too avant-garde either, so you don't have to worry about people doing a double take when they see you wearing gold. It is a wonderful choice if you are into metallic lipstick, and in my honest opinion, it should be more popular than it is. Even though a lot of brands haven't gotten around to making gold lipsticks just yet, you can take your pick from common brands like MAC and NYX, which are super good.
10. Cement grey
If you are looking for something bold, then I have dug up the perfect color for you, which is equal parts sexy and unique. You can't go wrong with a wonderful shade of grey like this, which is not dark enough to make you look like some goth princess, neither is it light enough to be innocuous. It is the perfect in-between shade which you can really sport anywhere and everywhere.
When you are wearing grey, you would want an even, smooth, matte or metallic coverage, which is why it is always better if you get your hands on a liquid grey lipstick. However, MAC has some great grey shades which you can check out if you are feeling ambitious. Considering the fact that this grey looks so delectable on fair skin, you should definitely give it a go.
---
Suggested read: 15 Gorgeous Matte Lipstick Shades You Simply Can't Do Without!
---
11. Deep navy blue
If you think you won't look good in a deep, rich navy blue, then you are grossly underestimating yourself. 2017 is the year of experiments, which is why you need to branch out of your comfort zone and embrace some of the coolest shades out there just waiting to be owned by you.
A dark, rich, navy blue shade is both unique and elegant at the same time. With a color like this, you could immediately become the center of attention (the good kind) and grab eyeballs wherever you go.
The lipstick shades mentioned above are a mixture of shades which you simply can't do without, and shades which would make you look totally awesome. A common misconception is that just because you have light skin, almost anything would look good on you, which unfortunately, isn't true. When you are equipped with a list of the best lipstick shades for light skin, you can own your makeup looks like a bawse.
Featured image source: Instagram
Summary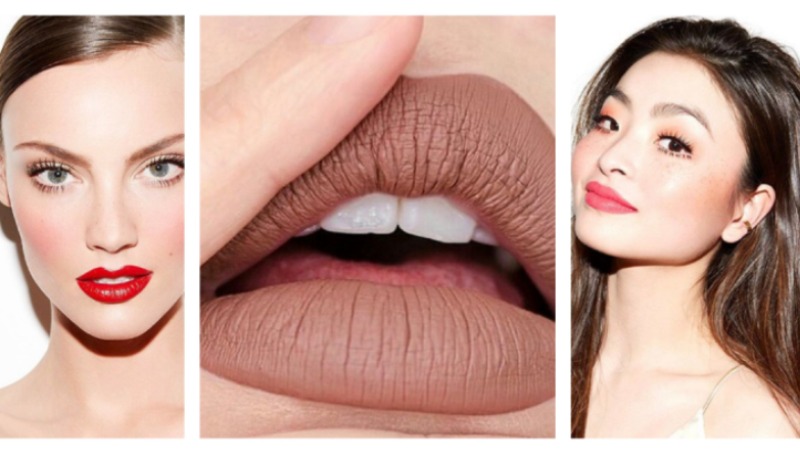 Article Name
How To Choose Best Lipstick Shades For Fair Skin
Author
Description
Choosing the best lipstick shades for fair skin is now easier than ever with this comprehensive guide on choosing the shades which suit your skin tone.