Every year, there are several videos that go viral. While some make sense, some don't. From bizarre to the truly funny, it's a mix of every kind of video out there.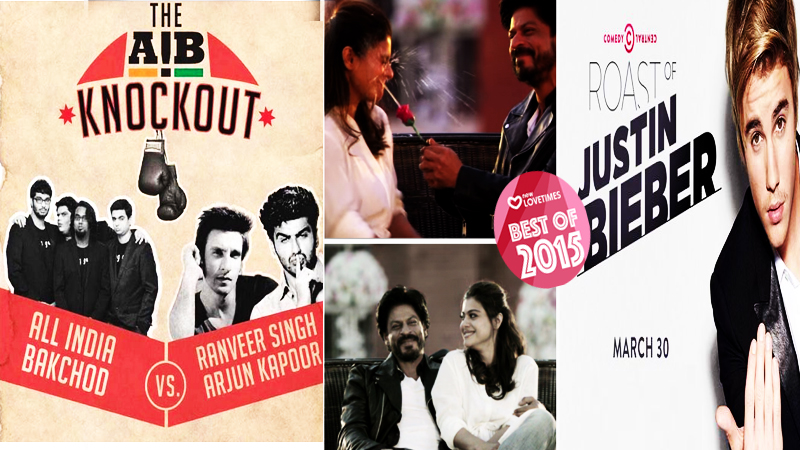 Here we bring you the best of the best from 2015:
1. The AIB Arjun Kapoor Ranveer Singh Roast
A hilarious roast which had to be taken down because the government found it 'too vulgar' for the public. Ah, well.so much for the intolerance debate! 😛
2. The Justin Bieber Roast
When Kevin Hart decides to break the internet by packing a powerful *roast* for our beloved Bieber, you can't miss it for the world, eh? Plus, in the year that Bieber bared b*tt, this one comeback kicked b*tt, whatsay, people? 😉
3. The My Choice Video
Oh Deepika- as if you weren't dragged into enough controversies already! We just can't help repeat Oh Deepika- the way you repeat My Choice in the video..Oh Deepika, Oh Deepika… okay, maybe we should stop lest this one start sounding like Ranveer 'doing the durex'..really! 😉
4. Hotline Bling
This song. soon after its release, was flooded with views and shares until the internet came right back with memes of this song, which were in all honesty, hilarious! For the record, I love Drake.
5. Little Abram waving at the crowd
This one had little AbRam waving at the crowd on Shahrukh's birthday at Mannat. The crowd seems to be loving it too! Aww- CutenessOverdoseAlert!
---
Suggested read: 10 most underrated Bollywood movies of 2015
---
6. Pizza Rat
All this 15 second video shows is a rat trying to take home a slice of pizza- but cybersapce went berserk. Guess it doesn't take much to get 8 million views these days, eh?
7. Mira And Shahid Kapoor's wedding videos
More aww's coming on! This wedding went viral and fans, though  heartbroken, lapped up every tiny detail about this wedding! All their wedding videos went viral as soon as they were uploaded!
8. The Power Of Makeup
This video went viral, grossing 25 million views! It shows how makeup shaming is a very real thing and why it is a personal choice whether to use or not use makeup. On point, sir..on point!
9. Deepika's talk about her battle with depression
Deepika recently opened up about her battle with depression and the video instantly hit home with a lot of viewers and went viral, appearing on every newsfeed.  Watch it here if you had been living under a rock and missed it before..
10. #20YearsofDDLJ
This cute little video has Kajol and Shahrukh Khan reminiscing about Dilwale Dulhania Le Jayenge on the its 20-year anniversary milestone. Guess, some things do live on..forever…
Bonus video: Adele's Hello
Released on October 22nd, 2015, Adele's single, Hello, has amassed more than 740 million views on Youtube in less than 60 days, making it one of the most-watched videos EVER!
Which one of these is your favorite? Tell us in the comments below…
Summary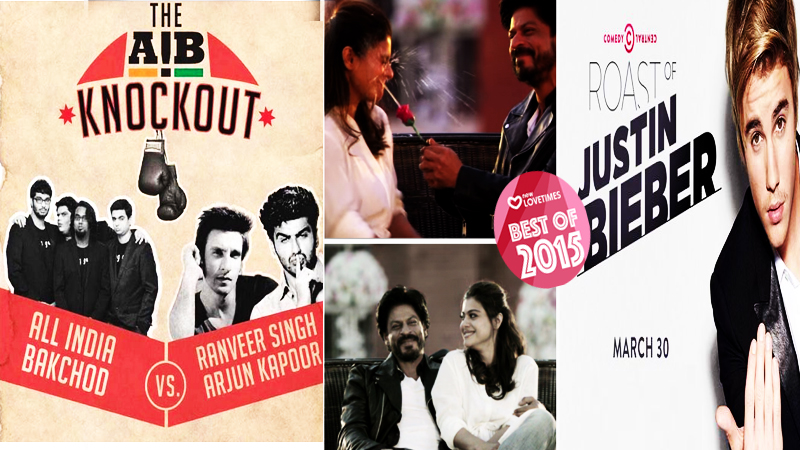 Article Name
#BestOf2015 10 Videos That Broke The Internet In 2015
Author
Description
Some of these videos will surprise you!