The celebrities we love are so much more than just some faces we see on the screens. They are who we follow for the trends, and the ones we look up to for stealing the romantic inspirations as well. Well, what can be more romantic than a treat that brings you all the first dance wedding songs from your very personal favorites? So, why don't you read on and feel the love in the air again!
---
Suggested read: Here's what your first dance song says about you as a couple
---
1. Jennifer Aniston and Justin Theroux – Chandelier by Sia
Jenny and Justin took great pains to keep this delightful wedding a secret (aww… right?) and succeeded. Life of the party as they are, this amazing number by Sia is a lovely choice for the first dance on their wedding day.
2. Nicole Kidman and Keith Urban – At Last by Etta James
Sensuous, jazzy, and meant for a musical love like theirs, 'At last' was the awesomely romantic track one of our most beloved couples chose to dance to. They sure are going to spend their lives singing along, 'at last my love has come along, my lonely days are over and life is like a song!'
3. Justin Timberlake and Jessica Biel – A Song For You by Donny Hathaway
This dearly adored couple got married in the most beautiful ceremony in October 2012 in Italy. Their choice among the many amazing first dance wedding songs had the love evoking piano, the heart melting lyrics, and a romantic feeling that couldn't have been more perfect. They just looked into each other's eyes and the music tied the knot – 'and I'm singing this song to you'.
4. Kim Kardashian and Kayne West – All of Me by John Legend
After a dreamy ceremony on top of a hill in May 2014, this power couple took the breath of all the spectators away by dancing to this song. As soulful and pure as it could get, no other song could have expressed the love they have for each other – 'all of me' it had to be!
5. Lauren Conrad and William Tell – You're My Best Friend by The Once
What is the closest relationship you can have with someone? No, it's not of a lover – it's your best friend! And this is the very song that tells you that. Of course, they danced to this number; no other could've given voice to their heart as beautifully as this one does.
6. President Barack Obama and Michelle Robinson – You and I by Stevie Wonder
It was the most special day in the lives of two of the most important figures in the world today, and it was all just about them. What better a song to celebrate the beautiful emotions than this one? Soft, true, and from the heart, this is a song lovers can dance all nights off with.
7. Sarah Michelle Gellar and Freddie Prinze Jr. – Someone To Watch Over Me by Gertrude Lawrence
A beloved timeless favorite with the kind of feelings and love that these two love birds couldn't relate to more, this was a memorable first dance choice for them. Bringing along the hope of a happy time to come, it dreams of a tomorrow where she has someone to care for her and it's what we all wish may come true for the couple.
8. George Clooney and Amal Alamuddin – Why Shouldn't I by Rosemary Clooney
Ah, this is a couple the huge fandom rooted for, and when their love earned a long-due right on each other, this was the song they cherished the new start with – 'Why shouldn't I!' This song can transport you into a flashback of all the precious moments from the past.
9. Kevin and Danielle Jonas – Only You Can Love Me This Way by Keith Urban
'And when I say it's forever, you understand!' What more does a love as true as life need? So, this fabulous couple stepped on the dance floor singing 'only you can love me this way,' and everything went from perfect to magical. This is the kind of wonders the song works every time!
10. LeAnn Rimes and Eddie Cibrian – When It Don't Come Easy by Patty Griffin
When an angelic voice sings the tale of a real love like yours, you can't help but relate with all your heart, and that's exactly what they did. Having their first dance on this track, they were rejoicing their romance for what it is!
11. Drew Barrymore and Will Kopelman – No One's Gonna Love You by Band of Horses
This song is so much more than just a melody; it's a hope and promise that perfected the step their hearts took with all the assurance it needed – it's love and it's a friendship forever after.
12. Mark Zuckerberg and Priscilla Chan – Last Night On Earth by Green Day
One of the most popular and hugely loved 'faces' worldwide, this cute couple chose this soulful track to celebrate their wedding. Its soft musical air caresses you into a romantic zone with all questions asked and all answers given.
---
Suggested read: 15 first dance wedding songs to make your wedding truly memorable
---
13. Paul McCartney and Nancy Shevell – My Valentine by Paul McCartney
This is a song from the bottom of a heart that loved and loved true. With 'I'll love her for life' and many more promises, no other song could've been more perfect for the occasion.
14. Ellen DeGeneres and Portia de Rossi – Ribbon In The Sky by Stevie Wonder
Ah, loved by all of the H-town, this adorable celebrity couple took the dance floor with 'may I touch your hand and please, may I once again…' on their wedding day. Perfection!
15. Kate Middleton and Prince William – Your Song by Ellie Goulding
'I hope you don't mind… that I put down in words, how wonderful life is, when you're in the world!' With emotions this deep and so true, this one became the first dance song at the royal wedding.
16. Reese Witherspoon and Jim Toth – Make You Feel My Love by Bob Dylan
A classic that grows more romantic with time, this is a song that can make anyone fall in love all over again (and again!), and that's just what made it the most dreamy choice they could've made.
17. Joel Madden and Nicole Richie – What A Wonderful World by Louis Armstrong
'I see friends shaking hands, sayin', "How do you do?"
They're really sayin', "I love you"
This is what this wonderful song makes your hearts say – I love you!
18. Nick Lachey and Vanessa Minnillo – A Kiss To Build A Dream On by Steve Tyrell
Asking for the most precious gift the heart could behold, this is the track they danced to and build the dream of their ever so happy future together – and didn't everyone wished the same for them!
19. Hillary Duff and Mike Comrie – Stand By Me by Ben E. King
'Darling, darling, stand by me' this is all the song smiles with and this is all any lover can ever ask for. Dancing on their wedding day, there's no measure of the love with which they promised each other this.
20. Beyonce and Jay Z – Crazy In Love by Beyonce and Jay Z
Ooh… now a number that defines the passion these two hottest faces of the music world share. Perfected with both their voices, it was as special as any of the first dance wedding songs could get!
21. Kate Moss and Jamie Hince – If There Is Something by Roxy Music
Forcing you to sway without a care in the world, this song brings along the fragrance of the love exclusive to an era. 'I'll do anything for you' – and they danced on believing every bit of it!
22. Carrie Underwood and Mike Fisher – Love Never Fails by Brandon Heath
There are no words to express what magic this song is – 'love after all matters the most!' This is the kind of love they have in their hearts and so they celebrated with each step.
23. Fergie and Josh Duhamel – Sweethearts Together by The Rolling Stones
'We've only just begun' and they took the dance floor breathing the sweet essence of the song. Beautiful, love-fueled, and so pure, this made a beyond-perfect wedding song for them!
24. Katherine Heigl and Josh Kelley – Heavenly Day by Patty Griffin
If there's heaven, it's in each other's arms, and for the two of them, no day could have been more heavenly than this and no song more apt to express the gratefulness they felt for each other.
---
Suggested read: And the most popular wedding and first dance songs are…
---
25. Channing Tatum and Jenna Dewan – Somewhere Over The Rainbow by Israel Kamakawiwo'ole
With all eyes on him and his eyes on her, this couple had their first dance on this simply amazing track as all their wishes came true!
Hmm… after a romance-filled read of delight, I really understand how you cannot help but just let that tear drop fall with a smile. All these beautiful first dance wedding songs have a way of celebrating togetherness and inspiring love. So, just let go, enjoy the memories, and don't you forget to murmur these tunes in your beloved's ear as you sway under the starry sky tonight!
Featured image source: Pinterest
Summary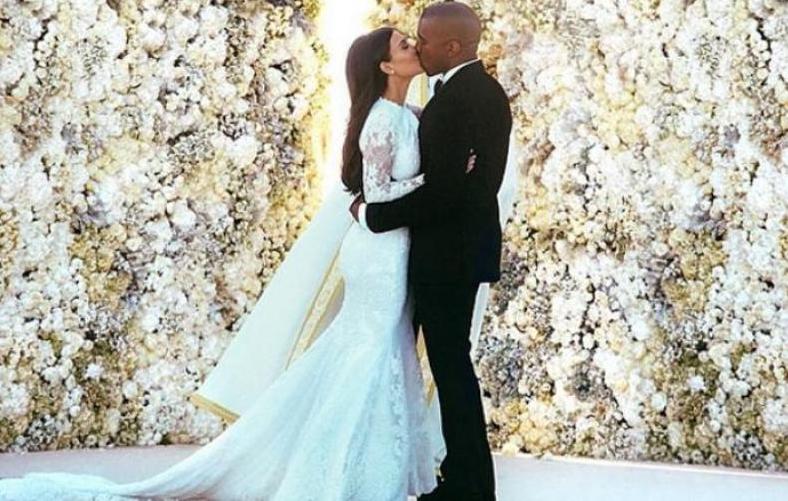 Article Name
25 Of The Most Romantic Celebrity First Dance Wedding Songs
Author
Description
These celebrity first dance wedding songs will make you go awww!