Gone are the days when you awkwardly tried on a couple of lipstick shades at the makeup counter before choosing one and then hating it the second you reached home. We all love experimenting with makeup but rarely want to invest in any particular item unless we feel comfortable with it.
Cut to the numerous trips to numerous makeup counters and stores, awkwardly trying on shade after shade, pretending to ignore the sales assistant staring at you with the expectation that you'll finally settle on a shade. But modern day technology has got your back, sister!
---
Suggested read: 16 beauty mistakes that make you look at least 10 years older
---
Here are 12 mind-blowing beauty apps to help satisfy your makeup needs, without the dreaded experimental trips to the stores.
1. Visada
Image source: Visada
All you need to do is upload a selfie and this app will assess all your features, including blemishes, fine lines, skin tone, etc., Not only will it help improve your beauty regimen by pinpointing the areas where you need to focus more, but also provides suggestions for different kinds of makeup that the app feels will suit your features.
2. L'Oreal Makeup Genius
Image source: L'Oreal Makeup Genius
The L'Oreal Makeup Genius is an absolute game-changer. This app has a real-time camera, which will let you try on different shades of makeup and see how they look on your face when looked at from different angles. The screen essentially acts as a mirror. Gone are the days when you had to go to the drugstore and try on shade after shade of different lipsticks and eye shadows. This app allows you to do all that, all within the comfort of your own home. You can also try on specific red carpet looks flaunted by L'Oreal Paris ambassadors like Lupita Nyong'o, JLo and so many other amazing women.
3. Honest Beauty
Image source: Honest Beauty
This beauty app was developed by famous actress and iconic beauty, Jessica Alba. The Honest Beauty app has changed the way you view beauty apps and makeup shopping, completely. With a touch of a button, you can get a virtual trial of different beauty products, to see how they'd look on you in IRL. Not only that, you can even get subscriptions for different products via this app. That way, you will never have to run out of your favorite beauty products!
4. Beauty Mark
Image source: Beauty Mark
Beauty Mark will be your absolute best friend if you tend to leave getting ready till the absolute last minute. Also, if you're indecisive and a little inexperienced with makeup, then this beauty app will be the best $3 you've ever spent. You can choose your skin tone from a wide range available on the app, and you'll be presented with a list of looks on different models of similar skin tones. There are a variety of looks ranging from Bridal to Natural; take your pick! You can even mix and match different elements of different looks till you arrive at something that you feel will look good on you! Also, there are bazillion video tutorials for you to learn different styles and techniques. Let's just say that this is Youtube and Pinterest just mashed together to be a beauty lover's best friend.
5. Trusper
Image source: Trusper
Ever been on Reddit or Yahoo answers and wished there was something similar dedicated to just makeup? Well, your prayers have been answered! Trusper is a one-stop shop for all your beauty-related questions. It contains tips and tricks submitted by other beauty lovers such as yourself, and you can take your pick from the large database of information already available. If you'd like an answer that's a bit more tailor-made for you, go ahead and submit your questions and another member will try and help you out with your query. Of course, it is essentially a community-based app, so you must also give your input of tips, tricks, and trivia to pay it forward!
---
Suggested read: 25 most effective home remedies for glowing skin
---
6. Find your VS Shade
Image source: Find your VS Shade
We've also got your hair color needs covered. Do you want to experiment with different hair colors but are afraid of the damage repeated coloring sessions will inflict on your lovely tresses? We've got your back. This app lets you virtually try on different Vidal Sassoon hair colors on your hair so that you know exactly how the color will look on you. This way, you can settle on one color that you feel will make you look like an absolute goddess, can skip the multiple trips to the salon, and instead nail your hair color choice the first time itself!
7. Nail Snob
Image source: Nail Snob
Ever donned on super pretty outfit and wished you could wear that super pretty nail-paint that you had bought ages ago but simply cannot remember its name anymore so you haven't been able to find it anywhere ever since? Yeah well, we share in your frustration. So many nail varnish brands have so many shades with just the strangest names, that remembering each shade is next to impossible. This app is here to help you with your nail-color-memory problems. All you need to do is scan the barcode on your nail varnish bottle with this app and it will save the details of the varnish. This will help you not only keep track of your stock of nail paints (especially if you're a nail paint enthusiast), but also will let you check the name of that shade you bought a few months ago and can't remember the name of, so that you may be able to buy it again. Pretty neat, huh?
8. Super Duper
Image source: Super Duper
Absolutely spot-on punny AF name aside, this app is an absolute godsend for beauty lovers on a budget. The Super Duper beauty app provides you with dupes for popular high end makeup products! Love the new Yves Saint Laurent lipstick but will probably have to sell a kidney and half your liver in order to afford it? We've got you covered, pal. Simply download this app, search for the original product that you're in love with, and it will provide you with dupes for that exact product that will be just as badass and perfect, only you won't have to break the bank to buy them. #budgetbeautyhacks
9. Sephora Pocket Contour
Image source: Sephora Pocket Contour
Contouring is probably the most hyped about beauty trend ever. But let's be honest, it's pretty near impossible to nail contouring the way all those Youtube and Instagram beauty gurus do. The Sephora Pocket Contour will be your little cheat sheet to help you perfect your contouring skills. This app acts as a digital guide to help you decide on which parts of your face to contour depending on your face shape, so that you may end up looking like the flawless diva you truly are.
10. Beautiful Me
Image source: Beautiful Me
We've all faced the dreaded task of picking out the right foundation to match our skin tone. We've tried shades on the back of our hands, on our arms, and even on our necks; all in the search for the most perfect shade of foundation that will make our skin look smooth and flawless. The Beautiful Me app is basically the lazy beauty lover's best friend. Simply upload pre-existing selfies or take new ones and the app will analyze your features and collectively come up with advice on your skin type, skin tone, and the various undertones. It will also provide advice on wrinkles, fine lines, and also provide makeup product suggestions based on your skin tone.
11. Leaping Bunny
Image source: Leaping Bunny
Are you a makeup enthusiast but do not wish to try products by brands that engage in animal testing? Well, this app was made for you. Even if you do come across brands that are against animal-testing, not all of them may be FDA-approved, and using their products may have negative effects on your skin and health. The Leaping Bunny app provides a list of all cruelty-free brands whose products are safe to use. On this app, you will find a variety of cruelty-free products, ranging from dishwashing soap to cosmetics.
---
Suggested read: 10 best anti-aging foods that work wonders on your skin
---
12. Plum Perfect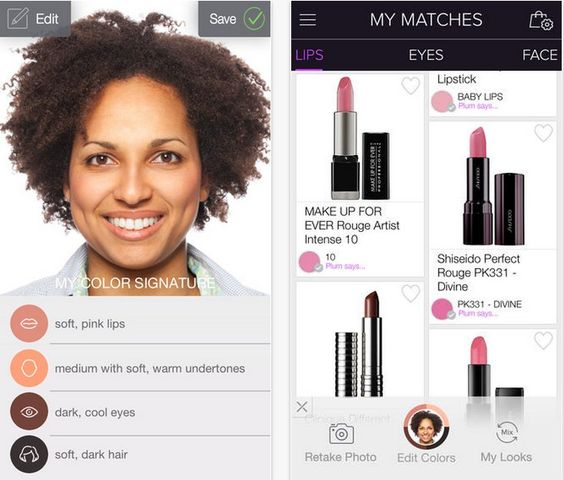 Image source: Plum Perfect
The Plum Perfect beauty app uses a kind of facial recognition technology that will analyze your facial features, your skin tone, your hair type, and even your eye color. It will then provide a comprehensive list of beauty product suggestions that range from lipstick shades to eye shadows, etc., This app is basically a professional beauty consultant… only it's an app… and you don't have to pay any form of consultation fees. It really doesn't get any better than this!
Beauty standards and techniques have come a long way over the years. So it only makes sense that makeup shopping and experimenting also evolve into something that accommodates our busy schedules without making us compromise on our makeup and beauty needs. So go ahead and download as many of these beauty apps as you'd like (especially since most of them are free) and keep speeding ahead in your quest to slay the makeup game!
Featured image source: Shutterstock
Summary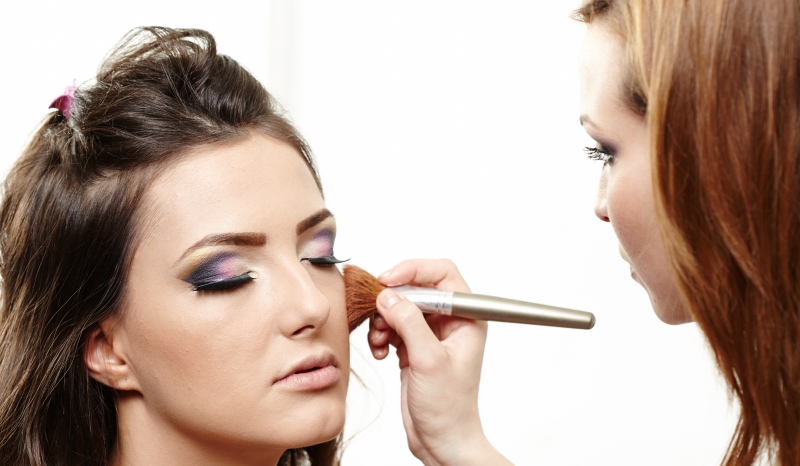 Article Name
12 Beauty Apps You MUST Have On Your Phone Now
Author
Description
These beauty apps give you ALL that you need to know at the touch of your fingers!