If you have thin lips, picking the right lipstick shade can become a bit of a drag. You need a lippie that will make your lips look a little plumper, and balance it, in proportion to the rest of your face. This guide on the best lipstick color for thin lips chalks out 5 lip colors that you must invest in to make a big lip impact. We further talk about the various shades and lip products, within those 5 lipstick colors, from brands like MAC, Sephora and Smith and Cult, that you should take a crack at.
---
Suggested read: The beau idéal guide on how to fake plump lips like Kylie Jenner's
---
Pro tip: Experimenting with the lip couture is fun; trying your hand at different colors and techniques. But if you overdo it, it will kill the whole look!
According to MUA, Hannah Hatcher,
"Don't rush or you may end up looking overdone. Take your time, and play around with some or all of the methods mentioned here. Once you're more comfortable with your go-to full lip technique, try going a bit bolder with color and step outside of your comfort zone."
So here are the 5 lip colors and trends that you need to try out RIGHT AWAY!
1. 'Red' my lips!
Girls with thin lips are usually intimidated by bright lipstick shades. Yes, bright colors make lips look smaller, but if you swipe them on, keeping our little trick in mind, you can actually make them look plumper! All you need to do is highlight the lip tint to make it look raised out. Here's how.
All you need is a concealer (Clé de Peau Beauté), a bright lipstick shade, and an eyeshadow buffing brush. Use two lip liners: A matte lip pencil, from NARS, and a high pigment lip liner for fuller lip shot. Try the Bite Beauty lip liner for the same.
After applying the lip and the lipstick, dab the eyeshadow buffing brush into the concealer. Now sweep the brush from an outer corner, along the perimeter of your lip area until you reach the cupid's bow. Now trace another line from the cupid's bow to the other corner. Repeat the same along the bottom lip line. Now buff up the color with the concealer towards the center of your lips, on both the top and bottom lips.
2. Beige-y nudes
In addition to the shape of your lips, you also need to take your skin tone into thought, before picking a lipstick for yourself. The nude lip look gives every skin tone an Aha! Appearance, but for women with thin lips, it is a Godsent product!
Like mannequin nails, to do the nude lip look right, you need to go for a tone that is either a shade lighter or darker than your natural complexion. NEVER GO FOR AN EXACT MATCH!
Here are three nude lipstick shades that made the cut, according to experts from around the world. Read what they have to say about these muted shades.
Lashed Brown Sugar liquid lipstick
According to Nikki Ogunnaike, a Fashion Editor based in NYC,
"I have lip kit fever and the only cure is Blac Chyna's Lashed Brown Sugar. Finally, the nude lip I've been waiting for."
NARS
Natalie Matthew selected nude lipstick shades from NARS for those with thin lips, saying,
"I like to have two types of nude lipsticks in my arsenal: 1) the beige-y, opaque nudes that are meant to be noticed and feel sort of fashion-y, and 2) the sheerer, slightly pinker nudes that are meant to be subtler. This is my favorite of the latter, the perfect understated lip color for when I really want my eyes to be the focus."
Charlotte Tilbury
"I never thought I could wear lipstick that so closely matches my skin, but this ever-so-slightly sheeny lip shade makes my eyes look extra bright. I get compliments every time I wear it,"

-Gena Kaufman (Social media manager)
---
Suggested read: This Diwali Splash Out Loud: YOU Be The Bomb With These Festive Looks!
---
3. Shades of cerise
The sunshine status has no bearing on whether you should try bright pinks or not (I didn't say neon, by the way). Pink in pastels make thin lips look like petals. But if you are tired of that tried-and-tested pastel lip look, here are some expert-approved shades of pink that you need to douse your thin lips in to make a flirty girl-next-door statement.
Smith & Cult The Shining Lip Lacquer in Hi-Speed Sonnet
If you want your BAE to read your lips like poetry, you need to glide a stick of Smith and Cult's The Shining Lip Lacquer in Hi-Speed Sonnet on your nude lips. This shade not only makes your lips look plumper, but also speckles gloss over them to make the pout pop. The Shining Lip Lacquer is a cooler tint of bubble gum, which has a hint of shimmer, but not too much of it. The Portulaca Pilosa extract in the lippie, will accentuate your lips, making them look like a diva's.
Shiseido Rouge Rouge Lipstick in Sweet Desire
This rouge pink is a shade that pleases every single person! Right in the middle of a spectrum that scales between the brightest and the boldest shades, this Shiseido Rouge lipstick gives the girls with thin lips an ultra girly and bold appearance. This one is a longwear shade and does not bleed onto your skin, which otherwise is a huge lipstick issue for people with thin lips.
MAC in Please Me
With a warm mid-tone, this pink is the holy grail product for women with thin lips. It isn't blindingly bright, and yet, lends a dewy glow to your face. The texture of the lippie is matte and it contains a long staying powder, making it the best lipstick color for thin lips.
YSL Rouge Pur Couture in Rose Bergamasque
This pearlesque lip shade is the crème de la crème of peachy pink lipsticks. For those will cool undertones (Check the veins in your wrist. If they appear bluish, your undertones are cool. But if they are green, your undertones are warm). Since this lippie has less slip it is very easy to swipe them on the thinnest of lips.
4. Metallic shades 
Metallic shades for thin lips? Yes, you read that right! To flaunt the lip look, right, make sure you keep the rest of your face clean and makeup-wise minimal. If a wearing a bare face seems daunting, dab a muted bronzer under your cheekbones, but steer clear of swiping on a shimmery blush or metallic eyeshadow.
For the metallic lipsticks, the way you trace your natural lip line becomes crucial. Try and draw a very neat and precise stroke. This will warrant that the entire focus is on your lips. The rest of the look depends on you. You can go for a sleek hair do, or sport the wild and carefree curls. You can even team your metallic lips with a matte foundation to give yourself that chic flair.
Nude metallic
Nude metallic are not like Santa or elves; they exist! Those with thin lips should ease themselves into the trend by opting for metallic nudes, like the Lipstick Queen Metallic Lipstick in Nude.
Dewy metallic
Try the Lancome Color Design Sensational Effects Lipcolor. It is brimming with gentle, moisturizing ingredients, which your lips will heart! The two gorg metallic shades to pick from the line are Fashion con and Ooh La La.
Auburn metallic
A bold, shimmery orange looks great on thin lips, and the Lush Liquid Lipstick in Vibrance is one such shade that you must try. It contains jojoba oil and rose wax, which makes your lipstick an exfoliant and a moisturizer, at the same time!
5. Plum or berry
Step out of your comfort zone and try a plum or berry shade lipstick because it looks freaking awesome on thin lips. However, before applying the lippie, make sure you have exfoliated well, since you don't want to draw attention to your chapped lips, do you? Also, apply a primer prior to the lippie to prevent the lipstick from bleeding onto your skin or fine lines. To make the color stick out, highlight the area around your lips.
Do not go for a matte plum or berry lippie, because gloss is what highlights those thin lips the best! Here's some product inspiration for you:
MAC Lipstick in Rebel
This is a personal favorite! The stunning lip shade and formula makes this lippie a top notch choice on this list of lip colors for thin lips. The berry tone lip hue has a rich, deep intensity, which when coupled with a smooth texture, provides high pigmentation.
---
Suggested read: #InstaGlam Work your lipsticks to give you instant celeb looks
---
Faces Go Chic Lipstick in Plummed
This is a fairly popular lipstick, which is also very pocket-friendly. The dark plum shade has no shimmery or glittery particles, lending the lips a smooth, creamy finish. Also, it is a long wear product that lasts for 5 hours after application!
That's a wrap from us on how to pick the best lipstick color for thin lips. Was this guide useful? Which of these colors will you be bathing your lips in?  Let us know in the comment section below!
For more on makeup trends, tricks and tips, sign up for our daily newsletter today! Sayonara!
Featured image source: Pinterest/NUDEVOTION
Summary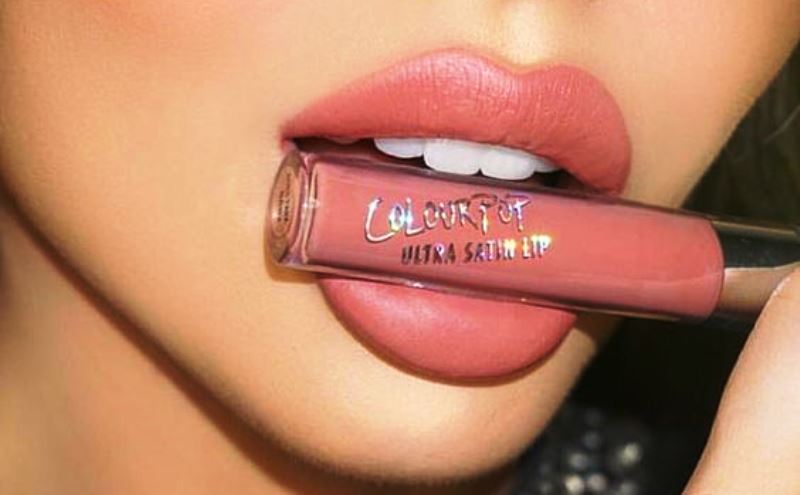 Article Name
A Guide To Help You Pick The Best Lipstick Color For Thin Lips
Author
Description
To pick the best lipstick color for thin lips, you must invest time in this post, & money in the shades listed in here! ;)