'Statement' is one of the most used terms in the fashion industry. But what does it actually mean? Anything that managed to grab attention, whether it is an accessory, a hairstyle or the outfit itself is statement, and needless to say, these 14 statement dresses certainly managed to grab our attention and made us re-think our wardrobe wish list.
1. Metallic summer shift dress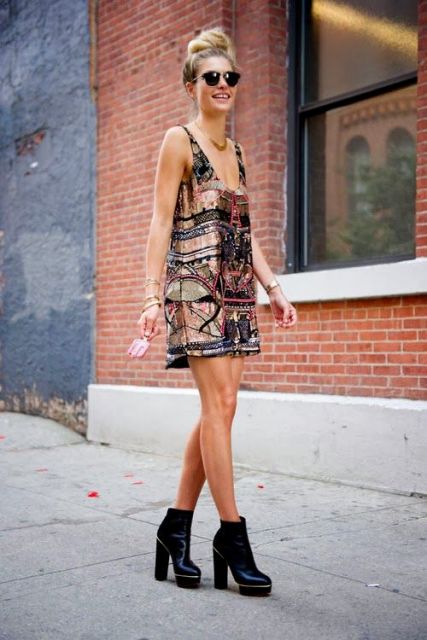 Image source: Pinterest
This amazing metallic print shift dress is the stuff of dreams. Also, it's a great choice for summer, because statement dresses can be a problem in summer. Pair it with a pair of high heeled boots for the ultimate fabulous look.
2. Floral and stripes grey on black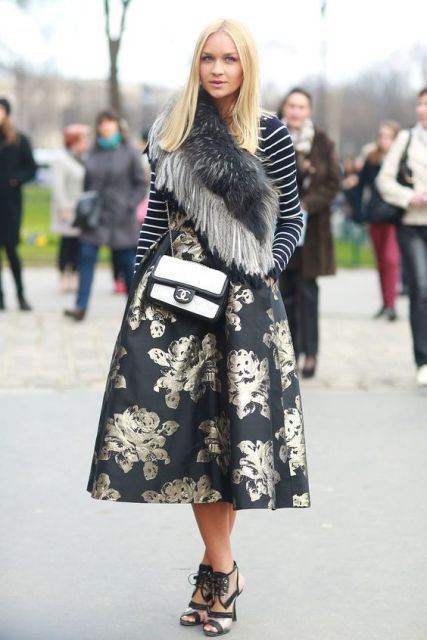 Image source: Pinterest
This stunning black and grey number is one of the most ingenious marriages of stripes and floral motifs, on the midi skirt and the full sleeved top. The faux fur stole is the perfect accessory to this gorgeous monochrome outfit.
---
Suggested read: 10 must-haves from international ramps from Spring Fashion 2016
---
3. The girl on fire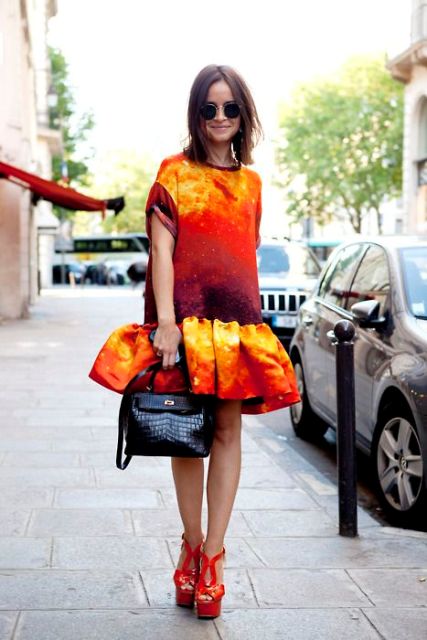 Image source: Pinterest
Here is Miroslava Duma giving you a lesson on two on how to dress down and dress hot. This shift and flare outstanding ensemble looks like you are wearing a galaxy which is ablaze. Accessorize with large black tote and red and black platform shoes and you are going to become the talk of the town.
4. Bold printed trench coat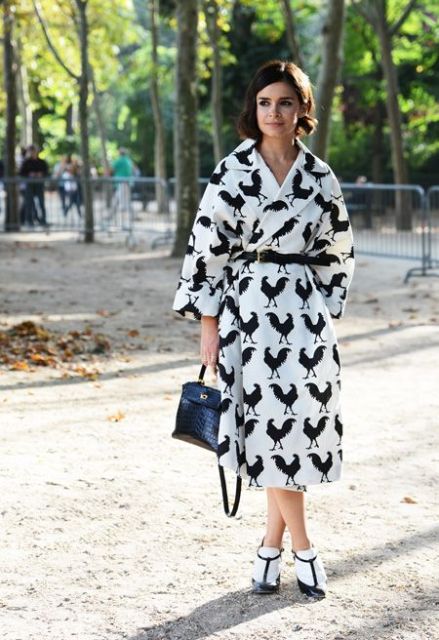 Image source: Pinterest
Miroslava Duma might just be everyone's fashion idol at the moment, at least when it comes to dressing like an absolute goddess. This black and white printed trench coat is made to grab attention and paired with the same black tote and monochrome hooves-style shoes, it is the very picture of perfection.
5. Contrasting pattern combination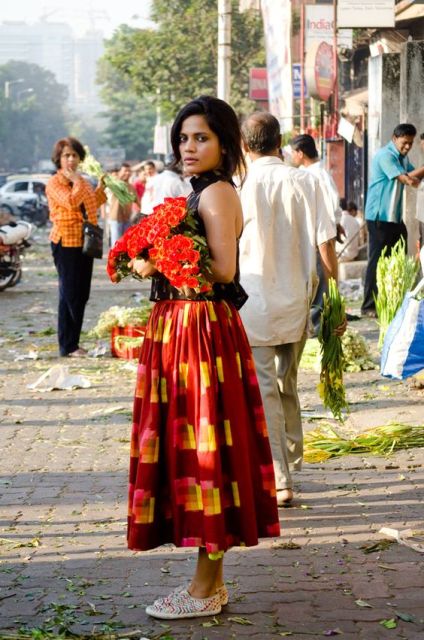 Image source: Pinterest
The red and yellow ankle-length skirt perfectly offsets the simple black crop top, and the funky shoes with the simple patterns are the icing on the cake. With a style like this, you have got your street style game on point.
6. Red and black oriental print dress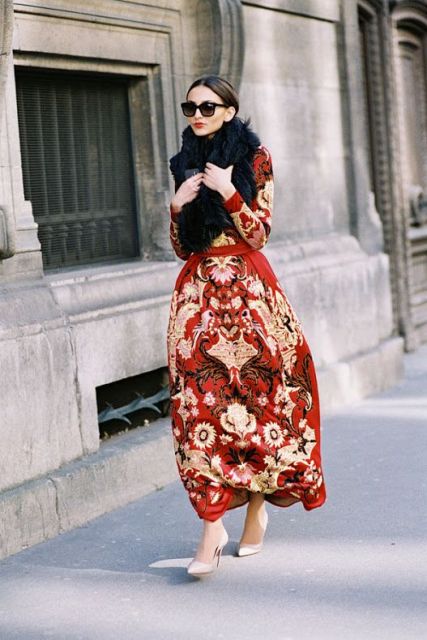 Image source: Pinterest
Red on gold is one of the most eye grabbing combinations out there, and with a full-length dress like this, you are going to look nothing less than an Oriental princess. A black fur or leather cover-up would look absolutely stunning with your outfit.
7. Structures pale pink outfit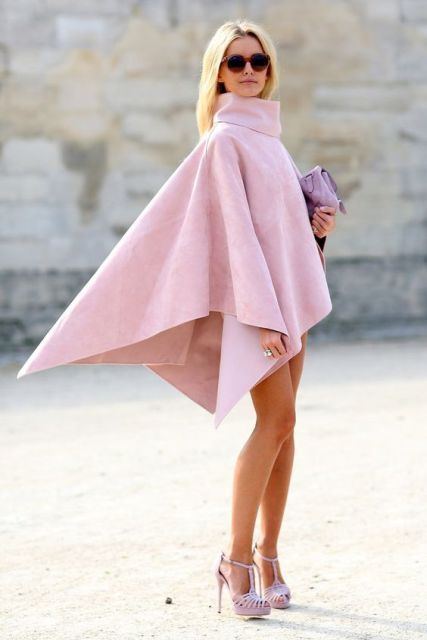 Image source: Pinterest
In an outfit like this, you might just be mistaken for a superstar. The structured lines on this dress, along with the asymmetrical hemline and the over-coat style design of the dress makes us weak in the knees.
8. Retro inspired full dress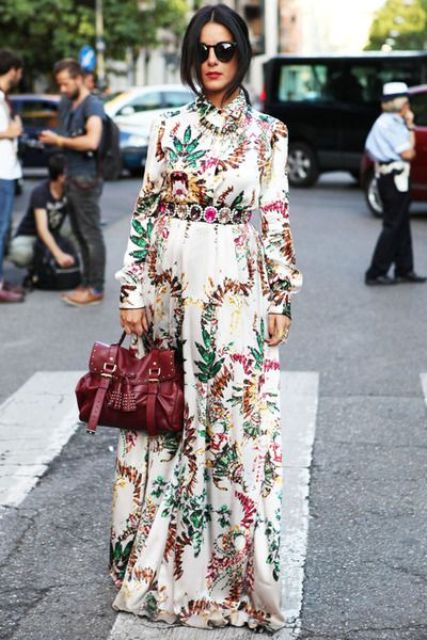 Image source: Pinterest
This white number is brought to life by the colorful leafy prints and the statement bejeweled belt, and when you have a dress like this, you are like to turn more heads than one on the roads.
9. Pale pink sheer dress with layers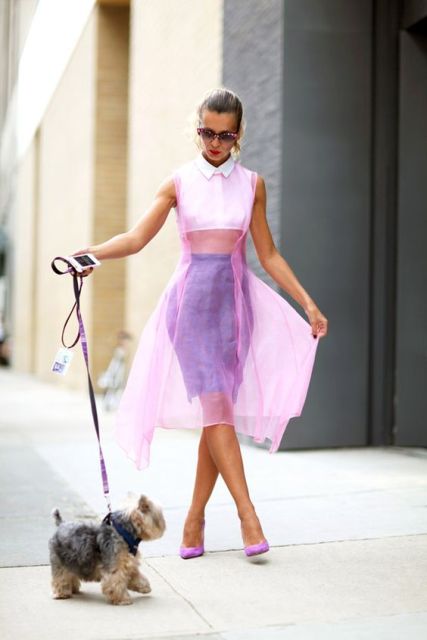 Image source: Pinterest
You can amp up your crop top and skirt game with this sheer pink dress which is like a film of sexiness over your already appealing ensemble. This is the future of fashion right here.
10. More bold prints and structures tops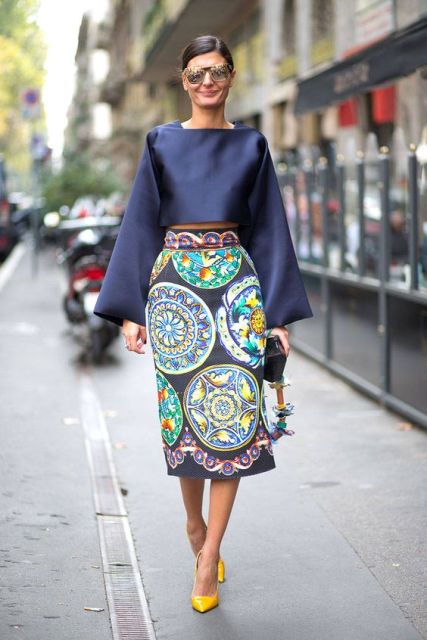 Image source: Pinterest
This statement ensemble is the stuff of dreams for every aspiring fashionista. The mid length pencil skirt with the colourful geometrical prints is wonderfully offset by the simple, yet chic structured full sleeve crop top in dark navy.
11. The maxi dress and blazer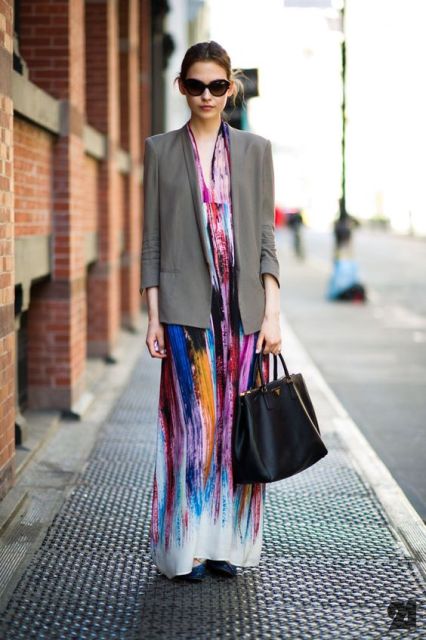 Image source: Pinterest
This is one of those revolutionary combinations which few people are brave enough to try, but those you do, look absolutely stunning. The burst of color on the maxi is complemented wonderfully by the beige boyfriend jacket.
12. Super cute fit and flare cutout dress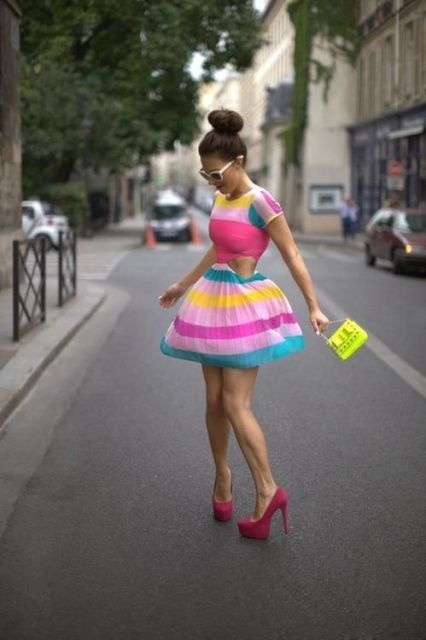 Image source: Pinterest
How can you make a commonplace fit and flare look like a trailblazing fashion statement? By wearing colours that look like they have come straight out of a comic book, and getting strategic cutout structured into your dress ofc.
---
Suggested read: 16 ways to rock the crop top this season
---
13. T-shirt and empire flare skirt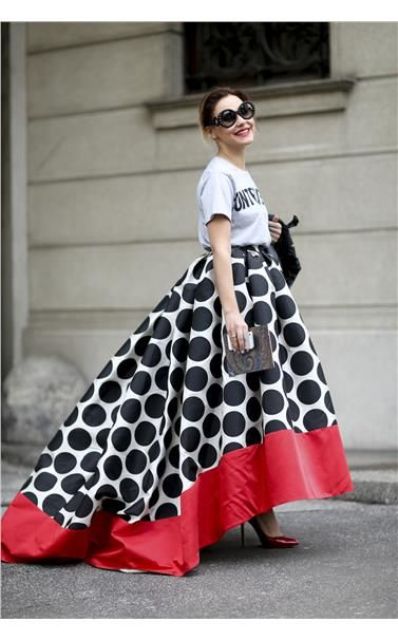 Image source: Pinterest
When you have simple t-shirt, and a skirt which is big and bold and printed with the most wonderful colours, you have a style that is straight out of Paris Fashion Week.
14. Clean grey and white wrap-around dress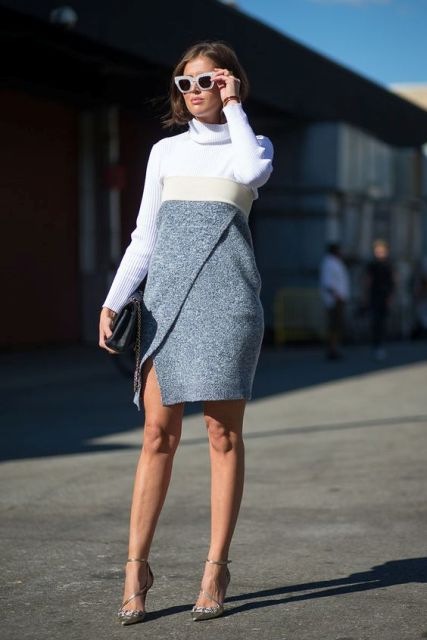 Image source: Pinterest
When you have straight lines, and neutral and appealing colours such as grey and white, you have a dress that is a semi-cardigan, semi-wraparound masterpiece, which can be worn irrespective of seasons and occasions.
Summary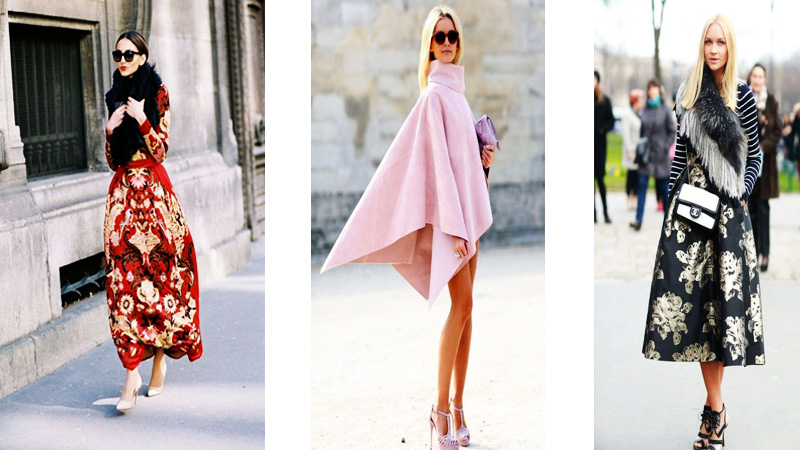 Article Name
14 Statement Dresses That Made Our Jaws Drop
Author
Description
Because statement dresses deliver what they promise- a statement!