So you have finally decided to get married, and like every other bride out there, you are super excited about your wedding and there is a ridiculous amount of planning to do. But there is a special catch which most other brides don't have to figure into their planning diary when they are preparing for their wedding – you are pregnant! Now, one of the most important aspects of planning your wedding is choosing the perfect, most beautiful wedding dress, and when you are looking for wedding dresses for pregnant brides, there are some extra features that you have to incorporate in the dress.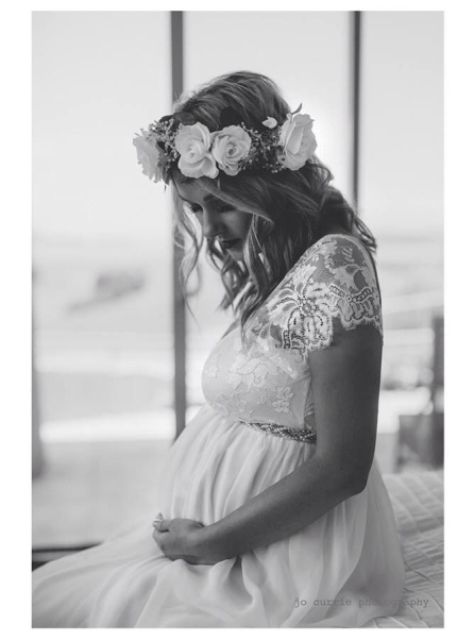 Image source: Pinterest
Having a baby growing in the tummy is anything but an inconvenience when you are getting married, and choosing a wedding dress. In fact, your growing stomach can only add to the elegance and the charm that you will radiate when you walk down the aisle in your maternity wedding dress. Depending on whether you want to hide or proudly display your baby bump, there are several elegant options for wedding dresses for pregnant brides that you can choose from. The only difference between these and conventional wedding dresses is that the fabric is stitched in a way which can comfortably accommodate your growing body, without making you look like a frumpy mess.
---
Suggested read: 20 stunningly sexy sheer wedding dresses that will make you swoon
---
In fact, these 20 elegant dresses prove to you exactly how elegant maternity wedding dresses can actually be.
1. Boho chic silhouette dress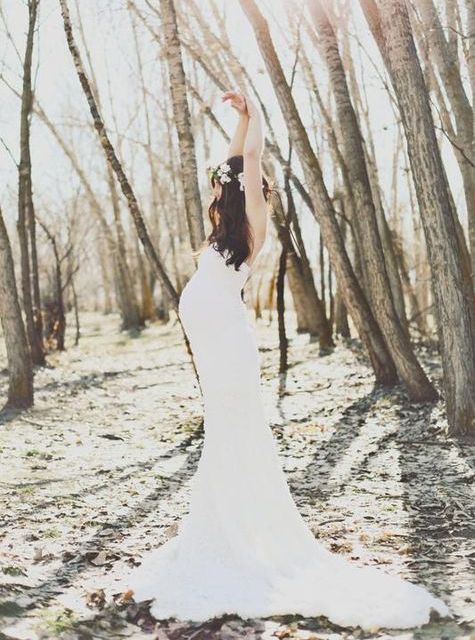 Image source: Pinterest
One of the common misconceptions that go around is that you cannot possibly carry off a fit-and-flare dress when you are pregnant. That is a lie, as demonstrated by this gorgeous pregnant bride, which combines boho chic with subtle, understated elegance, while sporting this ivory silk dress, with fur lining. Come to think of it, the bump adds more dimension to the dress; otherwise, it would just have been another fit-and-flare.
2. Ivory and lace elegant number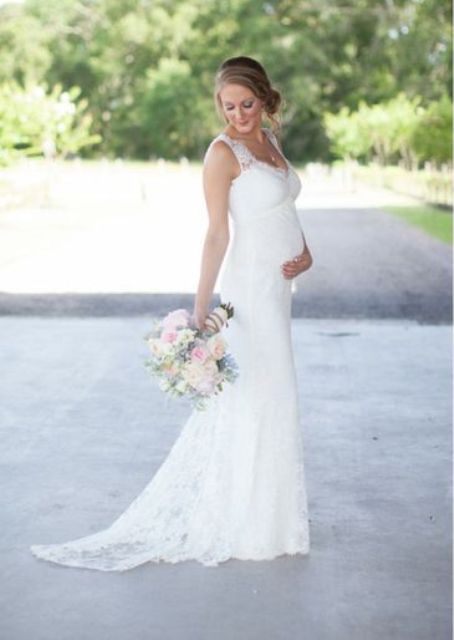 Image source: Pinterest
Dresses like these enable you to keep your bridal style simplistic and elegant, and at the same time, let you accommodate your bump without letting it get in the way of the beauty and subtlety of your wedding dress. The ivory silk bodice is embroidered with lace, and the extra panel in the midriff adds all the support that you need.
3. Keeping it short and sweet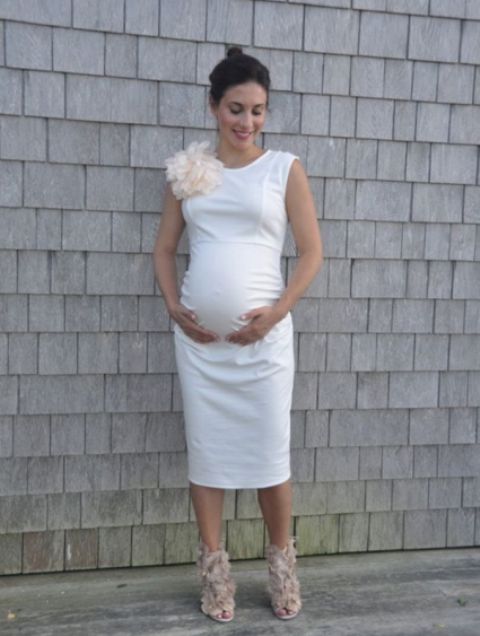 Image source: Pinterest
Just look at that drop-dead gorgeous midi dress with a simple round neck hemline, and loud tulle detailing on the shoulder. While choosing wedding dresses for pregnant women, apart from style and elegance, you also have to take care of the comfort factor in your dress to accommodate your baby without putting too much pressure on your tummy, and this dress perfectly embodies what I mean when I say stylish and comfortable.
4. V-neck chiffon with appliqués and crystals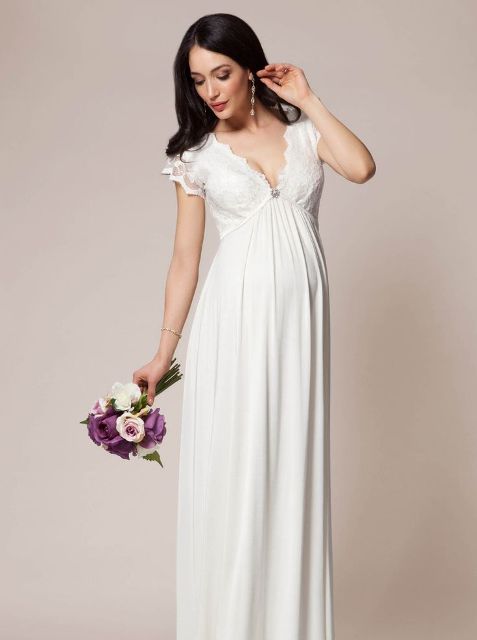 Image source: Pinterest
If you don't want to be too obvious about your pregnant belly, then this elegant wedding dress replete with several metres of flowing chiffon and lace details on the cap sleeves is the perfect choice. The plunging neckline and the rising panel line nicely offsets your belly, making the dress look elegant, without trying too hard.
5. Incredible floral empire wedding dress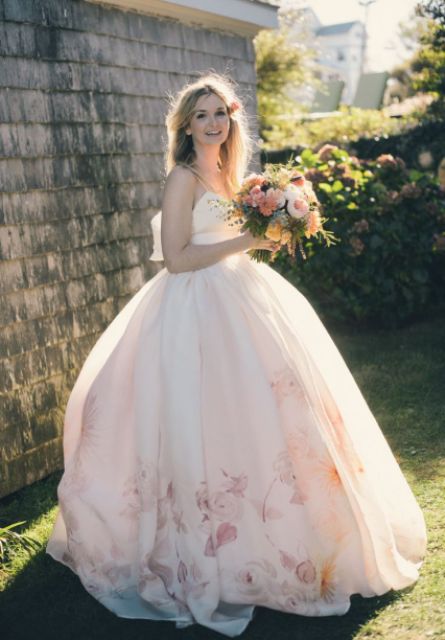 Image source: Pinterest
So this is possibly one of the most gorgeous wedding dresses ever, and it is absolutely perfect for pregnant brides, who don't want to be too obvious about their pregnancy. The empire waist skirt, with exquisite floral details near the hem and the slight tint in the strappy bodice makes this dress to die for whether you are pregnant or not.
6. Tinted tulle and organza princess dress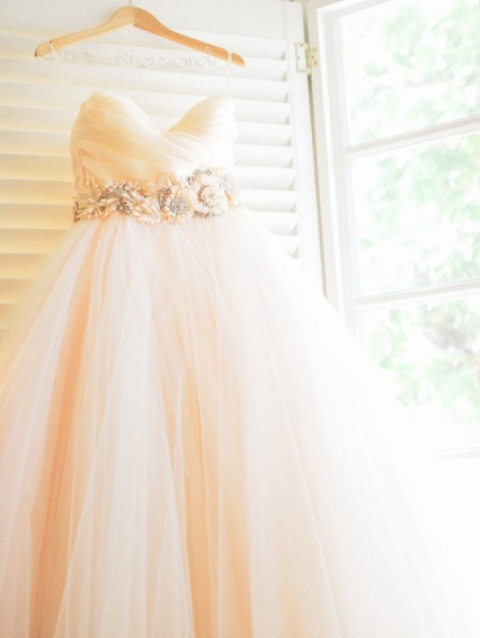 Image source: Pinterest
This is another dress which proves to you that wedding dresses for pregnant brides can be as gorgeous as any other wedding dress. The super high waist-line ensures that there is no pressure on your baby bump, and the ample tulle and organza in the skirt adds crazy charm to the dress. The off-shoulder sweetheart neckline is oh-so-classic and perfect for pregnant brides.
7. Off-shoulder lace wedding dress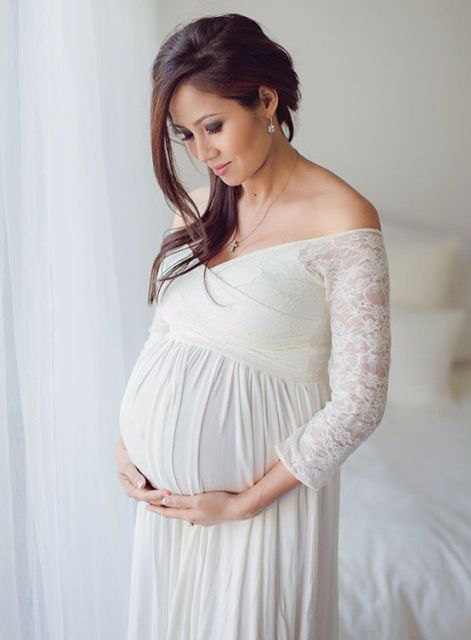 Image source: Pinterest
It is usually presumed that pregnant brides should avoid strapless wedding dresses, because that way they will not be able to get the support they need for their baby bump. This dress proves them wrong, by showing you exactly how elegant a simple lace off-shoulder number, with a pleated silk bodice can look, even if you have the biggest pregnant belly.
8. Sheer wedding dress with romantic cape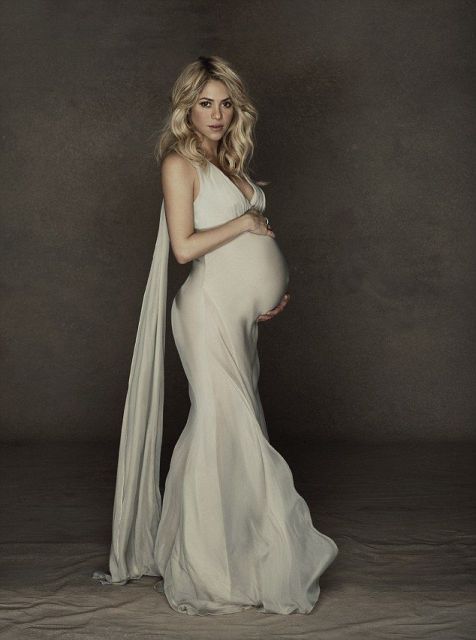 Image source: Pinterest
Yes, so I managed to slip Shakira into this list of pregnant brides, but look how absolutely stunning she looks! Wedding dresses which are made of dull silk are so perfect and so comfortable for pregnant brides, and also adding a cape instead of a veil to the structure of the dress only makes you look more badass.
9. Romantic pale pink sheer dress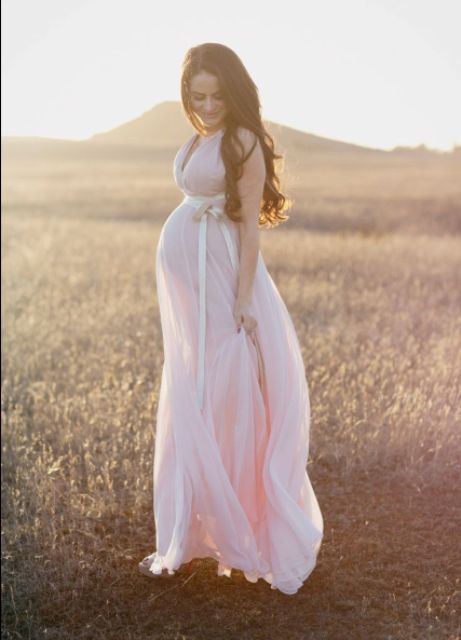 Image source: Pinterest
Again, I stand by my point that mommies-to-be should not be ashamed of their bump on their wedding day, and here is another gorgeous tinted number to prove my point. The V-neck bust is enough to give you all the support you need, and the rest of the dress is just made of the stuff of dreams. (Also, how amazing is that satin bow?)
10. Flowy sheer dress with French lace and embroidery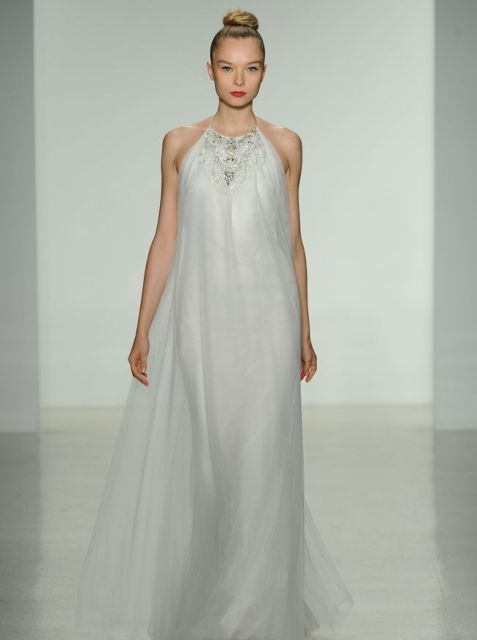 Image source: Pinterest
For brides who don't want to announce to everyone that they are pregnant yet, de-structured dresses like this are perfect to dress up in for your big day. There is absolutely no point in the dress when you feel pressure on any part of your body, and the flowy tulle combined with the French lace and crystal embroidery near the neckline makes it nothing short of a mini-spectacle.
---
Suggested read: 15 blush wedding dresses bound to make your blush with pleasure
---
11. Jazzy vintage-inspired wedding dress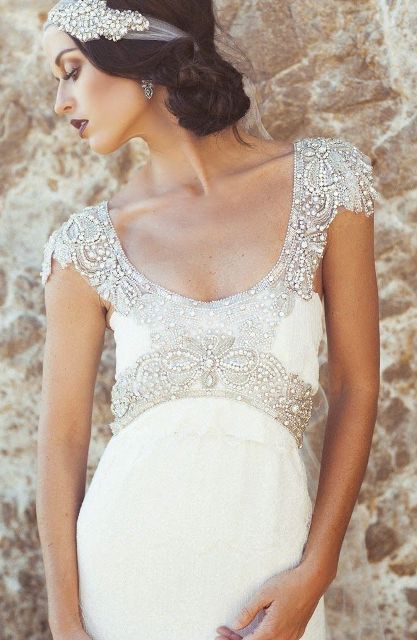 Image source: Pinterest
Wedding dresses like these are so heavily embroidered near the bust, that most of the attention is drawn away from your growing baby bump. This wedding dress is a stunning vintage-inspired masterpiece, with heavy embroidery with crystals and sequins, and a nicely camouflaged corset, which gives support to your growing tummy.
12. Fitted wedding dress made of pure silk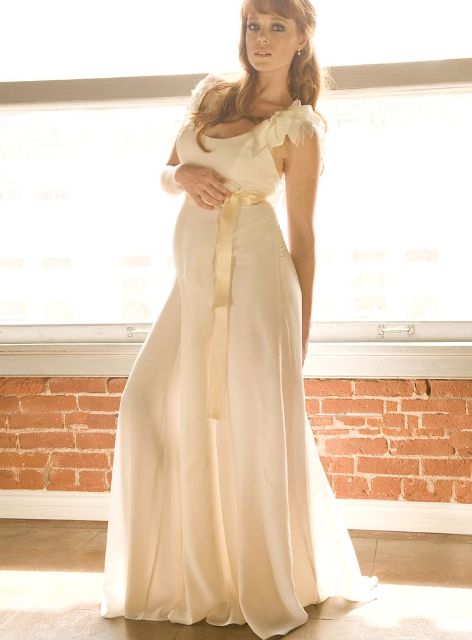 Image source: Pinterest
One of the best things about this wedding dress is the pure silk bodice, and the sudden burst of color through the extended tinted bow detail on the waist line. In addition to that, the ruffled tulle sleeves add a certain amount of understated wildness to this otherwise elegant number.
13. Textured lace wedding number by Tiffany Rose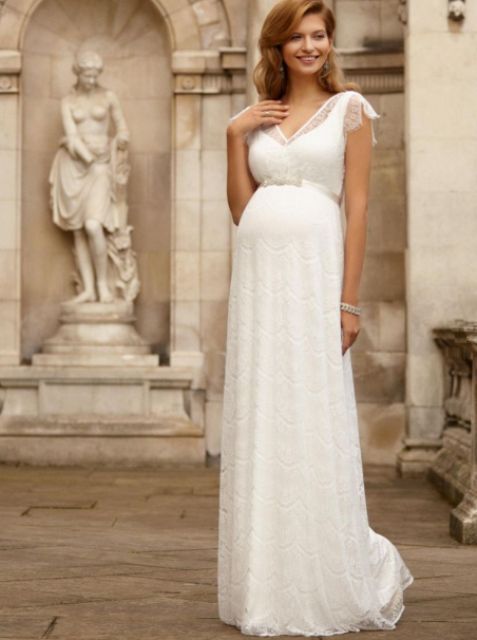 Image source: Pinterest
This decent wedding dress might look simple and adorable on the surface, but when you examine closely, the incredible lace details, the illusion neckline which adds character to the dress, and the ivory silk bow make the dress shine like none other. Also, the bow highlights the sweet baby bump that you will carry, when you walk down the aisle.
14. Stunning sequinned gold maternity wedding dress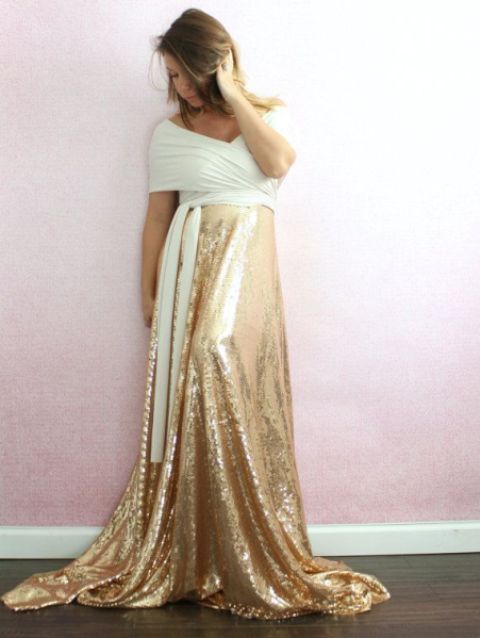 Image source: Pinterest
So who says that you cannot bring out the fun, party-animal side of your personality when you are getting married while carrying your baby? No one, because this is one of those dresses which makes you shine and sashay your way through your wedding without having to make sacrifices to accommodate your baby bump. The gold sequinned skirt is not only unique, but widens your horizons in terms of options as well.
15. Another vintage-inspired number by Cathy Telle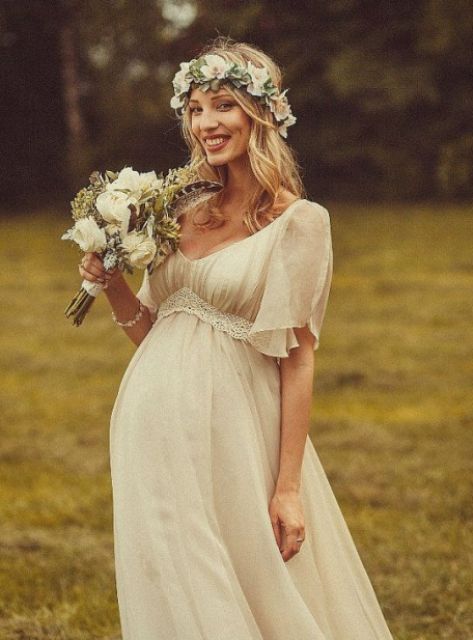 Image source: Pinterest
You might not be very comfortable with a corset, which is used to lend extra support to your growing tummy when you are pregnant, in your wedding dress. This adorable vintage-inspired number with tulip sleeves and lace detailing demonstrates how you can choose the most elegant wedding dresses on your big day.
16. Ruffled pink-tinted wedding glamor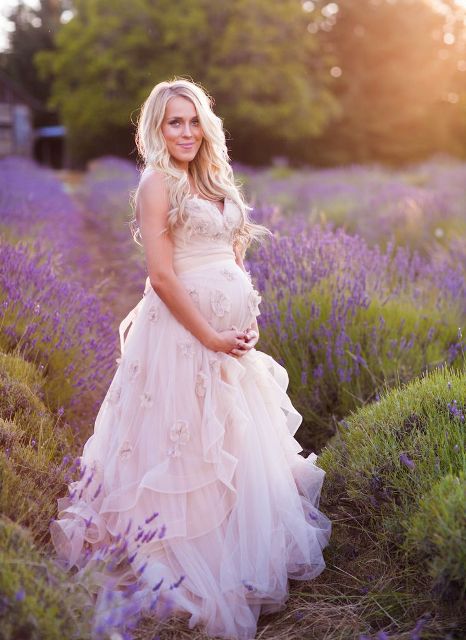 Image source: Pinterest
This adorable bride shows you that you can play with tints, ruffles, bold necklines, and high waists, even when you have a large baby bump to show off. The pink ruffles tumbling down in the layered skirt with the occasional satin detailing, along with the off-shoulder sweetheart neckline makes this dress so incredibly beautiful for expecting brides.
17. More sequins!
Image source: Pinterest
My obsession with sequins has not ended yet, and how can it when you have stunners like this being made available for glowing pregnant brides? The simple V-neck with the uniformly distributed sequins makes you literally shine your way through your wedding, without stressing about an over-complicated wedding dress. On the whole, the simple V-neck, the loose sleeves, high waist, straight skirt, and most importantly, that amazing red mouth gives you enviable Gatsby vibes.
18. Simple tulle two piece wedding number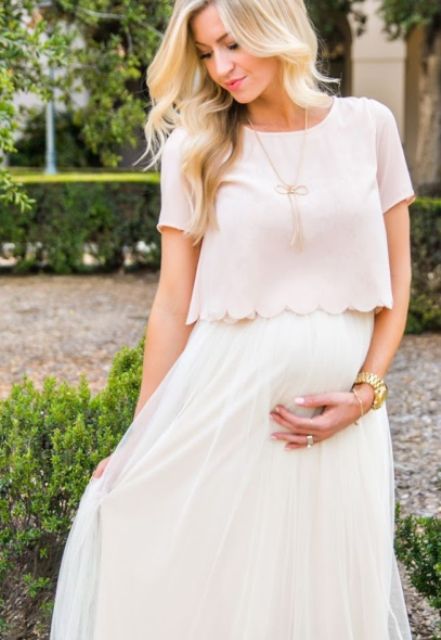 Image source: Pinterest
This is another surprise (a pleasant one) which demonstrates that you can be pregnant and wear wedding separate, to look absolutely gorgeous. The stenciled pink top with the long, romantic tulle skirt is everything you need to look like an elegant bride, while you carry your baby without feeling uncomfortable about your dress.
19. Exquisite silk wedding dress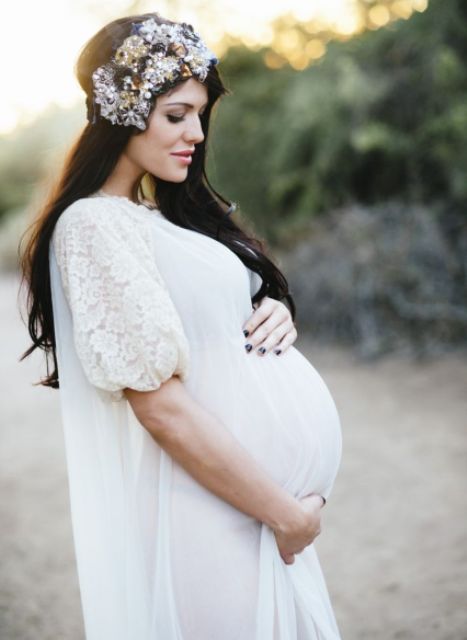 Image source: Pinterest
This is another caped number (see Shakira because you can't see enough of her) with bell sleeves which have stunning lace detailing. The general idea of the dress is to make you feel comfortable, while still managing to make you look like a Goddess. I think it has sufficiently succeeded, even without the elaborate head-piece.
---
Suggested read: 15 stunning long-sleeved wedding dresses that make a statement
---
20. Elegant, risqué silk and lace wedding dress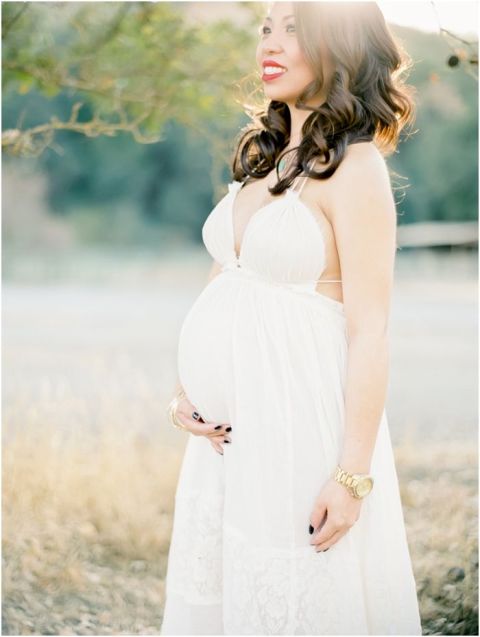 Image source: Pinterest
A wedding dress which proudly displays your gorgeous pregnant belly while making you look like the sexiest thing alive is definitely worth considering when you are looking for wedding dresses for pregnant brides. This strappy silk number is both appealing and elegant, and it is bound to make you look gorgeous, baby bump or not.
So these were some of the most elegant wedding dresses that caught our eye for expecting moms, and one thing is for sure, your baby bump just adds to the charm and elegance of your dress.
Featured image source: Pinterest
Summary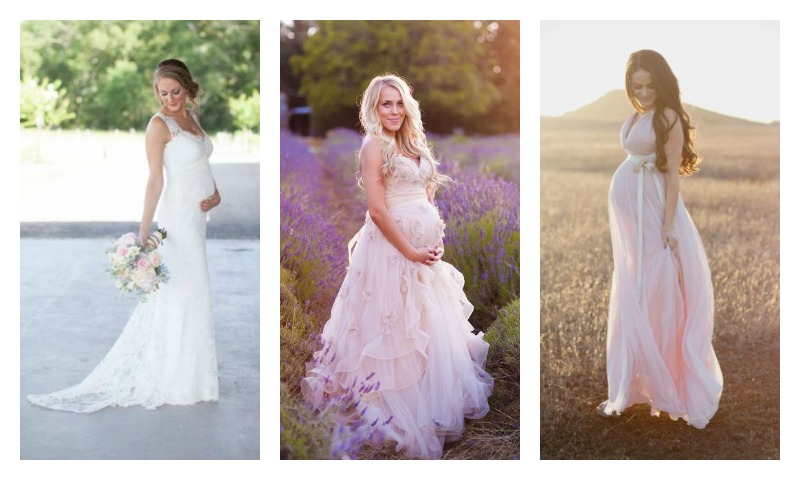 Article Name
20 Elegant Wedding Dresses For Pregnant Brides
Author
Description
Who said pregnant brides can't wear elegant wedding dresses? These 20 graceful wedding dresses for pregnant brides prove otherwise!