Today, we are going to talk about some of the best lipstick for dry lips, because it is something a lot of our readers have had trouble with. If you are like me, then you are totally obsessed with lipsticks, but you are also unable to wear them all the time, because you have dry lips.
Dry lips are something a lot of people have to deal with, which can not only lead to problems like chapped lips and bleeding, but it also prevents you from sporting your favorite lipstick while feeling comfortable. If you are bemoaning the fact that dedicated moisturizing is still leaving your lips dry and chapped, and the formulas of your lipstick isn't helping things, then we have good news for you.
It is always good to know the formula that your lipstick is made of, and you must also be aware of the fact that not all lipsticks have a hydrating formula. Sometimes, they can be the reason why your dry lips problem isn't going away, which is when you can check out the best lipstick for dry lips with come specifically with a moisturizing and hydrating formula.
---
Suggested read: 15 Gorgeous Matte Lipstick Shades You Simply Can't Do Without!
---
However, if you are prone to dry lips, then you have to be extra careful about your lip care routine, even if your lipstick is ultra-hydrating. You have to go through at least a two-step process to ensure that you can look fabulous in your lip color for the longest time, without having to lick it off while trying to keep your lips from bleeding.
First, you have to exfoliate your lips, so that the dead skin cells are removed and the soft, supple skin is exposed. Secondly, you have to lock the moisture in by using a moisturizer, which will also serve as a base for your lipstick and prevent anything from drying your lips out, creating a double layer of protection.
Now that you have your lip care routine in place, here are the lipsticks which are specifically made to care for your dry lips, while still making you look super fabulous.
1. NYX Lip Lingerie Lipstick
NYX is a wonderfully versatile and affordable brand which also has one of the largest selection of shades that you can choose from. If you have been searching for the perfect hydrating nude shade for your lips, then the Lip Lingerie collection has some of the best shades that you can choose from. The formula is also super smooth and moisturizing and glides onto your lips like butter, and stays out without drawing out moisture.
2. L'Oreal Colour Riche Lipcolour
The Colour Riche series from L'Oreal has been lauded not only because of the stunning shades that you can choose from, in every possible color that you can imagine, but is also favored because of its super hydrating formula. It contains nourishing ingredients like Vitamin E oil, omega 3 and Argan oil, all of which helps you get amazing coverage and super soft lips.
3. Revlon Super Lustrous Lipstick
Makeup bloggers all over the world gave this lipstick raving reviews because it is true to its name and gives your lips the treatment they deserve. Along with having some of the best, popping colors on the spectrum, these Revlon lipsticks also have a smooth finish with the most weightless and moisturizing formula. This is not only a great makeup product, but also adds to the beauty care routing that you need for your lips.
4. Rimmel Moisture Renew Sheer And Shine Lipsticks
One of the best lipsticks for dry and chapped lips is of course, the Rimmel Moisture Renew collection. These lipsticks come in some of the most vibrant colors, and are more of a lip balm than a lipstick, because they leave your lips softer after each wear. They also contain SPF 20, which is great for protection of your sensitive lip skin, and even though they have a super light formula, it doesn't draw out the moisture from your lips.
5. Tarte Tartiest Creamy Matte Lip Cream
For people who have dry lips, finding the right matte lipstick, that too a matte liquid lipstick which doesn't leave their lips feeling like sandpaper, can be quite a challenge. The end of your woes comes in the form of Tarte Tartiest Creamy Matte Lip Cream, which has one of the smoothest, most delicious formulas, which simply glides over your lips without a fuss. It is also ultra-hydrating, which gives you soft, supple lips, and matte lips at the same time!
6. Maybelline Color Sensation Bold Matte
The Color Sensation Series from Maybelline comes in some of the most wonderfully subtle shades, and if you are still a little wary of using liquid lipsticks on your dry lips, but want that perfect matte finish, then this is the lipstick for you. It is a wonderfully light formula which is easy to apply, but has a long-lasting coverage which also nourishes and moisturizes your lips.
---
Suggested read: The Ultimate Beginner's Guide On How To Apply Liquid Lipstick Like A Pro
---
7. Bobbi Brown Creamy Lip Color
When you are using Bobbi Brown, you know you have access to one of the best makeup brands in the world, who use some of the best organize material to ensure that along with looking great, you also don't fall short of taking care of your skin. The Bobbi Brown Creamy Lip Color series has some amazingly beautiful shades which you can choose from, and the lipstick itself is loaded with the goodness of shea butter of Vitamin E oil, which gives you soft lips after every use.
8. MAC Matte Lipstick
MAC is one of best brands when it comes to lipsticks, but they have a gazillion collections, so you have to be careful about choosing the right one, especially if you have super dry lips. The safest bet for you is the MAC matte collection, which boasts of over 20 shades which range from nude to a super intense red, and have the most wonderful velvety finish. It doesn't look cakey on your lips and it certainly doesn't dry your lips out.
9. Lakme 9 To 5 Matte Lipstick
Lakme packs a surprising punch with the 9 to 5 collection, which one of the best and most affordable makeup products available right now. The formula is super smooth and smells really nice, and when you want a high-performance glamorous look without making your lips go through hell, you should definitely consider the matte lipstick from Lakme's 9 to 5 collection. They also come in a variety of shades that you can choose from.
10. Smashbox Be Legendary Matte Lipsticks
The Smashbox Be Legendary Matte Lipsticks are included here as the popular choice winner, because people who have dry lips practically swear by how good this one actually is. The formula is smooth and creamy and applies on your lips really well. It also comes in 18 gorgeous shades and has a long-lasting effect, without requiring layer after layer of touch ups.
11. Tom Ford Beauty Lip Color
Tom Ford is one of the leading names in the fashion industry, and so it is only expected that his makeup products will be as good. These lip colors are great for the lips because they come with a long-lasting and intensely moisturizing formula, which makes them even more alluring. They are also available in a variety of shades, which are also sought after because of their highly pigmented formula, which gives your lips a wonderfully intense, yet hydrating finish.
12. Jeffree Star Velour Liquid Lipsticks
If you have ever been lucky enough to be the owner of a Jeffree Star Velour Liquid Lipstick, then you would know how totally amazing and versatile his products are. Not only is the formula super luxurious, but it also dries really fast without actually drying out your lips. If you use moisturizer before you apply this lipstick, then you will get a brilliantly vibrant matte finish, and the super drying formula will also lock the moisture in. You can also choose from some of the most amazing and bold shades that they have on offer.
---
Suggested read: 13 Best Dark Lipsticks For All Occasions You MUST Own
---
13. Dose of Colours Matte Lipsticks
One of the most beautifully pigmented lipsticks in the market is also one of the most sought after because of its hydrating and ultra moisturizing formula, which you wouldn't expect from an underdog brand like this one. They have some of the best color ranges that you can choose from, and the amazing matte finish might mislead you into thinking that it dries out your lips, when it in fact, it does exactly the opposite.
Now that you are equipped with the best lipstick for dry lips that are available in the market at the moment, there is nothing separating you from your love for lipsticks. As long as you remember that you have to exfoliate and moisturize a little more than the regular person, and you have these amazing brands to your rescue, you can go conquer the world with your fabulous lip color!
 Featured image source: Instagram
Summary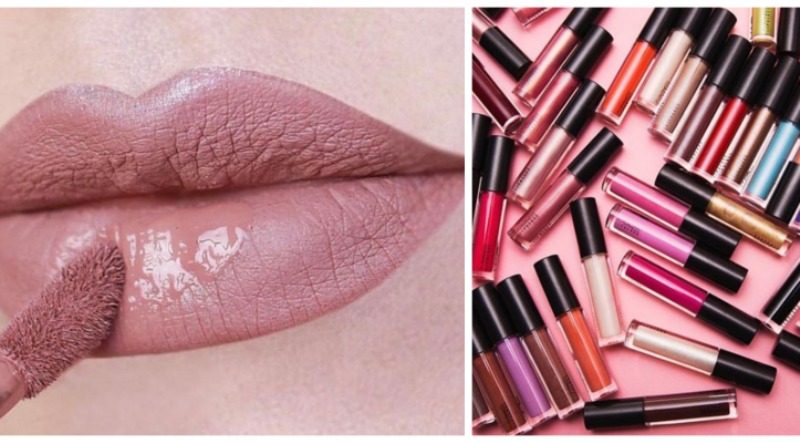 Article Name
All You Need To Know About The Best Lipstick For Dry Lips
Author
Description
Choosing the best lipstick for dry lips can be quite a challenge. Here is a complete guide on the best lipsticks which are both gorgeous and hydrating.