Since the time we were little and played dollhouse, my best friend and I planned every detail of our weddings together. However, nobody realizes that real life isn't 'Bride Wars' and best friends don't tie the knot together or have babies at the same time: while one plans to get married in Egypt near the Nile, the other has to run around in her second trimester checking out pregnant bridesmaid dresses! When you are 'expecting', do not expect things to go according to your expectations!
Early last year when my best friend told me about her wedding plans. However, to my horror, she postponed it to December when I would be two trimesters down! There was no avoiding it: I would have to shimmy her down the aisle with my swollen tummy! Though I had a tough time figuring out how to show 'my blessing' and look elegant at the same time, when the day arrived it was quite a success!
---
Suggested read: 20 chic bridesmaid hairstyles for medium length hair
---
Thus, here is my guide, for all my sisters on the same 'bloat', on how to look graceful in pregnant bridesmaid dresses!
1. Valerie Gown / Vintage Victorian Off the Shoulder Split Front Maternity Gown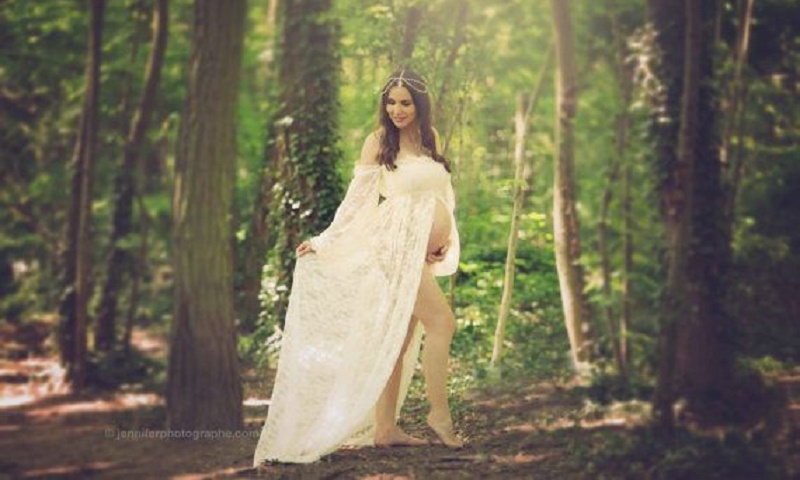 Image source: Pinterest
These vintage lace maternity bridesmaid dresses are gorgeous! With rumpled trim and removable sleeves, you can turn the dress around for a non-slit appearance. How cool is that! The cooler thing about it is that it is universal when it comes to size, approximately 58″ from the armpit to the floor. In other words, you need not worry even if you are a D or D+!
2. Leyah Gown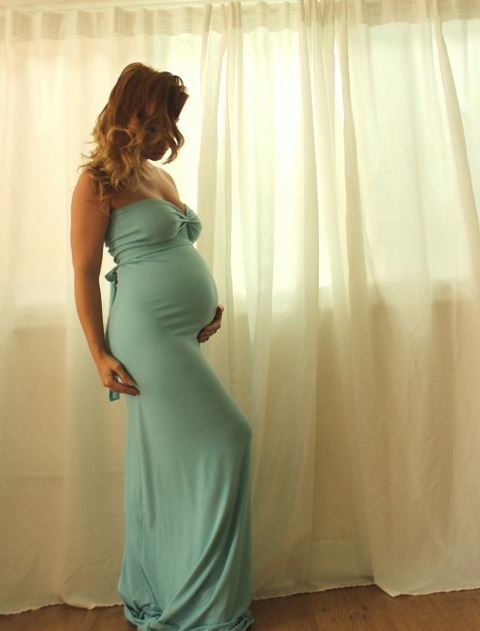 Image source: Pinterest
The Leyah gown is a spectacularly knit maternity bridesmaid dress! Made to order with some yarns of "Gorgeous Flowing Knit" material, it has a split front that is bound to make you look your best at the wedding photo shoot! Can you believe that there are forty different ways to shawl the top? While the average length is 60″ under the bust, you can even flick the outfit backwards and don it like a skirt flaunting that bump!
3. Feel perfectly supported in Nearly Nude maternity underwear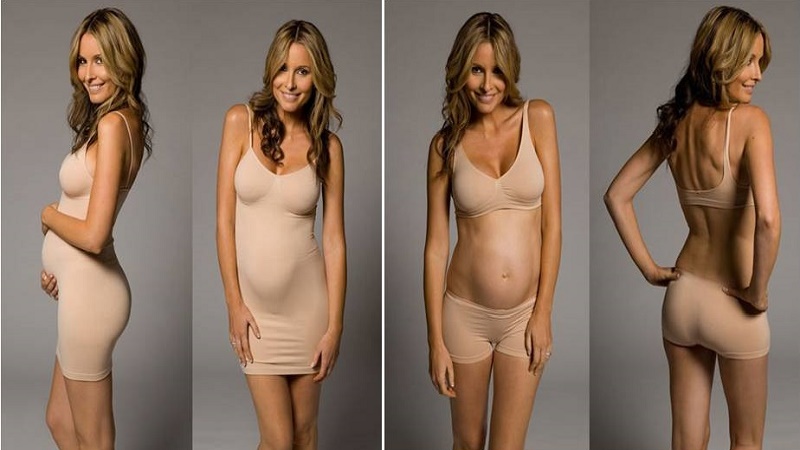 Image source: Pinterest
The phrase "beautiful inside out" sometimes becomes quite literal! "Nearly Nude" is requisite when it comes to shaping yourself up. This underwear is designed to flatten out any awkward bumps that may be visible. It creates a streamlined profile. Do the Perfect Pants in any way jog your memory of "Bridget Jones"? They fit up to size 16 and are toned superbly with a Comfort Bra, which can even help you while breast feeding!
4. Mia Dress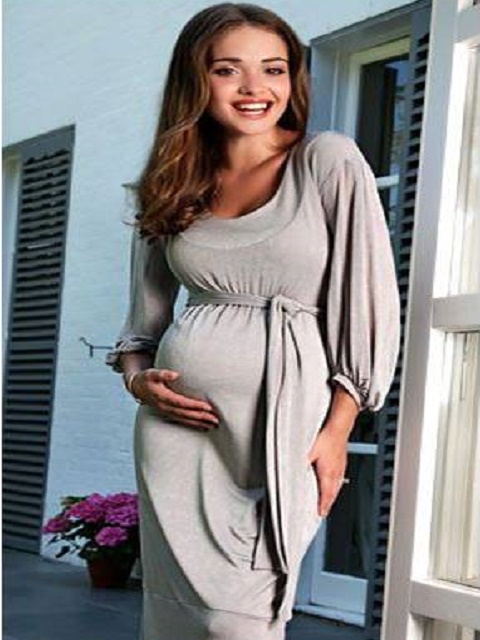 Image source: Pinterest
Midday dressing need not necessarily kill glamour, right? These stunning silver pregnant bridesmaid dresses add to your allure and charm greatly. Vintage yet up-to-the-minute and bubbly, these gowns lend you that 'Ooh! So effortless' look! With a matte texture and soft shines, the dropped neckline and shoulder sleeves are bound to make you look fabulous! It is important that you feel and look relaxed at the wedding— this stretchy gown from Mia does both!
5. Chiffon V-Neck Sleeveless Empire A-Line Long Simple Maternity Wedding Dress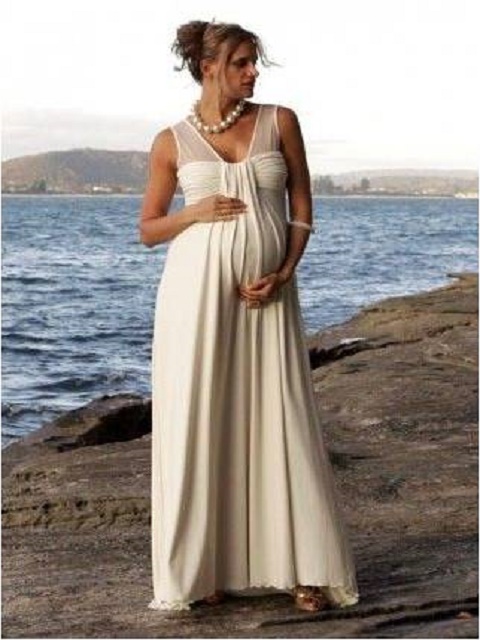 Image source: Pinterest
These chiffon maternity bridesmaid dresses are of floor-sweeping length and without sleeves. The gathers that fall from the cleavage run down your bump and smoothen it, making you look sleek and gorgeous of course!
6. Flutter Dress Long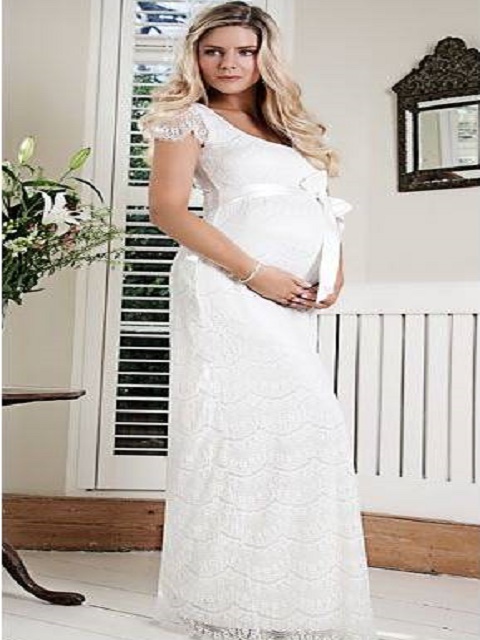 Image source: Pinterest
The Flutter full-length maternity gown is indulgent with ivory lace and a classic eyelash detailing. It is romantic and can be worn at any time between dawn and dusk! Your 'new curves' are flattered to give you a flawless demoiselle figure. The invitees are bound to gasp when you walk in in this embroidered lace gown with a French flair! The eclectic column kilt is cheering while the easy squared neckline admires your bust and curves.
7. Tulip Dress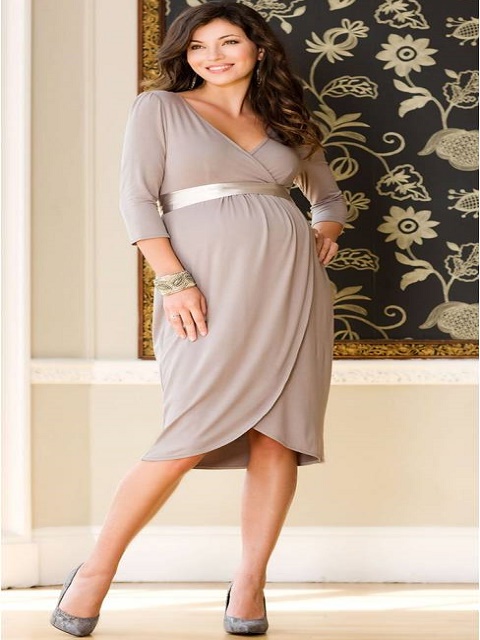 Image source: Pinterest
Beautiful in every possible way, these Tulip maternity bridesmaid dresses are happily comfortable! These wrap-ups have a V neckline with a sexy décolletage. The three quarter sleeves will flaunt the love band that your babe gave you last Christmas very well. The attachable oyster satin belt fastens over your bump and the excellent soft jumper glides painlessly over your curves, creating a slicker silhouette. The best part: You can even wear it post-pregnancy!
8. Ball Gowns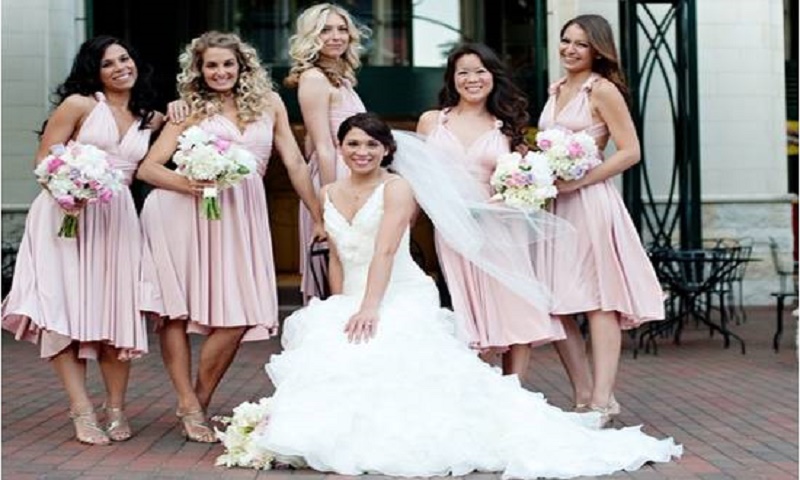 Image source: Pinterest
Can you imagine a ball gown, which can be wrapped in 15 different ways regardless of your shape and size? This classic collection allows you that luxury. Style it as an off-shoulder dress or give it a Grecian Twist… wrap it the way you like every time you wear it!
9. Chloe Lace Dress Short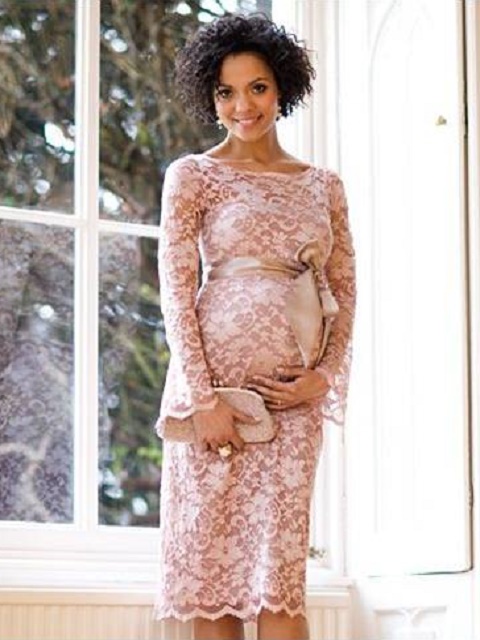 Image source: Pinterest
Glow up as you grow up! This Chloe Lace short dress also has a Vintage Rose edition now, with soft, fine dusky-pink jersey lining. It hugs in the right places, making you feel cozy with an empire waist stretching as much as you want it to!
10. Chiffon Maternity Gown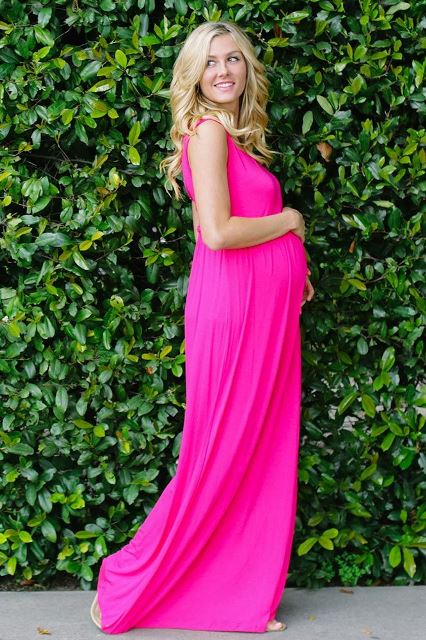 Image source: Pinterest
The Sheer Chiffon maternity bridesmaid dresses will make you want to 'say Cheese' at your friend's wedding! With a luxuriously knit top, this gown stretches enough to fit in your bust. However, it does not have a split. Nevertheless, if you have put on those pounds on your thighs, this is good news!
---
Suggested read: 25 graceful bridesmaids hairstyles for long hair
---
11. Stretch Lace Maternity Gown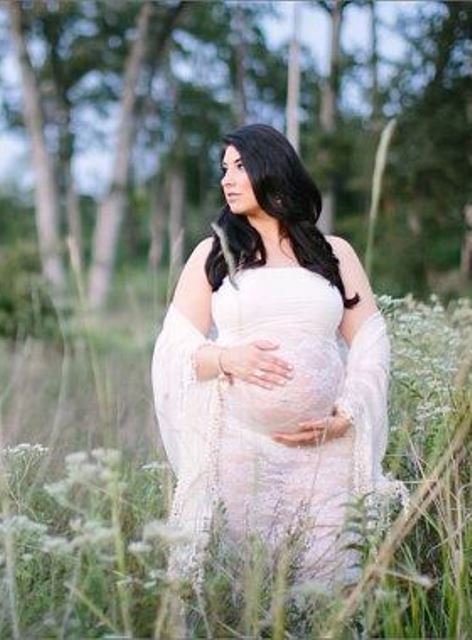 Image source: Pinterest
These maternity bridesmaid dresses are available with front-splits and thus, show off the mommy-to-be's bump! They are offered in white, ivory, and toffee, though not all colors have the intricate lace! With a floral crown to go with it, you are bound to look every bit of the diva that you are!
12. Jessica Gown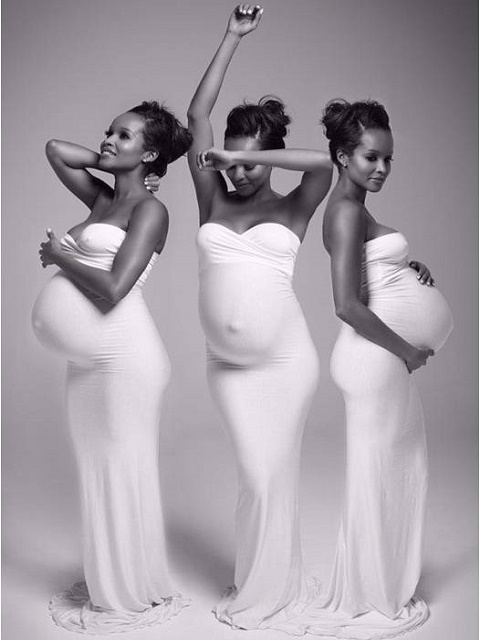 Image source: Pinterest
These form-fitting pregnant bridesmaid dresses accentuate the curves yet still are long enough to sweep the floor behind you. Deeply knit with remarkably rich tint, this will add the 'honor' to the pregnant 'maid'!
13. Jennifer Gown
Image source: Pinterest
The sweetheart-style lace maternity bridesmaid dresses measure 58″ from bust to the ground, giving your legs space to spread out. The split in front is optional.
14. Rebecca Gown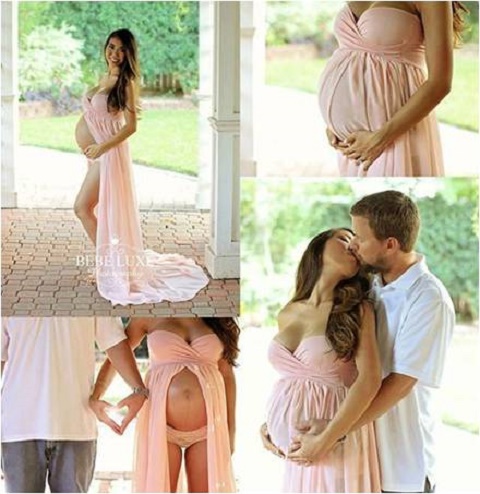 Image source: Pinterest
The Sweetheart Style Sheer pregnant bridesmaid dresses split in front to brag about the 'good news'. The sleeveless cups are firm yet allow you to breathe and stay calm. Too much exposure, you think? Well then the next gown is for you!
15 .Sleeveless Jersey Dress with Charmeuse Waist Band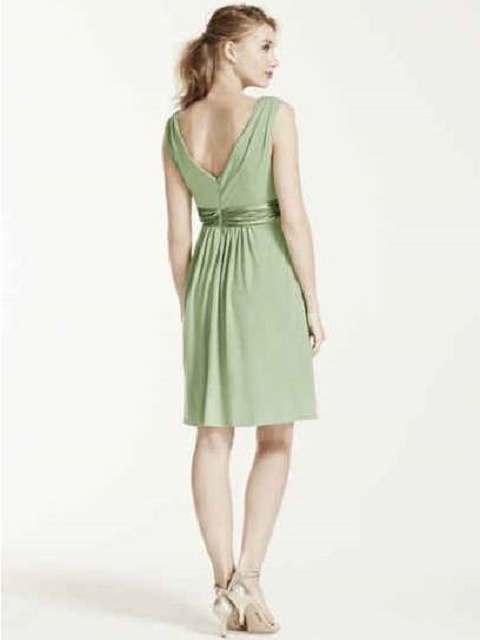 Image source: Pinterest
With brilliant wear-again potential, this sleeveless jersey dress for pregnant bridesmaids is chic yet comfy! The back zip only adds to the convenience while the Carmeuse trim accentuates the waist. A head-turner for sure!
16. Seraphina Maternity Bridesmaid Dress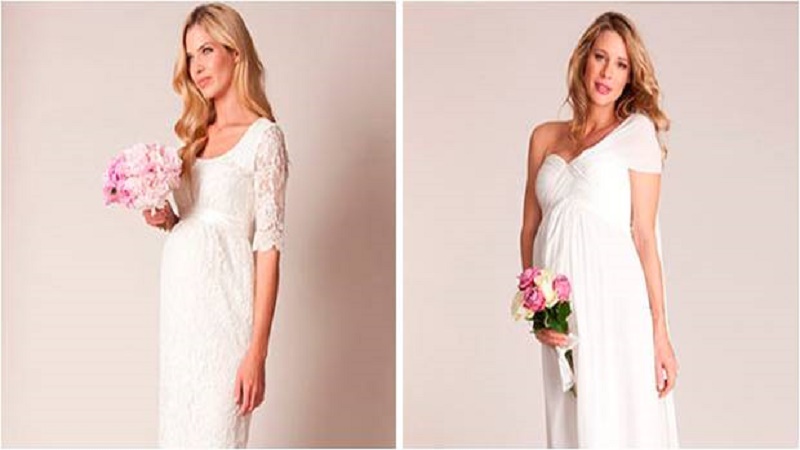 Image source: Pinterest
Seraphina pregnant bridesmaid dresses offer a huge diversity when it comes to range! The fitting is also fantastically pleasing with ample bows to draw attention to your bump in the way you want it to. The delicate sleeves cover up the arms, which may put on some of the extra weight. The palette offers ceremonial hues of white. However, if you want to glam things up, you can try the subtle fawn number with delicate embroidery.
17. The Heather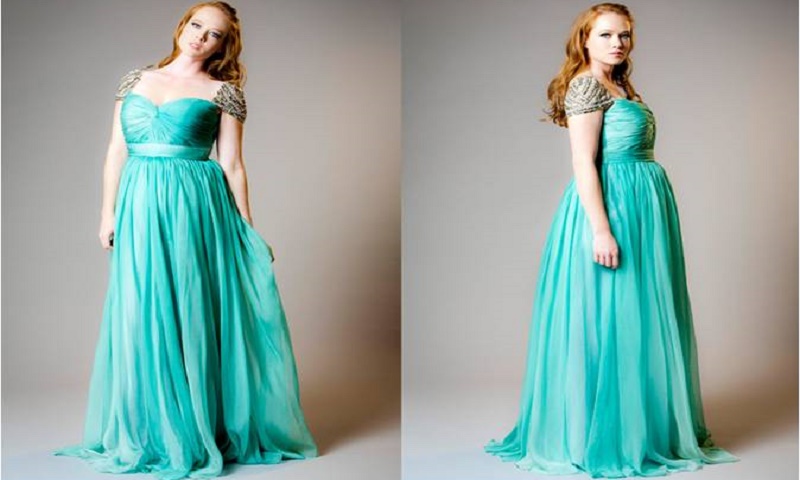 Image source: Pinterest
In tranquil colors like aqua and light ivory, the Heather boasts ornate cap sleeves that are perfect for pregnant bridesmaid dresses. A reveling sweetheart neckline only adds to your oomph and yet makes you look sophisticated!
18. Alexis Special Occasion Cocktail Maternity Dress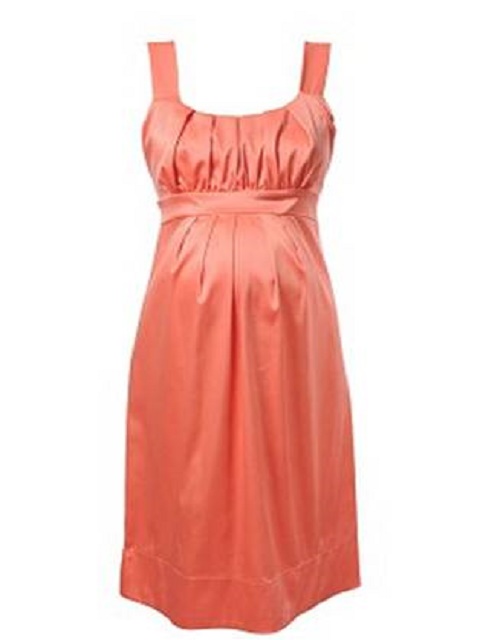 Image source: Pinterest
Isn't this a beauty? I fall for it every single time! It's soothing yet vivacious! Plus, you can even wear it to a bridal shower! Made of polyester (yes!), this outfit has a 'not too bling' satin finish and a flattering pleat over the bust. A zip at center-back adds to the ease of putting it on and taking it off.
19. Lace Bateau Column Short Maternity Bridesmaid Dress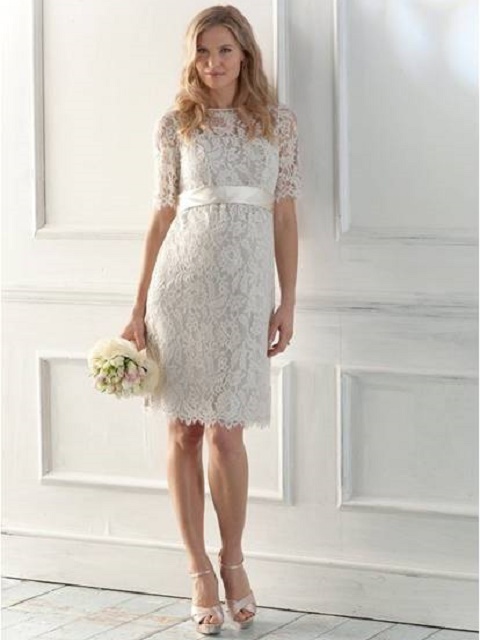 Image source: Pinterest
This maternity short dress is a hit because of its length and sash! With a bateau neckline and lace fabric, it is lighter than two kg! Is it time to re-phrase the idiom, 'as light as a feather'?
---
Suggested read: Here's what you can wear to your friend's fall wedding
---
20. Alfred Sung M406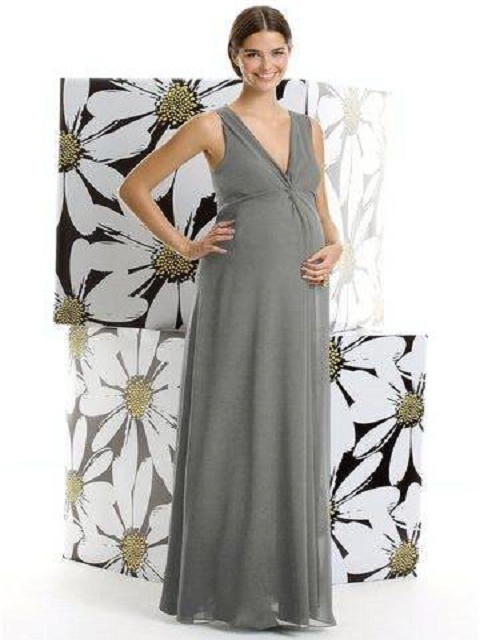 Image source: Pinterest
The Style M406 is a floor-length maternity bridesmaid gown designed by Alfred Sung. It is a V-neck Nu-Georgette gown with superb detailing. This dress is offered in sizes 00-30W and also has an added length alternative!
It is your 'best friend's wedding' and I am sure you do not want to turn up as 'Bride-zilla'! The nastiest thing about buying pregnant bridesmaid dresses is that you are never going to wear them again. However, innovation has come to the rescue of those with a bun in the oven; the aforementioned dresses can be worn even after pregnancy! So spend lavishly on them and look your greatest because your best friend does not marry every summer—unless she is the 'Runway Bride', that is!
Featured image source: Pinterest
Summary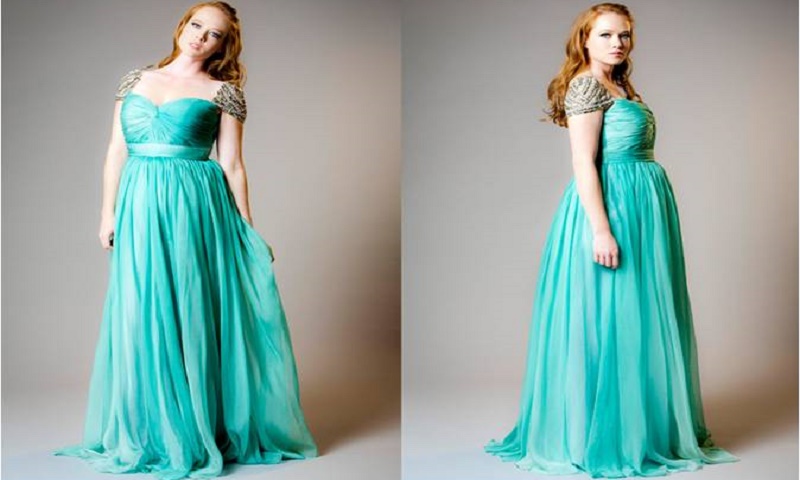 Article Name
20 Beautiful Pregnant Bridesmaid Dresses
Author
Description
Whether you want to show off your pregnant tummy or keep it on the down low, here are 20 beautiful pregnant bridesmaid dresses you can choose from.