Ever looked at a pair among the innumerable pairs of gorgeous heels in the world and wanted to cry because there was no way in heck you'd be able to wear those (and live to tell the tale)? Heels are the most beautiful things ever. There's no doubt about it. We all want to buy them and stare at them and maayyybbee occasionally cuddle them. But the second it comes to wear them, it feels as though somebody is sticking hot rods into our legs (okay, maybe nothing that extreme, BUT OHMYGOD IT IS PAINFUL OKAY?!).
So you may have often resigned to a life of boring flats that will never make you feel as fabulous as a gorgeous pair of heels. Well, think again sister, 'cause we've found some of the most sensational women's ballet flats ever! Yeah, yeah, we know, ballet flats are boring and plain and just not badass enough. Well actually, women's ballet flats can be just as jaw-dropping, best-friend-smacking, life-changing-ly badass as heels.
---
Suggested read: 15 stunningly stylish ways to wear thigh high leather boots
---
And here are 25 of some of the best ballet flats that we've managed to find!
1. Did someone say FABULOUS?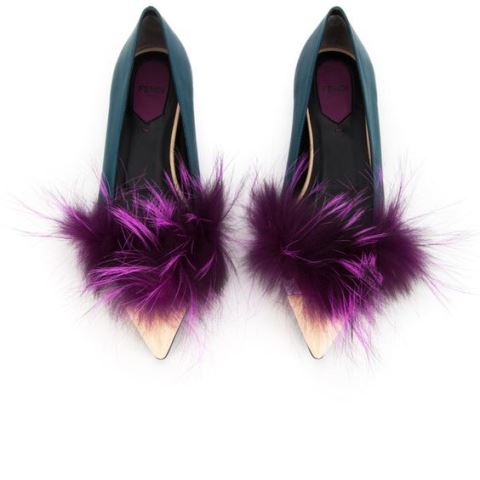 Image source: Pinterest/Polyvore
If anybody EVER tells you that ballet flats are boring, you go and you shove these BOMB Fendi flats in their face, okay? We love a bit of over the top glam and this pair of women's ballet flats is exactly that. Not only is the color combination AMAZING, but you know as well as that if you were to wear this pair to a party, you'll be the talk of the evening because you'll be the most badass chica in that place!
2. Understated glam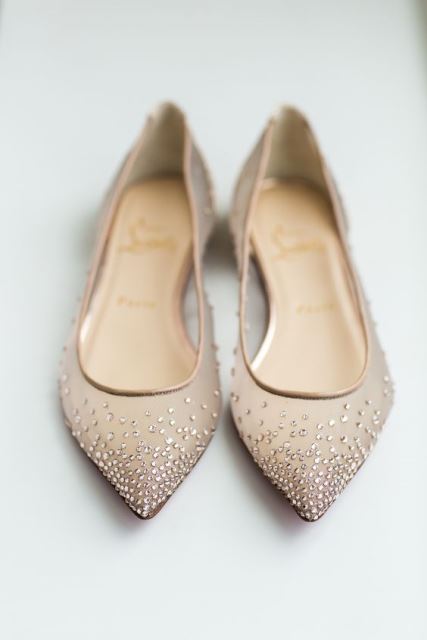 Image source: Pinterest/StyleMePretty
If a purple (hamster?????) on your shoes is a bit much for you, but you still want a bit of glam, then why not go for this pair of embellished, mesh, Louboutins? No, Louboutin doesn't only make 12-inch high heels that can also be used as weapons. This breathtaking pair of ballet flats is proof of the sheer creativity and craftsmanship of the world famous designer line! We love the pointy end and the delicately embellished crystals on the sheer mesh body. This pair is perfect for a night out or even to a formal/semi-formal occasion!
3. Fringe is in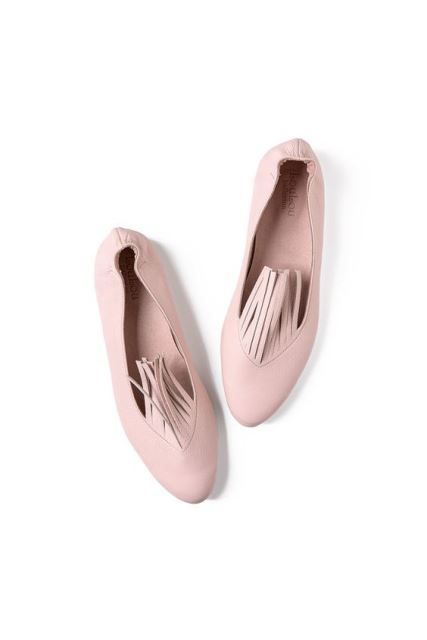 Image source: Pinterest/Etsy
If you're looking for something a bit more casual then might we suggest this pair of fringed ballet flats? The fringe is having a major fashion comeback, including on shoes (Aquazurra's Pocahontas heels are to die for). So why not go for this pair of pink handmade leather flats to add an understated oomph to your outfit?
4. Knot your average pair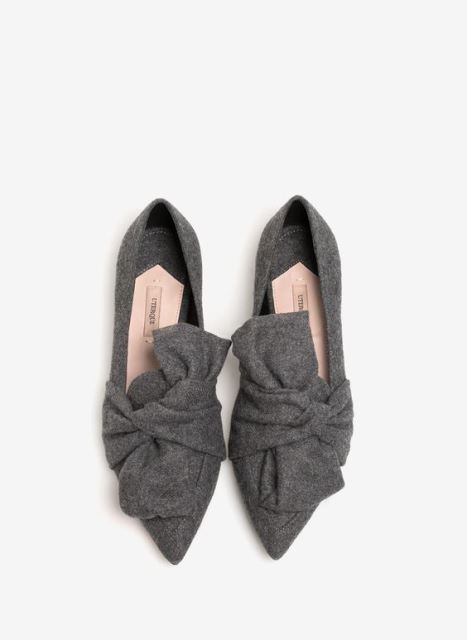 Image source: Pinterest/Uterque
You know when you want to look like a badass boss lady but plain old black shoes aren't quite your style? Well, we've got your covered. This pair of grey knotted ballet flats simply screams "professional with an edge". These shoes are perfect transition shoes for days when you have a work party or a get together right after work!
5. Something contemporary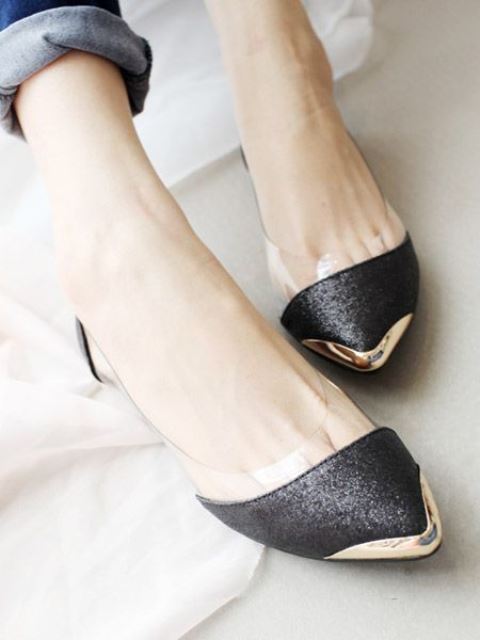 Image source: Pinterest/Choies
Can we have a moment to just marvel at the work of art that is this pair of shoes? We cannot get enough of that coarse leather top with the metal finish. But OMG that transparent body simply elevates the shoe to a whole new level! This pair is chic, trendy, and will go perfectly with office wear as well as casual wear.
6. A fashion classic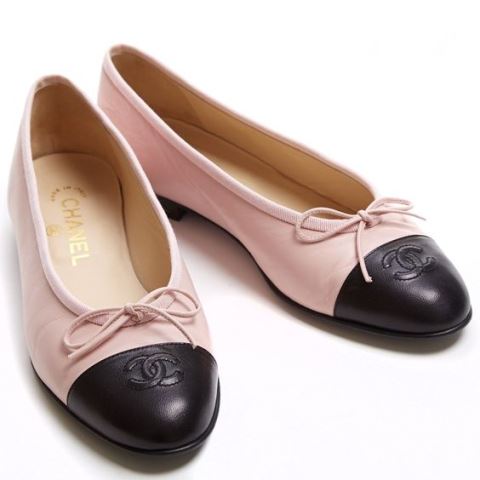 Image source: Pinterest/Curvy Guide
No fashion lover's closet can ever be complete without a pair of classic Chanel flats. We love the contrast between the femininity of the soft baby pink body and bow, and the crispness of the black tips.
7. Vintage Chanel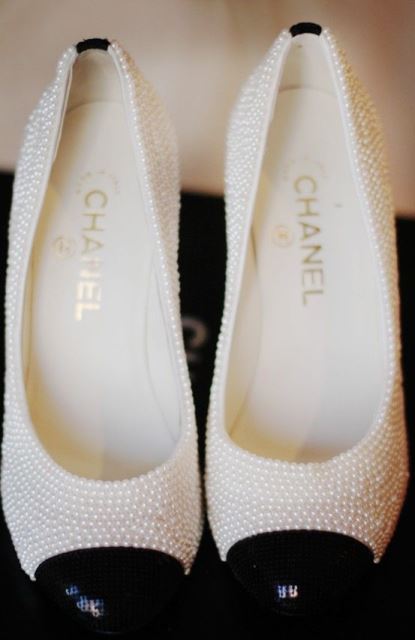 Image source: Pinterest/Stylecaster
If vintage style is your thing, maybe this pair is the one for you. Nothing says vintage classic like a pair of black and white Chanel flats with pearls embedded in the body and sequins stitched on to the tips!
8. Give me Miu Miu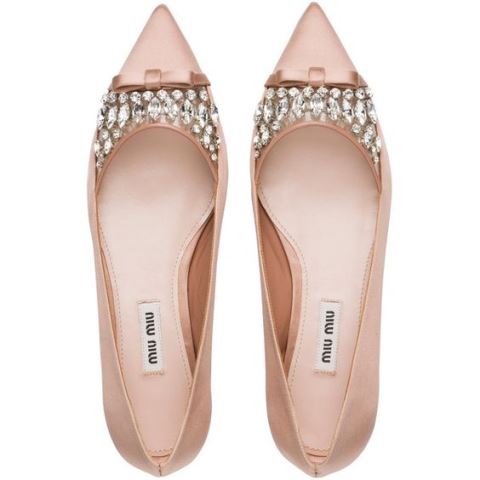 Image source: Pinterest/Polyvore
It's worth investing in a good pair of dressy flats for special occasions. This pair of crystal studded flats from Miu Miu is absolutely stunning. We love how perfectly the soft, nude satin body complements the over-the-top crystal-studded front.
---
Suggested read: 24 amazing suede ankle boots we are dying to wear
---
9. A statement piece

Image source: Pinterest/rstyle
This pair of patent leather flats by Kate Spade is perfect for a formal occasion, especially if you want to make a statement without going completely over the top. The pearl and gold detailing adds the perfect amount of glam to the classic black shoes.
10. Young and fun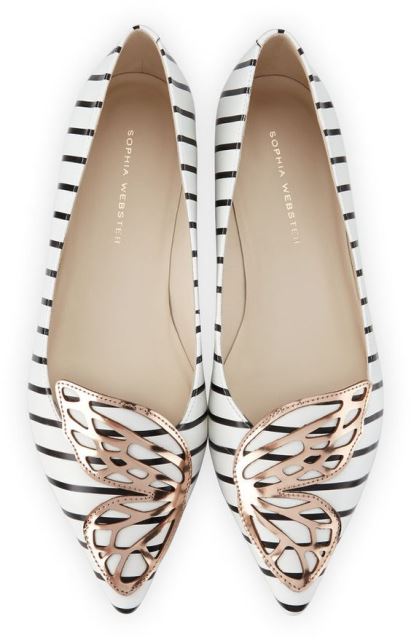 Image source: Pinterest/ShopStyle
This pair of striped ballet flats by Sophia Webster is perfect for the young fashionista. The stripes add a classic touch to the shoe while the beautiful golden butterfly adds the perfect amount of youth and fun to them. Perfect for a day out with friends or even just brunch!
11. For the cat lover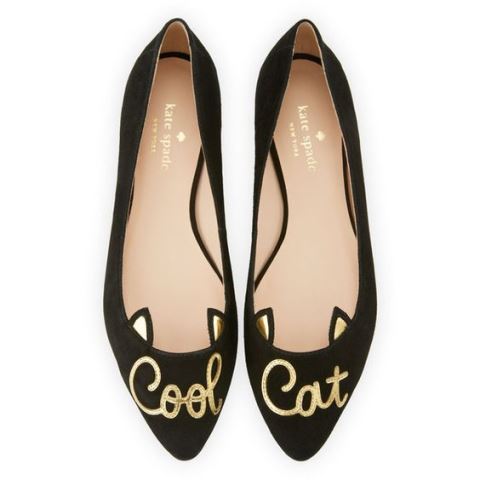 Image source: Pinterest/Polyvore
We're obsessed with all things cat-related. So essentially, this pair of flats by Kate Spade is the closest thing to shoe perfection. We love love love the young design, especially the golden stitched words and the adorable little cat ears protruding out!
12. Cute quotes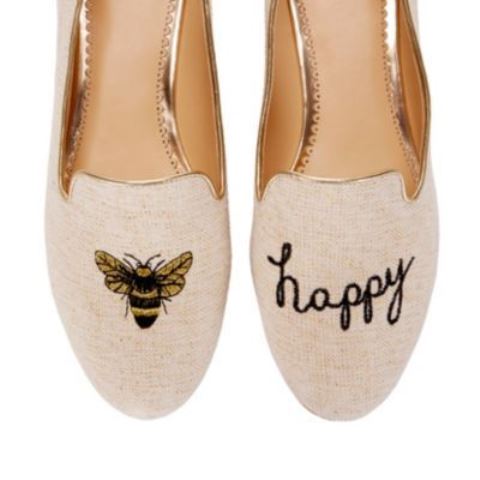 Image source: Pinterest/LaurenConrad
We love this cute pair of nude flats with gold detailing. The "Bee Happy" quote is just warming the cockles of our heart with its adorableness. Perfect if paired with a cute dress or a pretty skirt and blouse combination! The nude and gold combination is incredibly chic and very trendy!
13. Some more cat obsession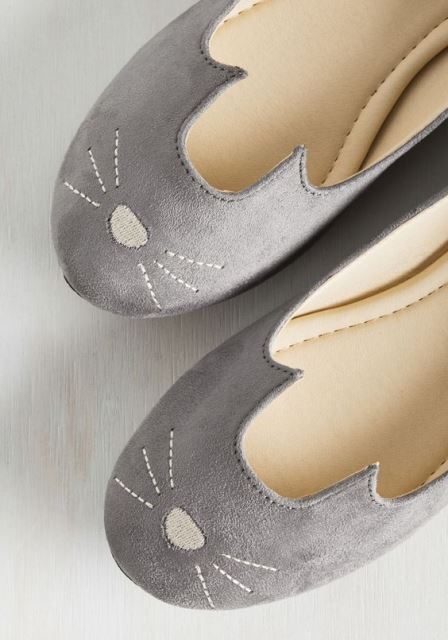 Image source: Pinterest/ModCloth
Did you really think we'd have just one cat-themed pair of shoes on this list? Heck no! Look at this heart-melting pair of grey suede flats with kitty-ear cut outs and the stitched nose and whiskers! Oh the cuteness! We love how the suede adds some softness to the otherwise boring cement grey color!
14. Speaking of cuteness…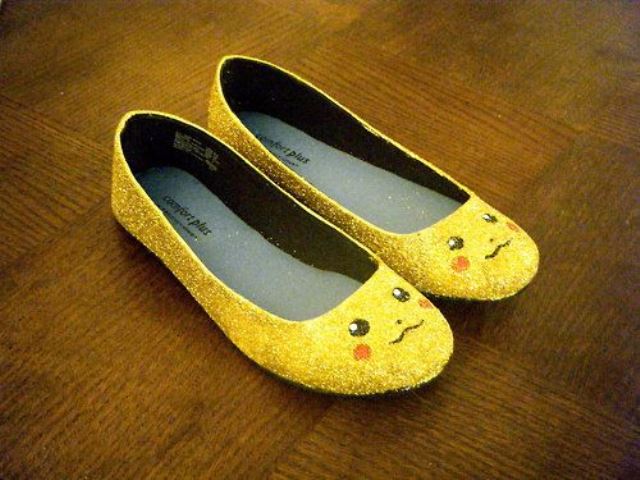 Image source: Pinterest/Etsy
We really don't know what we have done to be worthy of these glitter Pikachu flats. This pair ticks all the boxes! Sparkly – check! Comfy – check! ADORABLE PIKACHU FACE – double check! This pair of flats, although not that great for everyday wear, is perfect for the Pokemon lover, who also enjoys fashion! It's perfect for a theme-party or even if you're playing Pokemon Go with your friends!
15. The panda phenomenon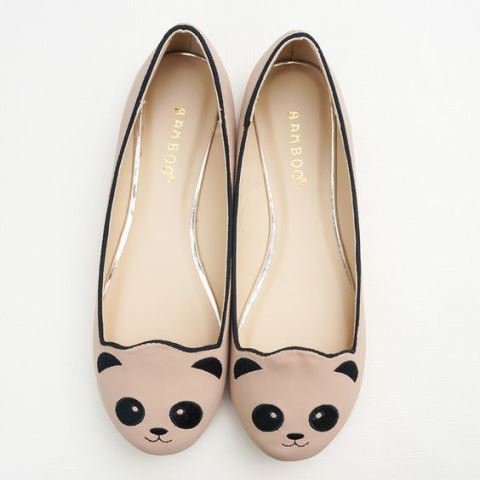 Image source: Pinterest/Polyvore
The panda phenomenon has taken over the world, and for good reason! Those little balls of fluff deserve all the love they get from the world. This pair of panda flats feeds right into our panda obsession with its unbelievable level of cuteness. The nude base will let you pair this pair (pun not intended) with absolutely any outfit you want to!
16. Grunge ballet flats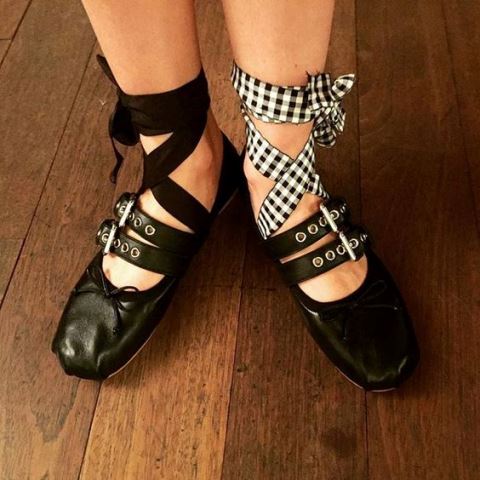 Image source: Pinterest/Gramfeed
This pair of grunge ballet flats by Miu Miu were inspired by actual ballet shoes (hence the shape and the cloth straps). We love the high-fashion twist that's added by the leather belts and the mismatched laces! This pair is for the edgy fashionista, who isn't afraid of taking risks!
---
Suggested read: 12 boots you have to try in the winter
---
17. Chuck Taylors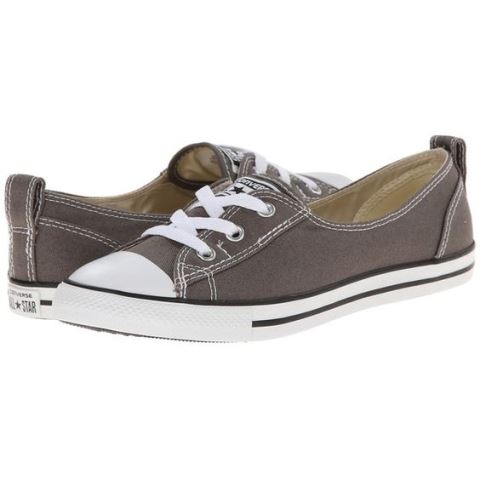 Image source: Pinterest/Polyvore
Who said ballet flats had to be overly feminine? Why not go for this funky pair of mauve-grey Chuck Taylor ballet flats? We love the classic Chuck Taylor design and the edgy, neutral color! Pair these shoes with a fun playsuit, or even a nice skater dress, for a casual chic look, that's perfect for school or university, or even if you're just hanging out with friends!
18. Golden cap toes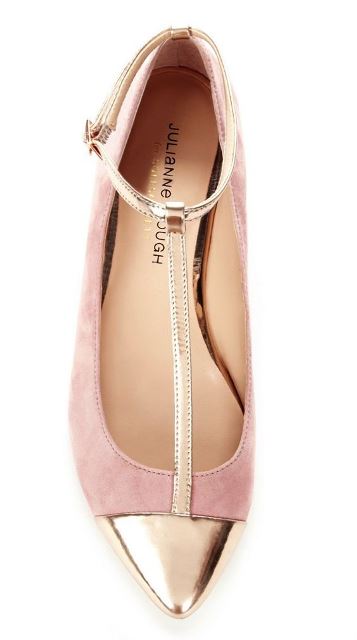 Image source: Pinterest/awesome-handbags
This pair of dusty rose pink velvet ballet flats by Julianne Hough is giving us major shoes goals right now! We're obsessed with every single element of this shoe! The velvet body, the golden leather cap toe, the golden leather t-strap detailing, the GORGEOUS pink color… ugh, this pair is an absolute work of art!
19. Understated glam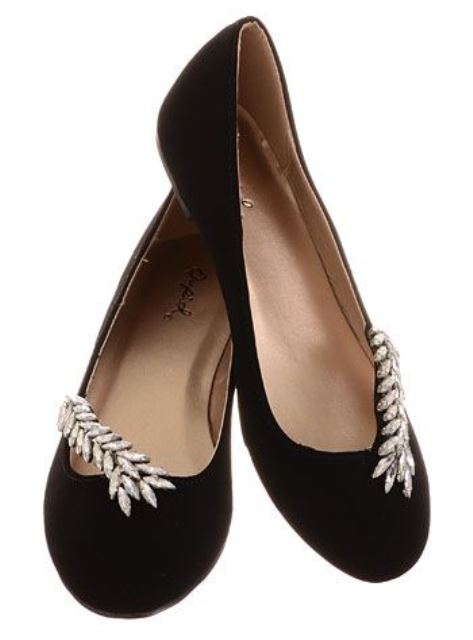 Image source: Pinterest/Plasticland Boutique
This pair of crystal studded flats is perfect for date night, or even a formal work-related party. It is chic, elegant, and has just enough bling, without going over the top! We love the overlapping crystals arranged to resemble an olive wreath!
20. An investment piece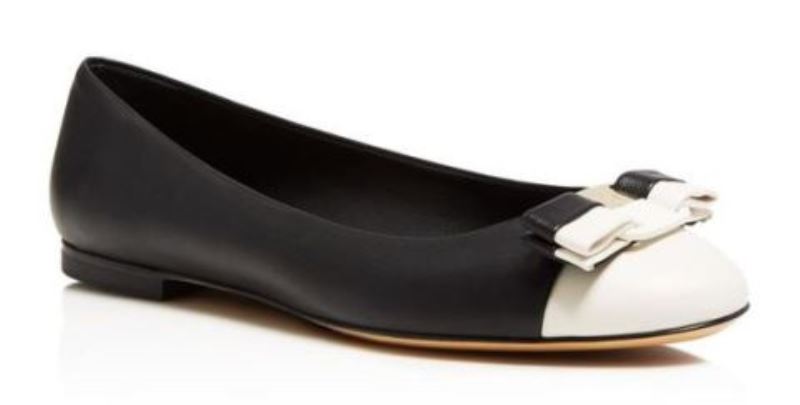 Image source: Pinterest/Bloomingdale's
This black and white leather piece by Salvatore Ferragamo is an absolute investment piece for the serious fashion lover. This pair of ballet flats is chic and looks sophisticated. We love the smooth matte finish of the body and how beautifully it contrasts with the slightly more coarse leather bow. The metal detail on the bow adds some shine and youth to the overall look!
21. A pop of color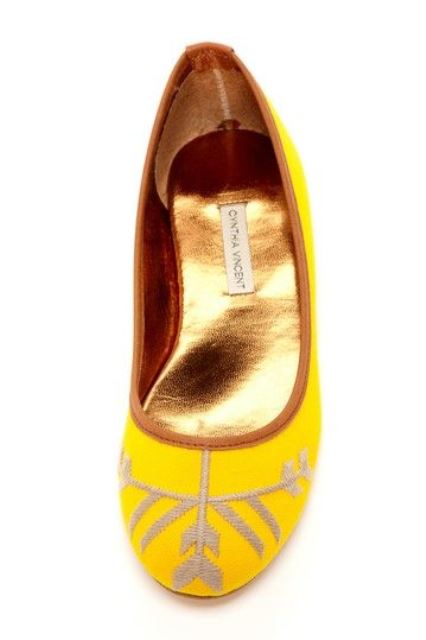 Image source: Pinterest/HauteLook
One fashion trick we absolutely love, is to add a pop of color to our outfit, with the shoes! This vibrant sunshine yellow shoe by Cynthia Vacent is just what you need to brighten up a gloomy day! The bright yellow is eye-catching and just plain beautiful. The subtle, almost pale golden stitch detailing adds a bit of character to the shoe, making it perfect for the quirky fashionista who isn't afraid to play with color!
22. Quite the stud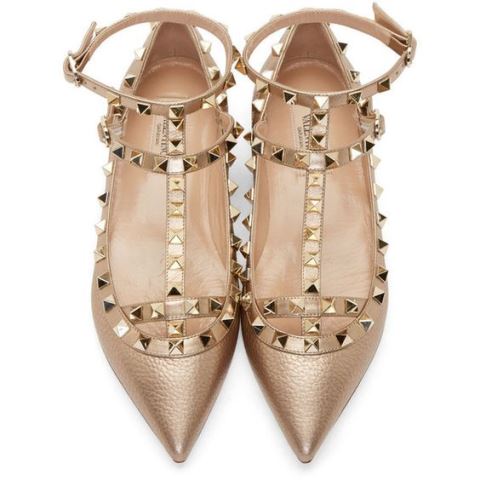 Image source: Pinterest/Polyvore
Please excuse the terrible pun, we cannot help ourselves. This pair of strappy metallic ballet flats is from Valentino's famous Wonder Woman Collection. We cannot get enough of the almost rose-gold shade of the shoes and the incredibly badass studs meticulously embedded all over the shoes. These pair is an absolute statement piece, and needs just a simple black or white dress to make the wearer look like an absolute fashion guru! Also, we really love the subtle Louboutin vibes this pair is giving us, with its golden studs.
23. Holographic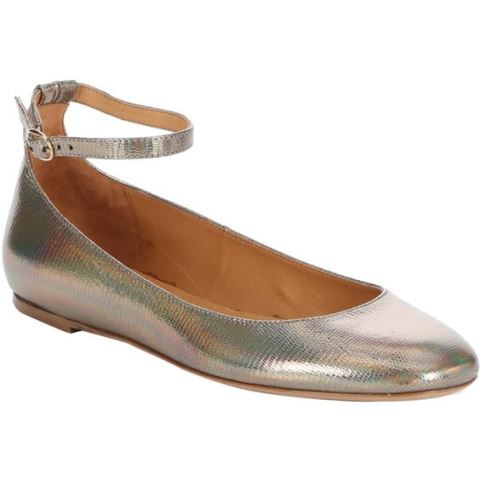 Image source: Pinterest/Polyvore
We've seen holographic bags, holographic nails, and even holographic highlighters! So holographic shoes are pretty on trend, don't you think? This pair of ankle-strap flats by Isabel Marant is quirky, fun, and so in style right now! We love the almost crocodile-skin texture of the leather and how simple the design is. It lets the quirky material do its own thing! You can pair this one with anything, from short dresses and playsuits to culottes and maxis! This pair adds the perfect amount of bling to any outfit!
24. Unicorn flats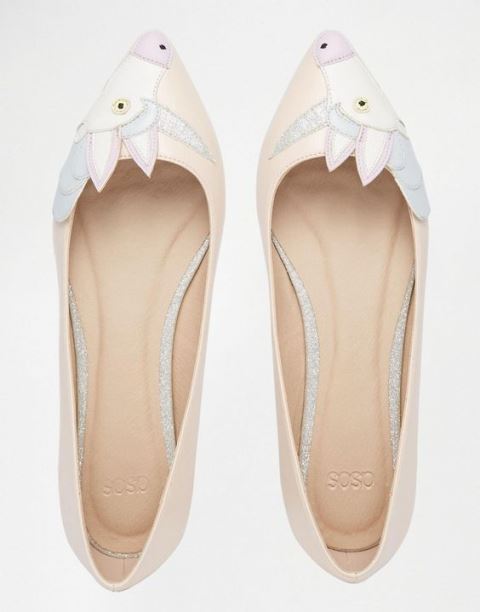 Image source: Pinterest/ASOS
Since we've included almost every major trend right now, we couldn't possibly stay without talking about unicorns, now could we? This pair of unicorn-themed flats from Asos is perfect for the unicorn lover inside all of us! We love the soft pastel shades and the subtle unicorn detail on the cap! The color is soft, feminine, and fun! You can pair these shoes with absolutely anything because hey, we could always do with some more unicorn magic in our lives!
---
Suggested read: The ultimate guide on what shoes to wear with skinny jeans
---
25. End it with a bling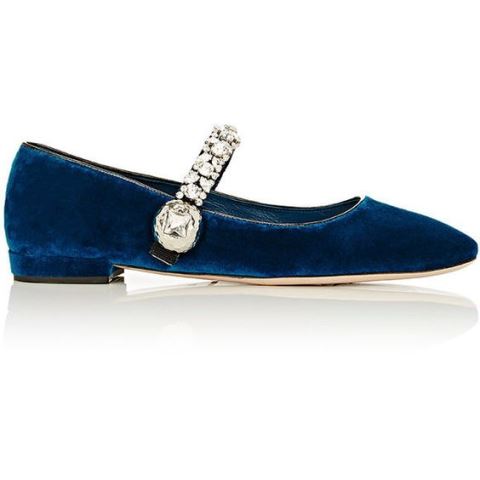 Image source: Pinterest/Polyvore
We know you're getting really tired of our terrible puns, but this is the last one, we promise! This pair of velvet flats by Miu Miu is the perfect ending to a pretty perfect list! We are obsessed with the crystal embellished Mary-Jane-inspired strap! Oh and don't even get us started on the JAW-DROPPING royal blue velvet body! Are we really worthy of witnessing such beauty? This looks like something the modern day Cinderella would wear, if she too, like us, hated heels, but still wanted to look like an absolute princess!
So this was our list of women's ballet flats that we absolutely adore. Whether you like some bling, something edgy, or whether you like to stick to the basics, this list has got something for everyone. So you see, just because you don't like heels, doesn't mean you need to give up on wearing fashionable shoes! All of these beautiful ballet flats combine both style and comfort, which is what fashion is all about! So get your feet out of those stuffy heels that make you feel like you're walking on glass, and instead, slip them into any one of these breathtakingly beautiful (and occasionally adorable) flats!
Summary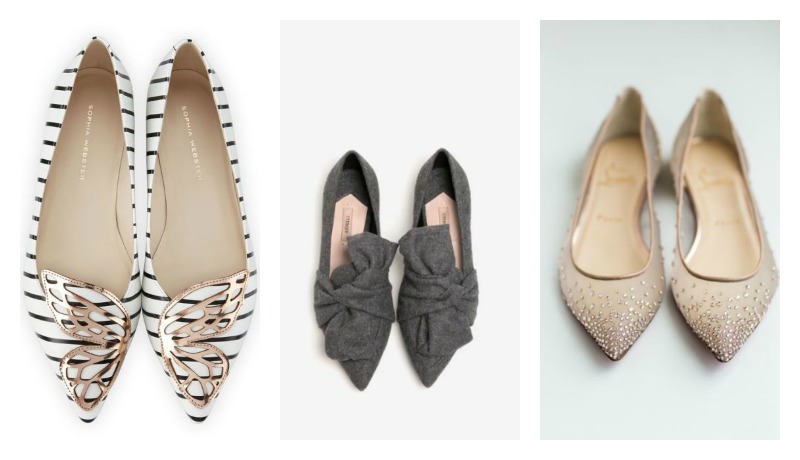 Article Name
25 Pairs Of Women's Ballet Flats We Absolutely Adore
Author
Description
Women's ballet flats can be just as jaw-dropping, best-friend-smacking, life-changing-ly badass as heels. Don't believe us? Read on to see for yourself!