"I don't know how I managed to get home, but when my mother first saw me, she fainted… Just because someone ruined your face doesn't mean you stop being beautiful… Life goes on."
Reshma Qureshi had a sneaking suspicion that the transparent liquid in the bottle was possibly acid. But to defend herself and her sister, she supposed the best way would be to wrestle it from the four men.
As it turned out, the men seized her, and attacked her by pouring the acid on her face, her arms, and her back. The corrosive destroyed her eye and the flesh on her left cheek. She says she felt suicidal in the aftermath, and for over a year, could not muster the courage to think of anything other than how ruined her body and her mind felt.
---
Suggested read: Acid attack survivor Sonali Mukherjee marries the love of her life
---
Last week, Reshma Bano Qureshi, the 19-year-old acid attack survivor, walked the ramp at the New York Fashion Week.
Here's everything you need to know about our Miss Invictus!
"This is my first time in New York and I'm very excited, I think it's important that people hear the story about the survivors of acid attacks and to know they can lead normal lives."
Qureshi walked the ramp, to express her subtle boldness as a survivor, and also to encourage the #TakeBeautyBack campaign.    
Acid attacks have become commonplace in India, and shamefully so. Almost every month, we get to hear cases about women who are attacked by people familiar to them: relatives, who believe that the girl has, in some way, "dishonored" the family or the caste or the religious sect she belongs to, or else a man, whose "love" has been knocked back.
Qureshi, a resident of Mumbai, was assaulted by her sister's separated husband and his 3 friends in May 2014, when they were traveling to Allahabad, UP.
"I was with my sister and was going to write my exams. My brother-in-law was waiting for us with his cousins. They caught my sister's hand. She yelled and asked me to run. Scared, I started running when they caught me by my hair, threw me on the ground and doused my face with acid. I yelled in pain. I cried for help, but people just turned a blind eye. They gathered around us and watched us in pain, but not a soul stepped forward to help.

Lying on the ground, I cried, hoping help would come soon."
Reshma was rushed to a local hospital, where she didn't receive the treatment that she needed. Back in Mumbai, the doctors told her that they could do nothing to save her left eye.
Of late, campaigners are demanding serious action against the perpetrators of such attacks. The Government of India is being pressed to regulate the selling of acid, to clean machinery. Also, they are trying to build awareness among the people about the dreadfulness of such attacks.
---
Suggested read: Donate your 'Faceless Selfie' to help acid attack survivors
---
A year after she was assaulted, Reshma Qureshi joined the fight against such attacks. She partnered with a non-profit organization, Make Love Not Scars that uses powerful images of acid attack survivors to give them a voice.
Reshma also featured in a video that was posted on YouTube. It is a makeup tutorial on how to get the perfect pouty red lips.
In the video, she explains that it is as easy for people to pick up acid as is to buy a lipstick.  Watch it here:
When asked how she felt the minute she found out she had been invited to carry her message to the NY Fashion Week, Reshma said she couldn't be more thrilled. She believes that just because some monster destroys your face, you cannot let him destroy your inner beauty and soul. She exclaimed,
"Why should we not enjoy our lives? What happened to us is not our fault and we've done nothing wrong and so we should also move forward in life. That is all that should matter."
The 19-year-old was nominated to take part in fashion production house FTL Moda's campaign, dubbed #TakeBeautyBack in association with Global Disability Inclusion.
Her clothes were designed by Archana Kochhar, who is an Indian designer, celebrated for crafting attires donned by Bollywood stars like Bipasha Basu, Nargis Fakhri, and Amrita Rao. According to Kochhar, Reshma has taken a very bold step in standing up for all the victims of acid attacks across nations, and that she should be highly praised for the same. She also said that beauty is intrinsic, and it is time to remind people of that.
Last Thursday, Reshma took a seat patiently as a horde of cameras followed her every move backstage in Manhattan. While the gown was fitted, her hair was drawn together to perfection by Aubrey Loots. As Chika Chan did her makeup, cameras could not resist, and took millions of pictures of the beautiful woman.
When asked if she thought whether the other models who were going to walk the ramp too, looked excessively thin, she agreed. She jovially said that they should try a "decent serving" of Indian food!
And then the much-awaited moment had come. It was time for Reshma to walk the ramp.
As Reshma set foot on the ramp, her dress, her hair, and she herself, looked flawless. She shone and beamed while the crowd of fashionistas, fashion photographers and journalists from around the globe, cheered for her.
---
Suggested read: Acid attack survivors' photo shoot, an attempt at redefining beauty
---
Asked if she feels beautiful, she said,
"When I looked at the mirror for the first time post the attack, I was scared and looked away. My face before the attack kept coming to my mind, and I failed to have the courage to accept reality. I was angry and got upset with my parents for no fault of theirs. But they never gave up on me. They kept saying that they will see me through this difficult phase.

Now I don't hesitate to look at the mirror. Today I believe that I am truly beautiful and my face is very special."
NLT wishes the brave heart, Reshma Qureshi, luck and love for all her future endeavors. #YouGoGirl
Featured image source: Pinterest 
Summary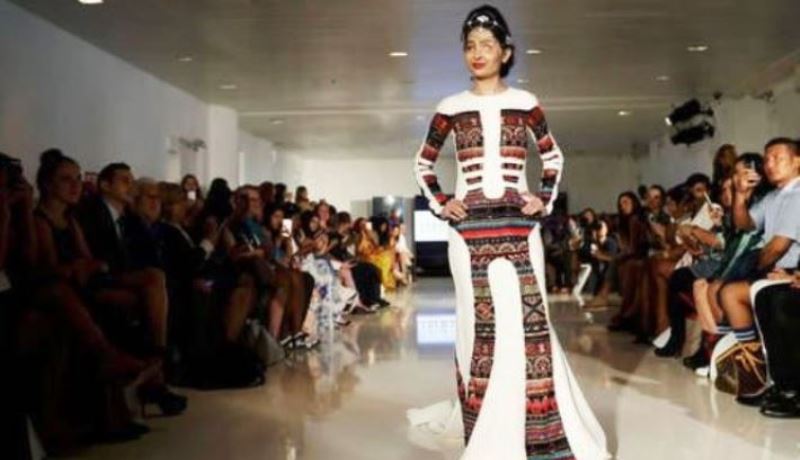 Article Name
Acid Attack Survivor, Reshma Qureshi, Is The Face Of India At New York Fashion Week
Author
Description
Reshma Qureshi, the acid attack survivor, became the face of India at the New York Fashion Week, after she sizzled on the NYFW ramp, last Thursday.