Before we help you with the best setting powder for acne-prone skin, let us teach you how to choose one that suits your skin the best.
Picking the best setting powder for acne-prone skin
Setting powder is definitely the most basic and essential makeup item, and almost everyone with the slightest interest in makeup has invested in it. However, just because you have one does not mean all your makeup woes are about to end. Consider this, if you have put your money on a product that does more harm than good, how can you expect it to solve your makeup related problems.
So how does one choose the best pressed powder for sensitive skin which is acne-prone? Since your skin is prone to breakouts, you need to avoid powders that form a thick layer on your skin and your foundation. Also, the foundation you choose should not be a creamy formulation or thick in consistency.
A pressed powder that gives you the perfect coverage, and yet, does not clog your pores, is what you need. This formula will not trigger any acne.
While choosing the powder, pick one that matches you skin tone, as investing in one that is lighter than your skin tone can further accentuate your spots and marks. You should go for a powder that lends a matte finish. You need to pick a powder that absorbs the extra oil that's causing the acne, and yet, lend a natural glow to your overall makeup. A pressed powder with shimmers will make things worse, mind you.
Do not go for formulae which contain any menthol or mint. Also, if its ingredients include any sort of irritating elements, ditch it. You should find yourself a product that has no fragrance, and which contains salicylic acid. This acid will help heal your acne.
Another thing you need to be very careful about while applying makeup on acne-prone skin is that the applicator should be clean and disinfected. This is something most people neglect, and end up creating more trouble for their skin.
---
Suggested read: Everything You Need To Know For Picking The Best Setting Powder For Combination Skin
---
Best setting powder for your acne-prone skin
Here are the 5 best pressed powders for a skin type that is prone to acne and blemishes.
1. L'Oreal Paris True Match Naturale Mineral Foundation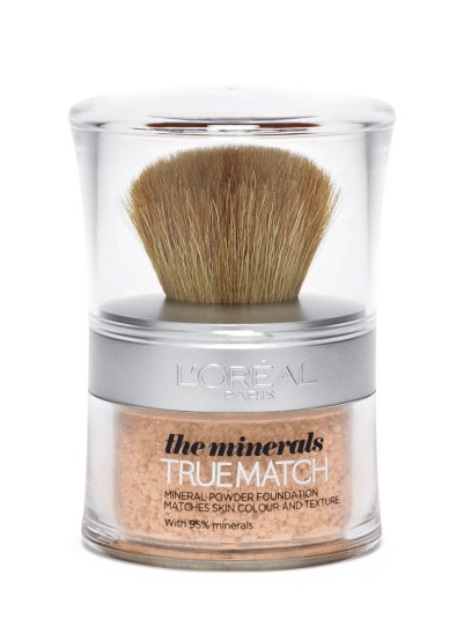 Image source: myntra
​The first product on our list is the L'Oreal Paris True Match Naturale Mineral Foundation. Since it is a mineral formula, it does not contain harsh chemicals which cause breakouts in the skin, and that's what makes it perfect for this particular skin type.
The coverage the formula provides is decent, but the best thing is that if you want a full coverage to conceal the blemishes or the acne-spots, then the buildable product will do as you wish.
This is a good product for both daily use as well as for occasions that need you to apply denser makeup. To carry the nude makeup look, this is your best bet.
The finish it offers is almost perfect, and it also comes with an SPF factor, which means you can easily have a lot of fun in the sun. The product offers 12 shades, and each come with an SPF of 19.
​Also, since a proper applicator is key to how the application will actually come about, the product comes with a kabuki brush. This makes it easier for you to apply the formula, while not messing your makeup up.
However, the brush tends to load up a lot of the product, as so you might try shaking off the excess before dabbing the product on to your skin. This will help you avoid a cakey or patchy makeup. ​
2. Physician's Formula Mineral Makeup Airbrushing Pressed Powder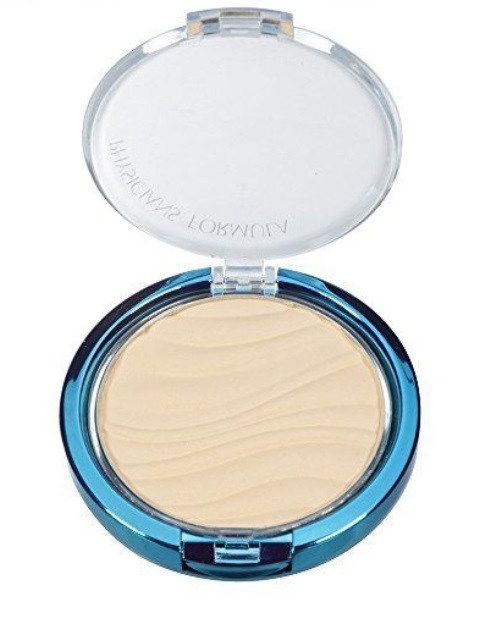 Image source: ebay.in
The next product on our list is the Physician's Formula Mineral Makeup Airbrushing Pressed Powder. The best thing about this formula is that it does not make the skin look either too matte or too flat. People with acne-prone skin should definitely give it a try.
The ultra-fine mineral powder in the formula last for more than 16-hours. So you need not worry about touch-ups at all. The coverage it provides is also commendable; it ranges from light to medium, and even people with hyperpigmentation issues will have no complains with this pressed powder.
This powder too comes with an SPF. The Sun Protection Factor it offers is 30, so that's a lot of guard against the harmful UV rays of the sun. the product is so versatile that it can be used as a setting powder for your foundation as well as a bronzer.
This product too comes with a small kabuki brush that will make the blending and buffing process way easier for you. We suggest you use this brush only for touch-ups if you ever need a touch-up. Stick to your own setting powder applicator. Make sure the applicator is always clean and disinfected.
---
Suggested read: All You Need To Know To Choose The Best Setting Powder For Sensitive Skin
---
3. Neutrogena Skin Clearing Mineral Powder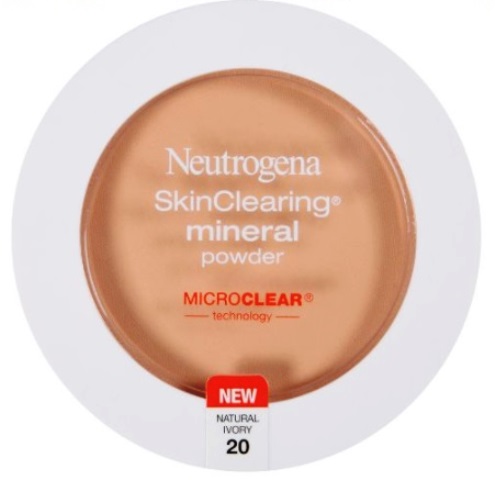 Image source: amazon.in
Neutrogena Skin Clearing Mineral Powder is made of salicylic acid, which helps treat acne. This, in turn, makes the formula the bets product for acne-prone skin. To prevent skin breakouts, this mineral powder from Neutrogena has its own micro-nuclear technology.
 The best thing about this setting powder is the way it is packaged. Apart from being compact, it comes with a sponge, which makes the application process way easier. This sponge is dual-sided, so if you are aiming for a sheer coverage, then you should go for the orange, and if you have ​fuller coverage in mind, then use the white side to apply the powder.
Does this sound too good to be true? Well, there is one small problem with this formula. Though the package says full coverage, it isn't as heavy as you would expect it to be. But there is a solution to this. Use a concealer to hide the blemishes, spots and marks your setting powder cannot. Period!
​The formula also evens out our skin tone, and to make the best of it, apply some moisturizer before applying the powder to prevent the Salicylic acid for further drying the skin.
4. Coty Airspun Face Powder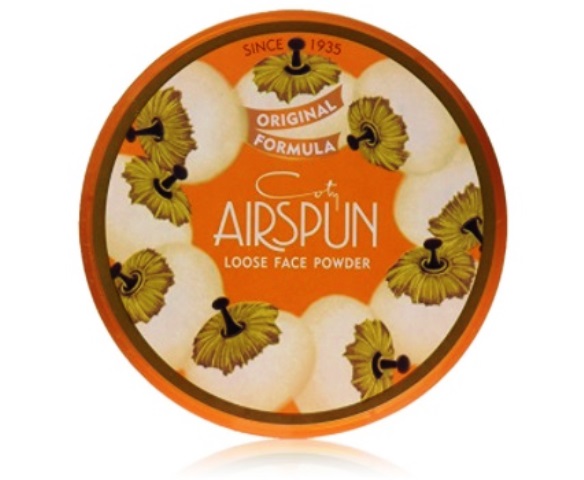 Image source: amazon.com
The ​Coty Airspun Face Powder ranks very high on the popularity list. Makeup artists from all over the world rely on this formula for acne-prone skin. The powder is designed to not only set the foundation and the overall makeup, but also helps cover the acne marks like a pro.
This long-wearing product has particles which lend a soft texture to the skin, making the skin look matte all through the day.
This loose powder does not cake up, so there is nothing to worry about. Also, the face powder blends into the skin seamlessly, making it one of the best setting powders for acne-prone blemish-prone skin.
​While most powders take a lot of time and effort, this one does not. The only thing that is a little troubling about this formula is its distinct scent. The fragrance, however, fades away quickly.
​Unless you are bothered by the smell, or your skin is extremely sensitive, you can give this a try and see for yourself
5. Ben Nye Neutral Set Setting Powder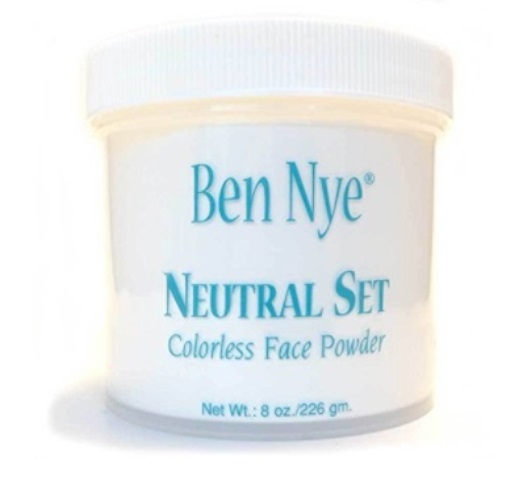 Image source: amazon.com
​The last formula on our list today is the Ben Nye Neutral Setting Powder, which is used mostly by film stars during shoots. So if you have a shoot or are a theatre person, you might want to invest on this product for your performances.
There are a number of people who claim that this setting powder controls oil so effectively, that you will not require any reapplication throughout the day. No wonder this is such a popular choice among the people.
Though the formula controls excess oil, it does not, however, leave you with a cakey appearance. It gives a matte finish, which is so desirable, isn't it?
To set a liquid base, rely on this product with your eyes closed. ​The coverage is buildable, so depending on how you want your makeup to turn out, you can apply the powder accordingly.
The product is lightweight, and but it does not blur out large skin pores. It, however, does not emphasize the pores and the fine lines either. It will not clump up or cling to the dry parts of your skin, which is a major relief. ​
---
Suggested read: Essential Tips You Must Know To Choose The Best Setting Powder For Oily Skin
---
That is all we have on today's post on how to choose the best setting powder for acne-prone skin. Was this helpful? Will you be recommending it to others too? If you have makeup queries that you would like to share with us, then please do so in the comment section below. Our experts will get back to ASAP.
You can also subscribe to our newsletter to receive these articles in your inbox every day.
See you again tomorrow!
Summary
Article Name
All The Top Tips For Choosing The Best Setting Powder For Acne-prone Skin
Author
Description
Today we will tell you about the best setting powder for acne-prone skin, and also help you with how to choose one that suits your skin the best.