#Sponsored post, but we LOVE LASplash and its color palette for their original lippies!
For all of you who believe lip shades speak louder than words, this is the ultimate lip makeover takeover! Inspired by the most vivid, bold, and trendy celeb looks of 2016, we are here to help you refashion the same, using LASplash's lip color palette that offers high quality, vibrant lippies for the chic, in vogue, and up-to-the-minute fashion-aholics like you!
So, get ready to splash out loud with these lip colors, which are every bit 'hue'!
1. Deepika Padukone
Wearing Sabyasachi, Deepika looked like she was dressed for the Gods, courtesy the lip hue picked by her makeup artist, Daniel Bauer!
Want to make some noise too? Binge on LASplash's Dutchess, an enflamed lip hue from the Studio Shine, Lip Lustre Palette! Regardless of the skin tone, this shade is everyone's 'pick me up'! Since it amps up the rest of your makeup, you can team it both with your casuals and your traditional attire.
Feature in your own fairy tale with this tint from the fairy dusted waterproof Studio Shine Lip Lustre! Want a happily ever after? Book yourself a Dutchess, right here!
---
Suggested read: All you need to know about how to wear red lipstick
---
2. Priyanka Chopra
Piggy Chops was InStyle mag's cover girl for August this year. Aren't we totally stumped by this look she's donning? Want a dupe of this lip color? Treat your lips with the Fantasy Velvet Matte from LASplash's Forbbidden Kiss pool. A cherry-toned pink hue with nude undertones, this lip shade will do the talking for you!
Grab one, right here!
3. Alia Bhatt
We spotted Alia in this upbeat pink lippie for Jhalak earlier this year. If, from Fuchsia to soft pinks to magentas, pink has always been your 'go to' color, you need to swipe on LASplash's Jasmine, from the Lip Lustre palette. This bright pink shade comes with a matte finish that stays on forever… in the minds of the people you meet! Talking about making lasting impressions through a jolt of color, try clubbing Jasmine's sparkly, fairy dust-like smoothness with Ariel, a stunning pink lippie with plum-like undertone, to give your look a metallic finish!
Gift yourself the two shades from here and here!
4. Sonakshi Sinha
Sona's look at the IIFAs this year has got to be a major lip goal for all red lippie lovers! As such, Inflamed, from the Smitten Lip Tint Mousse collection, is what you need to step up your lip game! Play up that pout with this intensely red shade to turn heads of all those around you! This paint certainly isn't for the faint of heart; dare to display it audaciously, since it's totally worth it. The water-proof, smudge-proof formula not only seals the tint, but also glides easily over the lips, pampering them to a bold red that feels as light as a feather over the lips.
With this lippie, you will not only be painting your lips, but the whole town, red! Get the shade, right here!
5. Sonam Kapoor
Styled for the House of Pixels, Sonam's violet lip look is testament to how you should never be afraid to show your true colors! Recreate this look with LASplash's Alice, from the Studio Shine, Lip Lustre palette. A pulsating violet shade for every time you want to conjure up a Wonderland around you!
Have some lip fun by clubbing Alice with Aurora, a rosy warm pink tint that has a slender duo-chrome finish. Stun the scene with this combination of the bold and the beautiful! You can binge on them here and here!
6. Selena Gomez
Doesn't this pic make you sick coz of how fly she looks?! The beatdown by Jake Bailey is just so flawless! Want to slay it like Gomez? Bathe your lips in a perky, warm orange shade, Till Midnight, from the Lip Couture range.
Pro-tip on how to get the orange lippie game on-point, while not resembling a pumpkin: Make the lippie the lippie the focus of your look; let your kisser really shine! And whenever in doubt, pick a coral shade!
Fall in love with Till Midnight, this fall, by getting yourself one, right here!
7. Taylor Swift
At this year's Met Gala, we saw TayTay top off her bold snakeskin print dress with a bit of grunge makeup. What stood out was obviously the dark wine lip shade!
Give the watchers life, by teaming up the Dutchess with Mistress, a deep burgundy lippie from the Forbidden Kiss palette. The blend of the two hues is bound to stun the onlookers! Also, Mistress is imbued with fragrance to give you a holiday-ay feeling! Enhanced with Vitamin E, the lippie pampers your lips with a matte finish without actually drying it up!
Book yourself a shade, right here and here!
8. Kim Kardashian
To nail the lip-look like Kim K, you will have to mix two most popular LASplash shades: Lovestruck, from the Smitten Lip Tint Mousse range, and Seductress Velvet Matte, from the Forbidden Kiss palette. While the dusty rose tinge goes well with all skin tones, warming up fair skin and helping the warm complexion go the distance, the breath-taking nude mauve lippie, makes your pout turn up the heat!
You will have a colossal FOMO if you don't pick out the shades, right here and here!
9. Kylie Jenner
I dig everything retro, and as such, this is one of my favorite celeb looks from this year! To get the FOTD on this list, douse your lips in LASplash's Retro Bettie, the perfect matte red shade for every occasion! This one's a Holy Grail product on the Lip Couture palette that leaves your lips smooth and velvety and the Cupid's bow perked up for the perfect pout!
Pick the lip color from here, and flaunt it on the go!
---
Suggested read: 10 stunning ways to wear the two-toned lipstick trend
---
10. Rihanna
To put on a look sported by Goddess RiRi, you have another goddess to your rescue: Golden Goddess Rhea, the Goddess of the Earth, a velvety waterproof liquid lipstick that comes in a seducing metallic auburn hue with a golden tinge. Pair it up with Mistress, a velvet matte deep burgundy lippie from the Forbidden Kiss palette. You will simply fall head over heels in love with the lip color inspiration these two tones create on blending!
Splash out on the shades here and here!
Which of these celeb looks will you be trying on this fall? Rant and rave in the comment section below!
Summary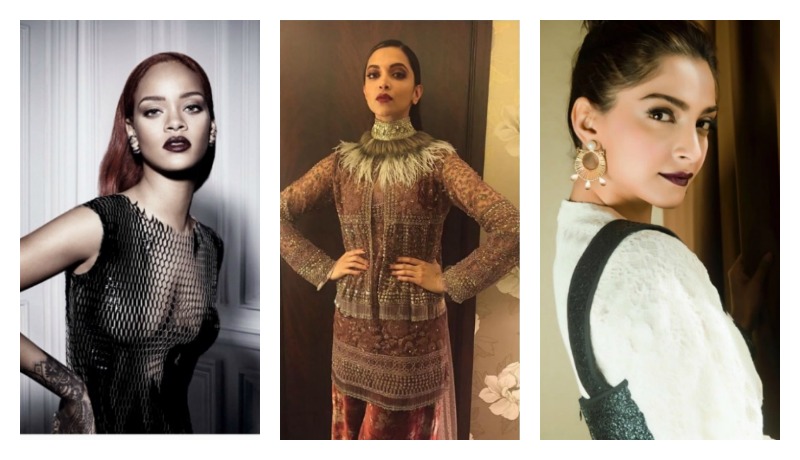 Article Name
#InstaGlam Work Your Lipsticks To Give You Instant Celeb Looks
Author
Description
Recreating popular celeb looks was never this EASY!