The festive season is here and it's all about that precious glow emanating from your skin (and your bling). So stock up on metallic makeup, tinted moisturizers and bronzers that work best with the Indian skin tones and add some glamour and drama to the celebration. Work your look with a contemporary twist of metallic makeup to kick off the festive season.
---
Suggested read: The quintessential festival makeup trends that you CANNOT miss out on!
---
Here are the most popular looks for this festive season:
1. Copper tone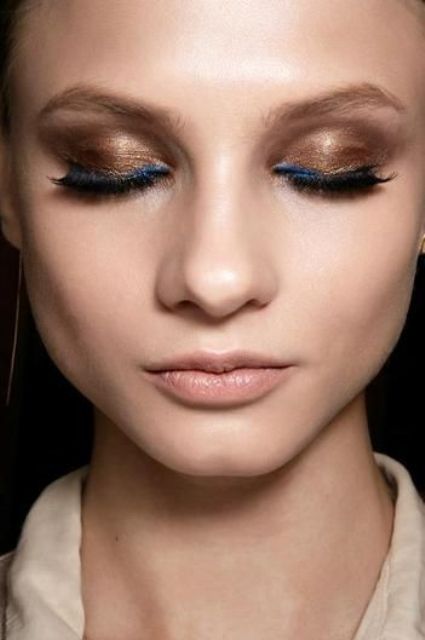 Image source: Pinterest
In a nutshell: Copper/Bronze is the friendliest metallic shade for Indian women and can be used anywhere on the face to contour or add depth.
Quick look: Sweep a bronzing compact on the apples of your cheeks for a healthy, flushed glow. Remember that your base needs to be very even and the bronzer needs to be blended to avoid patchiness.
Wear it to: A day or night event- preferably with a jewel-tone outfit or any other strong colour.
Pair it with: Cool aqua tones. Copper and deep blues complement each other brilliantly.
Interesting twist: Pair a matte copper lip color with interesting shades like orange or blue on your eyes. Keep in mind that the shades need to complement each other as well as your skin tone. You don't want to look like Bobo the clown.
Faux pas: Avoid bright copper tone hair colors or mascaras- copper hair tends to clash horribly with Indian skin.
2. Gold rush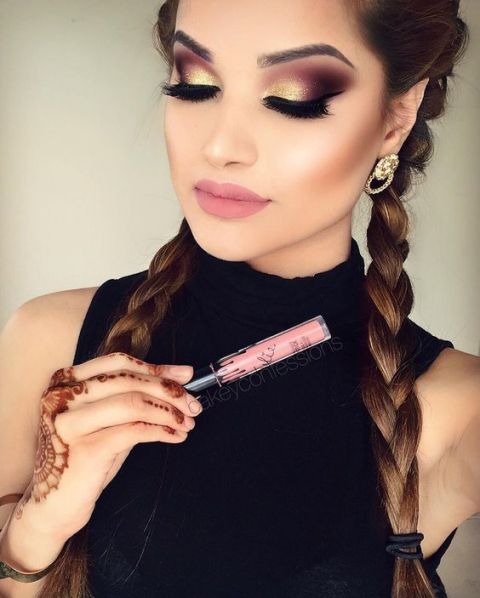 Image source: Pinterest
In a nutshell: Gold as a color works best for highlighting small areas.
Quick look: Sweep gold-toned shadow evenly onto your eyelids and balance with long, faux lashes, or use a gold highlighter under your brow bone for an instant eye lift. Blend well.
Wear it to: Preferably to an evening/night soiree or during the day with a traditional Indian look.
Pair it with: Warm fire tones-reds, oranges and deep greens.
Interesting twist: Pair gold eyeshadow with diffused aubergine/midnight blue crayon eyeliner for dramatic eyes.
Faux pas: Do not use a gold-toned compact all over your face, unless you're headed to a costume party as Tutankhamen's bust.
3. Silver streak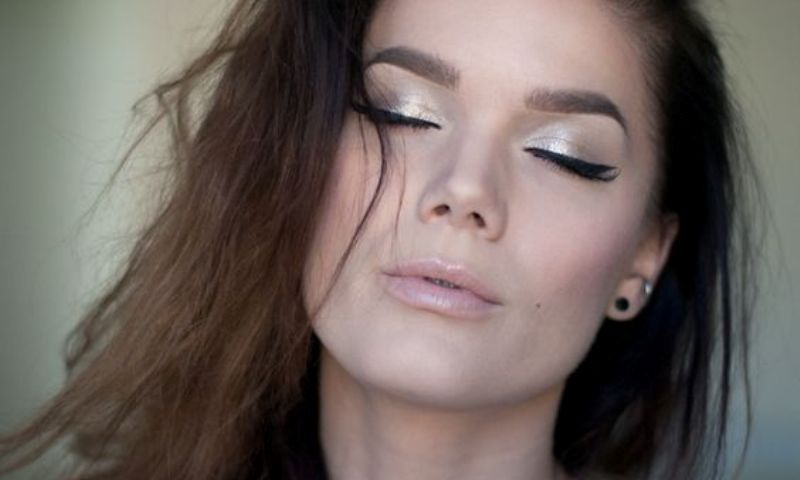 Image source: Pinterest
In a nutshell: Silver offers instant highlights, but is best confined to linear applications.
Quick look: Line your lower lashline with a silver crayon. Avoid using silver eyeliner on your upper lid unless you have a very steady hand.
Wear it to: A day or night event and pair it with a sequinned shift for maximum impact.
Pair it with: Pastel tones of green, blue, lavender and pink.
Interesting twist: Use silver crayon at the inner corners of your eyes to open them up and draw attention to them.
Faux pas: Silver-spangled-liquid liner. Not unless you want to match your favorite ink.
4. Gunmetal grey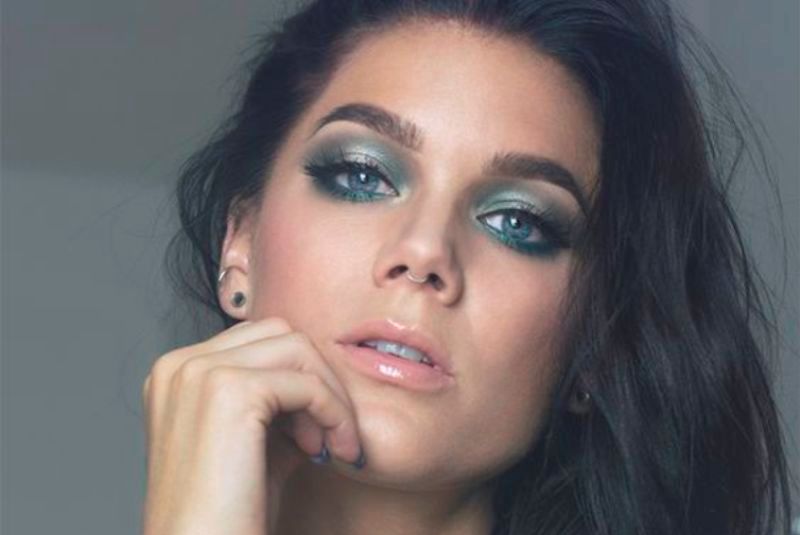 Image source: Pinterest
In a nutshell: Deep, metallic tones of grey are great to create dramatic makeup for the eyes.
Quick look: use a metallic grey eyeshadow shaded from your upper lashline towards your socket crease. Blend it well into a silvery-grey shadow across the eyelid.
Wear it to: An evening out in an LBD.
Pair it with: Natural glossy pink and coral lips.
Interesting twist: Blend your grey shadow with a touch of old rose for an interesting visual effect.
Faux pas: Avoid pairing grey with moss or earth tones and yellow.
---
Suggested read: A complete guide on how to apply makeup for pale skin
---
Key rules to follow
Your metallic makeup should be different by day and night. Adopt a smart move by switching the lip and going from a slight shimmer on the eyes to bold, dramatic peepers in the evening, with a neutral lip shade to a subtle, nude one.
Do not hesitate to experiment with subtle shimmer on the inner corners of your eyes to brighten them up and add some shimmer onto your cheekbones for a natural glow.
Identify the ideal metallic hues for your skin tone, deciding on a shade that complements your undertones. For fair skinned people with cool undertones, pearl or pale pink shades work best. For those with yellow undertones, soft gold is the best shade. Wheatish complexions with cool and warm undertones can opt for rose gold and peachy gold shades. Olive skinned people can wear reddish-copper while those with dark skin can go for bronze and copper, for the cool and warm undertones respectively.
The rule of thumb for blush and powders is to use them sparingly. Except for a transparent illuminizing powder or body shimmer- that can be dabbed on, for the glow you want to exude.
Stick to a solo act- either play up your eyes or your lips. Do not go all-out for both.
Thinking outside the shadow box is a great idea, especially if you wish to play up the effect of the eyeliner. A quick swipe of liner smudged into the lashline shall do the trick. Use a metallic liquid liner as an accent above a dark liner or make your eyes pop with some added definition and just a hint of glamour with subtle shimmer.
Always tie in metallic shades with warm, neutral shades. This helps in attaining a proper balance and evening out the contrast. Also, ensure that you avoid large particle shadows, bronzers or highlighters. Go for triple milled products for smoother, even application that looks more natural on the skin.
Have a happy metallic makeup celebration!
Featured image source: Pinterest
Summary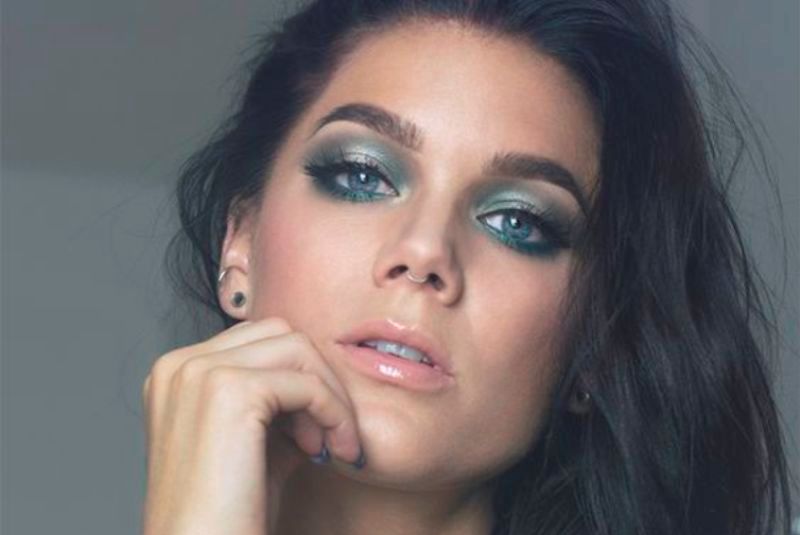 Article Name
All You Need To Know About Working Metallic Makeup Into Your Look, This Festive Season
Author
Description
Work your look with a contemporary twist of metallic makeup to kick off the festive season.