Yes, the much-awaited wedding of Wimbledon champion Andy Murray and his stunner of a girlfriend, Kim Sears is knocking. With just a couple of days to go for what shall easily be one of the most lavish weddings of the year so far, we have brought you all that you need to know about the Andy Murray Kim Sears wedding.
Image source: Google, copyright-free image under Creative Commons License
The Proposal
Having batted off questions about an imminent engagement or marriage plans for months after he won the Wimbledon singles title in 2013, Andy Murray finally popped the big question to his girlfriend of almost ten years in November with a jaw dropping three-carat diamond engagement ring, believed to be worth around £200,000. Kim Sears gave the paparazzi the first glimpse of the amazing rock that took almost nine years to finally adorn her finger while picking up some groceries. Spotted in a white tee, grey leggings, and a khaki parka, the dressed down style of the 27-year-old who held on to some take-away coffees ensured that all eyes and shutterbugs went straight to that dazzling rock on her hand. Apparently, the Wimbledon champ had picked the rock himself.
Image source: Google, copyright-free image under Creative Commons License
Speaking on the engagement of Andy to Kim, Judy Murray remarked,
"I am so happy that Andy has got engaged, it was very exciting when it happened. I'm thrilled to bits about the engagement. He was very traditional and called Kim's parents beforehand. He is very traditional like that. I definitely won't be dancing at the wedding, that's for sure."
---
Suggested read: The love story of Andy Murray and Kim Sears
---
When probed further about where the wedding would take place, the mother-of-the-talented-tennis-duo said she wasn't sure if proud Scot Andy would be wed in Scotland. She said:
"It's completely up to them. I don't know if the wedding will be in Scotland."
Turns out the nuptials are taking place in Scotland.
The Venue
The Andy Murray Kim Sears wedding is taking place on April 11th at the Dunblane Cathedral near Kinbuck, wherefrom they'd head for a private reception at the £ 1.8 million luxury five-star Cromlix House Hotel, which is close to his hometown of Dunblane and is owned by the tennis pro himself. Murray bought Cromlix in 2013 for £ 1.8 million and it opened last year after a refurbishment. The private venue has been arranged to keep the couple's special day away from the prying eyes of the media. When asked to break the silence surrounding their wedding, the usually tight-lipped star couple spoke about why the venue was a perfect choice for them.
Image source: Google, copyright-free image under Creative Commons License
The cathedral was a last minute decision so as to accommodate more guests than the private chapel at Cromlix. However, the hotel is perfect for the wedding party as ten bedrooms and five choicest suites are reserved for the couple's guests. Each of these suites is named after a great Scot, including Robert the Bruce, William Wallace, Robert Burns, and even fellow sporting legends Sir Alex Ferguson and Sir Chris Hoy. Several of these luxury suites feature hand-painted freestanding gold, silver and copper baths, and boast a 32-inch television screen that masquerades about as a mirror. And in case you are wondering, yes, the hotel overlooks 34-acres of secluded woodland, manicured grounds, and tennis courts.
The Arrangements/Preparations
Image source: Google, copyright-free image under Creative Commons License
The tennis pro has said that he hasn't really been involved in much of the preparation, save for the food tasting!
"It's just better to let the woman have it how she would like," says the adorable Murray.

"The only thing I wanted to do was to be involved with the food. Because I like good food," says the smiling Scot. "In terms of flowers and color schemes and those sorts of things, I couldn't really care less about that, to be honest."
Guess we know who's the to-be-umpire at the Murrays', huh?
Image source: Google, copyright-free image under Creative Commons License
Apart from the décor and other arrangements, Murray said that he chats with Kim about the choice of music as well. But one can clearly see that Kim is calling pretty much all of the shots for the Murray match.
But in case, you are a tad bit disappointed in Andy's attitude, don't be … see what his mother Judy has to say,
"He was best man at his friend's wedding last Saturday so he asked me to show him the Waltz in case he had to dance with one of the bridesmaids so I have actually shown him the very basic moves of the waltz."
Image source: Google, copyright-free image under Creative Commons License
According to graphologist Jan Harrison, it is good that Andy is taking a backseat to Sears when it comes to wedding planning. Having analyzed their handwriting, Harrison asserts that Sears is likely to be the dominant personality in the relationship.
"Kim's signature also suggests she will have strong opinions and high principles which she sticks to," Harrison said of Sears, adding that Murray's handwriting "is far more passive and yielding. He might find himself a bit misunderstood because he can sometimes send out mixed signals … he is more inclined to keep his thoughts and feelings to himself."
And while that sure may be a happy start to making a happy fiancée an even happier wify, the town of Dunblane too has come out to celebrate this joyous occasion. Tom Casey, chair of Discover Dunblane, the organization which represents Dunblane's traders, said the couple would be "Dunblane's royalty."
Image source: Google, copyright-free image under Creative Commons License
In a recent interview, he said,
"We are very conscious that the family are trying to keep the wedding as low key and as private as possible. A number of shops will be doing individual things to mark the event as they normally do when Andy is playing tennis. As a town, we are going to put up some bunting and wedding bows along the high street and decorate the shops with messages. Of course we will be making extra efforts to celebrate the wedding of Dunblane's most famous son of modern sense."
---
Suggested read: Beyonce and Jay Z relationship timeline – till the release of Die With You on Tidal
---
Lori Jones, manager of the Village Inn pub said:
"We are already prepared. We are expecting a huge turnout and I've already ensured that I have extra staff working that day. It's a great thing for Dunblane and I can imagine the whole town will be buzzing. A special cask ale will be available on Andy's wedding day which is something a little different for customers. We only ever serve it on his special occasions – such as a big match, etc."
The Connection
Image source: Google, copyright-free image under Creative Commons License
The Andy Murray and Kim Sears wedding is going to follow in the footsteps of older brother and tennis star Jamie Murray's wedding to Alejandra Gutierrez at the same venue in 2010, in which Andy was best man.
The Guest-list
Not unlike other celebrity weddings, the Andy Murray-Kim Sears wedding shall not see much of a razzmatazz. Andy Murray has shunned A-list celebrities and world's tennis stars in favor of a small, intimate ceremony close to home. If you were hoping that tennis rival Novak Djokovic or fellow Scot Alex Ferguson would be spotted at this much-awaited wedding of the season, you could not be more disappointed. In fact, when the Serbian was asked if he would be attending Murray's D-day, he replied with a curt 'Not invited,' almost immediately backing it up with a more polite, 'But I wish him all the best.'
The worldwide favorite Murray has chosen a rather diminutive guest list in comparison to his global fame! When Murray says 'I do' to Kim Sears, they'd be surrounded by a group of close family and friends, instead of known faces from the tennis world.
Image source: Google, copyright-free image under Creative Commons License
In fact, when asked about the guests, Murray said,
"There won't be any celebrities as such. I don't have any celebrity friends so it wasn't something that was planned.  [It'll be] everyone who we're close to, people we've spent a lot of time with in the past but also people we see ourselves spending time with in the future. That's how we came up with the names. Pretty much everything is done now and under control. I'm sure a few things will come up next week but it's pretty much sorted."
---
Suggested read: Identical triplet sisters tie the knot in joint wedding ceremony!
---
As for the guests who are likely to be seen at Andy Murray wedding, we have a possibility of spotting one-time British tennis star Tim Henman, Dutch doubles player Jules Rojer, and British pro Jamie Delgado. Seems really small for being deemed star-studded? Well, we told you.
And with that we draw to a close about the Andy Murray Kim Sears wedding details. Of course, we shall bring in all about the D-day when it happens, but just before signing off, we need to tell you one li'l thing we forgot to tell you about – Andy mentioned he might wear a kilt with no underwear to his wedding!
And on that note … tata … until of course, 11th April! 😉
Featured image source: Google, copyright-free image under Creative Commons License
Summary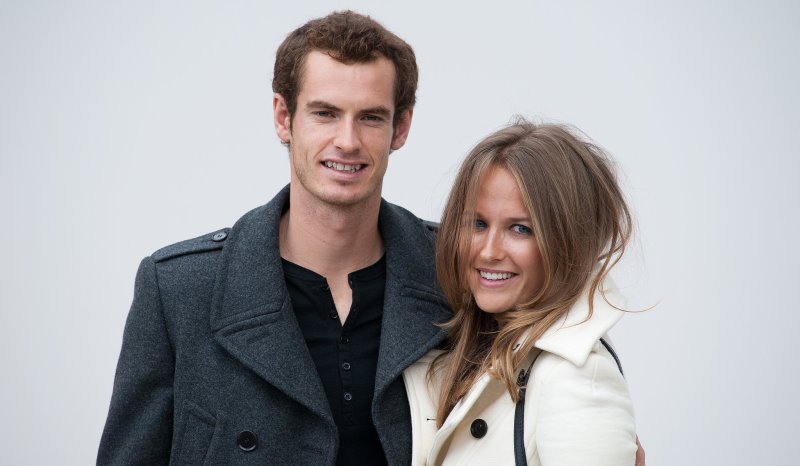 Article Name
All You Want To Know About Andy Murray's Wedding To Kim Sears
Author
Description
With Andy Murray Kim Sears wedding just two days away, we bring the definitive details about the D-day. Go all in!