It wasn't just sport aficionados who tuned in for updates on the grand sport-union of the decade but an entire nation of believers in love who latched on to their TV sets and computers to watch the wedding that brought alive a fairy tale. Yes, we are talking of August 18th when ace squash player Dipika Pallikal tied the knot with the Indian wicket keeper and batsman, Dinesh Karthik.
Image source: Instagram
The stunning sporty couple who kept their courtship rather low profile, gave the world a larger-than-life celebration of their nuptials, by bringing in a star-studded bachelor bash and bachelorette party, a colorful sangeet ceremony, and not one but TWO wedding ceremonies in Syrian Christian and Telugu Naidu styles, followed by a wedding reception. And if you were wondering, yes, these were preceded by a cutesy marriage proposal in London, followed by a breathtaking pre-wedding shoot too!
Jab They Met
Image source: Twitter
---
Suggested read: All you need to know about Shahid Kapoor – Mira Rajput wedding
---
Having first bumped into each other at a marathon in 2008, Dipika Pallikal and Dinesh Karthik first made acquaintance at Shankar Basu's Maverick Gym in Chennai, at the start of 2013. Dipika, at the time, hated cricketers for she believed that cricket, as a sport in India, dwarfed the importance of other sports. As a result, her opinion of cricketers who reaped the due benefits of such idolatry and celebration was also biased. But when Cupid was out with his arrows soon-to-strike the sporty duo-to-be, who could have averted the inevitable? It started out as a healthy friendship and gradually blossomed into something more. Dipika confirms,
"We got to know each other at the gym, but there was nothing more, contrary to what most media reports seem to suggest. In fact, the first time we met was at a marathon some five years ago. After that, we met at the gym and, if I remember, I left for practice without even saying bye to him. Slowly we got to know each other."
When Cupid struck
Image source: Yahoo
On the first inkling of there being something 'more' than plain friendship, Dipika recalls,
"It was February, 2013, and I had just won a tournament in Canada while Dinesh was playing domestic cricket in India. I went to Leeds (England) to train for a week and I found him there, coming all the way to see me. That was when I fell for him, realizing not many would do something like that. He used to watch me train at the academy and even tried his hand at squash. He played much better than I thought."
Dheere dheere se meri zindagi mein aana
Image source: Yahoo
Slowly, the couple made public appearances together. While Dipika could be spotted in the stands attending IPL matches in which Dinesh was playing, Dinesh, too, missed no opportunity to be by his lady's side whenever he could. The couple, of course, said they were 'just friends' but we all know what that phrase means!
Will you marry me?
As was clear with time taking wings when the two met, Dipika Pallikal and Dinesh Karthik were head over heels in love. Our cricketer guy was stumped by the squash queen, and he decided to make her the reigning queen of his heart and life by taking the next big step.
Image source: Stories by Joseph Radhik
So, he went down on his knee and popped the big question in London, right after the Indian team won the Champions Trophy. And it was right on their return that they formalized their engagement and broke the happy news to the families. It was on November 15, 2013, Dinesh and Dipika made their relationship official with an engagement ceremony in Chennai, among close family members and friends after which both Dipika and Dinesh gave out numerous interviews confirming their relationship.
Image source: Twitter
The pre-nuptial ceremonies
They say a picture is worth a thousand words – so why not let the pictures of the bachelor's bash, the bachelorette party, and the mehendi and sangeet speak for themselves? You will see happiness and love oozing forth from every pixel!
Image source: Stories by Joseph Radhik
Image source: Instagram
The Marriage-s!!
Dipika Pallikal and Dinesh Karthik were all geared to tie the knot the year after their engagement but their busy schedules caused the date to be pushed to 2015. And boy, are we glad!
Image source: Stories by Joseph Radhik
The couple gave us a grand celebration of their fairy tale romance vis-à-vis two wedding ceremonies, a Syrian Christian wedding ceremony that took place in Chennai on the 18th of this month and lasted 45 minutes, after which a wedding lunch was hosted by the couple, and a Hindu Telugu Naidu wedding ceremony on the 20th of the month. While Dipika looked stunning in a beautiful, flowing wedding gown adorned with Swarovski crystals in the former ceremony, Dinesh looked dapper in his black tux too. The second wedding saw the duo in traditional attire, with Dinesh having donned a cream-colored sherwani, a traditional marriage dhoti, and a turban, while Dipika was dressed in a gorgeous yellow saree with a red border.
Image source: Stories by Joseph Radhik
---
Suggested read: Dance Pro groom performs epic wedding dance routine for ballerina bride
---
We do not even need to spell out how LOVE-ly an 'I do' or the seven vows of marriage become when LOVE blesses the union of the two souls making the promises. Coz these will speak for themselves:
Image source: Stories by Joseph Radhik
We wish Dipika Pallikal and Dinesh Karthik a lifetime of joy and happiness!
Featured image source: Stories by Joseph Radhik
Summary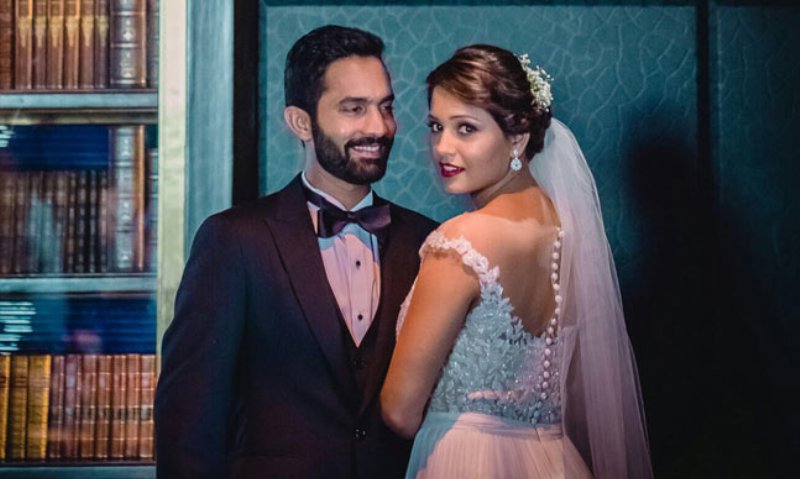 Article Name
Dipika Pallikal And Dinesh Karthik Love Story: When Life Weaves Its Magic
Author
Description
Dipika Pallikal and Dinesh Karthik have had a fairy tale romance. And it's the most awww thing you will read today!